Porcelain Slabs Are The Latest Trend In Bathrooms And Showers
January 16, 2023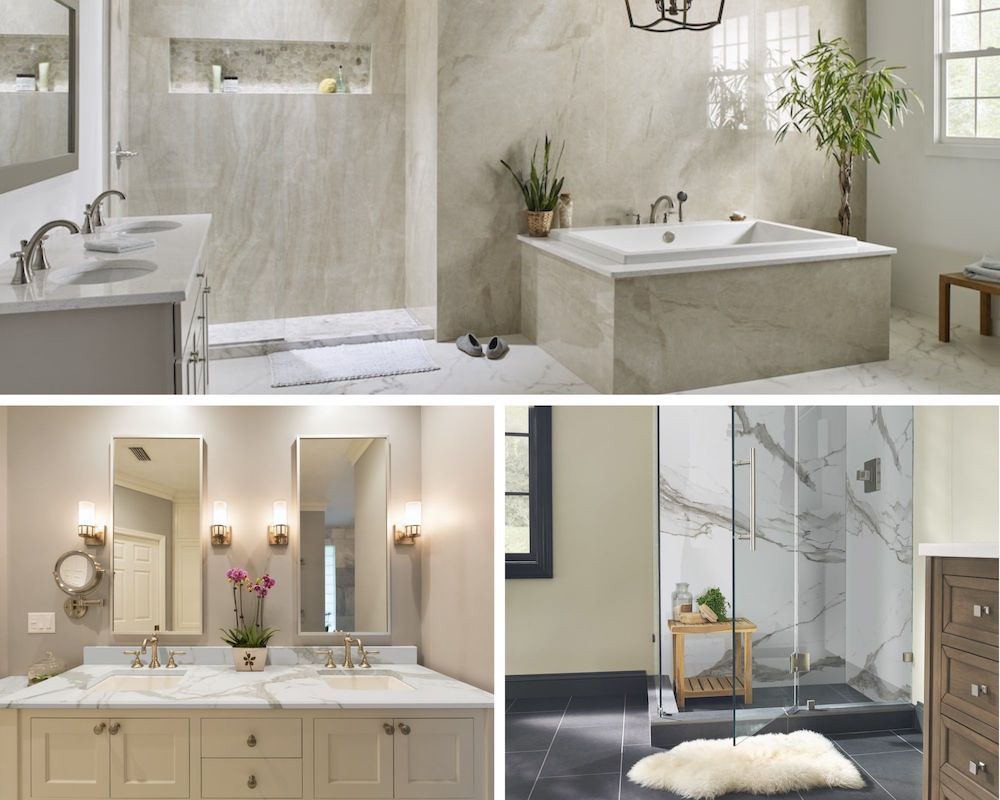 It's no secret that porcelain slabs have been making beautiful waves in homes worldwide for a while now, but these seamless premium surfaces are currently all the rage as the latest trend in bathrooms and showers. In addition to a lack of grout lines and an astonishing ability to mimic natural materials, these slabs have a long list of benefits you'll love.

Read on to explore those benefits, investigate this hot trend, and look at some of the top porcelain slabs available today.
PORCELAIN SLAB BENEFITS
Durability
Porcelain is a highly durable surface. This durability makes porcelain less porous than the natural stone it imitates and a fine choice for wet areas like bathrooms and especially showers. Not only does it look great and stand the test of time, but these slabs are stain and etching resistant and won't harbor bacteria, odors, and other pesky agents since water cannot penetrate its surface.

Used as an interior wall application, this sturdy and alluring product will hold up to the daily wear and tear of active children, lively pets, and so much more. You also won't need to worry about germs getting into your porcelain slab in your bathroom or shower, thanks to its non-porous nature.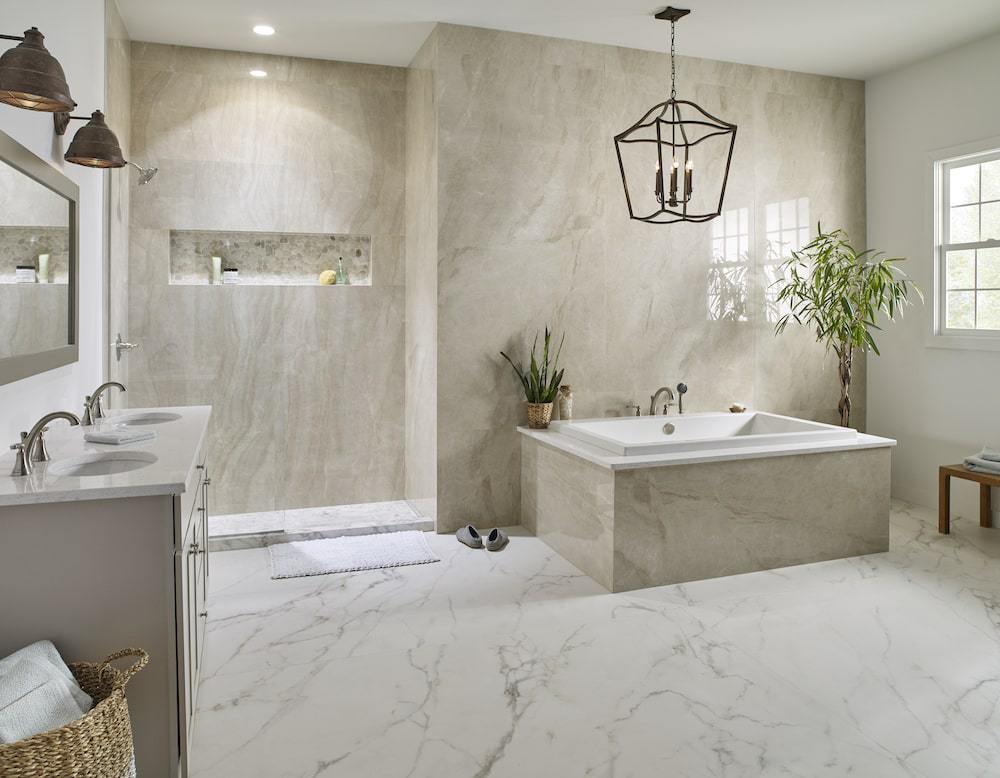 One look at these Calacatta Lucca porcelain slabs, and you know that first-rate benefits like durability, and the ones we'll cover later in this article, are the cherry on top for these gorgeous, premium surfaces. Note how these large panels and the lack of grout lines creates a seamless experience from the floor tile to the shower surround panels. It's incredible how far technology has come to develop such a sophisticated surface that imitates the luxuriousness of natural marble.

With their matte finish, these porcelain slabs are ideal for creating dynamic wall installations, unrivaled showers, backsplashes, waterfall islands, countertops, and flooring. Calacatta Lucca slabs come in 6mm and 12mm thicknesses, and their 63x126 size creates large installations and an impeccable appearance. Once you've transformed your bathroom into the most elevated upgrade for miles, point your next design plans to your outdoor spaces, as the slabs are well-suited for indoor and outdoor applications.
Water-resistant porcelain tile is an ideal choice if you're looking for waterproof flooring.
Easy Maintenance
When it comes to maintaining your porcelain slabs in your bathroom or elsewhere, very little is required on your part. Unlike the natural stone it mimics, you'll never need to perform ongoing sealing to keep your investment intact. If you're using porcelain slabs as flooring tile, you only need a soft bristle vacuum or a broom to deal with dust or other debris. If you spill something on your porcelain, grab a soft sponge, wet it, and tend to the spill. For daily maintenance, use a gentle cleaner with a soft sponge. If you need something with a little more kick, use a non-abrasive cleaner.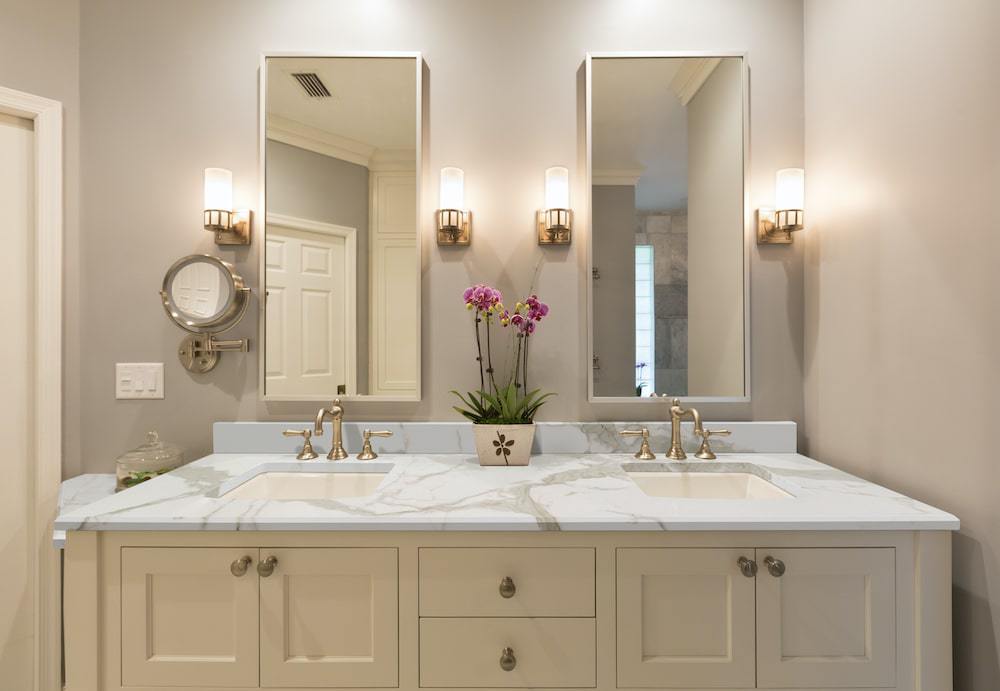 Check out our Statuario Gold porcelain panel used here as a breathtaking countertop. The veined marble look is near, if not impossible, to differentiate from the real thing. This countertop has the uncanny ability to lend a calmness and understated yet strong sense of drama to this bathroom scene. When you opt for a porcelain panel like this for your countertop, your options for the rest of the room are essentially endless. Finally, Statuario Gold is Greenguard Indoor Air Quality Certified®, which gives you and your family added peace of mind.
An Easier Installation
One of the downsides to upgrading premium surfaces is the demolition phase, but when you use porcelain slabs from our Stile® Porcelain collection, the need for any demolition disappears. That's because you can have the slabs installed over your existing surfaces. In addition, due to the slabs' thin and lightweight nature, they're easier to cut and drill any necessary holes. These, paired with the lack of demolition, will save you money, and the job will wrap up much quicker than the traditional tile route.

Installing porcelain like this will also make your inside environment less polluted, as there will be no dust or debris from demolition.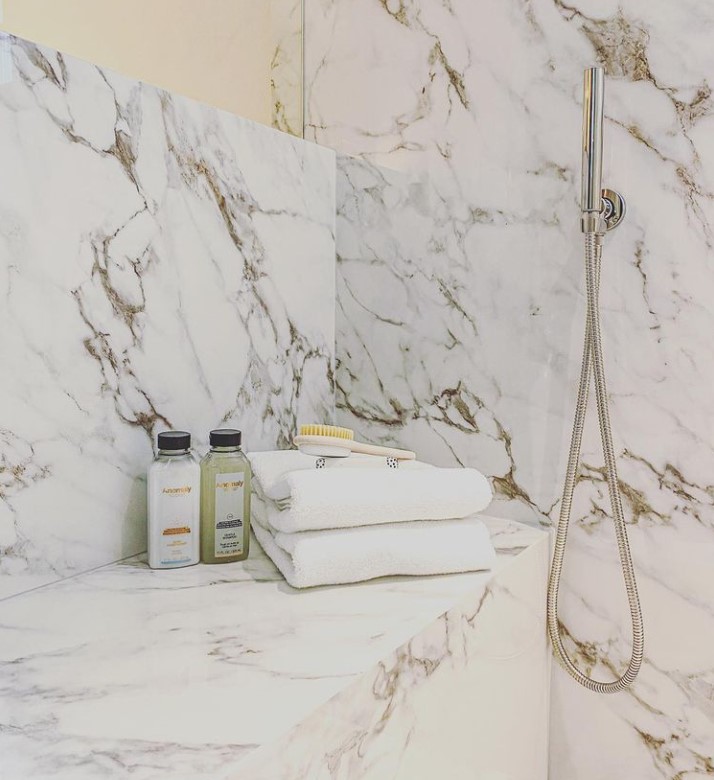 Photo Credit: @lbddesigns on Instagram
Using our Calacatta Lucca porcelain slabs in this awe-inspiring shower is second to none. The lively veining and marble look against the simplicity of the rest of the scene works on several levels and gives the shower a spa-like feel.
This Calacatta Lucca matte finish resembles the most luxurious marble surfaces at a much lower price. These 63x126" slabs are available in a 6mm or 12mm thickness. Beyond the bathroom, use them to create beautiful floors, kitchen islands, accent walls, and countertops. They are available in four different patterns, allowing you to create your own unique large installations with continuous veining that your neighbors are sure to talk about long after they've viewed your elegant upgrade.
Lightweight Benefits
The thin aspect of the porcelain slabs we've reviewed today is a huge benefit. They create the illusion of being thick, heavy surfaces due to their large size, but the truth is, these porcelain slabs are incredibly lightweight, with a thickness of either 6mm or 12mm. This will cut installation costs and make the product less expensive due to the seller saving on shipping costs. But don't let the lack of weight make you think these premium surfaces lack strength. In fact, their strength comes from being pressed at a mighty 15,000 tons.
Do these captivating and trendy porcelain slabs have your mind cranking out the various ways you could use them to beautify your bathroom, shower, and other spaces in your home? Then, before you get started, contact us at MSI and see how we can help you find the most suitable slab for your unique design needs.
Need more information? Contact us online, by visiting one of our showrooms, or by chatting with us in real time through our MSI website chat feature at the bottom right of your screen. We are happy to help!