Wall Tile And Fireplace Facing Using Stacked Stone And Stacked Porcelain Panels
September 26, 2022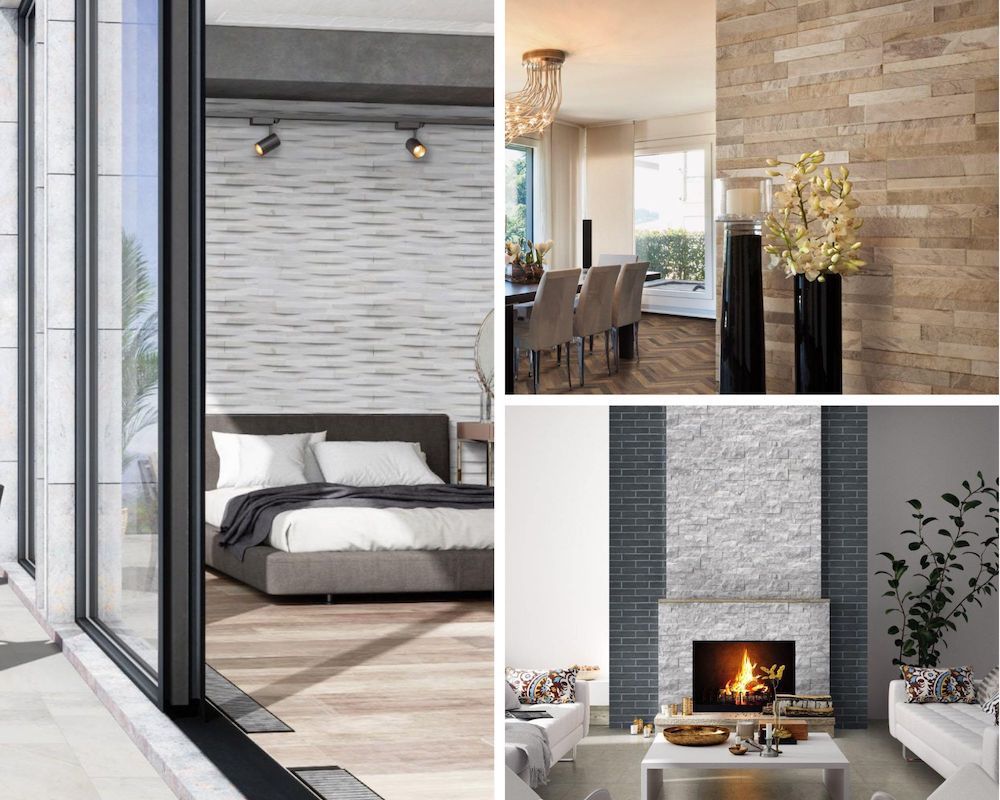 Is there anything more inviting and alluring that stacked stone or ledger panels in your home?
Stacked stone, in particular, can create a rustic look and feel for your home or garden. Natural stone's timelessness and homely quality make excellent exterior walls, interior walls, and fireplace surrounds. In addition, stacked stone creates a gorgeous and sophisticated aesthetic that can make your home regal like it's straight out of the 17th century! (Okay, but with much-needed and appreciated modern appliances!)
Ledger panels come in various colors and shapes, giving an unrivaled natural appearance. The warmth and comfort these give off are unparalleled, mimicking a quaint cottage and farmhouse sensibility. They're long-lasting, and their color does not diminish—not to mention durable! Whether you're opting for modern or traditional varieties, ledger panels are sure to meet your expectations and needs.
So with this in mind, let's explore specific collections that would be excellent additions to your home!
The Rockmount Stacked Stone Collection consists of full and smaller panels that come in various looks and finishes. Whether you're seeking a contemporary chic or refined rustic look and appearance, these stones come in marble, travertine, slate, and even quartzite. In addition, this collection has panels that make excellent backsplashes and accent walls with a modular design that enables less grout and a streamlined installation. Specifically, let's explore some varieties from the Rockmount Stacked Stone Collection and Dekora Stacked Porcelain Ledger Panels that make ideal accent walls and fireplace surrounds.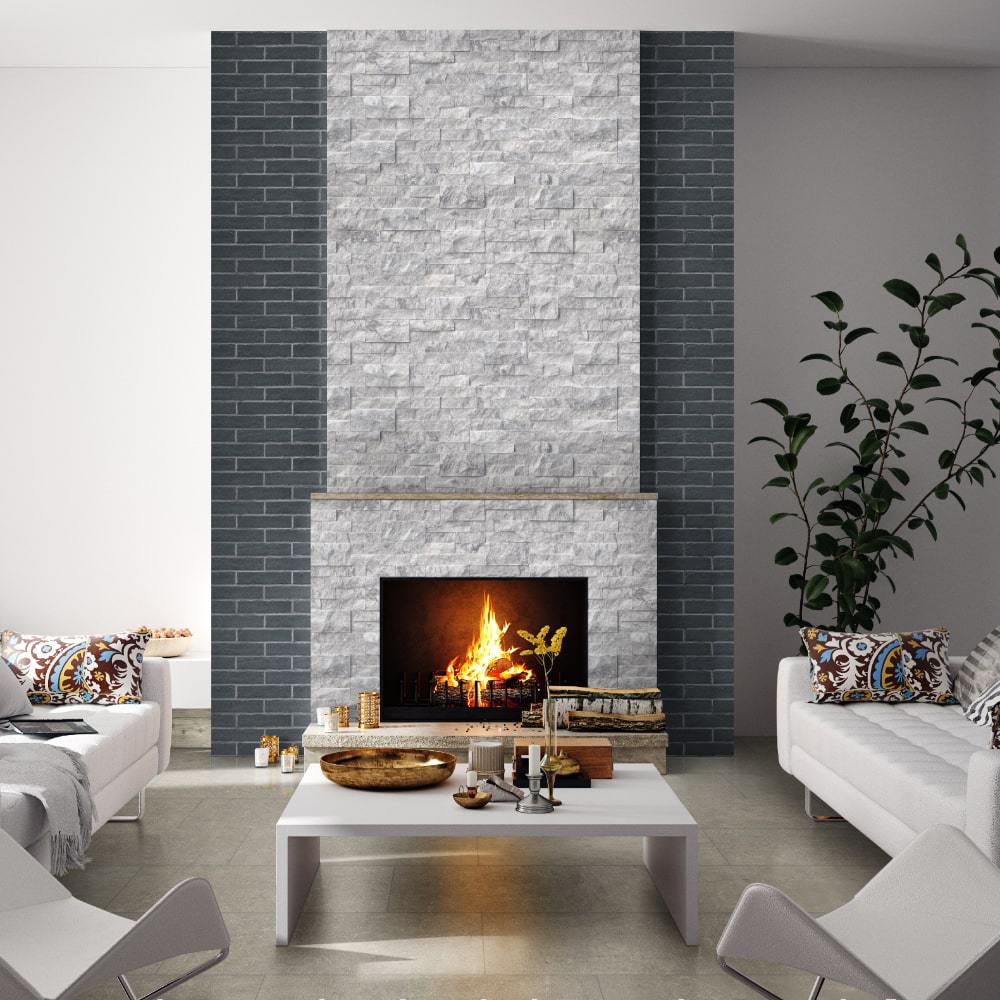 Arabescato Carrara is a stunning stacked stone option with an alluring alabaster hue contrasting perfectly with a warm, crackling fireplace. Can't you picture sitting around the warmth of this fireplace, chatting with old friends, and spending quality time with family members? Its light coloring also blends well with white couches, chairs, and coffee tables. The detail of this stacked stone from the Rockmount Collection is nuanced and natural, adding sophistication and grace to any living room. Wherever you have a fireplace, Arabescato Carrara is an ideal pick if you're seeking gorgeous white, natural stacked stone!
Moving further into the Rockmount Collection, we have another light variety—Cosmic White Stacked. This sure lives up to the hype, as it's made from cool white marble that gives off a stunningly stylish appearance. And what about the elegant split-face finish? Talk about a contemporary stone wall tile! This pick would make an excellent addition to any bedroom, living room, or other areas in your home. Unique, elegant, Cosmic White Stacked will transport you into an ambiance of true grace.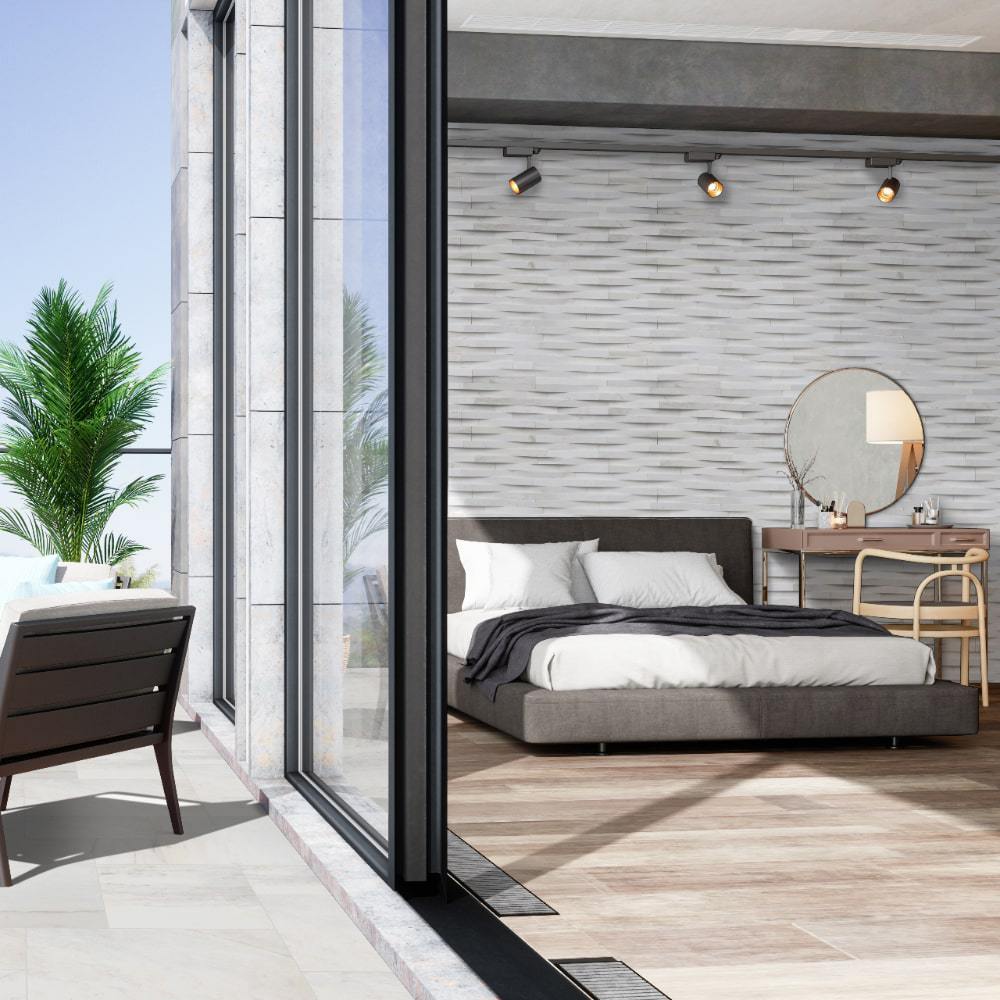 The Dekora Porcelain Ledger Panel Collection offers quality and stylish ledger panels without the maintenance required by stacked stone. These panels will fit perfectly around a fireplace or wall, ensuring a timeless luxury that makes inhabitants feel cozy and warm. Additionally, you can't beat the dimension and texture these varieties present.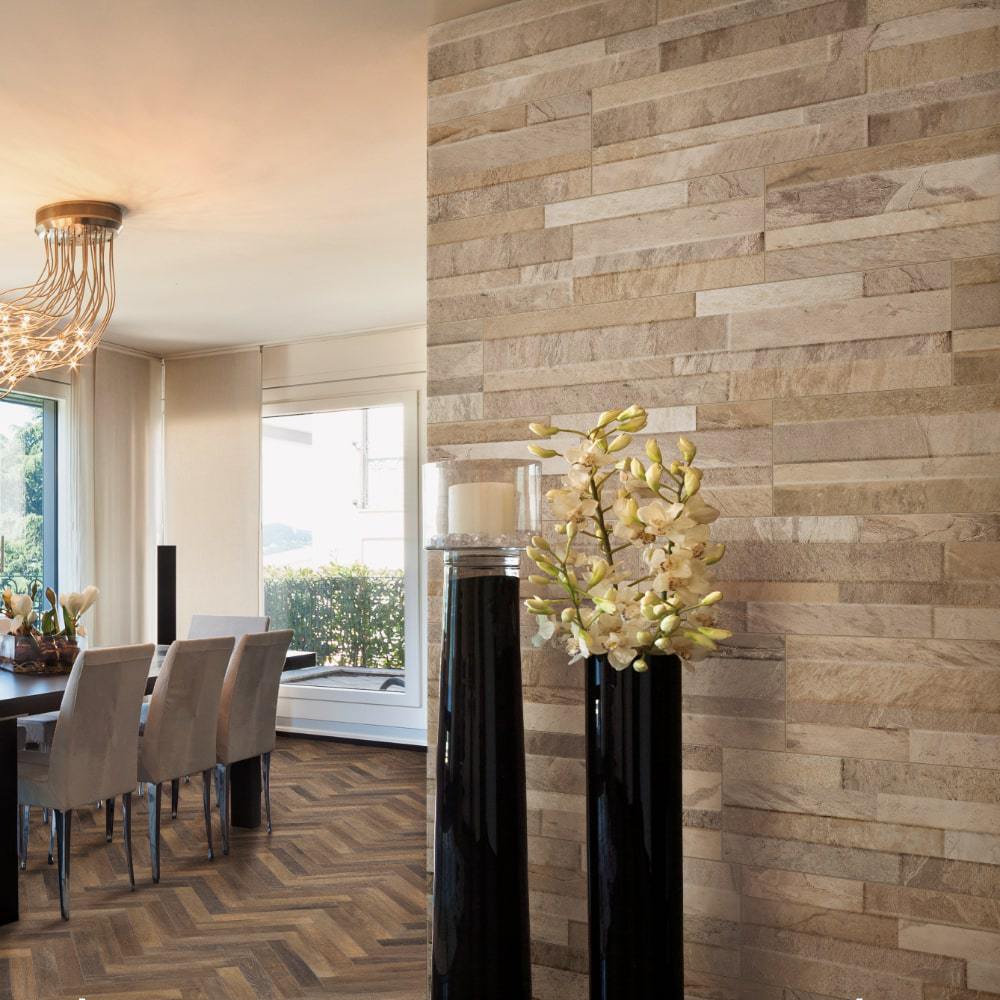 Canyon Cream Stacked Porcelain offers a sophisticated array of creamy beige and gold hues that coordinate with many furniture and flooring designs. The natural shade gives way to a timeless feel that many homeowners love and adore. While featured above for walls, this design would also make an excellent pick for fireplaces. Just imagine how this style would coordinate harmoniously with other room décor. The possibilities are endless!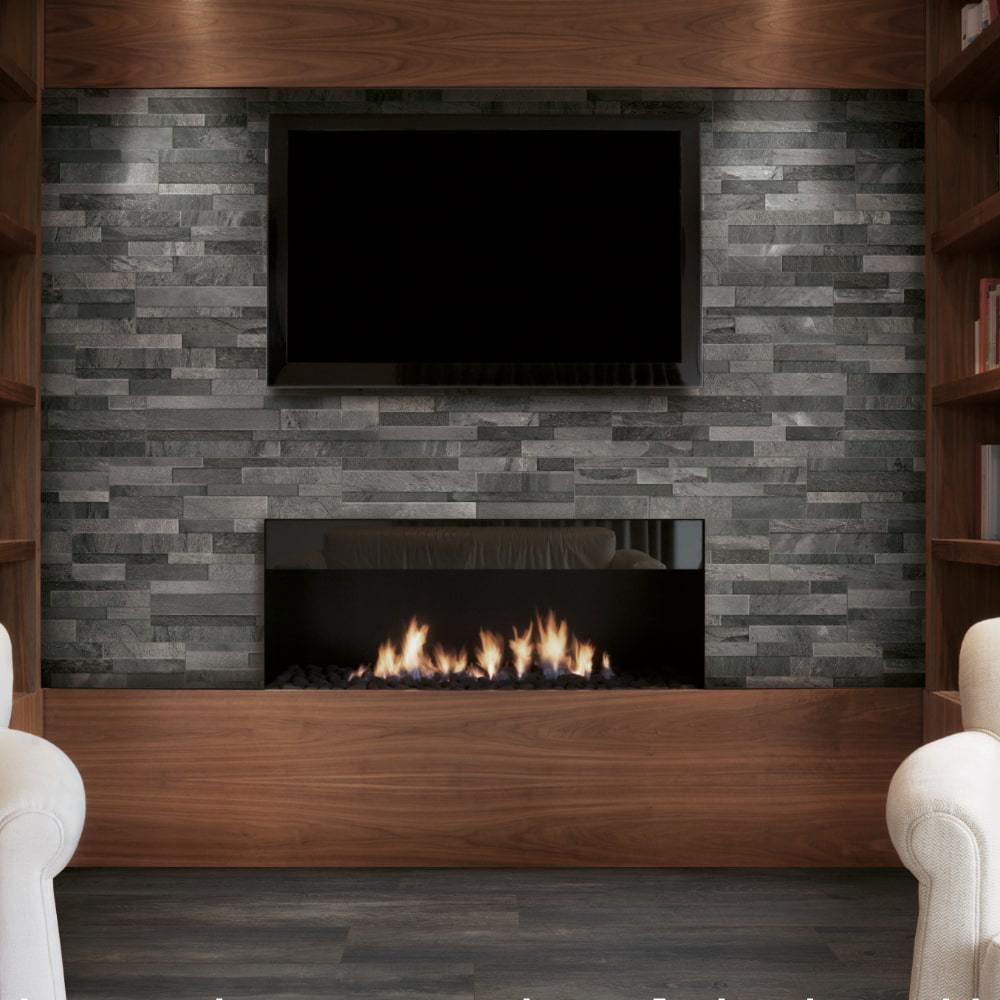 Ardesia Black Stacked Porcelain entwines rich dove gray and obsidian for those who want a darker porcelain fireplace surround. Can't you picture these beautifully textured panels around a cold winter night, sipping hot chocolate while staring contemplatively into the flames? Inviting and sophisticated, this style is imported from Italy and finely crafted with a matte finish. Talk about adding character and elegance to a room with a crackling fire! It's hard not to feel serene when taking in this stunning design.
When weighing your options on the stacked stone fireplace and accent wall styles, it's crucial to picture it in your home. Our ledger stone collection and stacked stone veneer create pathways for expressing your true aesthetic—one that you share with others, including friends and family. Our Visualizer lets you see how these designs would look in your living room, bedroom, and home. Isn't it fun to explore different varieties and entertain décor possibilities? You are creating the home of your dreams, so this tool allows you to rest assured in your decision and investment.
Additionally, this video detailing our Rockmount Stacked Stone Collection lets you explore the different styles to find the right pick that stands out. Clearly, you want to make the most visual impact with your selection, which is why the decision on natural stone or porcelain is such a weighty one. So explore these beautiful indoor and outdoor images as if you were really there!
Porcelain stones typically require less maintenance than natural stones; similarly, an unpolished tile will demand slightly more upkeep than a polished, honed stone. Natural stone is a bit more porous and requires a sealant to ensure long-term use. Nevertheless, both are viable and exciting options, especially when deciding on that perfect wall accent or fireplace. Each offers a texture you can almost lose yourself in, adding to an area's ambiance and character.
It's such a privilege to have an indoor fireplace to enjoy year-round. So why not make the most of it with quality fireplace surrounds? Whether you're marking favorites from the Rockmount Collection or Dekora Collection, you're certainly not at a loss for options. The characteristics of each will delight and intrigue, contributing sophistication to your home.
Whether you're choosing natural stone or porcelain for an accent wall or fireplace, you can rest assured either are of high quality, both materially and aesthetically. While natural stone has been used for centuries, porcelain is relatively new to the game—each with outstanding benefits.
Still not sure which stacked stone option is best for your next project? We're always happy to offer tips and advice and answer your questions about selecting, installing, and caring for all of our products. Just give us a call or visit the MSI showroom nearest you. For faster service, check out the chat feature on our website where we are always online and ready to help!
Learn More About Stacked Stone
5 Unique Ways To Use Stacked Stone
Build The Perfect Backyard Wall With Stacked Stone
Design A Stunning Accent Wall With Rockmount 3D Stacked Stone
10 Standout Projects Featuring Rockmount Stacked Stone
Wall Tile And Fireplace Facing Using Stacked Stone And Stacked Porcelain Panels