5 Stunning Modern Quartz Kitchen Islands
July 12, 2021
A kitchen island is an essential place — the center of food prep, cooking, and cleaning. That's why many designers and homeowners alike love using durable kitchen islands with modern quartz countertops. When it comes to the value of your home, a new luxury countertop adds more value than other kitchen upgrades. Plus, engineered quartz is long-lasting, sturdy, and beautiful.
In this guide, we're going to go over the top five quartz options for your kitchen countertops. We'll also give a brief history of kitchen islands and how they became the heart of the home. Let's get started.
The History of Kitchen Islands
Kitchen islands date back to the Colonial era. At first, they were the worktables where families would prep meals and sit down to eat. Even after cabinetry was introduced, kitchen islands remained a freestanding focal point of the kitchen.
Now, kitchen islands are considered the heart of the home. They are where the family gathers to cook, eat, and entertain. With the rise of open-concept home layouts, kitchen islands are more important now than ever.
When we combine the rich history of kitchen islands with their modern meaning, it makes sense that homeowners want stunning countertops that are also durable. That's where quartz countertops come into the picture. Today, they are designer's and homeowner's top choices, and they come in an endless variety of styles.
Let's look at our top five favorite quartz countertop colors next so you can choose the best one for your kitchen island.
Ash Gray Quartz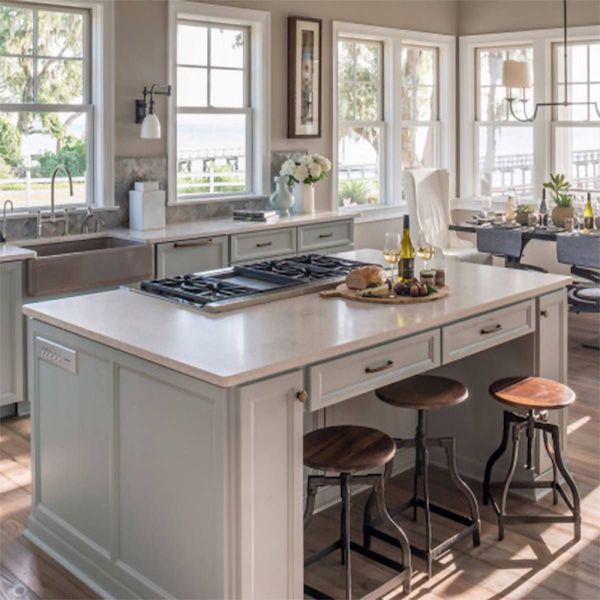 Photo Credit: @work-tops.com on Pinterest
Ash gray quartz offers subtle beauty to any kitchen or commercial space. The dark gray flakes provide a stunning contrast to the mid-tone gray background, which creates extra visual interest. The gray tones are also great for hiding spills in messes in a busy kitchen. Plus, it is neutral enough to coordinate with any color palette. Even if you have an all-white kitchen now but want to switch to a darker color scheme in the future, the Ash Gray Quartz countertops will match both looks.
Calacatta Classique Quartz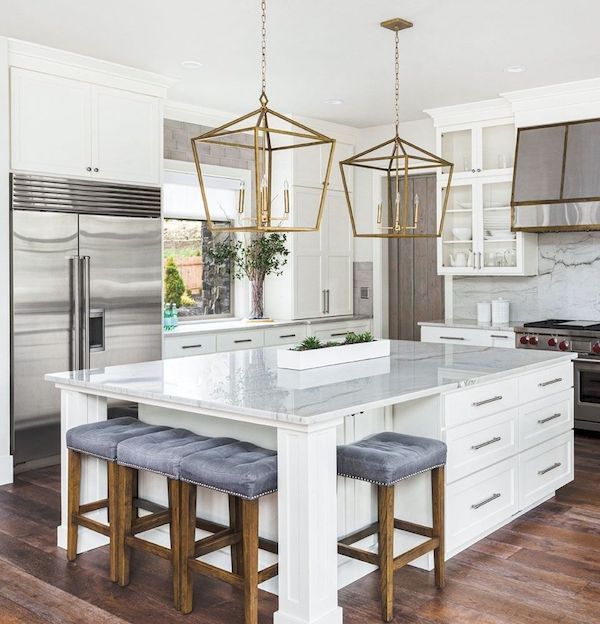 Photo Credit: @homeclick.com on Pinterest
If you love the look of marble but want a lower-maintenance and more durable countertop for your kitchen island, you will love the Calacatta Classique Quartz countertop. This color is a true show-stopper with stunning white streaks and veining throughout. It's perfect for a dramatic kitchen island, like a waterfall countertop. You can even use it as a backsplash to match the island and create the luxury kitchen of your dreams. This exquisite marble-like color will never go out of style, and thanks to the strength and ease of quartz, it will look beautiful for decades.
Calacatta Laza Soft White Quartz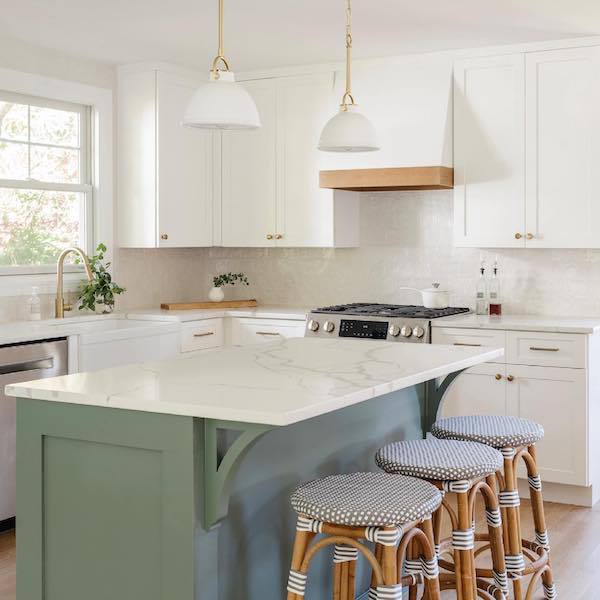 Photo Credit: @mif_design on Instragram
This color is similar in style to the Calacatta Classique Quartz, but it's distinguished by its milky white background and brown veining. The soft white Calacatta Laza Quartz is perfect for blending modern and classic designs together. Create the perfect eye-catching accent piece by using this white quartz color on a colorful kitchen island. The whole island will make a stunning statement, and you will love how easy it is to keep it clean.
Lagos Azul Quartz
Dark-colored countertops have made a comeback and Lagos Azul Quartz is perfect for bringing an earthy tone into your kitchen. A dark kitchen island can ground your whole space in nature, and this coffee-colored tone is perfect for covering up messes. Use it as an accent countertop or for your whole kitchen. Either way, the subtle design of this quartz countertop makes a beautiful style statement.
Soapstone Metropolis Matte Concrete Quartz

For the modern or mid-century-inspired kitchen, Soapstone Metropolis Matte Concrete Quartz is perfect. The dark background and white veining provide the ultimate contrast and make this color a true piece of art. This quartz color is perfect for anyone who desires a sleek, polished, and ultra-luxurious kitchen. Plus, you can have the look of concrete and the maintenance-free benefits of quartz at the same time.
The Benefits of Modern Quartz Countertops
Not only is quartz a beautiful countertop choice, but it's also long-lasting and easy to maintain. When you compare quartz vs. granite or marble, there is no contest in durability.
Quartz countertops resist stains, scratches, and chips. It is a hard material that's perfect for a busy kitchen or commercial space. Additionally, quartz is non-porous, unlike granite or marble. Non-porous means that bacteria and viruses don't get trapped in the tiny holes in the stone, which makes quartz the easiest countertop to keep clean.
Another benefit to quartz is that it's virtually maintenance-free. It doesn't require a wax coating or seal, and it never stains.
Finally, when it comes to style and design, the options are endless with quartz countertops. Since it is a man-made stone, it can be engineered in any color. Whether you want a concrete style, an earthy tone, or quartz that looks like marble, you can achieve the countertop of your dreams with this material. Plus, because it's man-made, quartz has a consistent look throughout the slab. Once you find your favorite quartz color, you can feel confident that it will look exactly how you want it to.
Create the Kitchen Island of Your Dreams
With all the benefits of engineered quartz countertops, it's easy to achieve the kitchen island of your dreams. It's also a wise investment since it is so durable and lasts for decades. You will love how easy it is to clean quartz and the fact that you never have to seal it. We also can't forget its beauty. Whether you choose a light or dark tone, all modern quartz countertops are stunning and make a statement in every kitchen.
Check out our full selection of beautiful countertops on our website, and contact us with any questions about quartz today.
Read More About Modern Quartz Countertops
How To Pair Traditional Natural Stone Backsplashes with Modern Quartz Countertops
Top 10 Ways to Master a Bathroom With Modern Quartz Countertops And More!
5 Ways Hotel Designers Are Using Modern Quartz to Enhance Their Look