How To Pair Traditional Natural Stone Backsplashes With Modern Quartz Countertops
December 03, 2021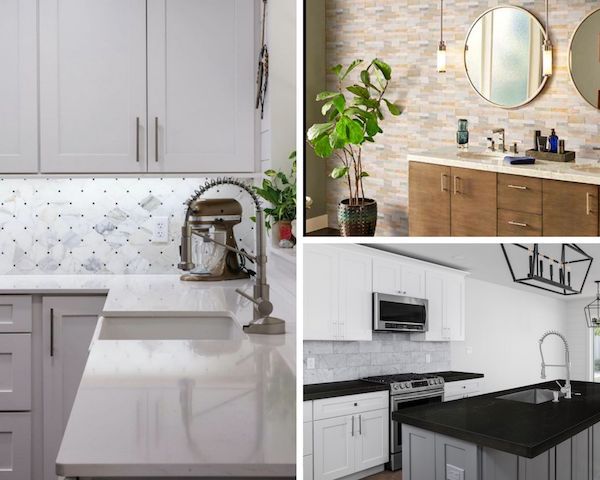 Your new quartz countertops are a great choice for your kitchen or bathroom — the perfect combination of beauty, elegance, and practical durability. But, your kitchen isn't quite complete without a complementary, stylish backsplash! You have many different designs and materials to choose from, but natural stone is one of the most popular choices. Here's how to find a match made in heaven.
Why Install a Backsplash?
Before shopping for any type of backsplash, it's important to consider your reasons and priorities. Why install a backsplash at all? Why not just have ordinary wall paint behind your kitchen countertops, or perhaps some wallpaper? You might think of a backsplash as a way to finish your interior design. It serves to personalize your space, and show off your creativity and personality. But there are practical considerations, too.
A backsplash is intended to protect your walls. After all, a kitchen can be a messy place. Splashes and spatters from food preparation do happen, no matter how careful you are. Even if your paint is "stain proof" and washable, that protection only goes so far. Without a backsplash, you might find yourself re-painting every few years — not just the area behind the counters, but the entire kitchen!
Kitchens and bathrooms also tend to become humid or wet environments, not just from spills, but also from refrigerators, dishwashers, showers, and steam from cooking. This can contribute to the growth of mold, mildew, and bacteria, three bad guys you definitely do not want in your house. Water resistance is main reason homeowners choose quartz vs. granite or other stone for their countertops. A good backsplash makes cleanup easy and keeps your home hygienic.
Why Choose Natural Stone?
The next question is, why would you want to use a natural stone backsplash along with your quartz countertop? The main reason people choose this option is because they simply love the look of natural stone in the bathroom or kitchen design. Natural stone surfaces can require maintenance and are vulnerable to damages from moisture, stains, scratching, etching, and more — that's why you chose a quartz countertop! By installing it as a backsplash, those worries are minimized.
Natural stone backsplashes are also cost-effective ways to incorporate marble, quartzite, and other types of stone into your interior decor, rather than choosing it for the entire lot of kitchen surfaces. It's less expensive to install natural stone tiles, for example, rather than solid stone slabs. With prefabricated quartz countertops, you can save even more.
Finally, while countertops are frequently intended to be the focal point of the kitchen or bath, you can instead opt to put the focus on spectacular backsplash designs. As a vertical surface, it's easily the first thing to be noticed when you step into the room.
Here are some examples of how to pair natural stone with a quartz countertop, using popular MSI products.
Gold Rush Stacked Stone Backsplash with Fossil Brown Quartz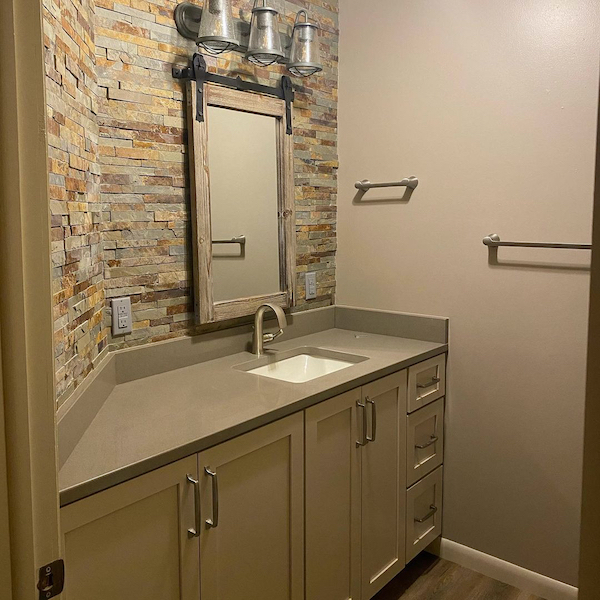 Photo Credit: @waredesignbuild on Instagram
A backsplash need not be confined to a 2-foot strip above the countertop; it can turn into an accent wall. Gold Rush Stacked Stone is a show-stopper, making this small bathroom anything but ordinary. With a bold backsplash, it's best to coordinate it with a countertop that has a subtle pattern. Fortunately there are so many shades within the natural stacked stone that it's easy to match, but it doesn't get any better than easy-care Fossil Brown Quartz.
Golden Honey Stacked Stone Backsplash with Carrara Mist Quartz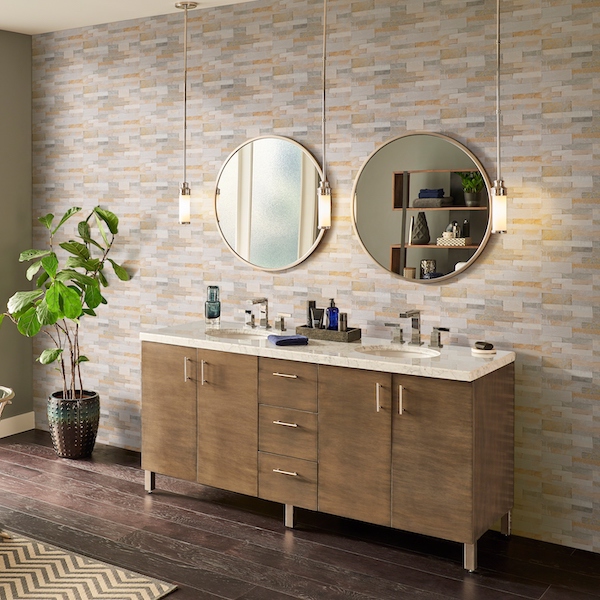 It couldn't be easier to add a statement-making accent wall than by installing Golden Honey Stacked Stone. That's because it's peel-and-stick — no grout or thinset adhesive is required. It features shades of white, gold, beige, and gray, so you have plenty of options for a matching countertop. In this airy, contemporary bathroom, Carrara Mist Quartz has just the right amount of gray-veined movement to complement instead of compete.
Bianco Starlite Polished Backsplash with Iced White Quartz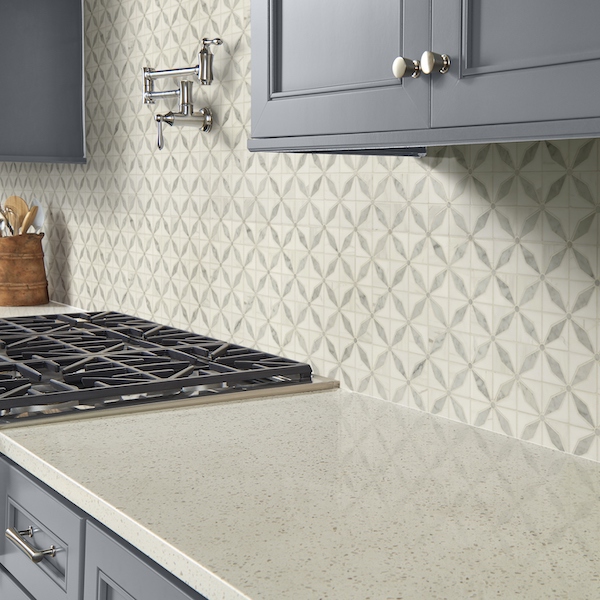 Mosaic backsplashes have always been popular, but now they're hotter than ever. Bianco Starlight Polished is a classic geometric pattern with contrasting shades of natural marble. Although the pattern is bold, the movement within each individual tile is subtle, so it matches well with quartz colors that also have a subdued pattern. The contrasting chips in Iced White Quartz, shown here, complement the shades of gray above.
Angora Rhombus Polished Backsplash with Marbella White Quartz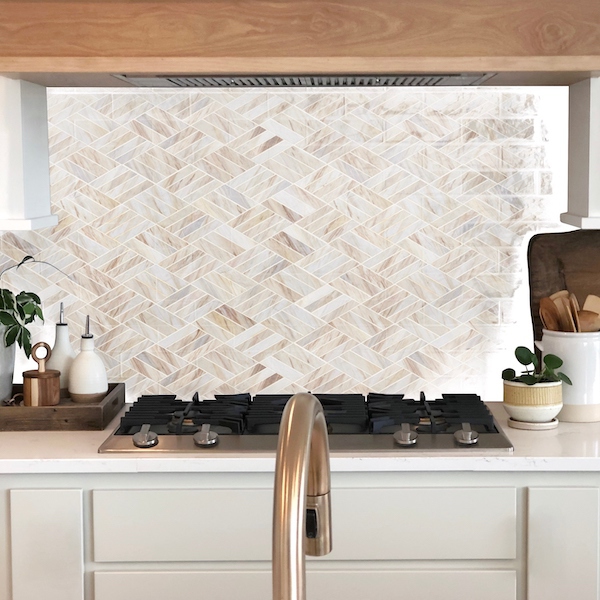 Most designers recommend choosing your countertop first, then selecting a complementary backsplash. You'd be forgiven, though, for falling in love with a beautfully patterned mosaic backsplash such as Angora Rhombus Polished. In fact, you might want to build your whole kitchen around it, installing plain white cabinets. Marbella White Quartz, which features subtle pale-gray veining on a soft white background, is an easy choice.
Arabescato Carrara Marble Backsplash with Midnight Corvo Quartz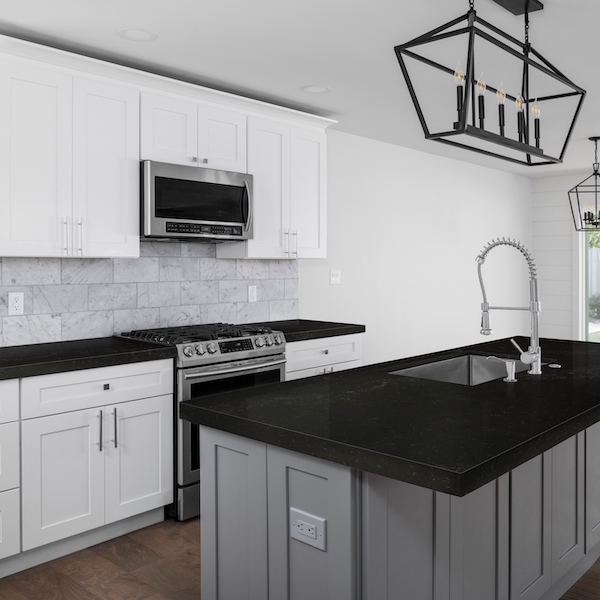 Although many homeowners choose backsplashes in similar, complementary colors and patterns, contrasting surfaces are stylish as well. Consider Midnight Corvo, a modern quartz countertop that features jet-black and snow-white veining. In this kitchen scene, it's brilliantly matched with Arabescato Carrara Marble backsplash tile, which has nearly the opposite pattern of soft white and dark-gray veins. Choose both with a polished finish, or contrast with a matte-textured tile.
Opting for an engineered quartz countertop is a practical consideration, because it's so easy to keep clean and fresh. With quartz there's no need to sacrifice beauty for durability. But, if you want to bring the elegance and natural beauty of real stone into your kitchen or bathroom design, the backsplash is the ideal way to do it. Whether you choose a backsplash to match your countertop, or a counter to match your backsplash, MSI has plenty of perfect combinations.
Read More About Modern Quartz Countertops
Top 10 Ways to Master a Bathroom With Modern Quartz Countertops And More!
5 Ways Hotel Designers Are Using Modern Quartz to Enhance Their Look
5 Stunning Modern Quartz Kitchen Islands
READ MORE ABOUT MSI BACKSPLASH TILE
How To Maintain Your Marble Tile Backsplash
Is A Backsplash Just for Looks?
2017 Bathroom Backsplash Tile Trends With "Wow" Factor