Easy Ways To Make Your Backsplash Tile And Countertop Match
March 05, 2018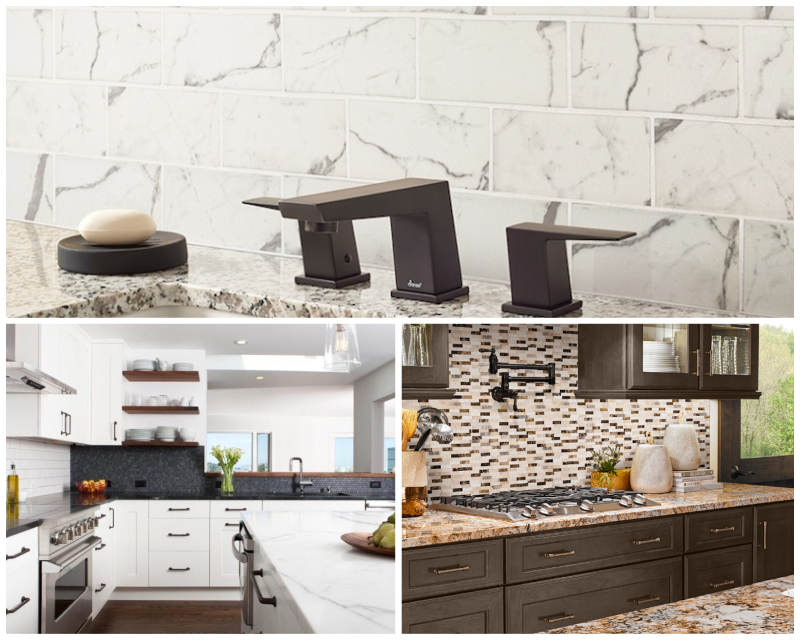 Matching your backsplash tile to your countertop can be a lot of fun, but it's always a challenge thanks to the millions of products and combinations you can choose. Where do you even start? Well, although some professional kitchen design experts stray from this rule, most people prefer to start by choosing the countertop of their dreams. After all, it's usually the star of the show — the room's focal point.
However, if you've chosen a black, neutral, or white countertop without a dramatic pattern, your kitchen backsplash can be the show-stopper instead. With the unique, colorful tile mosaics and other backsplash options out there, more people are choosing to let their creativity shine on this vertical kitchen surface.
The choice is entirely up to you, but we'd like to offer a few tips to get you started, as well as showcasing some of our most beautiful products.
Paradise Bay Blend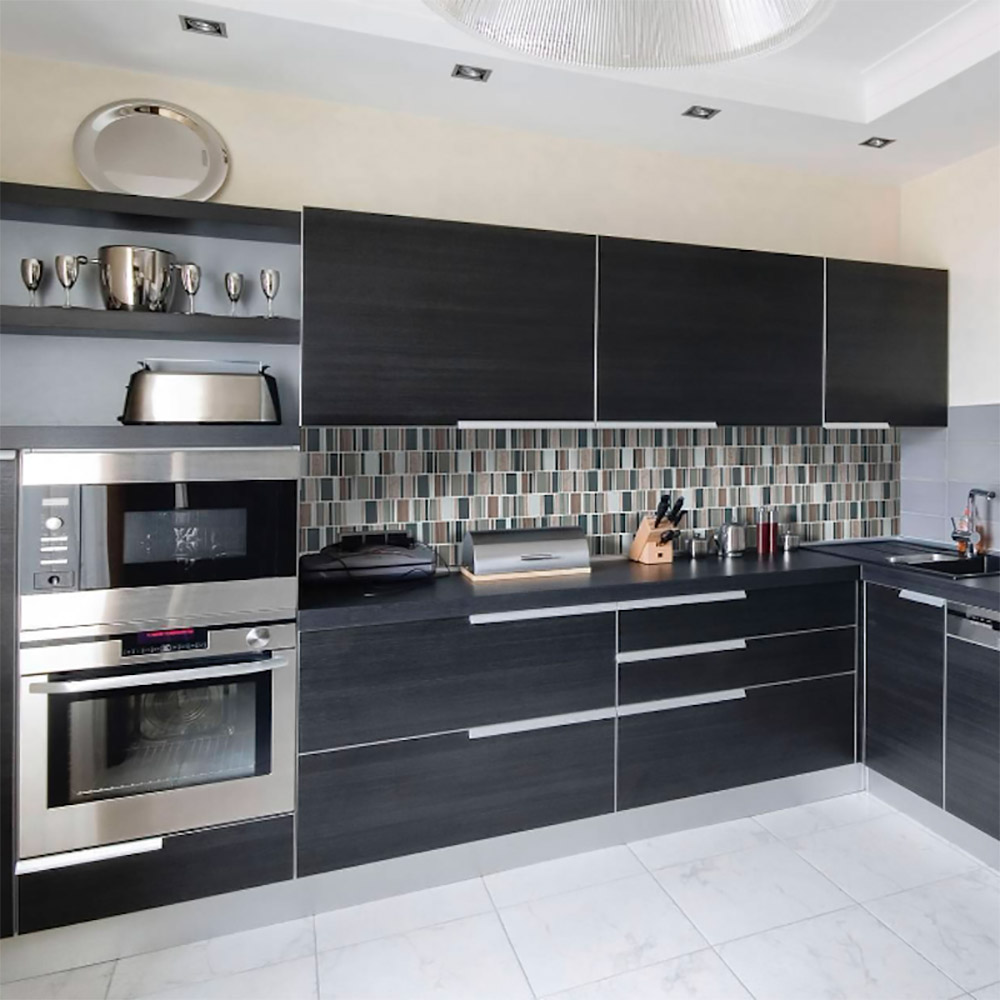 Featured: Paradise Bay Blend Mosaic
Here's a good example of choosing a sleek, solid black countertop paired with contemporary black cabinetry. It's a classic combination, but it needs a little something extra to add visual splash. Paradise Bay Blend Mosaic is a combination glass-and-stone tile mosaic, with simple rectangular pieces of varying widths randomly arranged. The colors are neutral cream and gray, with a touch of blue. The glossy surface of the glass tiles adds depth and ties beautifully with the gleaming stainless-steel appliances.
Statuario Celano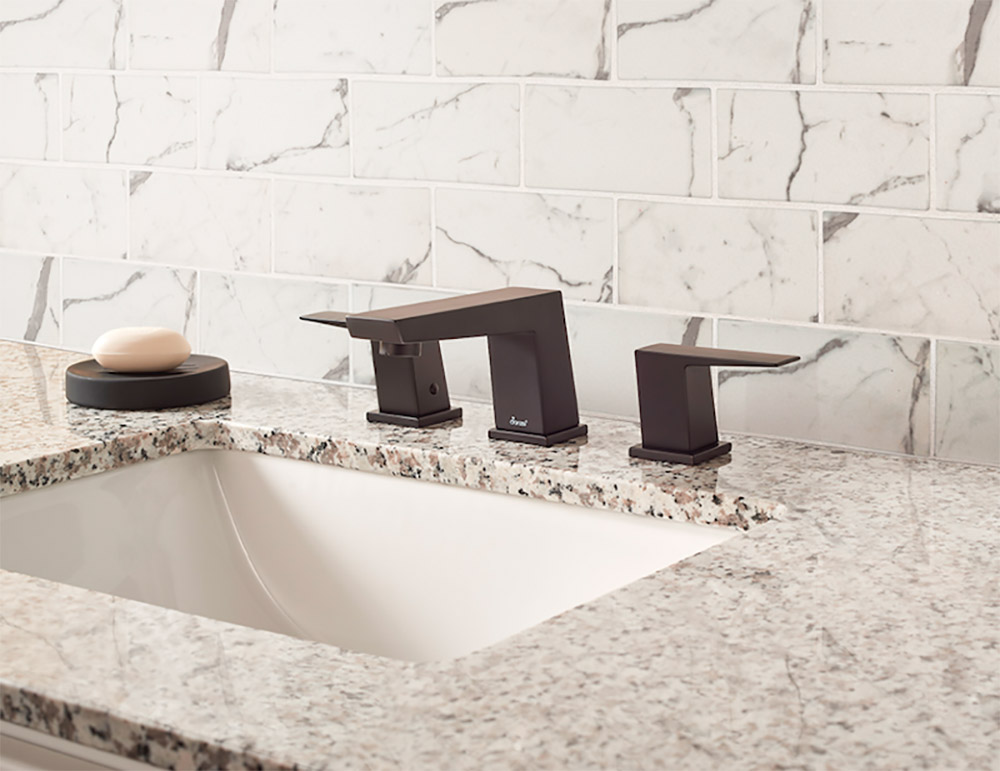 Featured: Statuario Celano Mosaic
Sometimes it's hard to tell right off whether two surfaces will harmonize. In this image, the speckled countertop surface and Statuario Celano Mosaic marble-look glass tiles pair well because they have similar neutral tones, and the backsplash is just subtle enough not to clash. If you're going to try a combination like this, we suggest obtaining samples of the backsplash tile you choose, along with a few other alternatives. That way, you won't just have to picture your backsplash designs in your head and hope for the best!
Emperador Blend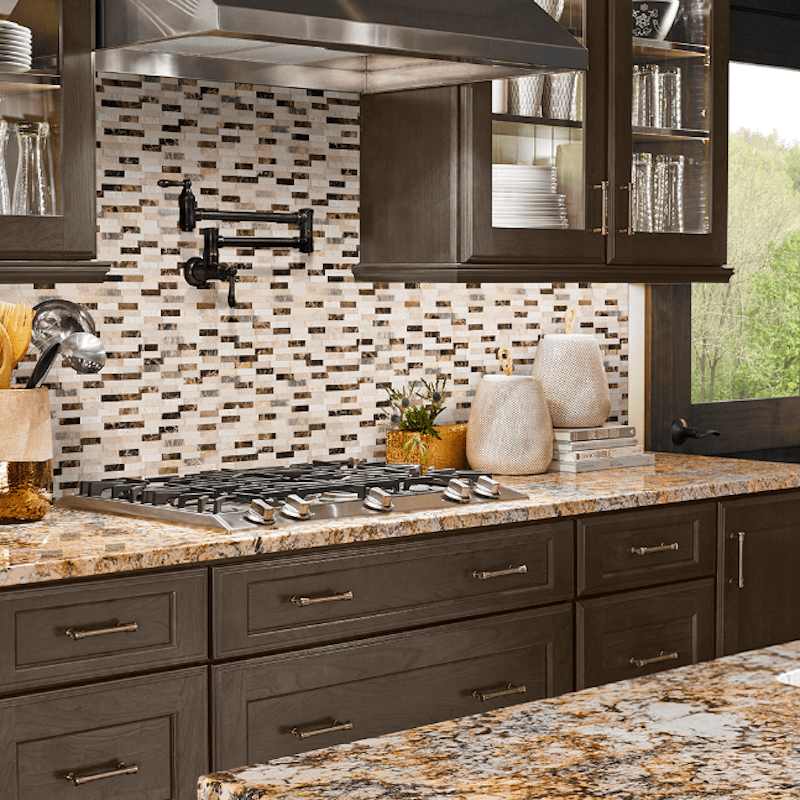 Featured: Emperador Blend STIK Wall-Tile
Although conventional wisdom is to choose either the countertop or the backsplash tile to perform in the starring role, this need not be the case. When you choose materials and patterns that are completely different, with similar color tones, the risk can pay off beautifully. In this room scene, Emperador Blend STIK Wall-Tile is a real marble-tile mosaic, and the perfect complement to the countertop and brown cabinetry. Even better, it's self-adhesive so you can easily install this marble backsplash yourself in a weekend.
Ice Interlocking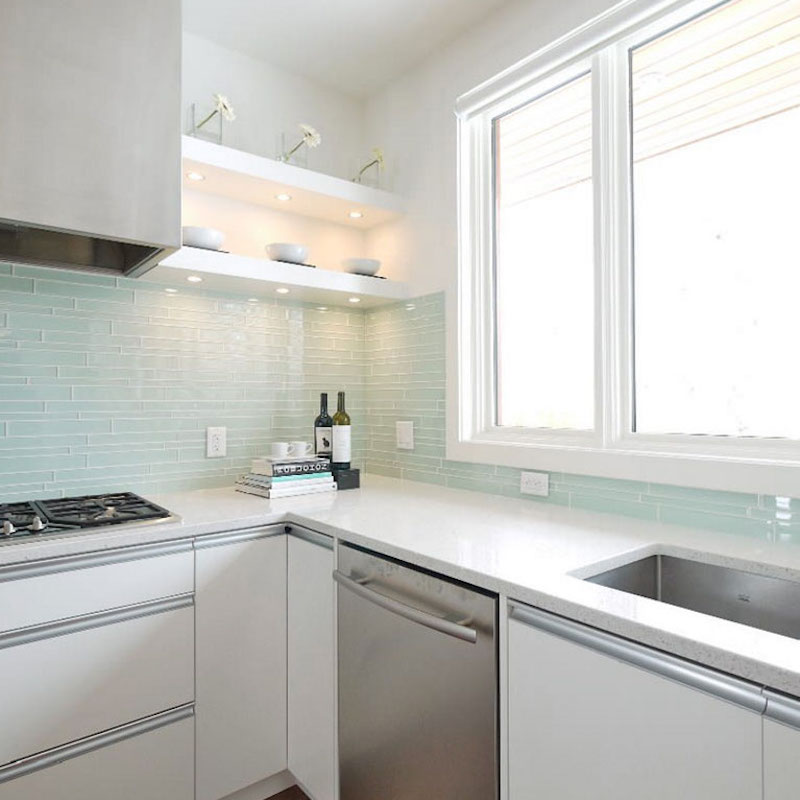 Recreate this look with MSI's Ice Interlocking Mosaic (Photo Credit: Houzz)
The reasons for choosing a solid white countertop are numerous. Today's homeowners love the minimalistic, contemporary look. It gives the feel of purity and cleanliness. Whether it's real marble or quartz that looks like marble, it's sure to add resale value to your home. But even an all-white kitchen like this one needs some personality. Ice Interlocking Mosaic is glass mosaic tile that adds sparkle and dimension, and the varying shapes and sizes of the tiles provide just enough visual interest without spoiling your simple aesthetic.
Black Glossy Penny Round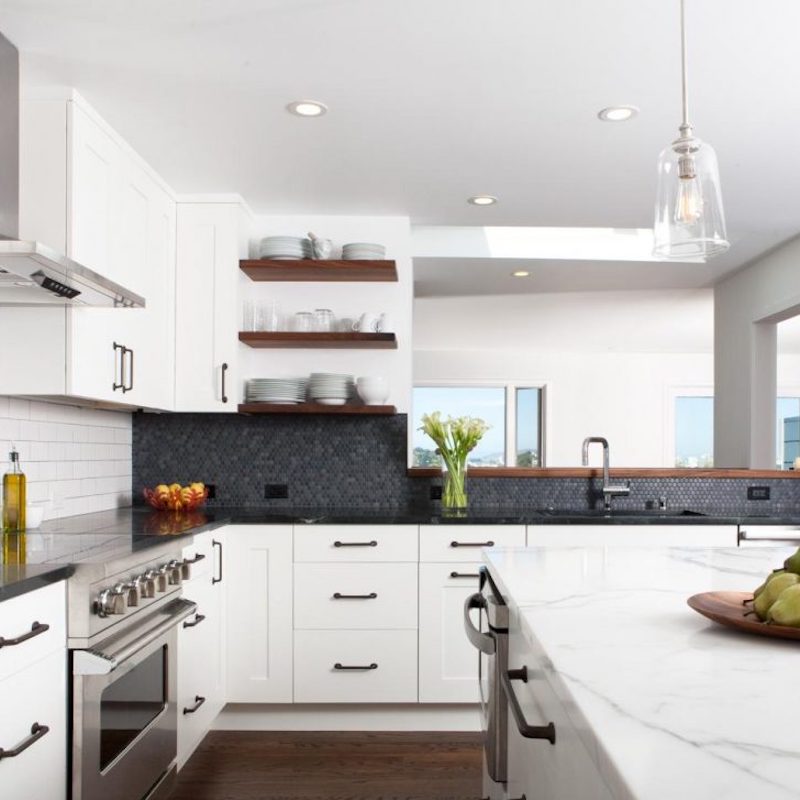 Get a similar look with MSI's Black Glossy Penny Round Mosaic (Photo Credit: Houzz)
When choosing a backsplash to coordinate with your countertop, materials matter. Even with a solid black countertop, you'll need to consider the other surfaces in the room, such as the cabinetry, flooring, and in this case, wood shelving. This Black Glossy Penny Round Mosaic adds an unexpected twist to this otherwise traditional décor, but if it were shiny metal instead of jet-black porcelain, the result would not be nearly as harmonious.
Don't be afraid to experiment with your countertop and backsplash combinations. Remember to use complementary or similar color tones, consider shapes and sizes as well as the type of material. Most of all, get samples so you can see how the combos look in real life instead of online, in a brochure, or from a photo you took with your phone. Visit MSI's Inspiration Gallery to see how to style endless options for your own unique designs.
READ MORE ABOUT MSI BACKSPLASH TILE
Does Backsplash Tile Really Protect The Wall?
Experts Weigh-In – Is A Subway Tile Backsplash Too Traditional?