Pairing Granite Countertops With The Perfect Backsplash
June 30, 2021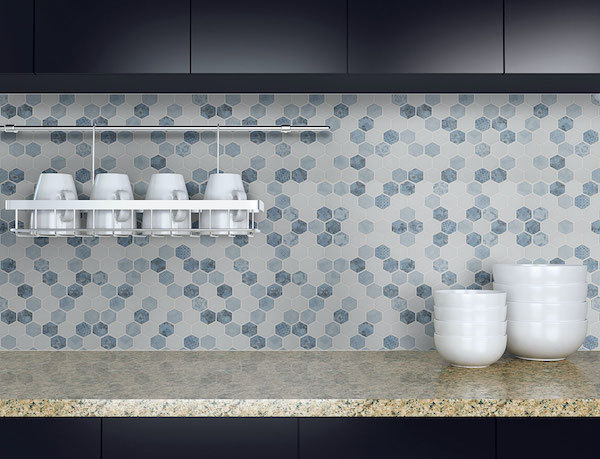 When planning your kitchen design, you have a lot on your plate. Not only do you need to select the flooring and hardware, but you need to decide on countertops and a backsplash. Although the process is fun, it doesn't make it any less stressful. Did you choose correctly in the quartz vs. granite debate? Are your granite countertops going to pair beautifully with your vinyl flooring? How will the backsplash tile complement the kitchen's hardware?
If you've been asking yourself these questions, we're here to take one of those things off your list. Keep reading for a guide for pairing granite countertops with the perfect backsplash.
How to Pair Granite Countertops with Your Backsplash
Granite countertops are one of the most popular choices for homeowners — and for a great reason! Their durability makes them stand out from all the other countertop materials on the market. But choosing granite as your countertops is only one aspect of designing your kitchen, you also need to factor in the backsplash tile that is going to complement the counters.
If you're struggling to decide which backsplash pairs best with your granite slab, use our granite visualizer to help you envision how they will look in your space. During the decision-making process, keep these tips in minds when pairing granite kitchen countertops with the perfect backsplash:
Play with materials – Once you have your remarkable granite slab selected, it's time to pair it with an equally remarkable backsplash. Don't settle for basic tile, instead, you should browse a variety of backsplash materials to see which one creates the desired aesthetic of your space. Consider options like marble, glass, or porcelain in a variety of colors and patterns.
Create a seamless color palette – A lot of people think they need to go big and bold with their backsplash, but you don't always have to do that! Instead, you can create a beautiful transition between the granite and the tile backsplash by pairing together options within a similar color palette. This offers an elevated, high-end appearance.
Incorporate a matte finish – Granite has a natural shine to it that can be perfectly paired with a matte backsplash. This subtle backsplash creates a wow-worthy, designer look that will really allow your granite countertops to shine to their full potential.
Highlight detailing with grout – While the counters and backsplash are two major factors that homeowners consider when redesigning a space, you should forget about the grout. Whether you want the grout lines to seamlessly blend into space or you want to create a contrasting and intriguing backdrop, utilize the grout in your favor. This looks especially good when working with granite countertops that have beautiful veining throughout.
Picking out the perfect granite countertop and backsplash combination doesn't have to be overwhelming. Using these pairing techniques, you'll be able to create a one-of-a-kind space that leaves your guests oohing and aahing.
Perfect Granite Countertops
and Backsplash Pairings
Now that you've selected to install granite countertops during your kitchen remodeling project, it's time to select the perfect backsplash that will take your space to the next level. Are you looking for a subtle backsplash tile that will allow your black granite countertops to be the showstopping element of your kitchen? Maybe subtle is the last thing you want and you're hoping to add a funky element in the kitchen? Did you choose the best granite colors to make the cabinets pop? Whatever vision you're hoping to bring to life, here are a few of our favorite granite countertop and backsplash pairings.
Alaska White Granite & Bianco Arabesque 6mm Tile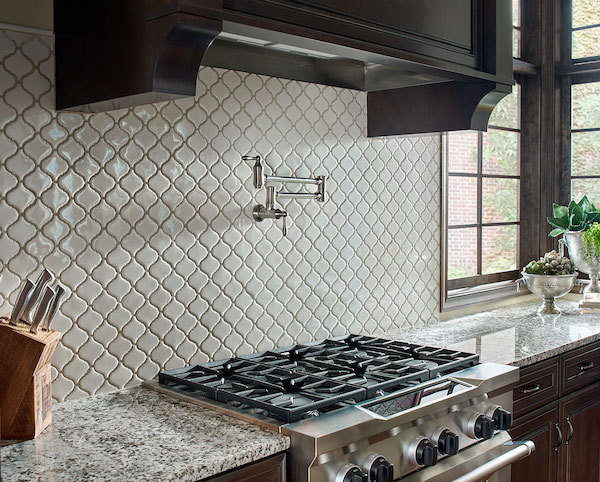 For a classic look that won't ever go out of style, consider mixing and matching Bianco Arabesque porcelain mosaic tile and Alaska White granite countertops. This traditional glass arabesque tile adds a sophisticated appearance that blends subtly with the warm neutrals and onyx hues of the countertops. From a classic kitchen to a traditional bathroom, you can't go wrong with this pairing.
Pitaya White Granite & Rhombix Nero Polished
Geometric Tiles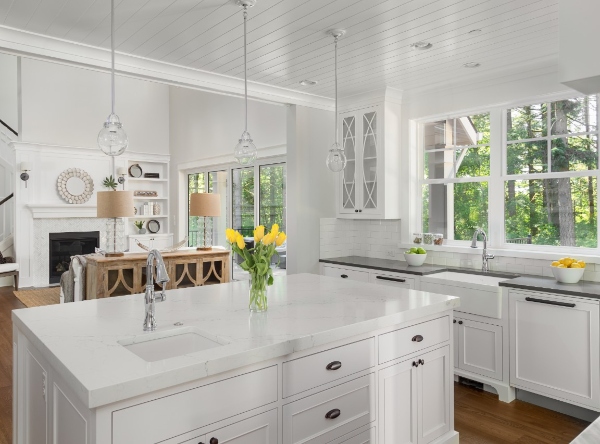 White countertops are all the rage lately, but that doesn't mean they're going out of style any time soon. If you're worried about following a trend, change it up a bit with Pitaya White granite countertops featuring delicate patterns with mostly cool white backgrounds and smaller dark speckles scattered throughout. This delicate pattern in the countertop contrasts beautifully with Rhombix Nero Polished modern geometric tiles with their bold and dark lines. There's no better pairing to create a one-of-a-kind kitchen.
White Ornamental Granite & Arctic White Marble Ledger Panels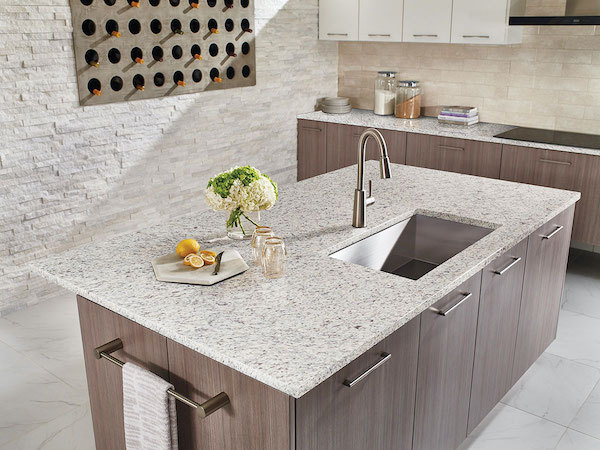 Why settle for a boring one-dimensional background to your kitchen? Instead, you should look for a backsplash that makes your White Ornamental pop! Arctic White marble ledger panels feature striking and dynamic white stone that easily adds depth and dimension to your space. The snowy white panels offer a subtle contrast against gray hues with black specks throughout the granite slab.
River White Granite & Mochachino Stained Glass
Hexagon Mosaic Tile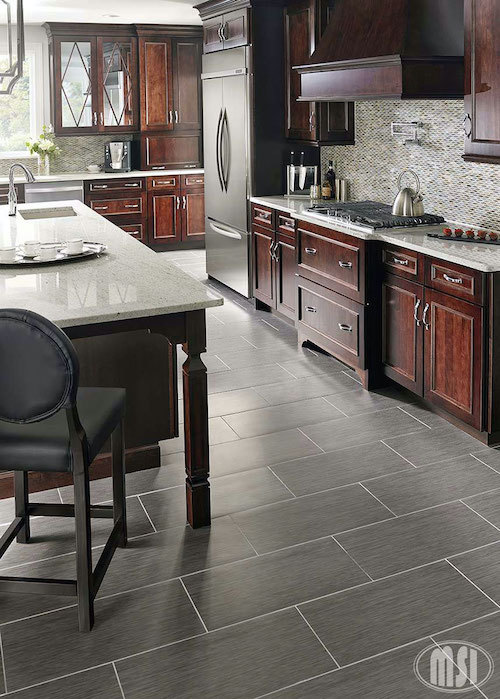 There's no better way to enhance the look and feel of your space than by incorporating a blend of colors into the room through the backsplash! Mochachino Stained Glass Hexagon mosaic tile features cool gray tones and warm golds, bringing light and character to any space. The warm tones are a great match for River White granite with its white and gray veining with small deep burgundy flecks. It's the perfect way to create a homey atmosphere with a warm color palette!
Azul Platino Granite & Arabescato Carrara
2" Hexagon Honed Tile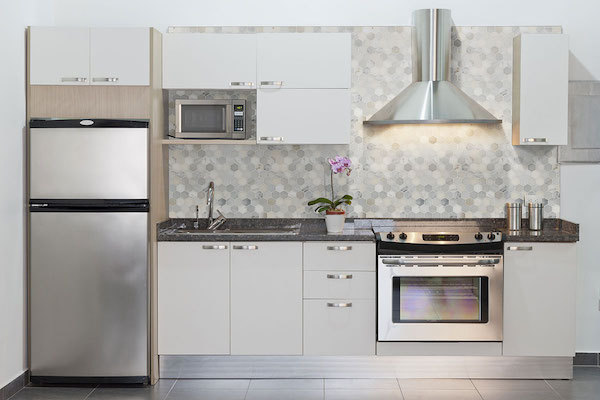 Depending on how much wear and tear your kitchen gets, it might be best to opt for a darker-colored granite countertop that helps to hide some of the mess! Azul Platino Granite from Spain is a low variation gray and white slab granite that blends well with any backdrop. But if you want to keep some light and bright elements in your space, pair it alongside Arabescato Carrara 2" Hexagon Honed marble tile in various white tones, some tinted with beige and gray hues.
READ MORE ABOUT GRANITE COUNTERTOPS
Our Favorite White Granite Countertops
Our Virtual Tools Are Here For You - Help with Granite Slabs And More!
Quartzite Countertops Vs. Granite Countertops
Should I Use Granite Or Marble Countertops For My Kitchen?
READ MORE ABOUT MSI BACKSPLASH TILE
Should You Align Backsplash Wall Tile Vertical Or Horizontal?
Specialty Shape Backsplash Tiles Make A Modern Statement
Standard Vs. Full Kitchen Backsplash: Which Is Right For You?
Striking New Marza Backsplash Tile Collection Offers One-Of-A-Kind Looks