Stunning Quartz Countertops: Concrete And Matte Looks
September 18, 2019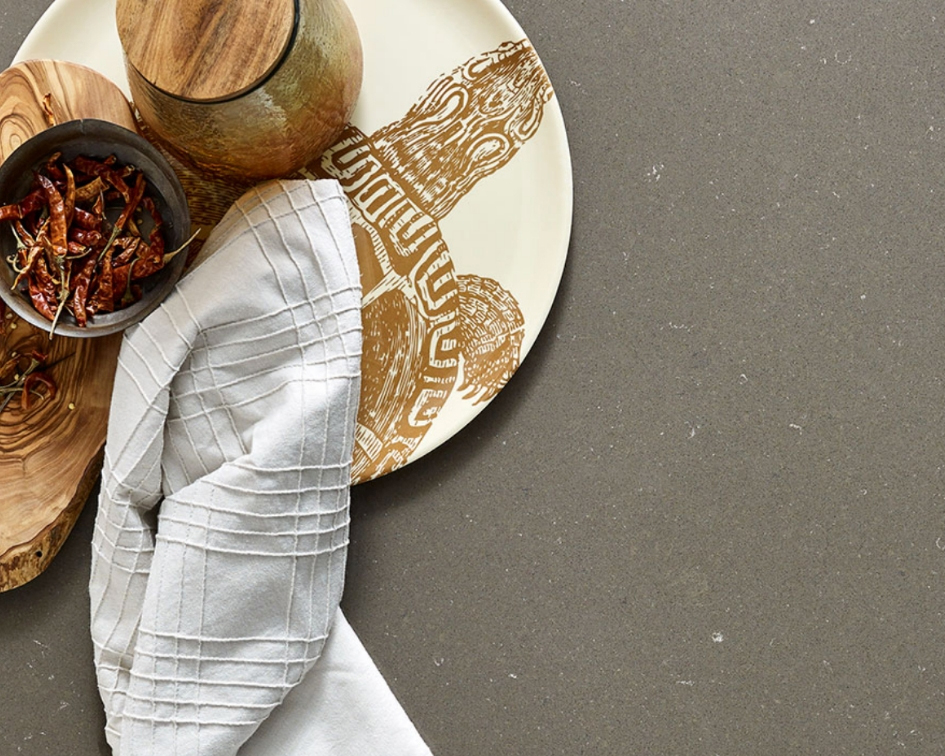 Today's interior designers are exploring a range of modern, alternative surfaces for the kitchen and bath, so it's no wonder that concrete countertops seem appealing. They offer a contemporary look that goes with the minimalistic or even industrial styles so popular these days. But, do they really deliver on their promise? Concrete counters may look great in decorating magazines, but they're more trouble than most homeowners realize. Fortunately, there's another "futuristic" countertop that delivers on looks and function: quartz countertops!

If you're looking for an easy-care, long-lasting surface, concrete may not be your best choice. Here are a few reasons you may want to reconsider:

• Installation can be difficult and expensive.
• Concrete is heavy, so base cabinets may need reinforcement.
• Most concrete countertops develop cracks over time, some significant enough to need repair.
• Concrete countertops, like natural stone, need regular sealing.

Quartz countertops have none of these problems! Since quartz counters are manufactured, they are produced in a huge variety of colors. Quartz countertop colors can resemble other materials — even concrete. If that sleek, minimalistic, matte concrete look is what you desire, there's a quartz countertop that can offer all of the benefits of concrete with none of the troubles. Here are a few of our quartz options that surpass all of their concrete competition.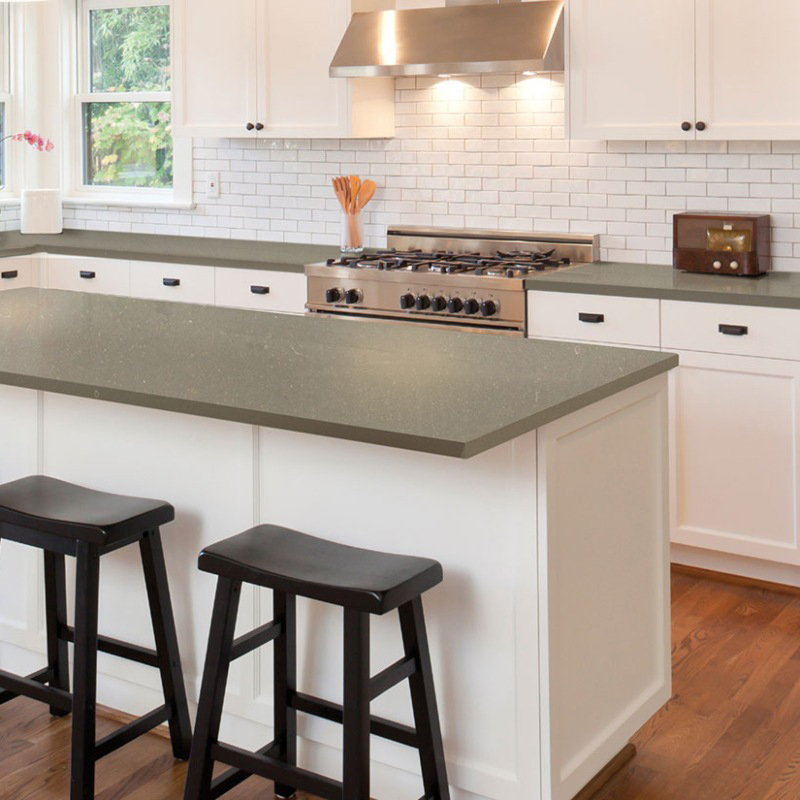 Fossil Brown Quartz
Love the easygoing, timeless look of mid-tone brown countertops? Fossil Brown Quartz has subtle shading with lighter veins for interest. Its elegant good looks match well with urban, contemporary designs such as the white kitchen shown here. We can also imagine it right at home in a rustic kitchen environment alongside farmhouse accessories.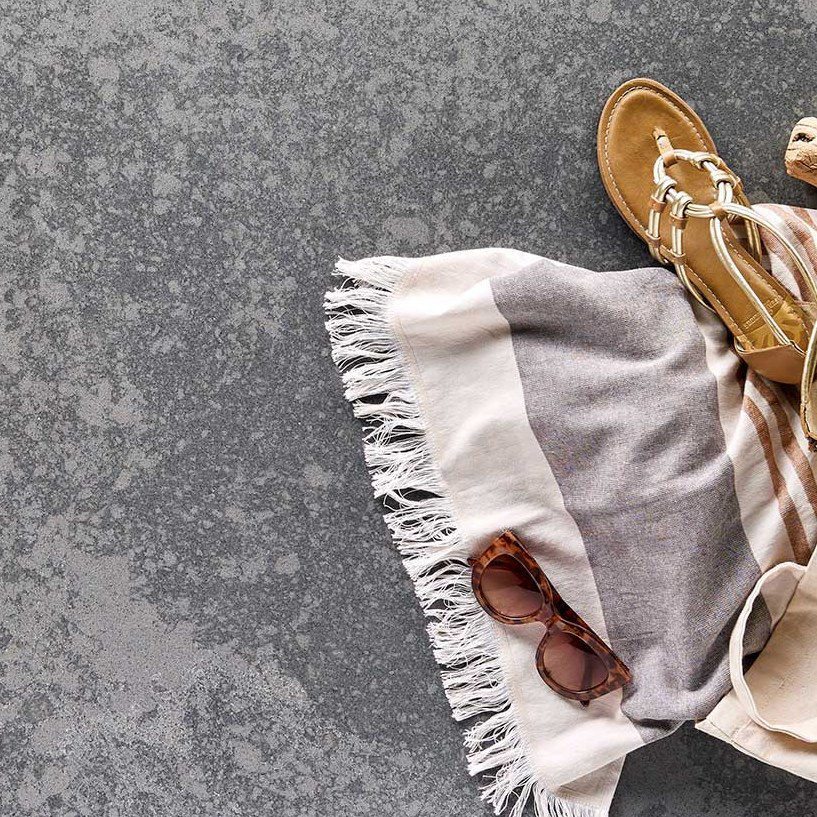 Urban Lava Quartz
Got your heart set on the concrete aesthetic, complete with varying shades of gray, an aged appearance, and soft matte texture? Urban Lava Quartz countertops that look like concrete have you covered. Despite the matte surface, however, quartz countertops are completely waterproof — they resist stains and are easy to keep hygienic. In fact, Urban Lava is tough enough to be used as flooring, so you can use the look of concrete anywhere you desire.
The beauty of gray is its ability to be dressed up or down, to blend in or stand out. Iced Gray quartz features shades of pewter and a darker gray shade with low variation, so it's a natural fit with stainless steel appliances, other gray elements such as this tile backsplash, or vividly colored accessories. It's also a natural fit with a busy family that has plenty to do without worrying about maintaining a countertop.
The concrete, matte look isn't just for kitchens! But busy family bathrooms can be tough to keep clean, so it's important to have a countertop like Concerto Quartz that resists water, mildew, mold, and bacteria. Even better still, it's a soft, soothing gray accented with subtle charcoal-gray speckles, an ideal complement to shiny glass and chrome.

There are many reasons quartz countertops are growing in popularity among homeowners, and one of the biggest is its ability to mimic other beautiful materials that may not be quite so easy to maintain. Interested in the counters shown here? Want to compare quartz vs. granite countertops as well? Visit our web gallery today.
More Information on Quartz Countertops
10 Things You Did Not Know About Quartz Countertops
Your Kitchen Remodel Needs A Modern Quartz Countertop
From Crystals to Countertops How Quartz Countertops Are Made
Stunning Quartz Countertops Concrete and Matte Looks