Popular
From Crystals To Countertops: How Quartz Countertops Are Made
September 21, 2019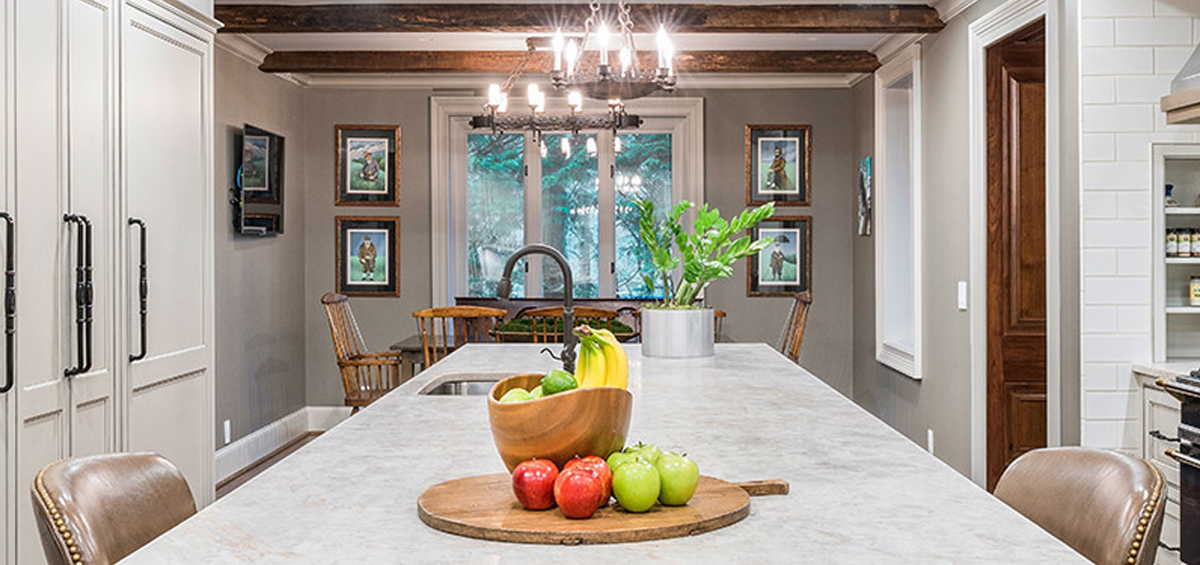 With more than 10 million kitchen transformations each year, there are a lot of countertops being considered. Recently, quartz countertops have surpassed granite as the top surface choice, and for all the right reasons. The engineered stone is one of the most popular alternatives to natural stone because of its brilliance, beauty, and brawn. But, the man-made counter material is not cut directly from the Earth like a slab of granite or marble. Instead, quartz countertops are made by an optimal fusion of quartz, resin, and pigments that add to its extreme durability, vibrant styles, and low maintenance.
Yet, you still might be wondering what exactly is quartz. It reins as the second most common mineral in the Earth's continental crust with a composition of silicon and oxygen, and its hexagonal structure helps make it extremely strong. Many different mineral microstructure and color varieties exist, which lend to the wide diversity of quartz countertop colors available. The blend of stylishness and practicality make it perfect for busy areas like kitchens, bathrooms, and commercial applications. To better understand this favorite surface, join us on this journey as we explore the exciting process it takes to transform natural quartz crystals into stunning countertops.
STEP 1: QUARTZ IS MINED
Veins of quartz can be found deep beneath the Earth's surface. The natural stone is comprised of silicon and oxygen and comes in various shapes and sizes, from small salt granules to larger pieces and rounded shapes to sharp crystals. Quartz is found in most rock types, including igneous, metamorphic, and sedimentary rocks, and because it does not erode, it is left behind when the rocks wear away over time.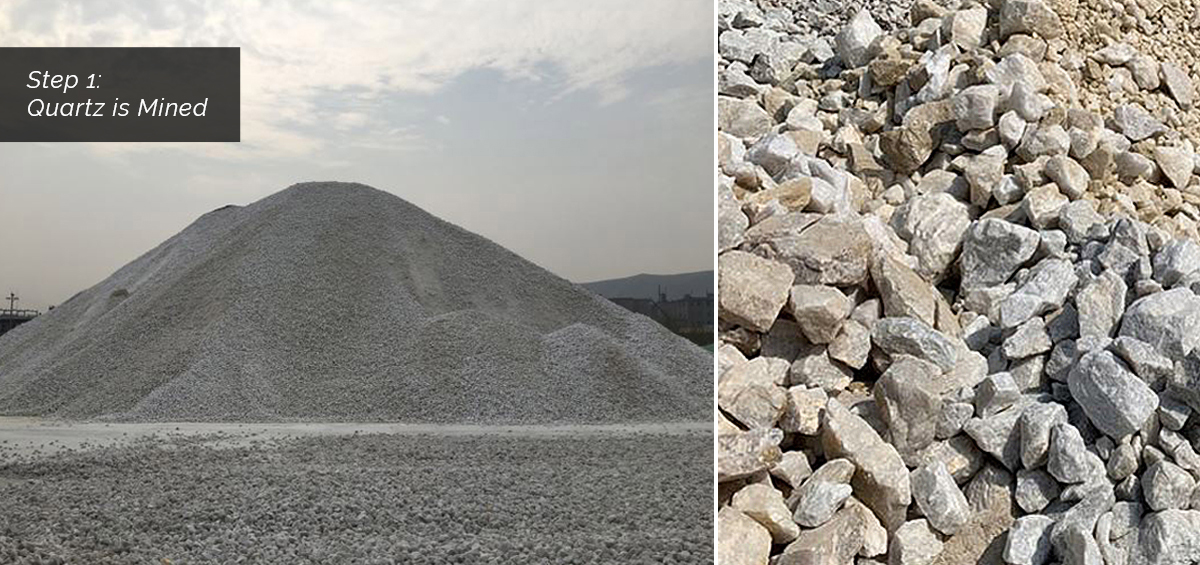 Being the second most abundant mineral on the planet, quartz is found in geological environments throughout many countries, including America. This makes it possible for mines to exist all over the world. Much of the quartz in America is mined in Arkansas, but the Spruce Pine Gem Mine in North Carolina is one of just a few mines worldwide where high-quality, pure quartz is extracted. Other major sources of quartz sands/granules used for countertop manufacturing come from Canada, India, Turkey, Belgium, and China.
Unlike natural stone, quartz is not cut from the Earth as a block or slab. Instead, miners use heavy equipment and explosives in order to access the stone, and once it has been unearthed, they retrieve the pieces from the ground using a shovel, pickax, or bulldozer. The minerals are then shipped to a manufacturer facility. Its abundance also lessens the mined minerals environmental impact.
STEP 2: QUARTZ IS MADE
Quartz goes through a process to become the beautiful countertops you see in a design center, showroom, or home improvement store. Manufacturers purchase the mineral by the ton, and they receive their shipments according to their quality and needs.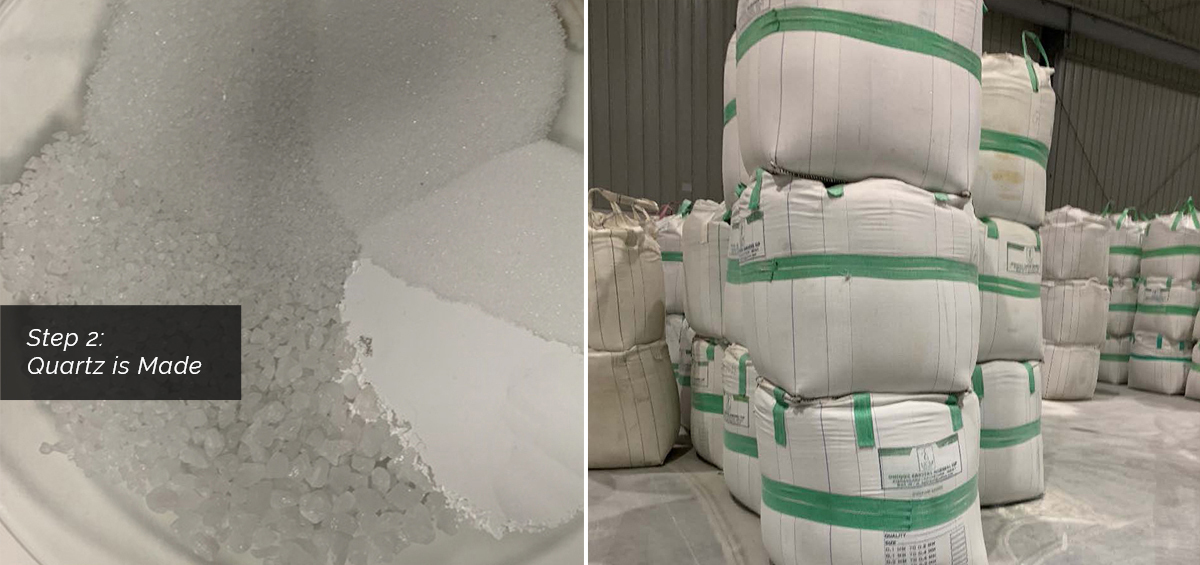 The majority of the minerals that manufacturers use are either white or clear quartz. The crystals are crushed into smaller, uniform pieces that can be fine like sand or large like pebbles in order to achieve the desired solid or speckled patterns. The crushed stone can comprise up to 93 percent of the engineered countertop, with a polymeric resin or cement-based binder and pigments making up the remainder. The purpose of the resin is to not only make the stone stick together so that it becomes a useable structure but also give it extra durability.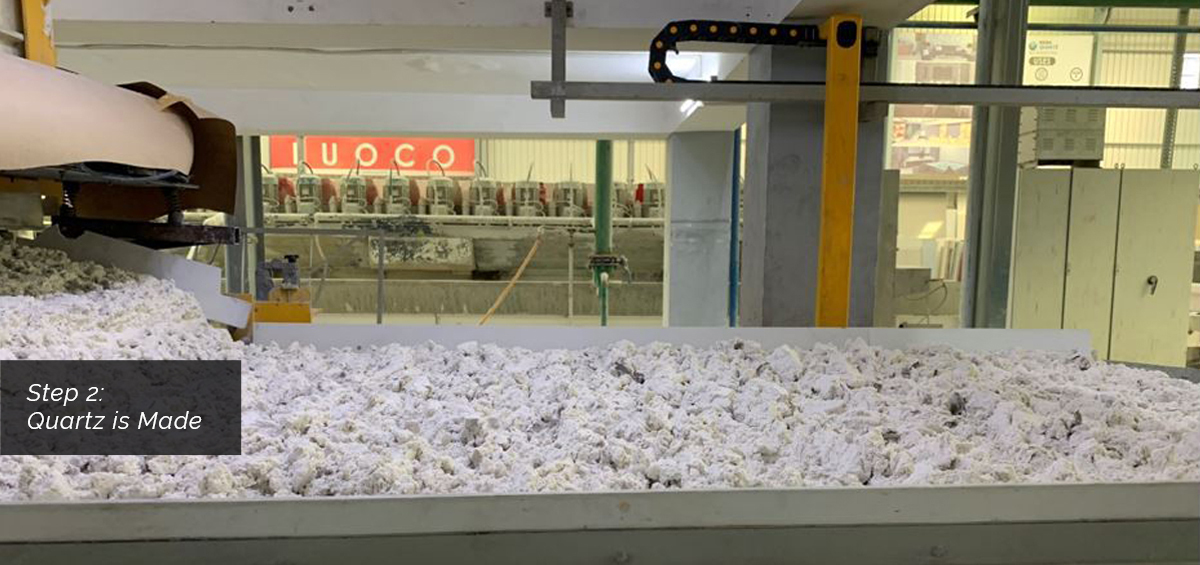 The mineral mix used is now part of a non-porous surface that is antibacterial as well as heat, scratch, and stain-resistant. These are all helpful features especially for kitchen use where bacteria, germs, and moisture can be an issue. Pigments or other minerals added might give the countertop a vibrant color that cannot be found in nature, or it will warm or cool the clear or white quartz to the desired design the manufacturer is going for. Either way, it will create a consistent coloring consumers can count on time and time again.
STEP 3: QUARTZ IS TURNED INTO SLABS
With the mixture ready, the following processes take place: molding, pressing, curing and polishing where a mixture of quartz, resin, and pigments is then poured into a mold and formed into slabs of various sizes. After this, slabs are placed through the process of vibro-compression where the slab is compressed under a vacuum at very high pressure so that all of the air molecules are flattened in order to create a solid, non-porous surface. After, the slabs are heated at 90 to 100 degrees Celsius, which solidifies the strength of the slab. It is then left for curing and cooling. After undergoing both pressure and intense heat, the result is an extremely strong, durable product with no room for things like bacteria, dirt, or moisture to settle in. For this reason, there is no need to seal a quartz countertop.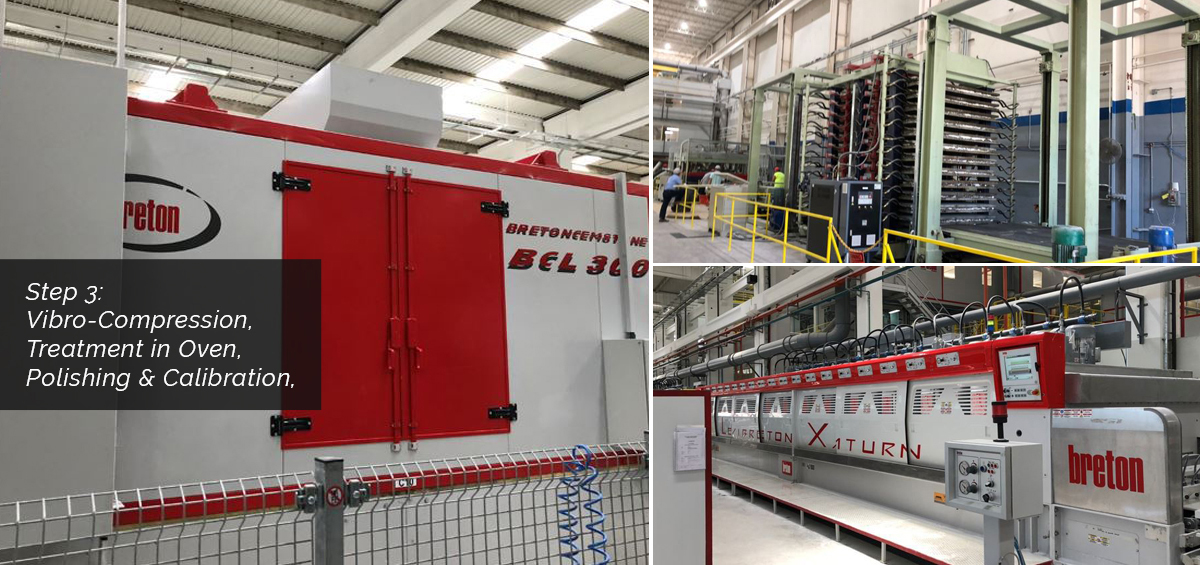 After curing, the slab is polished with multi-diamond head polishers to enhance the quartz's natural glossiness. Calibration is also completed to provide a perfect flat slab. To add a finishing touch, slabs can be polished to a higher gloss or given a matte or concrete texture finish.
STEP 4: QUARTZ IS TURNED INTO A COUNTERTOP & INSTALLED
After an engineered quartz slab passes all tests, it can then be cut without difficulty into the shape desired. Because a new countertop is an important investment, it is best to have an expert measure, cut, and install it to ensure the job is done professionally and properly.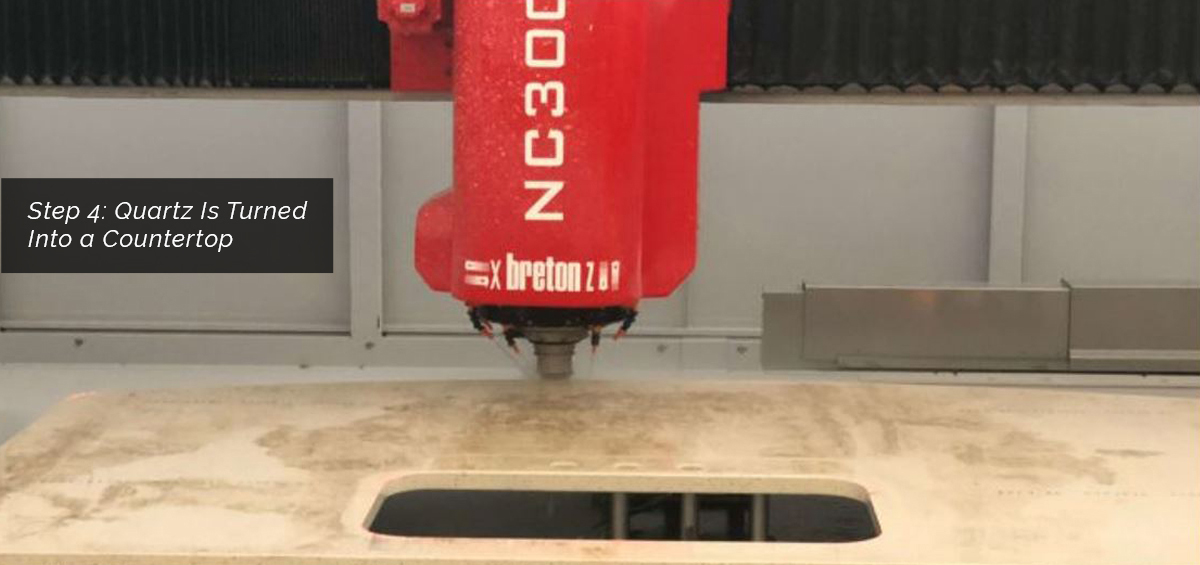 When it is time for the installation process, a local fabricator will need to come to the house in order to measure the dimensions of the countertop so that a template can be created to cut the correct size and shape. Eliminate any guesswork by having items like your sink and appliances on hand at the time of templating, as accurate measurements are crucial to getting the right fit. While they are there, make sure to discuss all details like overhang, backsplash, cutouts, seams, and desired edge profile. By having this conversation, you will ultimately be happier with the final install, and the fabricator can do a better job providing the countertop installation you envision.
On the day of installation, make sure your space is ready by confirming that the electrical and plumbing are roughed, the walls are painted and dry, the flooring is finished, the cabinets are completely installed, and the appliances are in place. Once the installation is complete, you can relax and enjoy your new countertop for many years to come.
STEP 5: QUARTZ CARE AND MAINTENANCE
Unlike some other premium surfaces, quartz counters offer simple maintenance. They never need to be sealed, polished, or waxed in order to keep their lustrous finish. This makes it an ideal option for areas like kitchens and bathrooms, where you might have to be wary of water spots and spills. Yet, it is not as heat resistant as some other surfaces due to the use of polymer resins, but, while some products can withstand temperatures up to 400 degrees Fahrenheit, it is always best to check the details provided by the manufacturer.
With regards to care, cleaning quartz countertops is simple. You can wipe down your countertops with a soft cloth and water or add a gentle dish soap to the mix to keep the surface clean. A non-abrasive cleaner like Barkeeper's Friend is something that can help tackle those caked-on messes. Avoiding any products with harsh chemicals or bleach is a must so that they do not leave a stain or discolor the counter.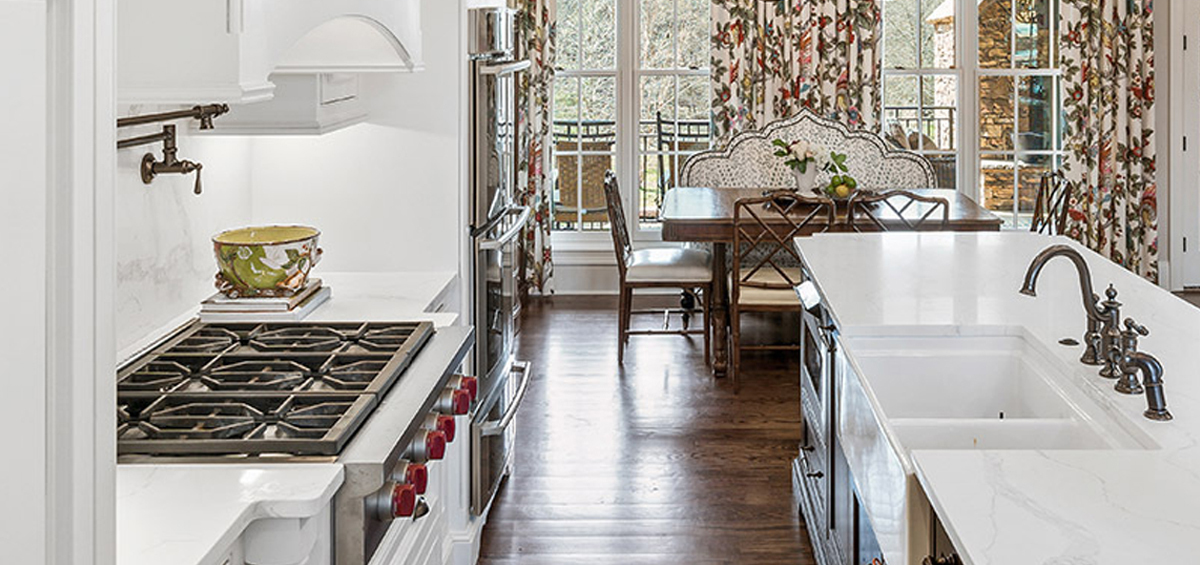 Residential and commercial consumers can enjoy the style and beauty that comes with a quartz countertop because it is more beautiful than it has ever been. Many manufacturers offer dozens of quartz countertop colors and designs to choose from, and buyers can select one or two that matches their particular aesthetic. Everything from neutral or bold solid colors to surfaces enhanced with glitzy accents to timeless marble-look quartz is available. While granite-look counters are still very sought-after, quartz in modern colors or specialty textures are unique options that are gaining in popularity.
Quartz is a prime example of how natural elements and impeccable manufacturing come together as one. Even though a quartz countertop differs from its natural stone alternative, it still sits as the most popular countertop pick among consumers. Furthermore, if you are comparing quartz vs. granite, then know that this man-made product is in no way inferior to any natural stone in terms of quality, beauty, and investment.
The more involved process to produce and transform these beautiful crystals into stunning, strong surfaces actually creates many benefits for its users, such as low maintenance, durability, and reliability. Now that you understand how this engineered stone is made, think about how you and your family can enhance your space with this spectacular counter and make cooking or getting ready in the morning less worrisome. Lifestyle changes are all possible because quartz really does rock!
More Information on Quartz Countertops
10 Things You Did Not Know About Quartz Countertops
Your Kitchen Remodel Needs A Modern Quartz Countertop
Stunning Quartz Countertops Concrete and Matte Looks