Cozy Up With Warm Q Premium Natural Quartz Colors
November 10, 2021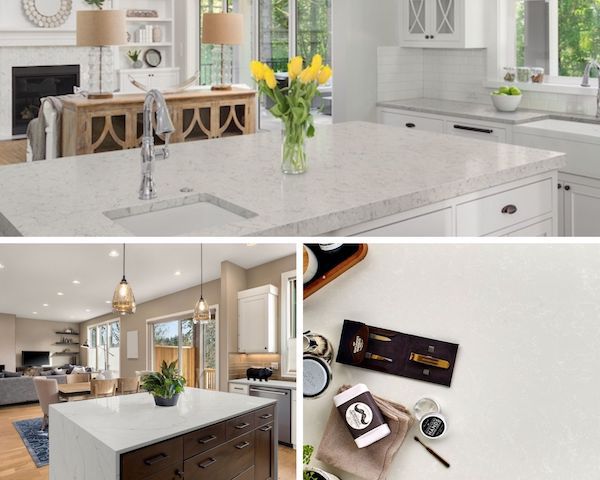 Do you know that one of the greenest countertop options you can choose is quartz? Ninety percent of the materials that make up the natural quartz countertop colors are by-products of other quarrying projects, creating a no-waste option that looks great in your kitchen.
But environmental friendliness is not the only benefit that quartz kitchen countertops can offer. Learn about the reasons to choose this option and discover the warm side of premium natural quartz.
Benefits of Natural Quartz
It is Non-Porous
Quartz countertops are made up of around 90 percent natural quartz, a material that is non-porous. This makes it resistant to stains, which is essential for your kitchen design. If a spill happens, all you have to do is wipe it clean.
Because quartz is non-porous, you also do not have to worry about sealing the countertop. With granite or marble, you have to periodically have it sealed to prevent stains and substances from seeping into the countertop.
It's Durable
In a high-traffic and high-use area like your kitchen, you need your countertops to be made of sturdy and long-lasting materials. Quartz countertops can offer that.
Unlike other materials, like granite or marble, you do not have to worry about scratching the surfaces, cracking them, or otherwise damaging them as you put them to use. Since it is heat resistant as well, you do not have to stress about using it as you cook.
Quartz is also a stronger material than granite and marble. This is because of its components, which include natural quartz as well as hard resins. Quartz is a dependable option for kitchen surfaces because of its structural integrity as well.
It's Sustainable
Quartz is abundant in the earth, making it an environmentally friendly option. Everything used to create these premium surfaces for your kitchen is a by-product of other extractions. This allows you to enjoy your kitchen countertops without feeling that you have harmed the planet.
It's a Wise Investment
Quartz countertops are an investment that will pay for themselves. To begin with, quartz countertops are already more affordable than granite or marble. But that is not all.
Since quartz is so durable, this is a one-time investment that you can enjoy for years to come. You do not even have to purchase special products to keep quartz looking brand-new! It can also add value to your property, which is crucial if you are planning to sell the home in the future.
It is Stylish
Perhaps the most important reason to consider quartz for your countertops is how stylish it is. There are no limits to the colors and designs that you can get from quartz.
There are all manner of quartz countertops colors and patterns to choose from. People sometimes have an idea that these kinds of surfaces will all be geared toward cooler colors, which might not be what you want.
In fact, there are excellent warm, natural quartz colors that can fit your kitchen's color palette perfectly. Let's take a look at some of these style options to help you decide if they are right for you.
Calacatta Arno Quartz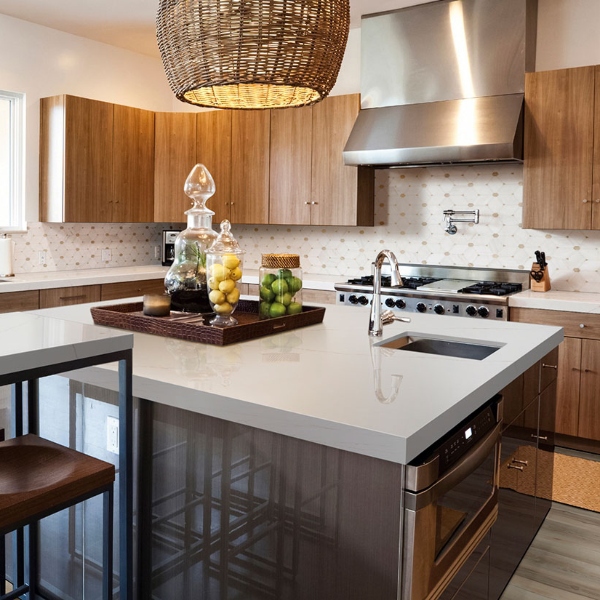 This quartz has the appearance of marble, with a creamy white background color on which you can see gray lines accented by gold.
Calacatta Arno Quartz can work beautifully as a backsplash or countertop, and you can enhance the warmth of the gold accents by adding kitchen details in gold, bronze, or copper.
Calacatta Miraggio Gold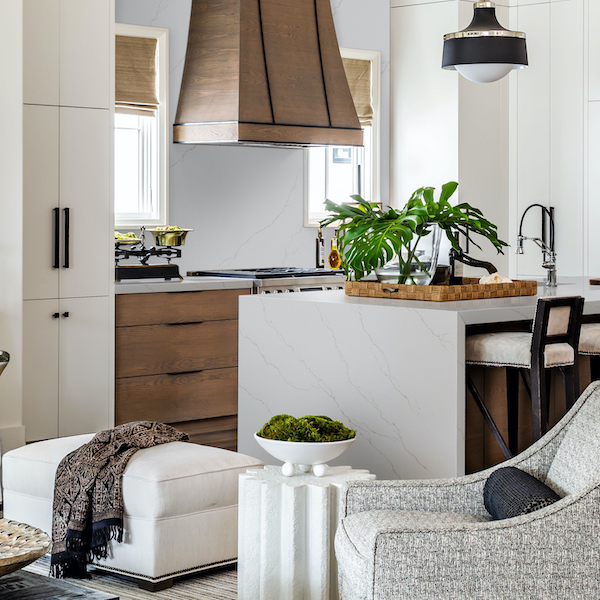 The gold and brown veins that run through this luxurious white quartz that looks like marble can bring warmth to your kitchen space without giving up on elegance. Calacatta Miraggio Gold Quartz is made using the Lumaluxe formulation, which allows light to play with the surface of the quartz in a unique way. It works perfectly for kitchen islands and it comes in 2cm and 3cm slabs.
Carrara Mist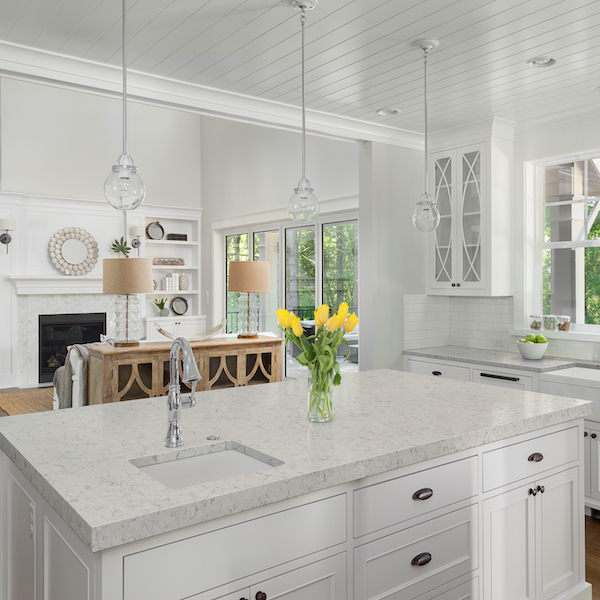 This creamy white quartz with the appearance of marble contains specs and veins that highlight the simplicity of the design. It provides a bright look that can be paired with darker cabinetry or lighter options for an airy color scheme.
Carrara Mist Quartz can work with more classic kitchen styles as well as more modern looks, to ensure you can get the exact results you want. This makes it a very popular choice for interior designers as well.
Shell White Quartz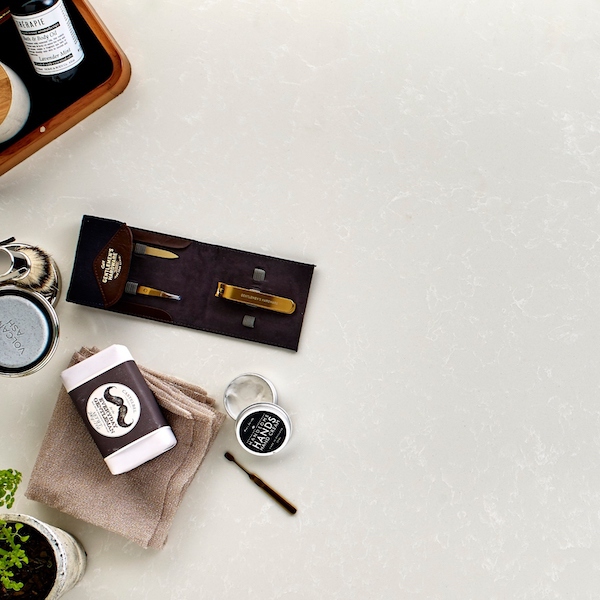 If you are looking for a neutral countertop option that can fit the style that you want for your kitchen, Shell White Quartz is a great choice. Its snowy white color is enhanced by the subtlest of veining, and it can become a canvas on which to experiment with colors and styles. Its neutral tones will ensure that it never goes out of style. You can find it in 2cm and 3cm slabs.
Calacatta Prado Quartz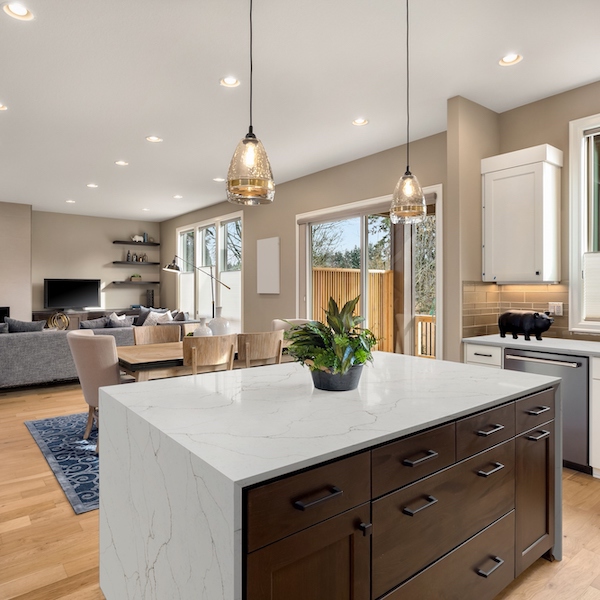 For an eye-catching and more dramatic look, Calacatta Prado Quartz is an excellent choice. Its bright white background provides the perfect surface for highlighting dark veining. It can work in a modern kitchen just as effectively as it can in a classic one.
Calacatta Valentin Quartz
No matter what style of kitchen you prefer, from a modern one to a farmhouse design, you can depend on Calacatta Valentin Quartz. The two-toned marble provides a sense of movement, and the gold veins offer the warmth that you want.
The polished finish of this quartz countertop will be a conversation starter. You can check out this quartz countertop option and many more in the video below.
Choose Style and Function
Natural quartz countertops can provide a balance of style and function that you can depend on. They are an investment that will allow you to enjoy using your kitchen without worrying about stains or other damage. Why not get these beautiful and warm quartz options for your kitchen? Chat with us right now to get started!
Explore More Quartz Countertop Colors
10 Beautiful Quartz Countertop Colors From MSI
3 New Sophisticated Modern Quartz Colors Offer Endless Possibilities
MSI's 10 Most Popular Quartz Countertop Colors