Mosaic Monday: Creating A Mirror Wall With Mosaics
February 22, 2016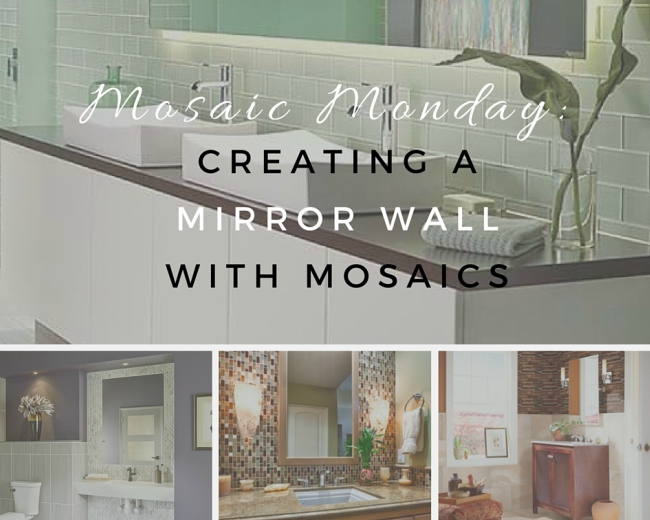 At day's end, there's nothing more comforting than watching your troubles melt away into a sea of bubbles and steam. Your bathroom is a sacred place, your private retreat, to steal away a few moments of peace and relaxation. From bathtubs to counter space, most homeowners have all the basic restroom regalia accounted for; but your bathroom isn't just about function—it's about form and fashion too.
When designing a bathroom space, "mirror walls" are often overlooked, but this striking design feature creates a big impact. With one of these charming wall tile mosaics from MSI, your bathroom mirror wall will shine brightly.
Tundra Gray Basketweave Mosaic Wall Tiles
Featured: Tundra Gray Basketweave
A stylish marble intertwined with hatches of gray and beige, Tundra Gray Basketweave mosaic wall tiles create a charmingly chic vibe. Creating a soft elegance when used above a vanity or framing a mirror bathroom wall, these mosaic hatches pair beautifully with MSI's selection of other Tundra Gray products and natural stone coordinates. This marvelous mosaic is right at home amidst harmonizing hues of white, gray, and gold, and wood accents in shades of dark brown and black.
Artista Interlocking Mosaic Tiles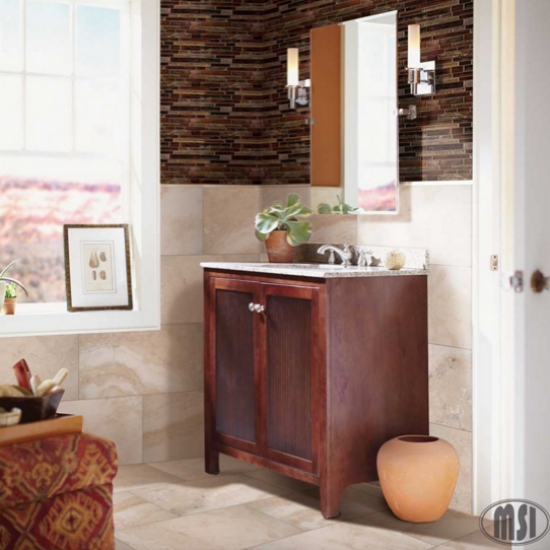 Featured: Artista Interlocking Mosaic
Featuring shades of warm golds and browns, Artista Interlocking Mosaic Tiles are alive with a radiant elegance. These luminescent wall tiles are crafted from crystallized glass that are weaved into a lovely interlocking pattern to create a reflective quality that works beautifully on bathroom mirror walls. These alluring wall tiles pair handsomely with lush greenery, warm wood accents, and design complements in shades of red, rust, beige, and tan.
Carrara White 3D Mosaic Hatches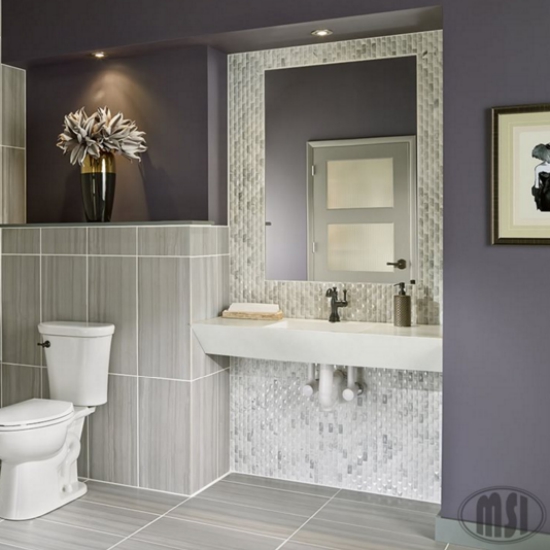 Featured: Carrara White 3D Mosaic Hatches
Featuring a soft white background and slight gray veining, Carrara White 3D Mosaic Hatches are contemporary and classic. Polished to perfection with a raised design that cascades upward, these lovely wall tiles create an artistically elegant look on bathroom mirror walls. This particular mosaic is recommended for vertical installations only, due to its raised nature. These glamorous wall tiles shine when paired with muted accents of purple, bronze, cream, and white. Complete this look with Sophie Anthracite Porcelain Tiles on adjacent walls and floors.
Arctic Ice Glass Mosaic Tiles
Featured: Arctic Ice Glass Tile
Like a hilltop dusted with fresh snow, Artic Ice Glass Mosaic Tiles shine with an alluring luster. Clean, crisp, and contemporary, these easy-care glass tiles add an icy-white elegance to bathroom mirror walls. These naturally alluring glass tiles are a perfect fit for mirror walls, backsplash designs, and shower and tub surrounds. Complete this look with vibrant artwork, hints of greenery, and flooring in Sophie White Porcelain.
Stonecrest Interlocking Glass Stone Blend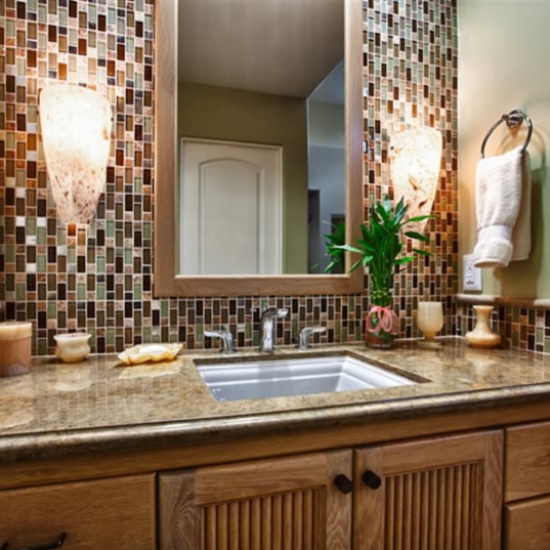 Featured: Stonecrest Interlocking Pattern
With a blend of creamy whites, dark grays, black, soft greens, and shimmery bronze, Stonecrest Interlocking Pattern Glass Stone Blend tiles convey a warm, earthy look on bathroom mirror walls. With just a hint of bronze to offset rich earth tones, these gorgeous glass tiles create a stunning backdrop on bathroom mirror walls. Bring this look to life with a wood vanity, natural stone countertops, soft lighting, and paint colors in quiet tones of sage.
Mirror, mirror, on the wall, who's the most stylish of them all? Fashioned with your favorite mosaic wall tiles from MSI, you'll gaze into the looking glass of style with a beautiful mirror wall.