Popular
Designing A Light, Bright Kitchen With Sunday House Interior Design Studio
August 18, 2021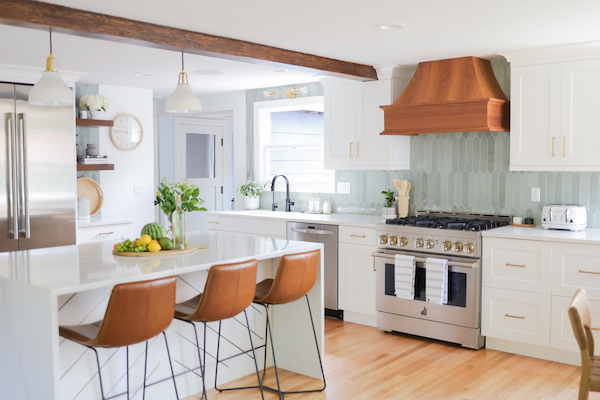 Renzo Jade Picket Tiles on the backsplash and Calacatta Arno quartz countertops
provide this stunning kitchen with a fresh, bright look.
For families across America, the kitchen is often the heart of the home. More than just a place to cook meals, it's where people entertain and share stories, connect throughout the day and unwind. And for many over the past 18 months, the kitchen has served as a makeshift classroom, office, and restaurant.
Because the kitchen is such a vital space in the home, more and more homeowners are renovating to create rooms that function well for their daily needs and are also beautiful and reflective of their unique style.
In Seattle, Washington, one family wanted to expand their kitchen and update the look to turn it into an area that their family of five could enjoy comfortably. So the family worked with Sunday House Interior Design Studio, a Portland, Oregon-based design firm, to help them design and create their dream kitchen. We recently spoke with Amy Carnahan and Noelle Harvey, Owners and Designers at Sunday House, about the kitchen renovation project.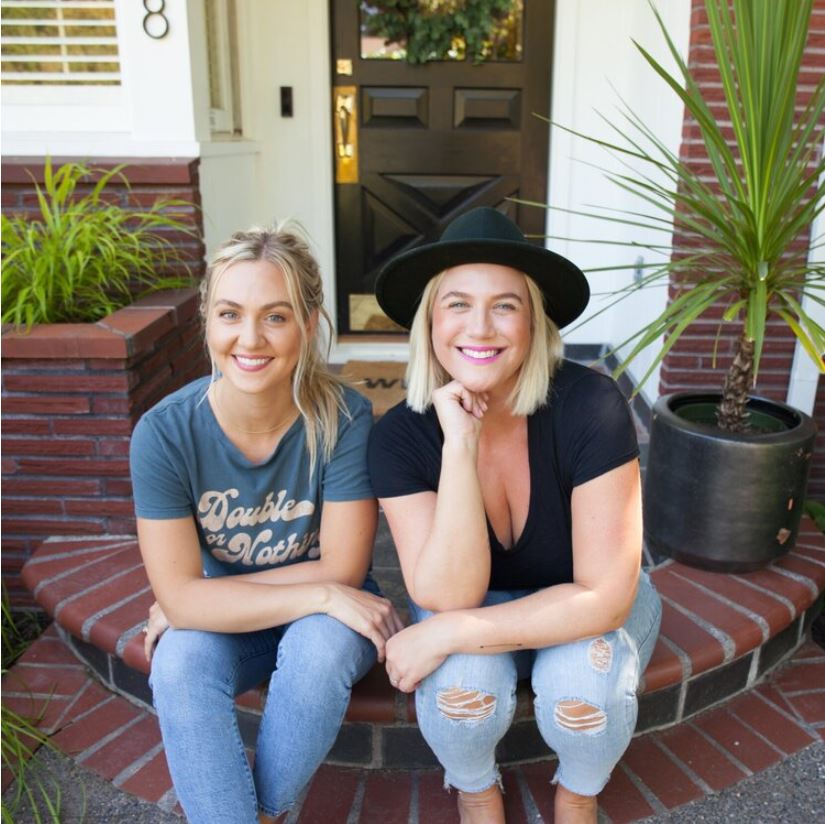 MSI: How did this project come about?
SUNDAY HOUSE: Our clients reached out to us because of a mutual friend in Portland we shared. Actually funny enough, our client in Seattle took Amy's best friend to Prom in high school! We took a train up to Seattle to meet them and have a consult. It was a great conversation and we had a wonderful relation right from the start.
M: What were your design goals with this project?
SH: We needed to find a way to make this space feel bigger. The main room of the house, including the kitchen, is not large. So the main goal was to make this room feel cohesive and larger than it really is. We needed to brighten it up, bring walls down, and capitalize on the windows, adding light fixtures and lighter materials.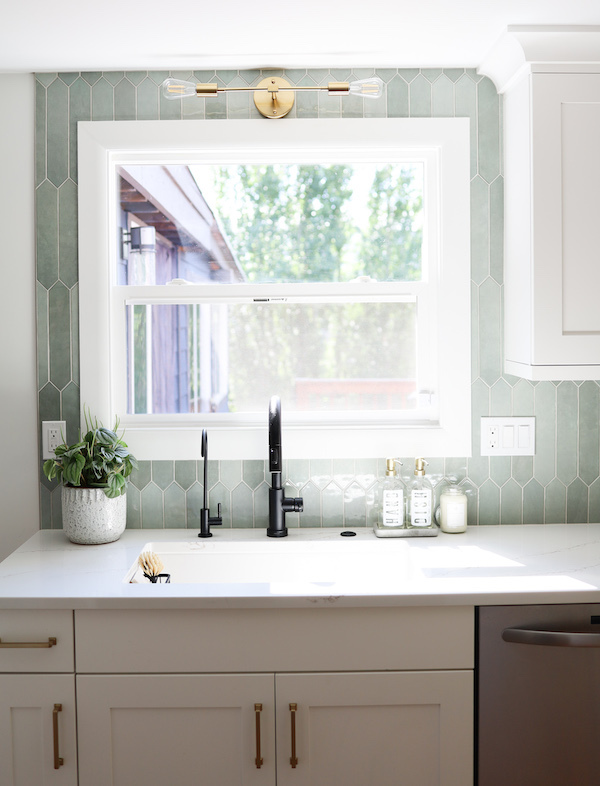 M: What special requests did the client have?
SH: They wanted something a little different and were open to us presenting some unique ideas. The backsplash tile for example is a stretch for most people. It's a statement for sure. The shape and the color are not the typical choice. We of course love sourcing and encouraging appropriate" risks" and making each space unique!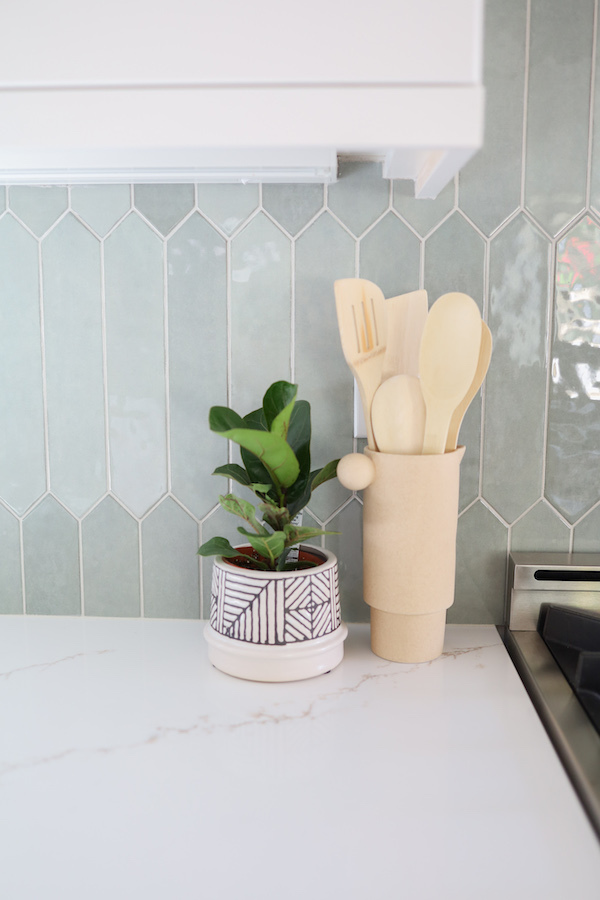 M: Tell us a bit about your selection process.
SH: After we see the space and go over the clients' likes and dislikes, we often start to brainstorm right away. We love to see images of spaces or kitchens the client likes to help us as well. Countertop selection is always first. For this project, we selected the Arno from your Seattle warehouse and then went inside and found the tile. It was incredibly easy!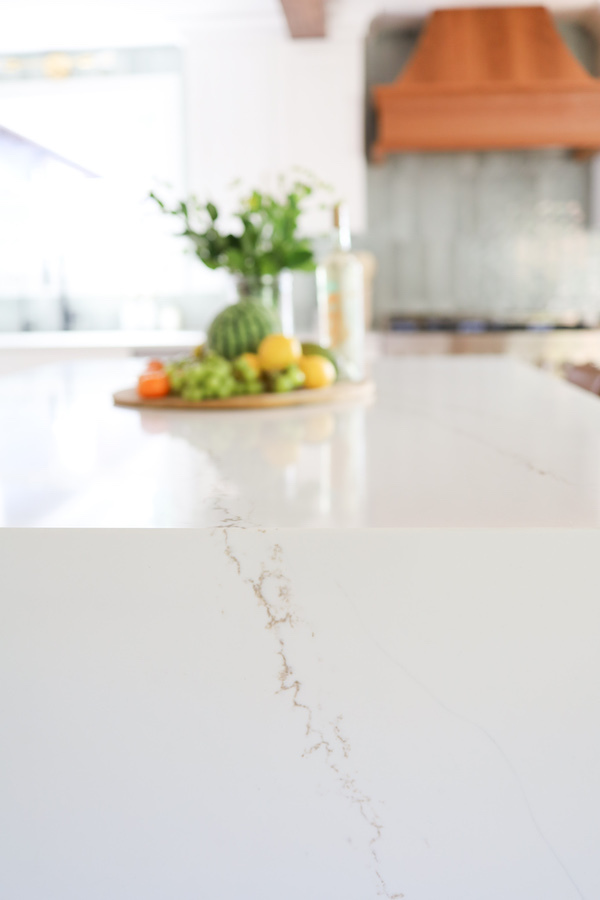 M: Why did you select MSI?
SH: MSI is a well-known brand in this industry. The showrooms and warehouse slab space are so impressive. It was a no brainer for us in Seattle.
M: How did you work with MSI to get the materials you needed?
SH: It was simple on our end. Our contractor handled all the ordering with a contact from the showroom once Noelle and I picked and finalized the tile and countertop. It was fluid and straightforward from start to finish.
M: How long did the project take to complete?
SH: The project took 4 months in total. We were ready and prepared and had ordered the items and products to have them on hand and account for any delays.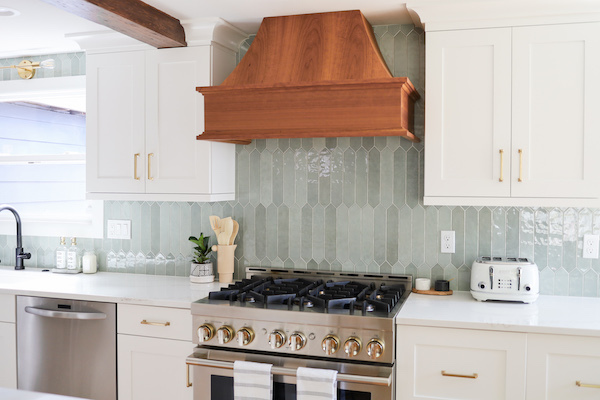 M: What are some of your favorite details in the kitchen?
SH: Ah, it's hard! The tile and the custom made hood make this kitchen so special. I also adore the built in custom breakfast nook. When ideas check both boxes of form and function we are truly doing our job!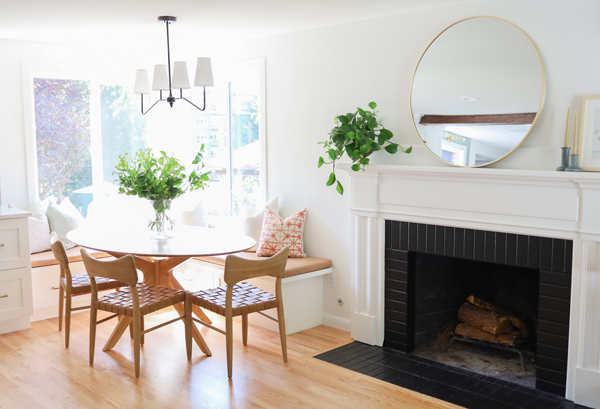 M: Is there anything else about the project that you think would be helpful or inspirational to other designers and homeowners?
SH: I think it is so important to note that size doesn't have to be a roadblock. It's all about utilizing and making use of every inch. The material selection can really lighten up a space as well. Also, I'm so happy we pushed a little and encouraged them to go with something different. It paid off big time! They are so happy and we feel so grateful to help this family!
THE LOOKBOOK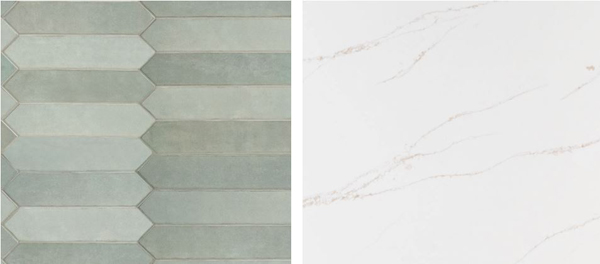 To create an eye-catching backsplash, Amy and Noelle used MSI's Renzo Jade Picket Tiles, which they installed vertically, helping elongate the walls and draw the eyes upward. These soft green ceramic tiles set against the white cabinets and walls immediately capture attention and add to the overall sophistication of the space.
Don't shy away from using unique shapes and colors in the kitchen to add distinctive character. Pops of color enhance the overall design of the space, bringing in fun and sophisticated elements.
MSI's Calacatta Arno quartz was selected for the family's countertops throughout the kitchen, including the stunning waterfall island. The beautiful marble-look Calacatta quartz features a warm white backdrop enhanced by thin gray veins highlighted with lovely gold accents, adding a sleek and elegant look to the space. For a family of five, durability is essential. The nonporous surface of the quartz protects it from spots, stains, and daily wear and tear to ensure the family can enjoy it for years to come.
When you are looking to make a space feel bigger, bold, white countertops help keep the room bright and open.
open and airy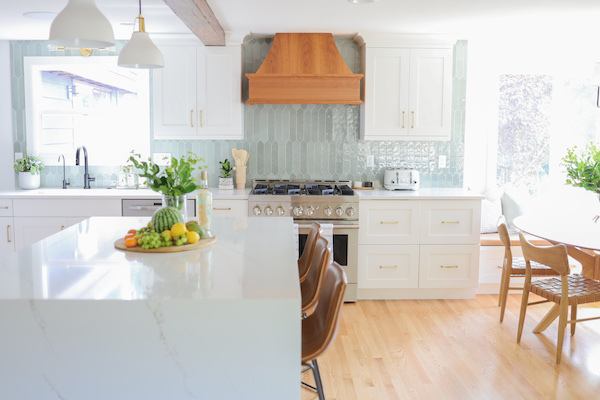 When it comes to creating a dream kitchen, it's essential to consider how the space will function for your family and what design elements will make it warm and personal. Whether it's a gorgeous island, colorful tile, incorporating specialty shapes and geometric patterns, or mixing surface elements to create something unexpected, MSI has endless products to help you get started.
And don't let the size of the kitchen hinder your choices. When sharing this project on their Instagram, Amy and Noelle said, "You don't have to have a huge kitchen to have a pretty kitchen!"
Explore MSI's Top 5 Design Trends of 2021 for inspiration.
We want to see your kitchen designs! Don't forget to share the looks you create with us on Instagram. Tag us – #msisurfaces – on your projects.