How To Choose A Luxury Vinyl Flooring Style And Color That'S Right For Your Home
February 07, 2022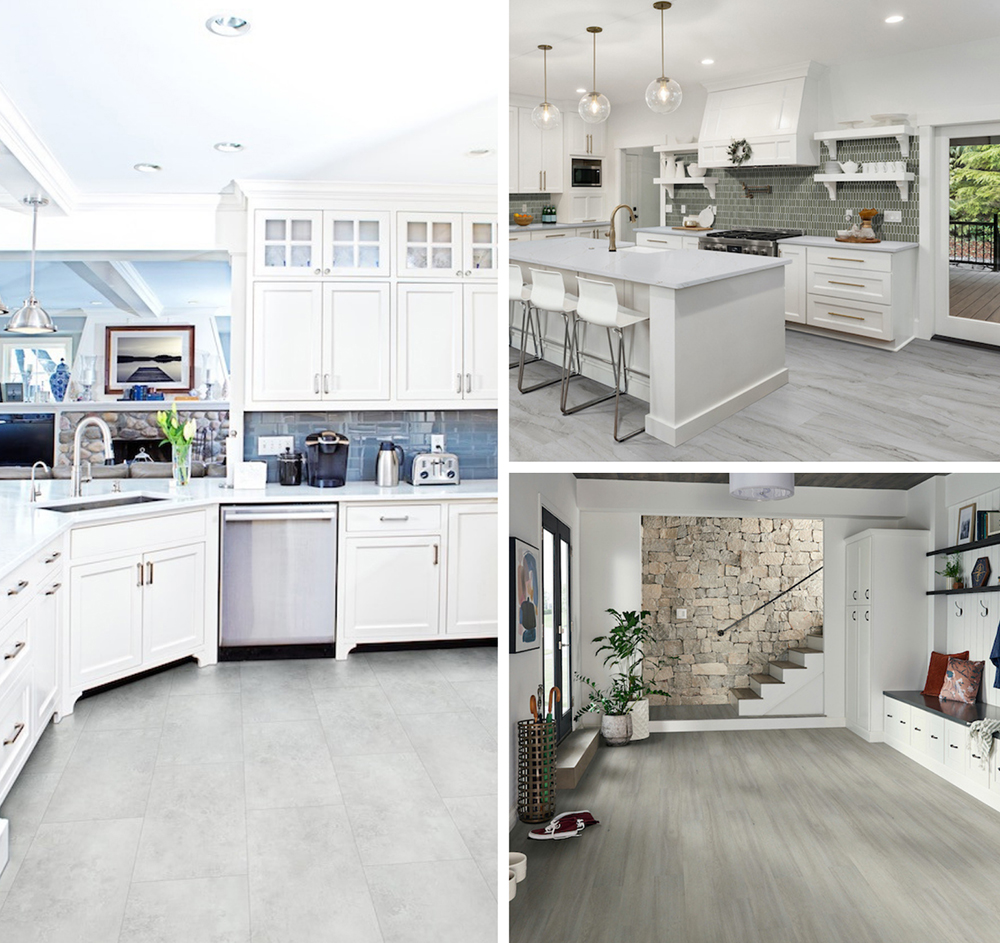 Luxury vinyl flooring is growing in popularity among homeowners who are remodeling their homes. There are many reasons for this: ease of care, quick installation, great value for the investment, and lots of variety to choose from. But perhaps the most compelling reason is that it allows you to have the look of beautiful natural hardwood or natural stone flooring without the high prices and other drawbacks.
Here's the difference between luxury vinyl plank vs. luxury vinyl tile — the planks imitate wood, while the tiles imitate natural stone. It can be tough to decide which one will look the best in your home. Although vinyl flooring is an ideal choice for any room, you'll want to consider which room you're working on and its overall style of decor. Will it be traditional or contemporary? Casual or formal? Is the room large or small, and how much natural light does it receive?
This guide to luxury vinyl tile discusses a few of MSI's vinyl flooring colors and styles, and what makes them the best choice for the rooms where they're installed.
BRIANKA LUXURY VINYL PLANKS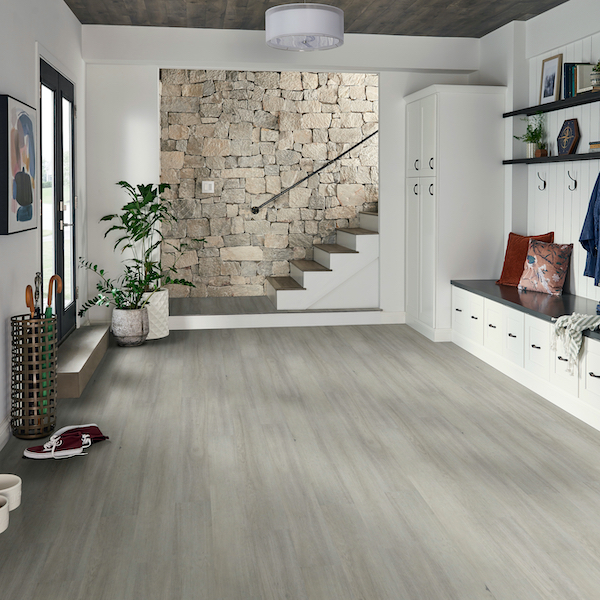 Some homeowners naturally gravitate toward certain color schemes in their home, while others plan it out carefully. Take a look around and decide whether the overall color palette is warm or cool in tone. Warm colors include yellow, orange, and red, while cool colors are shades of blue, green, and violet. These shades can affect your mood, too, with warm colors more energizing and cool colors creating a peaceful ambiance. You can also safely choose a neutral shade, such as taupe — a great option if you might redecorate the room in the near future with new furniture and wall colors.
Brianka luxury vinyl planks offer an authentic wood look with subtle grains and knots. The shades of gray and cream are neutral in tone, so they match nicely with the natural stone wall and other accessories shown here. Wood-look planks offer a feeling of warmth to offset the minimalist white of the walls and cabinetry in this entryway, but if the homeowner should choose a different color, the flooring will look just as great.
If you're not sure whether your favorite vinyl plank or tile tends toward cool or warm tones, we suggest ordering a sample and placing it next to the existing decorative elements in your home.
RUNMILL ISLE LUXURY VINYL PLANKS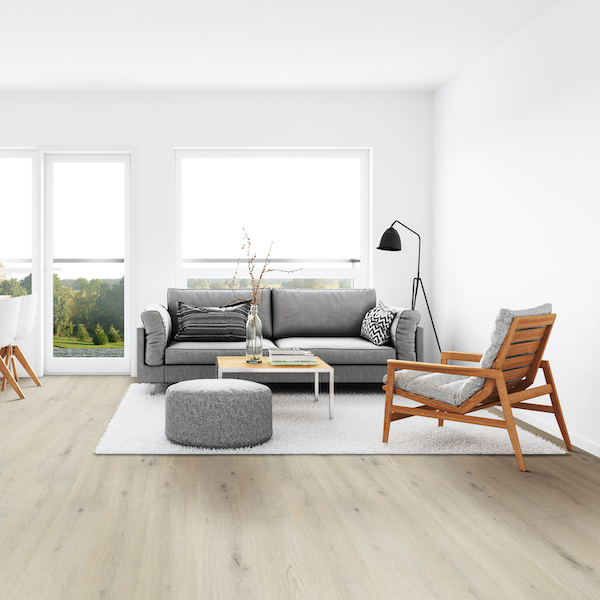 The color of imitation wood flooring or stone-look tile you install should also depend on the amount of natural light the room receives. If the room you are remodeling has large windows and gets a lot of sun, chances are that's one of your favorite things about the room. Don't detract from that by installing dark colors or plain patterns.
Runmill Isle wood-look luxury vinyl planks feature shades of ash-blonde with a realistic wood grain. The overall effect of this room is light, airy, and ethereal, and the flooring pulls together both the neutral gray shades of the sofa and the medium-brown wood furniture. Despite the white walls and contemporary furnishings, the room still looks cozy.
BARRELL LUXURY VINYL PLANKS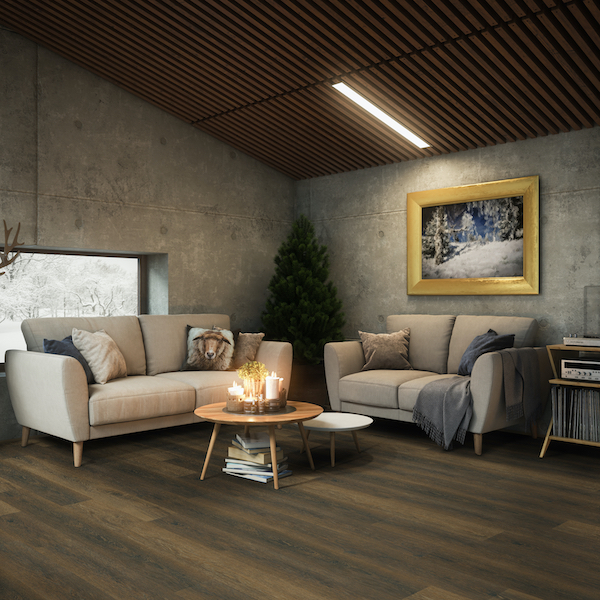 On the other end, dark wood-look flooring such as Barrell luxury vinyl planks creates a completely different mood than pale flooring conveys. Dark flooring can be a bold choice that not everyone can pull off, but one of the best luxury vinyl tile benefits is its ability to create a luxe look at an affordable cost.
Dark wood-look flooring can help to create a more formal style of decor, representing wisdom and affluence. It's not just for traditional decor, though, because it's also a great addition to a contemporary, even industrial scheme. Dark flooring looks best when balanced with lighter shades of furniture and walls.
MOUNTAINS GRAY LUXURY VINYL TILE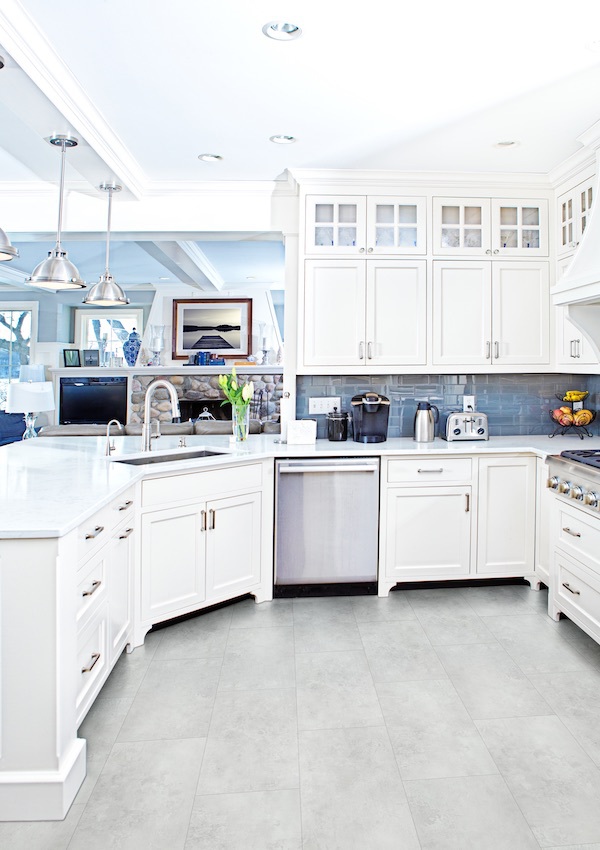 Another factor in your flooring choice should be the size of the room where it will be installed. No matter what color the other elements in the room may be, in small areas a high-variation pattern or a dark color might be overwhelming. There's nothing wrong with making beautiful flooring the focal point of the room, but most homeowners prefer to give this honor to their countertops, backsplashes, or dramatic lighting fixtures.
Mountains Gray luxury vinyl tile authentically reproduces the look of pale gray natural concrete, including the rugged texture. It offers just enough variation to show off each individual floor tile, so it should be installed in either a brick or offset layout. Although there's no denying its upscale beauty, it won't detract from your other design elements.
QUARZO TAJ LUXURY VINYL TILE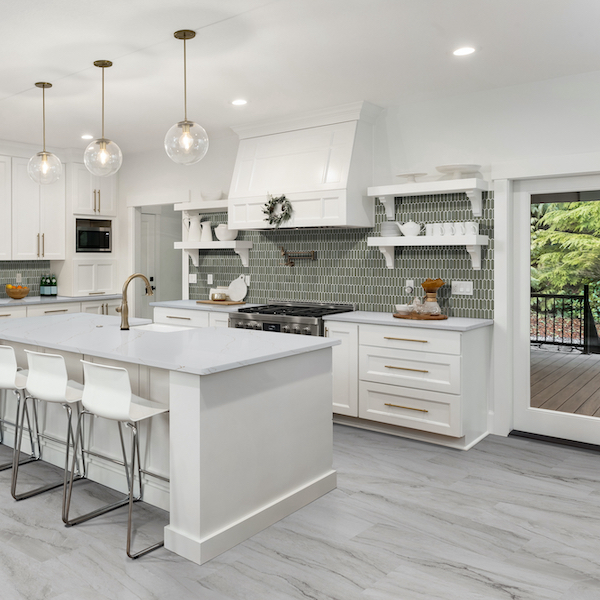 We mentioned earlier the value of choosing flooring options with a neutral tone so they will coordinate well with other decor, including your future design choices. However, it's also useful to consider existing decor, particularly when selecting flooring with a higher-variation pattern or one that's not neutral in shade. If you know you're unlikely to change that gorgeous tile backsplash, for example, go ahead and match it to the highlights in your stone-look flooring.
Quarzo Taj luxury vinyl tile is a marble-look flooring with shades of soft ivory and gray veining. Unlike real marble, though, you don't need to think twice before installing this water resistant flooring in a room like a kitchen or bathroom where it's likely to get wet on a regular basis. Once it's there, luxury vinyl tile care and maintenance is a breeze.
CALACATTA MARBELLO LUXURY VINYL TILE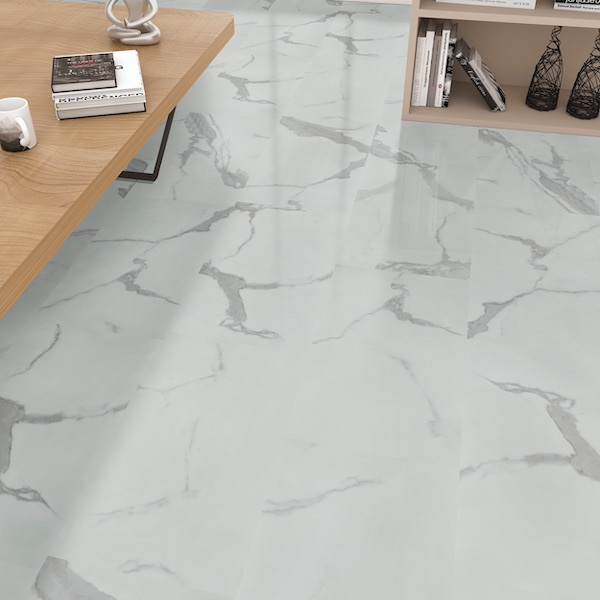 Rounding out our list of gorgeous flooring is Calacatta Marbello luxury vinyl tile, another marble-look option. Unlike most of the other flooring mentioned here, this one has high variation, meaning that you can't miss the bold pattern of the gray veining on a bright white background.
Not every homeowner will love a bold flooring pattern such as this, and it isn't appropriate for every room. When it does work, though, it is truly spectacular. Choose it for a room with a large area to fill — the large 12" x 24" size gets the easy installation done quickly, and the pattern has lots of space to show off its daring personality.
Your home is a special place, and your flooring should be special, too. If you need help choosing the perfect flooring — the right tone, shade, or pattern, among other attributes — feel free to contact us. We want you to be completely satisfied.
Learn More About Luxury Vinyl Flooring
Create A Seamless Luxury Vinyl Flooring with Coordinating Stair Treads, Trims, And Transitions
Luxury Vinyl Flooring Looks: What's New For 2022
Get The Look and Feel of Real Wood with Waterproof Vinyl Plank Flooring
Why You Should Choose Vinyl Plank Flooring Over Laminate
Visualize Luxury Vinyl Planks, Backsplash Tiles, And More with Our Bathroom Visualizer