5 Amazing Backsplashes That Won'T Break The Bank
August 24, 2016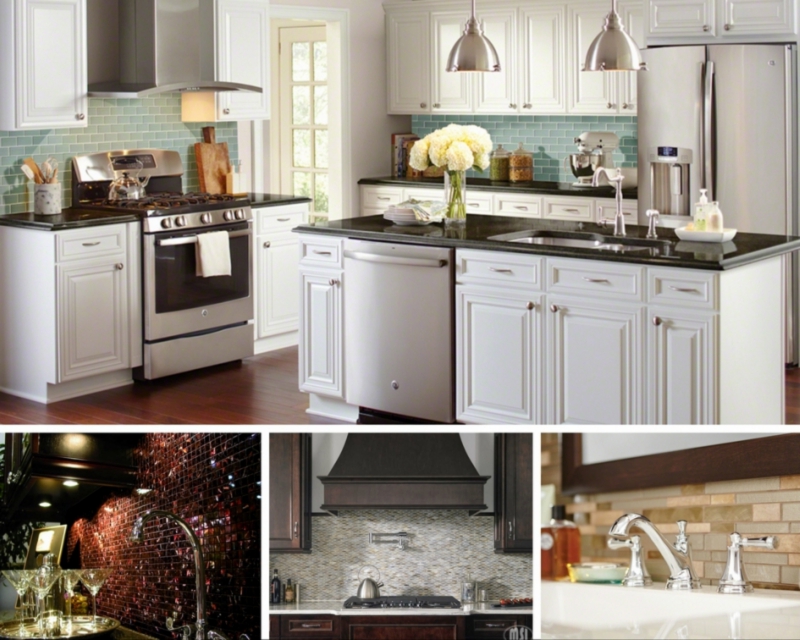 If your kitchen or bathrooms look tired and worn out, you could raid your savings and undergo a mind-numbing renovation. Or, for a fraction of the cost, you could give the rooms a fresh face with new backsplash tile.
Tile backsplashes traditionally rested behind the stovetop and were meant to prevent spaghetti sauce and other moisture from coating and corroding the drywall. But function is giving way to form, and backsplashes now run throughout kitchens and bathrooms—under wall cabinets, above sinks and tubs, and even up to the ceiling as accent walls.
Even the most expensive natural stone backsplashes, $25 to $30 per square foot, can be a budget-friendly transformation, in comparison to an entire room overhaul. Not convinced? Well, check out these ideas and you might just get on board with an amazing backsplash design of your own.
Glass Tiles are Versatile and Affordable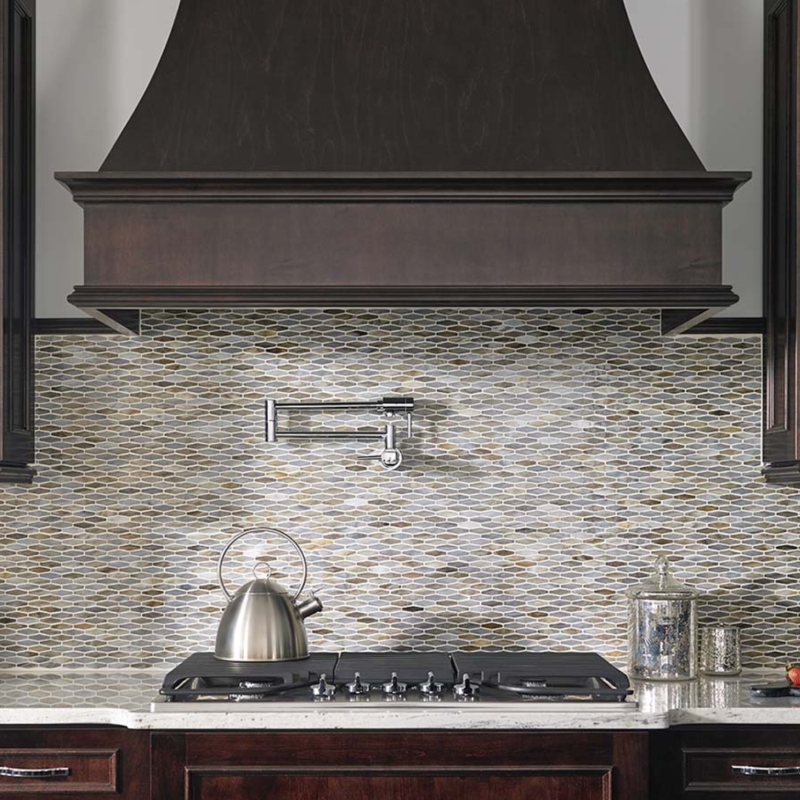 Featured: Mochachino Glass Tile
Glass tiles come in an endless selection of colors and designs, like Mochachino Stained Glass Hexagons tiles, which are great for use behind a range or on a bathtub front. Glass is easy to clean, and recycled glass tiles are particularly environment-friendly. Because glass is translucent, you can subtly lighten or darken tile color by installing over a white or grey thinset.
Subway Tiles for a Timeless Look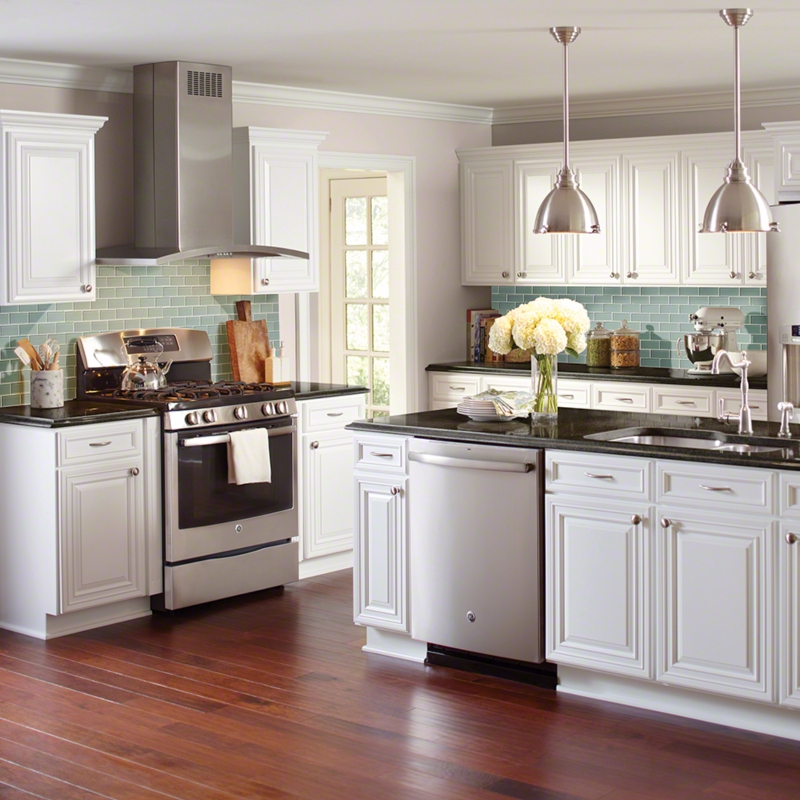 Featured: Arctic Subway Tile
Subway tiles originally were 3x6-inch rectangles, like the ceramic ones used to cover the New York City subway ticket office in the early 1900s. These days, subway tiles can be any dimension of a rectangle, and made from a variety of materials. White ceramic subway tiles are the most common and give all-white kitchens and bathrooms a decorative punch. Clear glass subways, like Artic Ice Subway Glass Tile, lend a contemporary feel.
Budget-Friendly Ceramics Look Expensive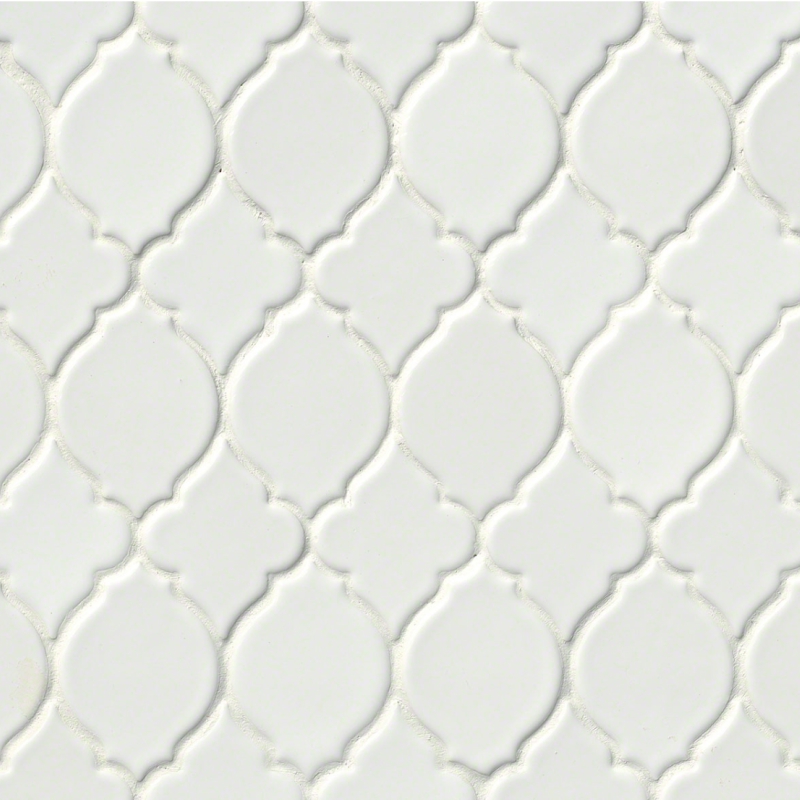 Featured: Denali Mosaic
Ceramic tiles give you lots of choices that won't break bathroom or kitchen renovation budgets. They're tough and easy to maintain, and can mimic any material from leather to steel, making them a great choice for backsplashes or accent wall tile. Ceramics also come in lots of shapes, like the Denali Pattern Ceramic Mosaics. Its soft beige accents the tile's intriguing graphic pattern. You can mute the pattern by picking a grout that closely matches the tile, or make the pattern a show-stopper by using a contrasting grout.
Dark Tiles Create a Rich Feel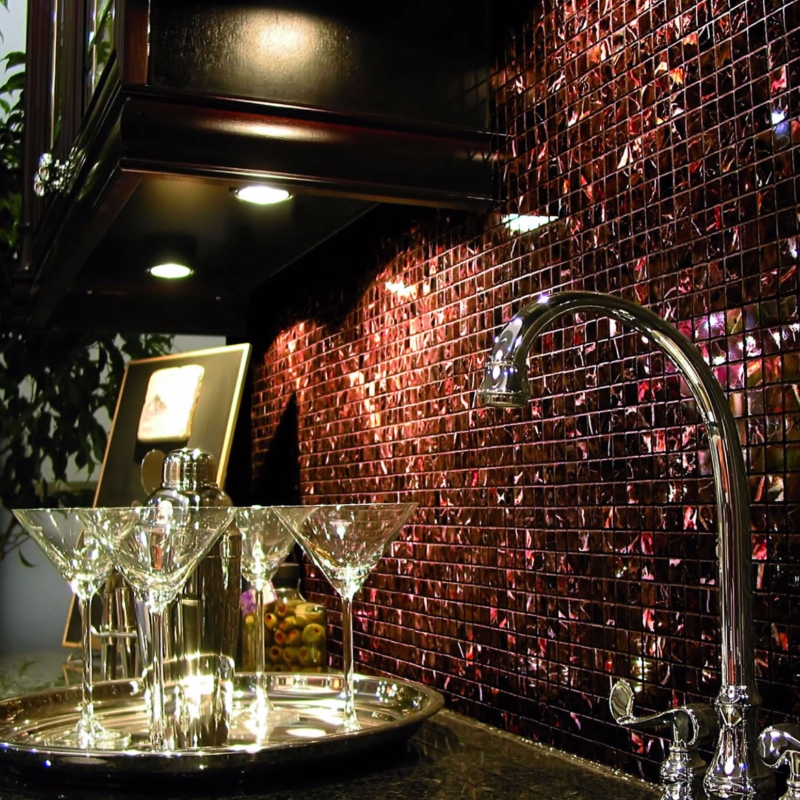 Featured: Iridescent Brown Glass Mosaic
Dark backsplashes add a rich and dramatic look to kitchens and baths. A mix of blacks and browns under cherry cabinets creates a bold but refined statement. Or give a white kitchen backsplash unexpected punch by insetting dark triangles or diamonds. Iridescent Brown Glass Mosaic tile is a striking design of dark brown iridescent glass with random lighter cream and brown tile. It's eye-popping as a kitchen backsplash, or on a bathroom wall behind ivory fixtures.
Mosaics For a Fancy Accent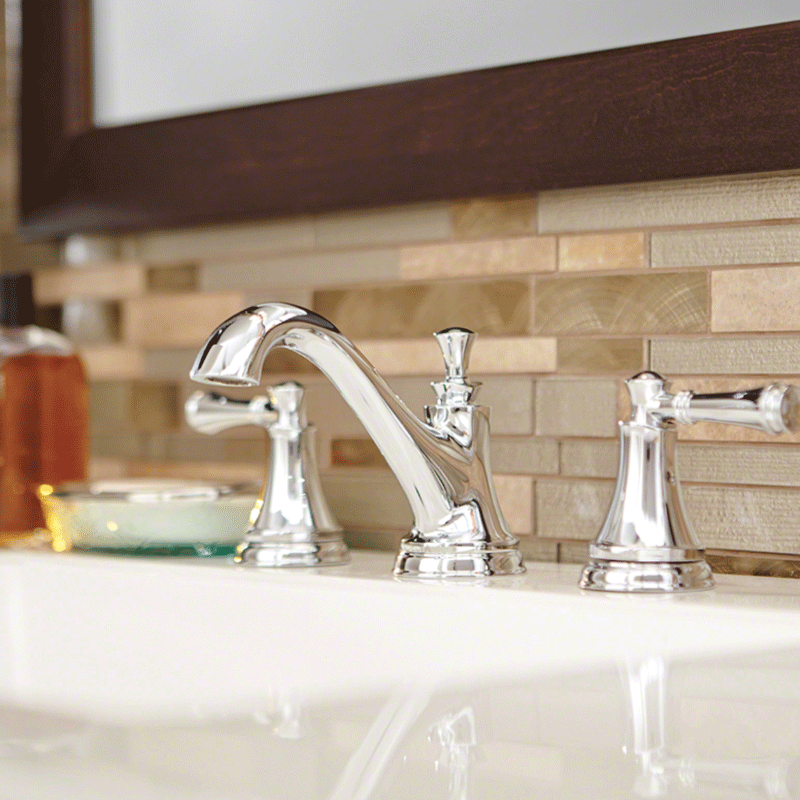 Featured: Champagne Toast Interlocking
Mosaic tiles can be pricey, especially if you're planning to create an entire backsplash or shower wall with them. But as accents, mosaics add life and interest to neutral or white backsplashes. Champagne Toast Interlocking, an offset brick pattern of glass, metal, and stone includes hues of taupe, beige, and mocha that pop in a neutral palette. Since most mosaics come in 12x12-inch sheets, you can save money and stretch your tile budget by cutting each sheet in half and laying 6x6-inch borders or accents.
If you long to give your kitchen or bathroom a design boost on a budget, select glass, mosaic, subway, or dark tiles for backsplashes and accent walls. Go all out and tile the entire space, or use specialty tiles as backsplash insets for a decorative boost.
READ MORE ABOUT MSI BACKSPLASH TILE
How To Maintain Your Marble Tile Backsplash
How To Pair Traditional Natural Stone Backsplashes with Modern Quartz Countertops
Is A Backsplash Just for Looks?