Your Guide To The Different Types Of Kitchen Sinks
March 27, 2019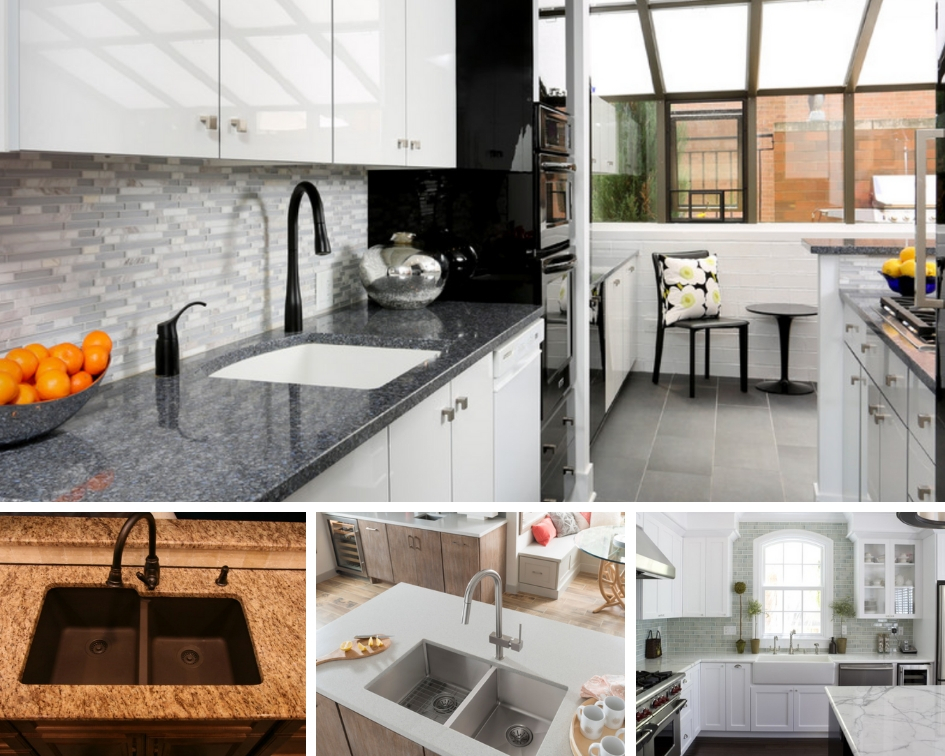 In the past, homeowners had two options for their kitchen sinks: shiny stainless steel or white enameled iron. Today's kitchen sink options are created from various materials and made in different designs to suit the style of any cooking space. Not only does the sink serve as a focal point in the kitchen, but the fixture should also meet your functional needs as well. Use this as a helpful guide to learn about some of the different types of kitchen sinks before picking your perfect option.
Different Sink Styles
Farmhouse Sinks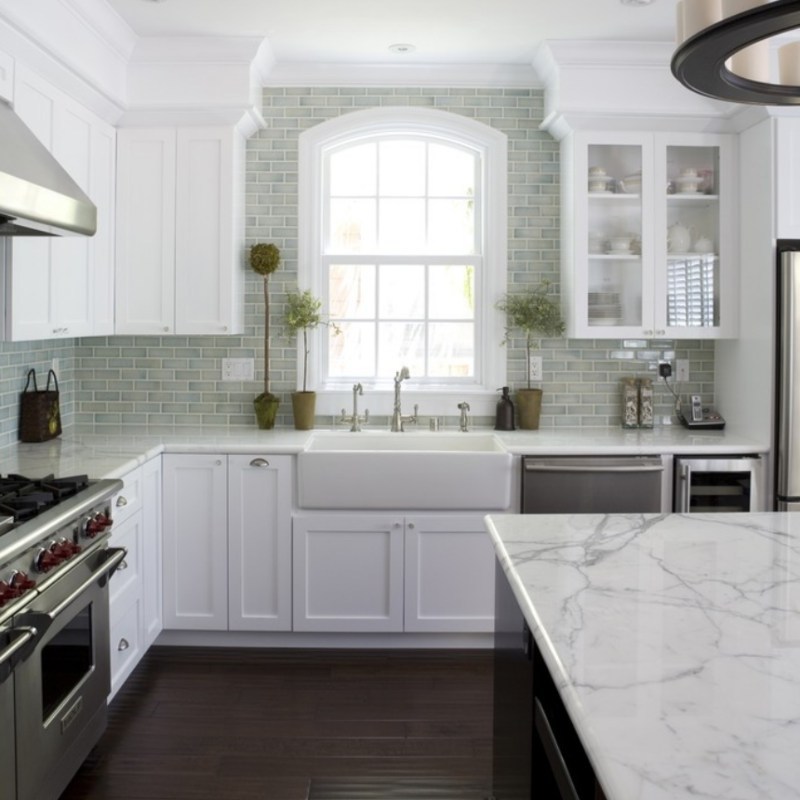 Get this look with MSI's Fireclay Farmhouse White Single Bowl-3020 (Photo Credit: Houzz)
The farmhouse sink is a popular choice for traditional to modern farmhouse kitchens, but they can be a pricier option. This type of fixture, also called an apron sink, extends past the countertop edge. The deep basin is perfect for large families needing space for lots of dishes, and the undermounted sink features either a single or double bowl. You will find them in fireclay or cast iron materials because of their durability. However, the installation is more difficult because a portion of the countertop needs to be cut out in order to fit a farmhouse sink.
Single Bowl Sink
A single bowl sink is just that, an individual bowl that works well in kitchens with limited space for countertops or is ideal for smaller households. Because it is not divided, you can clean larger cookware easily, but it is not great for cooking and cleaning simultaneously.
Top Mount Sink
A top mount sink is easier to install because it drops in to the countertop and has a rim around the edge of the sink that provides additional support. However, grime and other messes can make cleanup more difficult since it builds up around the rim.
Undermount Sink
An undermount sink creates a more seamless, sleek look since it is installed underneath the countertop. Cleaning is easier than a top mount sink because you can push any grime or debris into the sink. However, you must consider the weight of the material since it is glued to the underside of the countertop. Heavy-duty materials like cast iron or fireclay sinks will not work due to their weight.
Different Sink Materials
Acrylic Sinks
An acrylic sink is a cost-effective option that is made from a mix of fiberglass, resin, and plastic. The lightweight, solid material fits any type of countertop and comes in various designs and colors. One of the biggest benefits to acrylic is that it gives a bit when a dish is dropped in the sink. It also resists stains, which is ideal for heavy use, and you can do away with scratches by sanding and polishing them out. But, one thing to remember is that this material does not tolerate heat well.
Cast Iron Sinks
An enameled cast iron sink is a durable material made from heavy-duty cast iron and coated with porcelain enamel. Considered a kitchen staple, this commonly used sink typically features a glossy white finish but is available in various colors. Because of the porcelain coating, it does require a bit more maintenance to keep it free from stains, scratches, and etching from anything acidic. More gentle care is needed since the porcelain layer can also chip, which can cause the cast iron to rust from exposure. Also, avoid abrasive cleaners that can wear down the enamel and use caution while washing dishes since this hard sink can chip things like dishes.
Copper Sinks
A copper sink is a beautiful and durable choice. This more expensive option features a host of benefits like antimicrobial properties and not rusting like exposed cast iron could. If the copper color is what attracts you the most, then remember that over time, some of the metal will patina with a distinct bluish-green color. To avoid this, you can polish your sink often, but it may rid the material of its anti-microbial properties.
Fireclay Sinks
A fireclay sink looks similar to a porcelain-enameled cast iron sink, but the more expensive option is made from clay and minerals that have been fired at an extremely high temperature. It does not rust like cast iron can, but it could chip from being hit or having too much weight. Also, this material is not ideal for use with garbage disposals since it can crack from the vibrations.
Granite Composite Sinks

Get this look with MSI's Black Quartz Double Bowl 60/40-3219 (Photo Credit: Houzz)
A granite composite sink is a very durable choice made from 85 percent crushed granite and 15 percent resin filler. It pairs perfectly with granite counters. The heavy sinks are stain resistant, but because of its weight, you may need to add additional support to the cabinets for proper installation.
Solid Surface Sinks
A solid surface sink is a non-porous option and one of the most durable materials available. It is made from a mix of minerals and resin filler, and because of its composition, you will not need to worry about chipping, and scratches can be sanded and polished out just like acrylic. A solid surface sink can also handle high temperatures up to 450 degrees. It is very easy to clean, but just be sure to avoid metal scouring pads since they can scratch the surface.
Stainless Steel Sinks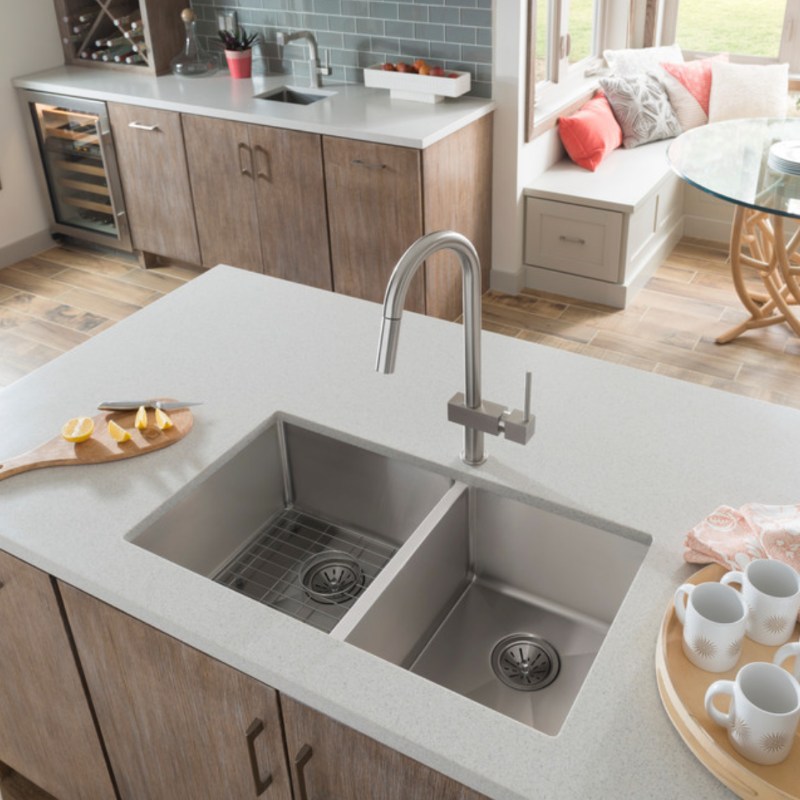 Get this look with MSI's Double Bowl Farmhouse Apron 50/50-3321 (Photo Credit: Houzz)
A stainless steel sink is one of the most popular material choices because of the metal's many features. The lightweight, cost-effective choice is not only easy to install but also very durable and designed to last a long time. The metal gauge ranges from 16 to 22 with the lower numbers being a thicker metal, higher in quality, but higher in price. It will require more cleaning in order to keep hard water spots at bay, scratch if abrasive cleaners are used, and even dent. However, this type of sink provides excellent stain and heat resistance.
Whether you are in the kitchen often or just cook occasionally, it is important to select a kitchen sink that works with your cooking, cleaning, and cost requirements. While the design is also important, it should ultimately work well with your style and lifestyle needs.