Rockmount Stacked Stone Mini Panels Are Perfectly Sized For Any Project
July 30, 2020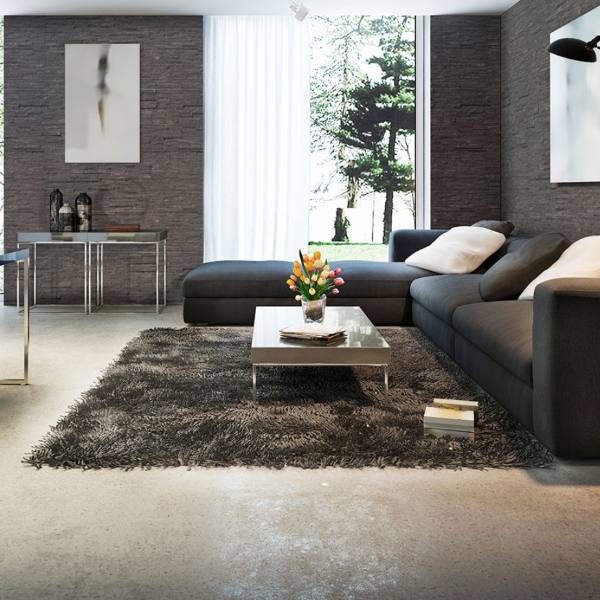 Stacked stone adds character and warmth to any room in the house, as well as outdoor areas. However, some indoor applications can get tricky when using traditional stacked stone panels. Backsplashes, accent walls, fireplaces and other spaces have features like electric outlets and curves to work around. Also, there are times when you only need a little bit of stone to make a big impact. With MSI's Rockmount mini stacked stone ledgers, stone veneer is more versatile than ever.
Just Like the Original - But Smaller
Rockmount mini stacked stone ledger panels are a petite, compact version of MSI's original ledger panels. Just like the originals, the stones are pre-assembled in 4.5" x 16" panels that fit together like a puzzle, including matching corner pieces for a truly professional finish.
Did we mention that our mini stacked stone panels are just like the originals? In fact, they are available in over a dozen of MSI's most popular full-sized stacked stone colors. That means you can combine them in the same project. Use our original-sized ledger panels to fill large spaces such as accent walls, and use the mini-sized panels to adorn smaller spaces where the larger size would be difficult to cut down or awkward to place. This increases the versatility of stone veneer panels exponentially. Imagine the possibilities!
If you enjoy DIY projects, mini stone panels are a dream come true. Pre-assembled panels make installation quick and easy. Since stone veneer is thin and lightweight, no additional support or reinforcement is needed. That means you can install it just about anywhere! You'll need a minimum of tools to do the job, and no grout is required.
Use these stone panels in a multitude of projects to create a variety of looks – sleek, contemporary and modern, rustic, retro, or even a nod to resort-style. Take your kitchen or bathroom backsplash to the next level, upgrade your shower surround, or make your fireplace extra cozy.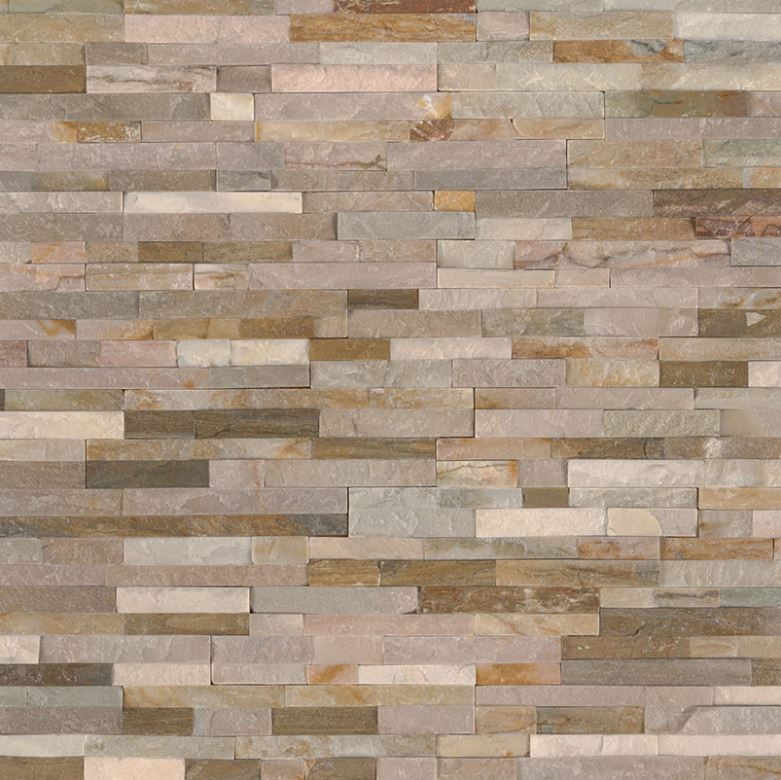 Indoors or Out
Outdoors, mini ledger panels can be used anywhere on your home's exterior, waterfalls, patios, garden barriers, or free-standing fire features. They are tough enough to withstand the elements, including the hot sun, rain, freezing, and thawing. Stacked stone can give your pool area the luxurious look and feel of an upscale resort. Use it to add character to raised garden beds, retaining walls and terraces, support columns, or any other hardscape features. Perhaps you'd like to create the ultimate outdoor kitchen, complete with a stacked stone backsplash.
Few home renovation projects are truly worth the investment in terms of increased resale value. Realtors will advise you to apply fresh paint, update kitchens and bathrooms, install granite or other luxury countertops. Stacked stone ledger panels are definitely on that list of improvements giving a great return on investment. Potential home buyers will be impressed the moment they walk into your home, because it instantly contributes to an upscale look.
If you care enough about your home to dazzle visitors with stone backsplashes or feature walls, that first impression will carry through to the rest of your home. Not only will your home's value go up, but it will also be likely to sell more quickly. This is especially true with outdoor projects, which can add amazing curb appeal.
MSI's ledger panels are crafted from natural stone — real stone, not faux stones created with glued-together pulverized stone mixed with pigments and poured into a mold. That means no two panels will be exactly alike, instead of featuring a fake-looking identical repeated pattern. Whether you choose our natural, honed marble or split-face quartzite, the result will be as elegant and realistic as Mother Nature herself.
Alaska Gray Mini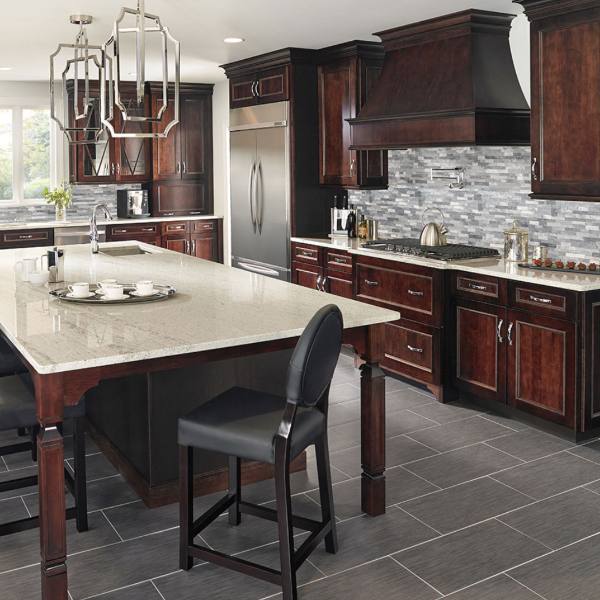 With a range of soft gray hues, Alaska Gray Mini ledger panels are sophisticated and versatile. Crafted with natural split-face marble, these stone wall tile panels are easy to install and create a gorgeous stacked stone backsplash. As shown here, this colorway is the ideal transition between dramatic dark cabinetry and light-shaded countertops or stainless steel appliances. Their size is well-suited for small accents like borders, wall niches, or any area with a lot of corners and cutouts. Imagine how easy it would be to create a unique water feature alongside your backyard patio, either in a straight vertical flow or a waterfall.
Gray Oak 3D Mini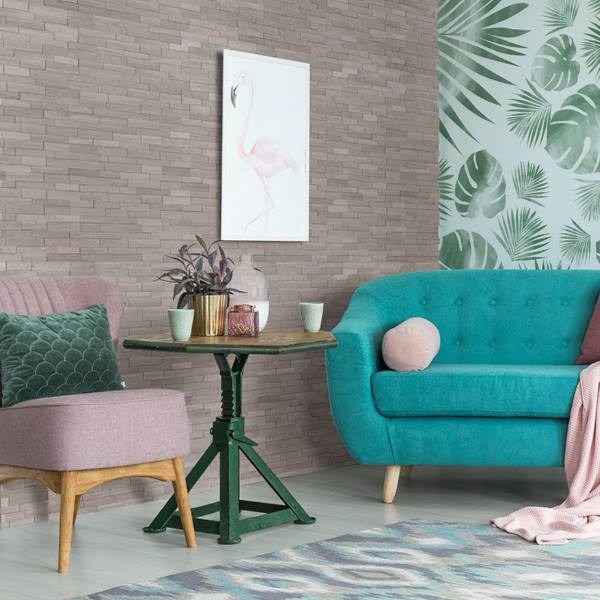 When you think of stone ledger panels, do you imagine a rough surface and rustic look? Gray Oak 3D Mini panels will change your mind and inspire all sorts of indoor decorating plans. Though the stones are arranged with stepped ends, they present a smooth, linear look with just the right amount of texture and depth. An entire wall covered with this veneer would be elegant and eye-catching without being overpowering, and it coordinates well with a wide variety of décor styles.
Sierra Blue Mini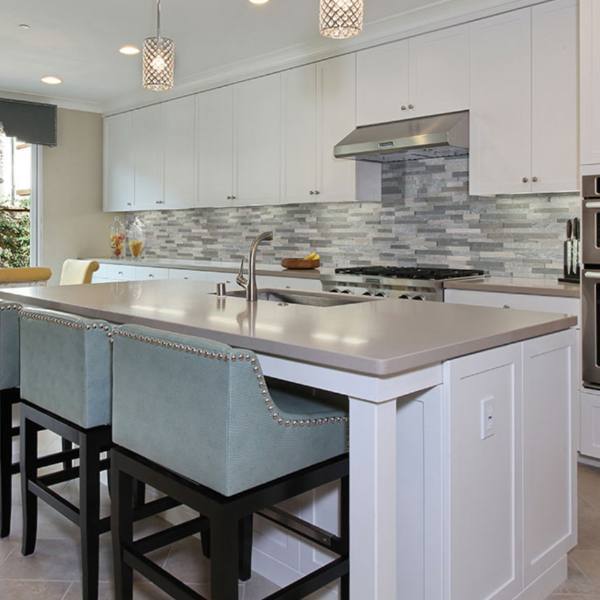 Got a long, narrow area to fill? This backsplash demonstrates how Sierra Blue Mini makes the most of every inch of wall space between countertop and cabinet. A combination of natural split-face quartzite in shades of white, gray, and blue-gray, a backsplash with this veneer may become your favorite part of the room. Whether you like the light, airy contemporary aesthetic shown here or prefer something more traditional, this stacked stone will fit right in.
Arctic White Mini
An accent wall faced with Arctic White Mini transforms any room into something special and unique. With soft, subtle shadings of cream and white, this split-face marble veneer offers just the right amount of texture. It can easily become the room's focal point, or the perfect background to another dramatic element such as a special center island countertop.
If you've been impressed with dramatic stacked stone walls but thought you couldn't possibly integrate it into your own interior design, or exterior hardscape, here's your chance to think differently. MSI's stacked stone mini panels allow you to install just a little pop of natural beauty or enhance an entire wall with ease. Check out MSI's entire collection of stone ledger panels.