The Top 5 Quartzite Countertops For Any Kitchen Style
July 11, 2023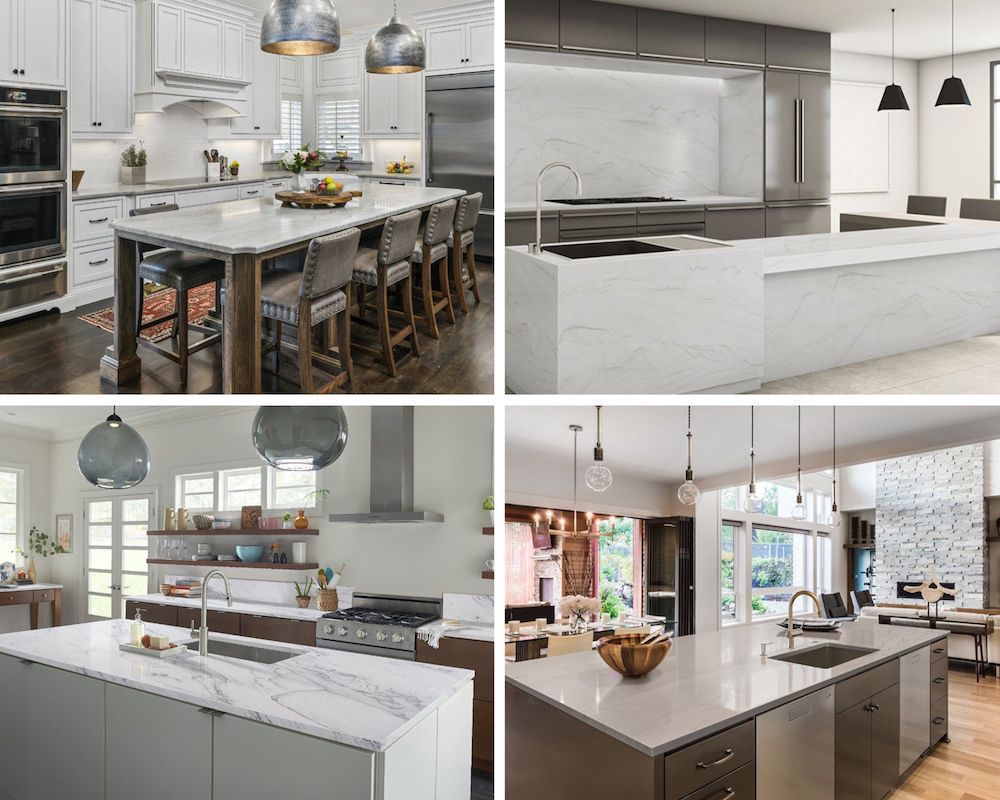 While every homeowner has a unique style for decorating their home, many designs align with specific categories such as classic, modern, or industrial. Understanding these styles can help you plan your kitchen's aesthetic and practical needs. To fit this array of design choices, we provide a plethora of high-quality products to match these different styles. One of the most loved options is natural quartzite countertops.
What sets this beautiful natural stone apart as an outstanding material for the kitchen or bathroom? Its key attribute is exceptional durability, boasting remarkable strength. Quartzite is also not very porous, making it stain-resistant and easy to keep pristine. It also resists heat and scratches and is unlikely to suffer from chipping.
Furthermore, if you admire the aesthetic of marble, you'll be pleased to know that many of the available colors bear a close resemblance. It's a versatile material with an enduring elegance that can be cherished for generations.
Versatility Across Design Styles
A quartzite countertop adds value and appeal to a multitude of interior design styles. In modern or contemporary settings, the sleek and polished look aligns with the minimalistic aesthetic. The stone's natural patterns subtly yet attractively emphasize the clean lines of the design. Similarly, in traditional rooms, this material's inherent charm complements intricate design details and a warm, inviting atmosphere perfectly.
Going with a transitional style, which blends traditional and modern styles, balance is key. This countertop, available in various hues, plays a critical role in harmonizing old and new design elements. Equally, in a farmhouse with its rustic appeal, the natural beauty and durability align well with the style's hardworking nature. The toughness and practicality also resonate with the utilitarian, raw industrial vibe.
Light colors can elicit images of sandy beaches and ocean surf in coastal designs. This makes it a fantastic choice for those wishing to capture the serene, breezy ambiance of the seaside within their home.
Find the Right Quartzite for Your Style
We offer an array of colors you'll love. These are among our best-selling kitchen countertops, and we invite you to peruse our online gallery for more options.


For significant spaces like islands, Taj Mahal offers the perfect balance. It features a soft white background with gold veining, providing dramatic flair without overwhelming a serene all-white kitchen. Its pale color also excels in resisting stains and scratches.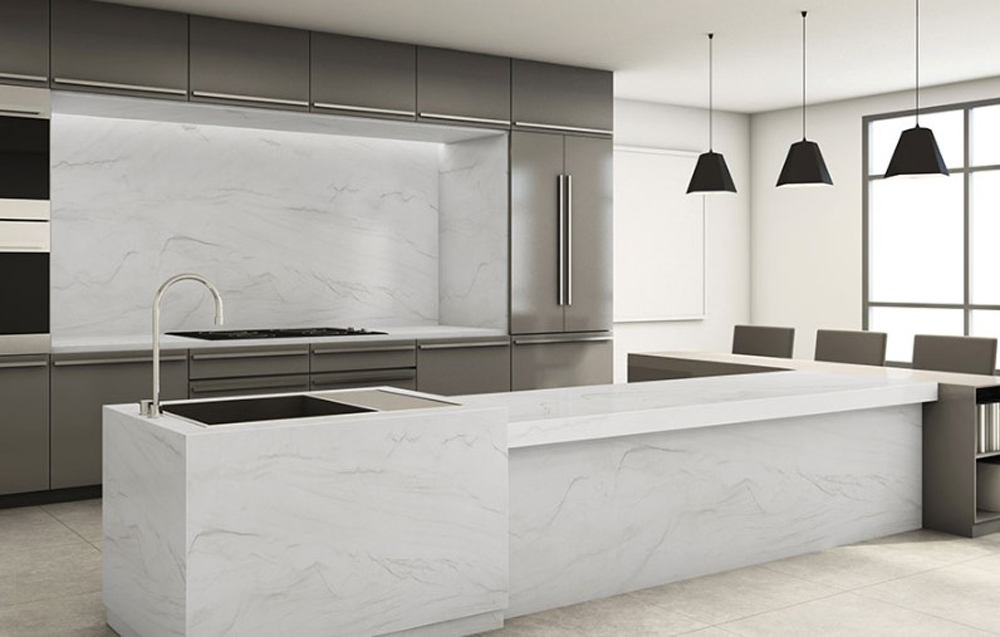 For a minimalistic, contemporary vibe, Zermat Quartzite is an excellent choice. Its subtle gray veining on a pure white background adds just the right contrast against the clean lines of the setting. A matching backsplash can amplify this effect, creating a stunning result.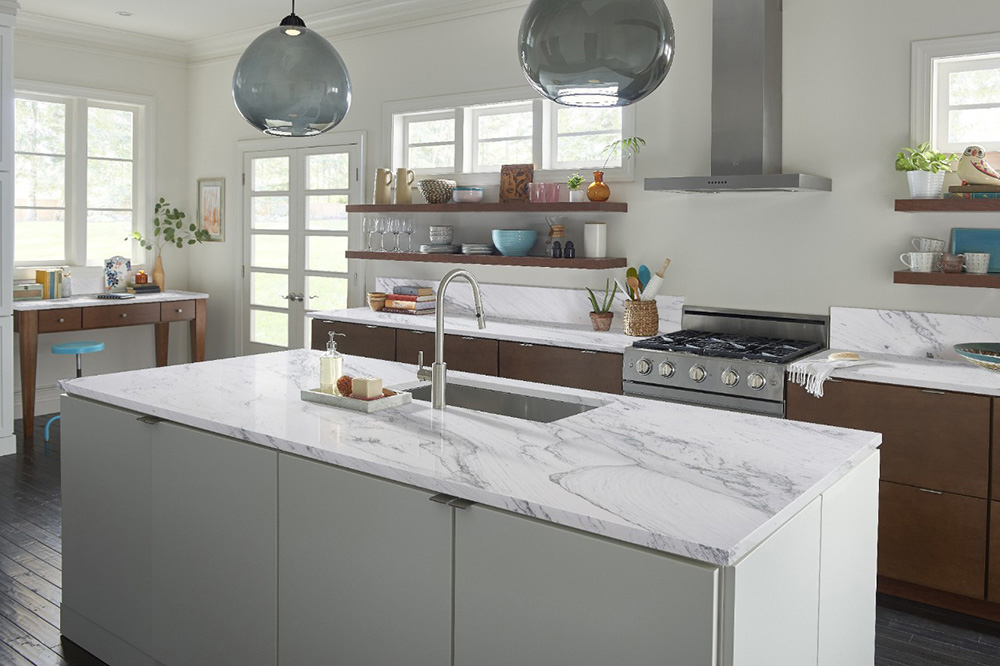 Florida Wave Quartzite encapsulates the allure of white marble without the upkeep. Its snow-white background, accented by sophisticated gray veining, effortlessly enhances both traditional and contemporary spaces. Not only does it infuse a sense of luxury with its timeless elegance, but its robust nature also ensures longevity.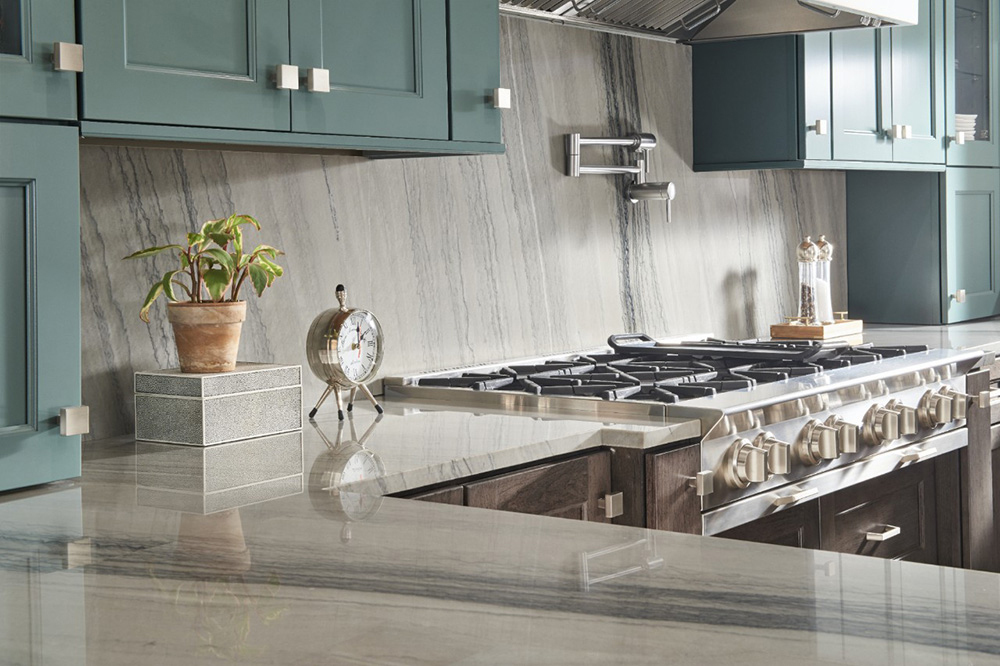 For those interested in bold patterns, our selection includes exotic variations like Audacia Quartzite. It features linear striations of gray and black with a hint of green, delivering just enough movement while remaining sophisticated and adaptable. When paired with a coordinated backsplash, this becomes a breathtaking work of art!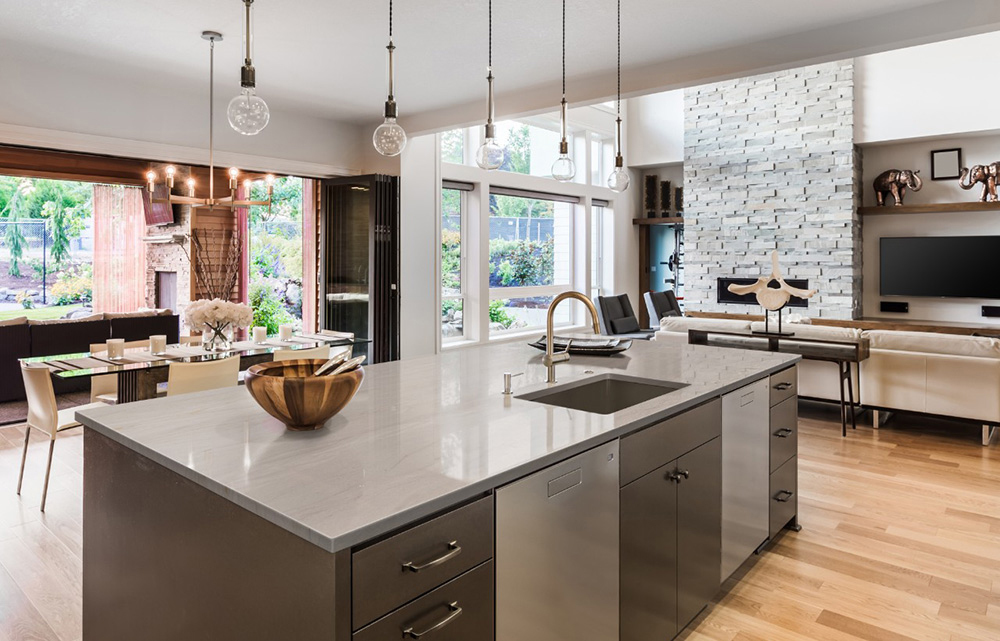 Kalahari Quartzite offers a more subdued aesthetic, featuring a harmonious blend of beige shades underscored by a gentle pattern of veining. Its understated elegance adds depth and texture to any space, without dominating the overall design. Kalahari's neutral base transitions smoothly with any décor changes, whether your tastes lean towards the contemporary, traditional, or even industrial.
These represent our top five picks from the extensive range of colors. We recommend exploring our entire collection on our website before starting your home improvement project. Considering its versatility, timeless beauty, and other significant benefits, you'll understand why so many homeowners and designers prefer this natural stone for their kitchens and baths.
Need help to choose the right countertop or advice on customizing it to your individual needs? We make it easy! Just chat with us online, visit an MSI showroom, or contact an authorized MSI retailer in your area.
Learn More About Quartzite Countertops
WHY QUARTZITE COUNTERTOPS ARE THE BEST OPTION FOR YOUR KITCHEN
GET THE LUXURIOUS LOOK OF MARBLE WITH QUARTZITE COUNTERTOPS
GET TIMELESS STYLE AND NATURAL BEAUTY WITH QUARTZITE COUNTERTOPS