Outdoor Oasis: Blending Outdoor & Indoor Living
September 22, 2016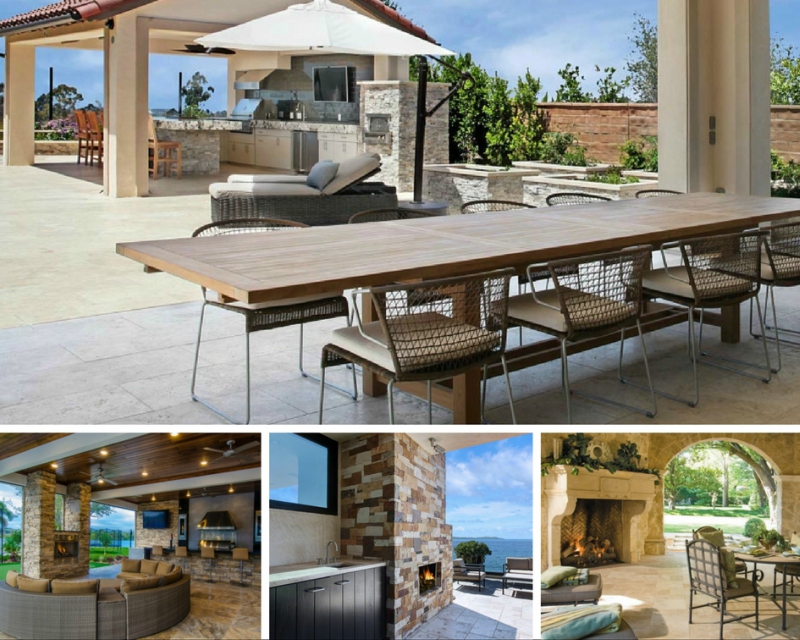 Outdoor living spaces should seamlessly blend indoors and out to create a restful and relaxing oasis, enlarging the functional square footage of your home. The trick is selecting features that lure you outdoors no matter what the season, and picking travertine pavers along with hardscape materials that complement your home's design and décor.
Outdoor spaces should look like they belong to your home and its aesthetic. They should be an extension of the inside that harmonizes with your home's architecture and design.
Outdoor living should also have all the comforts of home—ample lighting for nighttime entertaining, ceiling fans for warm summer nights, and music speakers to provide a soft soundtrack for evenings under the stars. Getting inspired? Well, here are some essential features that great outdoor spaces contain—along with suggested MSI tile selections—to turn your outdoor space into a stunner.
Kick Off Your Shoes and Relax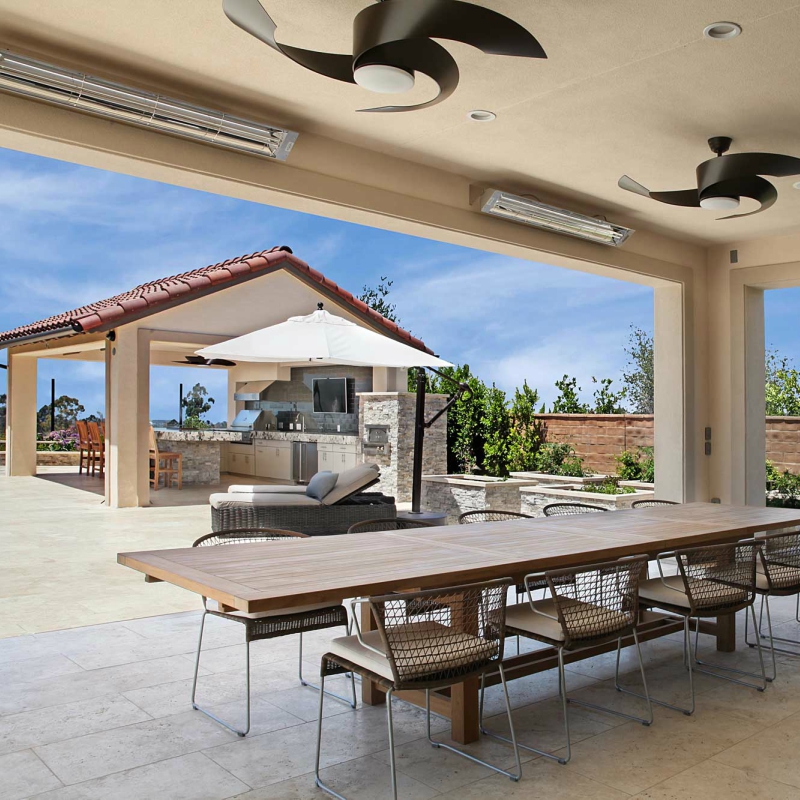 Featured: Tuscany Platinum Travertine
Every outdoor area needs an R & R area where you can put your feet up, sip a glass of Chardonnay, and nibble on some triple crème brie—or maybe your idea of relaxing is a beer and some wings! Either way, this outside family room, with its comfortable seating and collection of colorful throw pillows, is informal and inviting. Tuscany Platinum Travertine Tile features neutral beiges and creams. It goes beautifully with earthy décor, and provides a soft backdrop for the vivid blues and yellows beloved in the Tuscany region of Italy.
Here's What's Cooking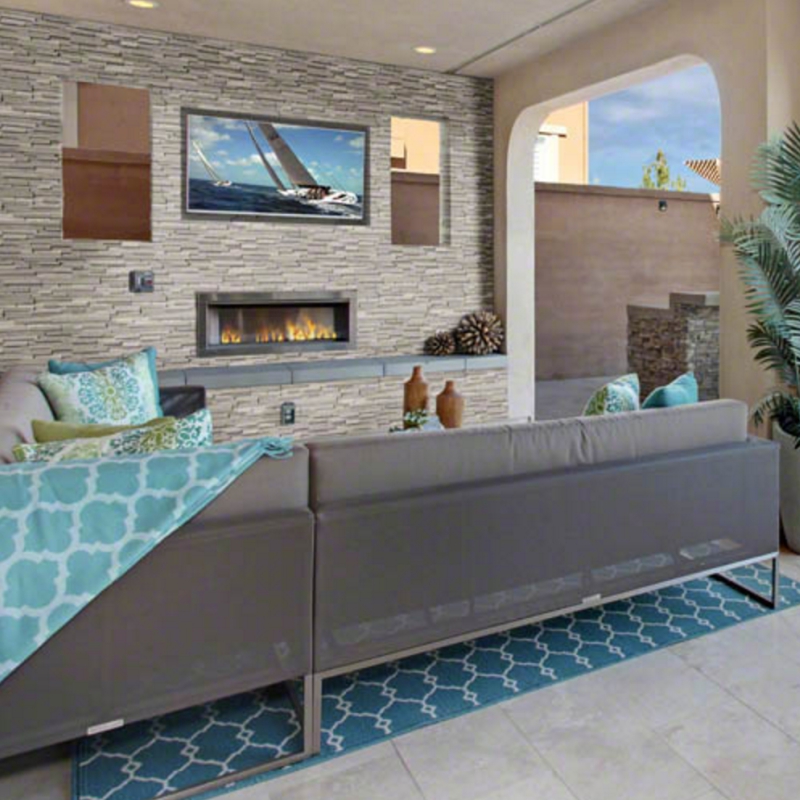 Featured: White Oak 3D Honed Stacked Stone
Cooking outdoors has evolved from throwing some hotdogs onto a portable grill to cooking kabobs on a built-in six-burner range and cleaning skewers in an outdoor dishwasher. No matter how simple or complicated the meal, you'll want the space to be functional and comfortable. White Oak 3D Honed Stacked Stone panels are an off-white, natural marble that can complement anything from an outdoor breakfast bar to a TV accent wall.
Fire Feature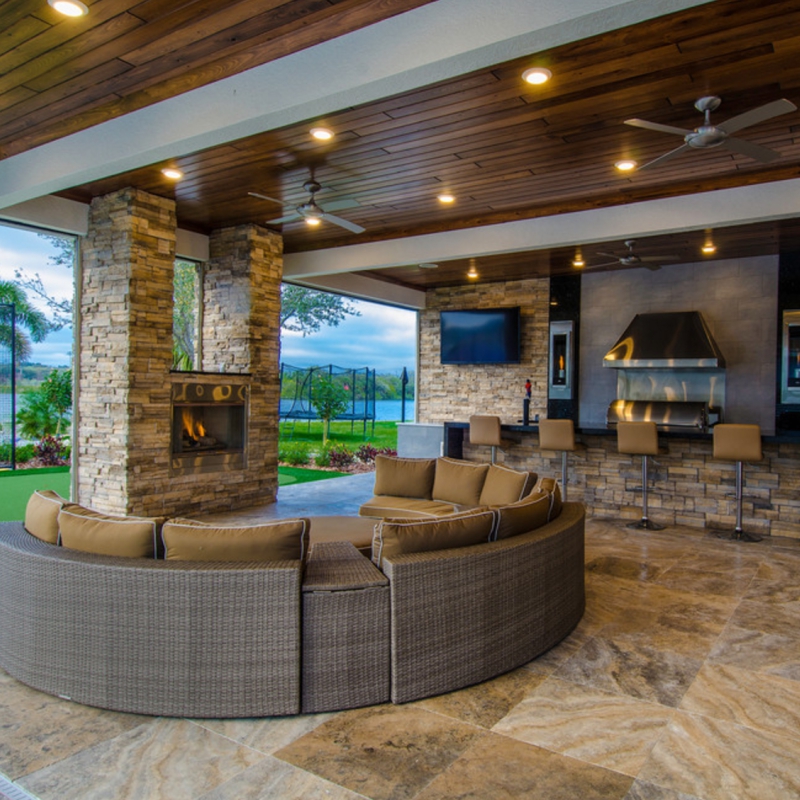 Featured: Canyon Creek Stacked Stone
Nothing warms an outdoor area better than a crackling fire in a wood burning fireplace or the realistic-looking, glowing embers of an electric fireplace. MSI's Canyon Creek Stacked Stone panels are the perfect surrounds for either style. The warm golds and cool grays of this natural, split face quartzite repeat the colors of flames and seem to sparkle in the glow of firelight.
Accent Nature in the Great Outdoors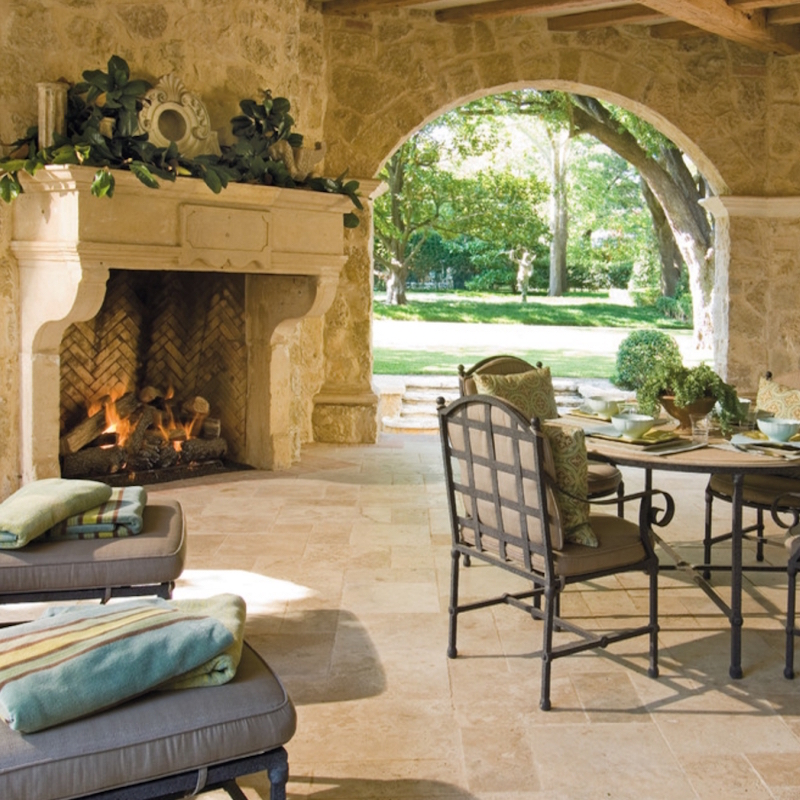 Featured: Mocha Pavers
Outdoor spaces call for beautiful landscaping that defines the area, naturalizes and screens a pool area, and invites the eye into the rest of the yard. Natural travertine Mocha Pavers soften patios and swimming pool surrounds. The tile's soft beiges and brushed and honed finish is at once elegant and inviting.
Sun Protection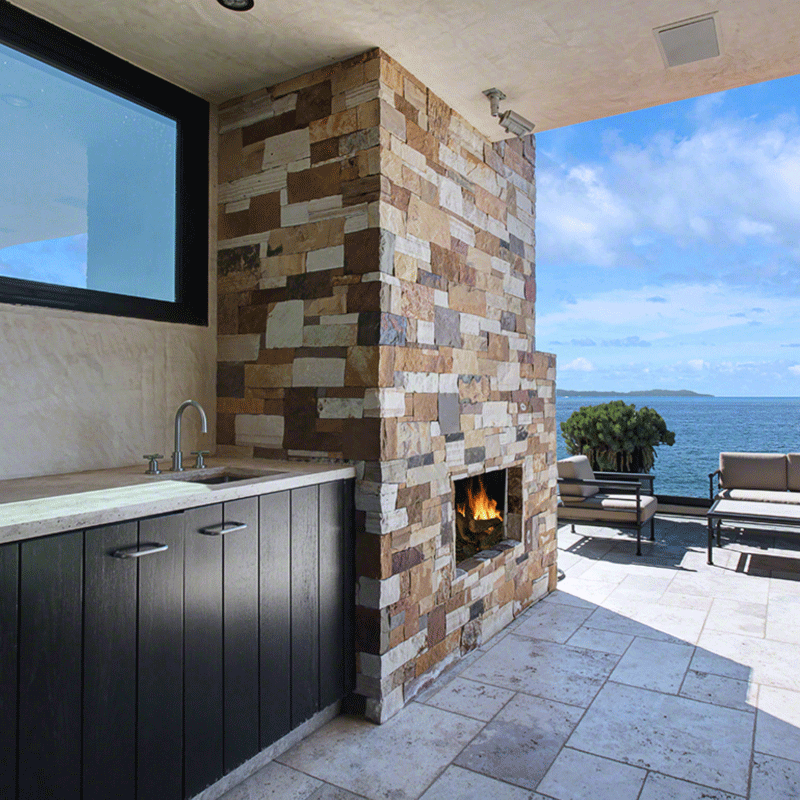 Featured: Coffee Travertine
If your outdoor area is hit by direct sunlight, consider shading the area from the relentless summer sun. You can install retractable awnings, or treat yourself to an 11-foot, offset patio umbrella large enough to cover seating areas. If you plan to be in the house for a few years, plant shade trees like red maples or American sycamores; they will grow up to provide shade, protecting your skin and saving on your energy bills.
It's time you create the perfect outdoor oasis for your family. Get more inspiration by checking out MSI's Video Library of Outdoor Inspirations. There's something for everyone!