Get The Luxurious Look Of Marble With Quartzite Countertops
June 02, 2023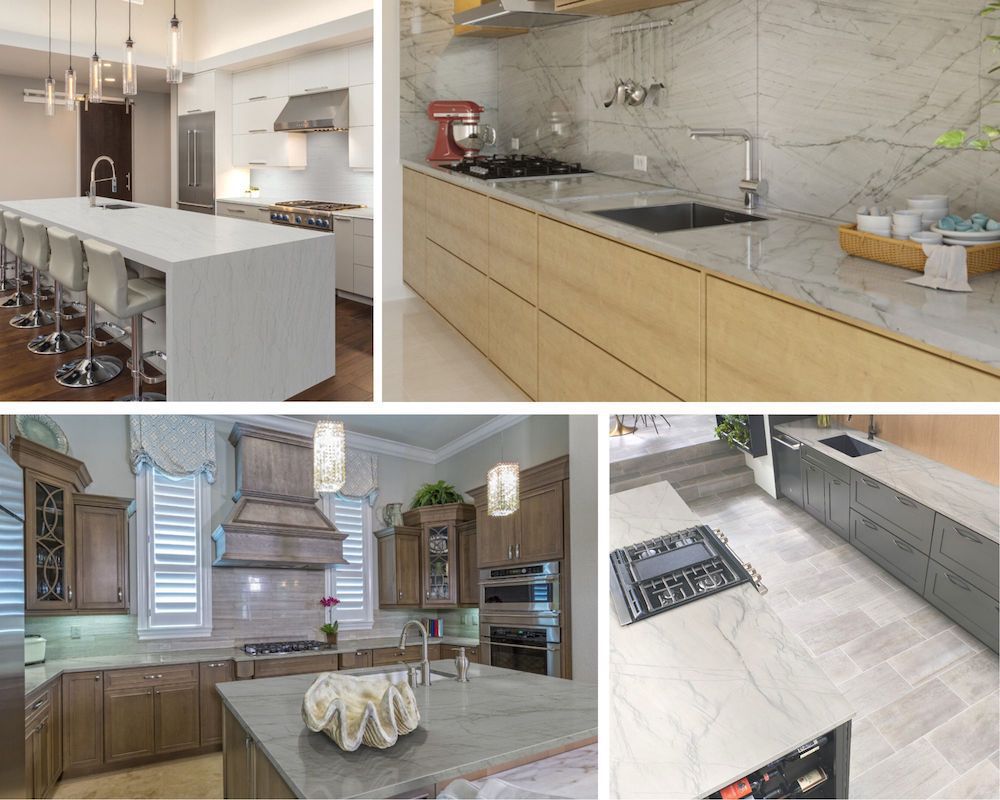 In the world of luxury kitchen and bathroom design, there is an enduring appeal for countertops that express an aesthetic of sophistication and luxury. Quartzite countertops have carved out a particular niche among the many options available. They have both the rich good looks of natural stone with the exceptional durability that makes them ideal for the rigors of daily life.
Their unique ability to mimic the look of marble countertops and their inherent benefits make them a preferred choice for discerning homeowners and designers alike.
Why should you consider these lovely countertops? Here are some excellent reasons to give them a closer look.
Benefits of Quartzite Countertops
Quartzite countertops offer a range of benefits that make them a highly desirable choice for homeowners. Quartzite is known for its strength and resistance, providing a luxurious and long-lasting surface for kitchens, bathrooms, and other home areas, making it ideal for busy households. In addition, quartzite countertops offer versatile looks and exceptional benefits, whether seeking a sleek and contemporary look or a more traditional style.
Durability: Quartzite countertops are a robust and long-lasting choice for your kitchen or bathroom. This natural stone is highly resistant to scratches and stains. Its durability ensures that your countertop will maintain its pristine appearance for years, even with regular use.
Beauty: Quartzite can mimic the luxurious look of marble and other natural stone countertops, providing a highly sought-after aesthetic for modern interiors. The natural veining and color variations in quartzite create a unique and beautiful appearance, adding a touch of sophistication to any space.
Heat-resistance: Quartzite countertops are highly heat-resistant and ideal for enthusiastic cooks. You can have peace of mind that you won't damage your surfaces when cooking or baking.
Easy to Maintain: Quartzite is surprisingly easy to maintain. This material requires only routine cleaning. Quartzite countertops are also naturally resistant to stains and spills, thanks to the stone's low porosity.
Quartzite Countertops That Look Like Marble
Quartzite countertops have the remarkable ability to mimic the luxurious look of marble. Through meticulous craftsmanship and advanced technology, quartzite surfaces can be designed to replicate the exquisite veining and patterns found in natural marble. With quartzite countertops, homeowners can enjoy the timeless beauty and allure of marble without the maintenance and vulnerability associated with the natural stone. Quartzite countertops offer an attractive alternative that effortlessly captures the essence of marble, adding a touch of luxury to any room. If you are ready for a new countertop, this premium surface is worthy of inclusion.
Let's explore some of our finest durable quartzite countertops that beautifully emulate the look of marble and discover some attributes that make them the perfect countertop for all your projects!
Always in Style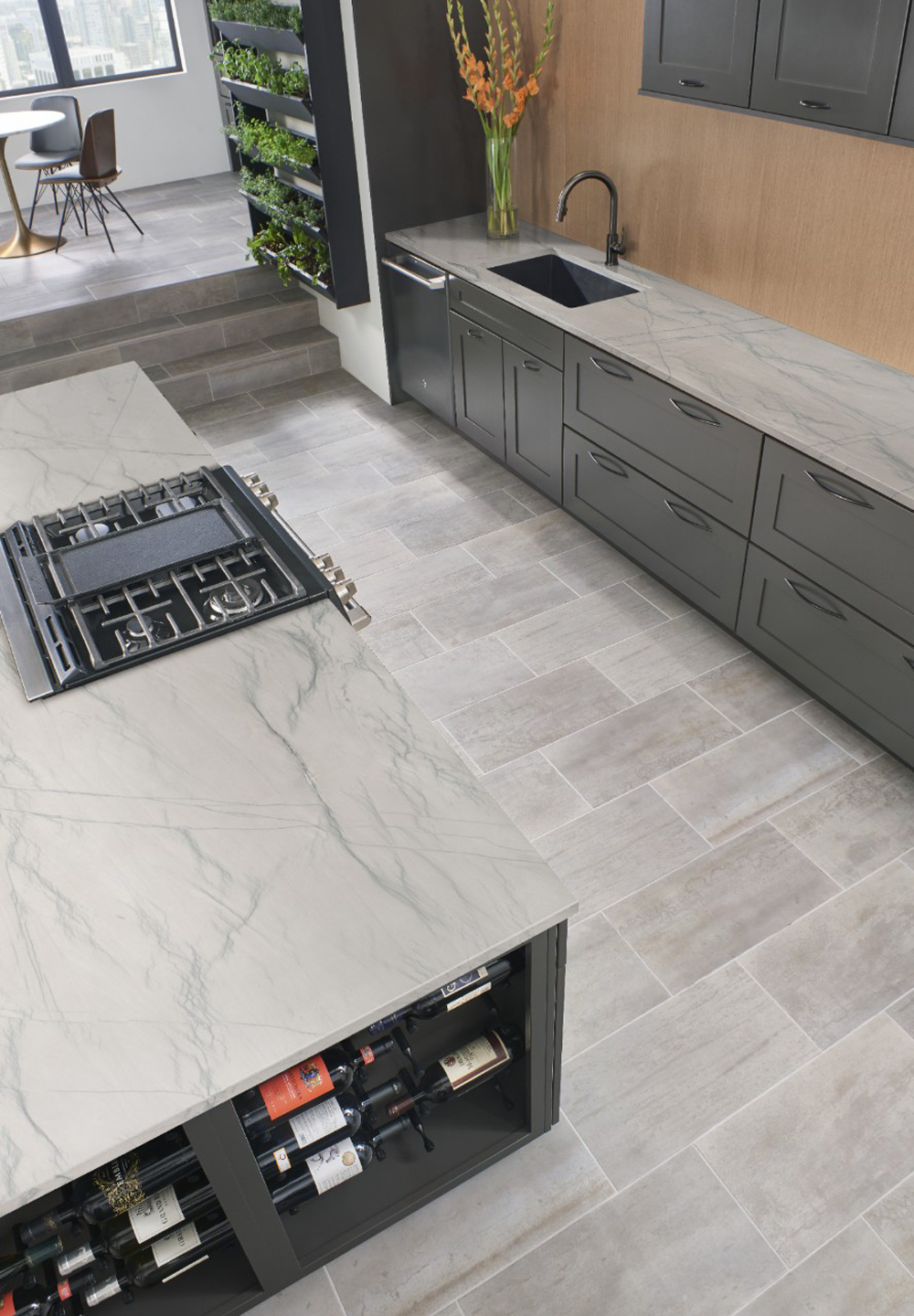 Zermat Quartzite
For a stunning marble-look countertop that can exude a timeless elegance in any space, we recommend our Zermat Quartzite. Characterized by its soft white background, it carries subtle gray veins that create a delicate interplay of lights and shadows across the surface. This natural veining adds depth and texture, enhancing the countertop's visual appeal.
The stone's white and gray palette makes it versatile and suitable for various interior styles, from contemporary to traditional. So whether you're designing a minimalist kitchen or a luxurious bathroom, Zermat Quartzite's understated elegance can seamlessly blend into the decor while making a statement of its own.
Showstopping Beauty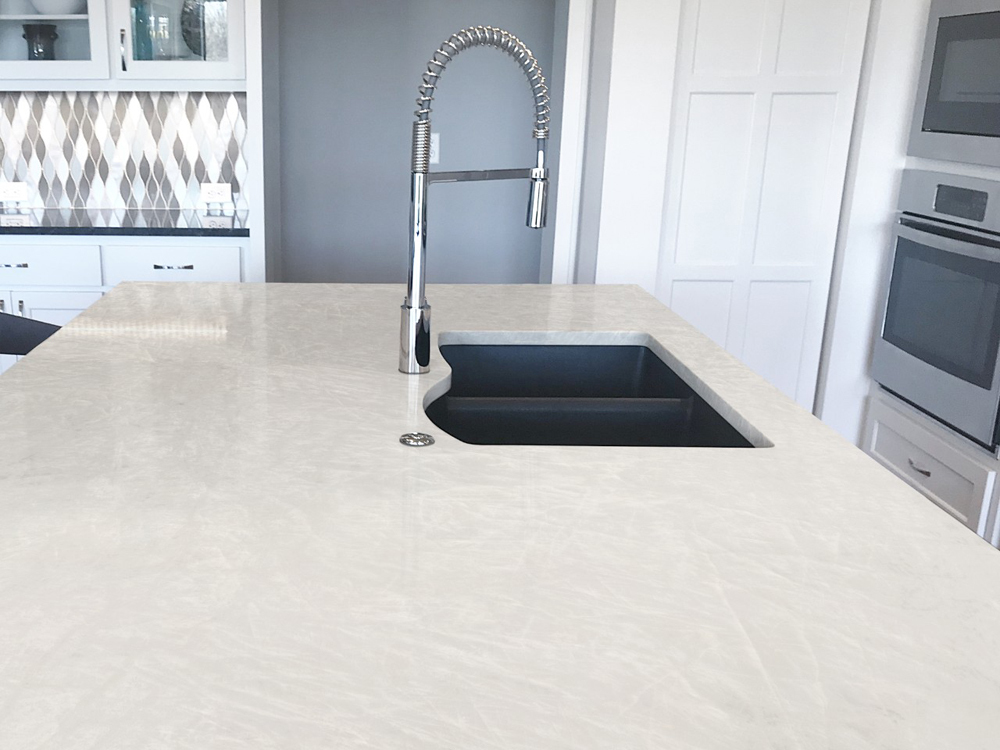 Cristallo Quartzite
Our Cristallo Quartzite is a marvel of natural beauty and elegance. With its cool white backdrop, paired with grey and orange flecking and veining throughout, this slab gives a multi-dimensional appearance creating a mesmerizing pattern across the surface like a unique piece of art.
The alluring qualities of Cristallo Quartzite effortlessly adds depth and intrigue to any setting, becoming an undeniable showstopper. Its cool tones harmoniously blend with a myriad of color schemes and interior design styles, ensuring its seamless integration into your desired aesthetic.
Understated Elegance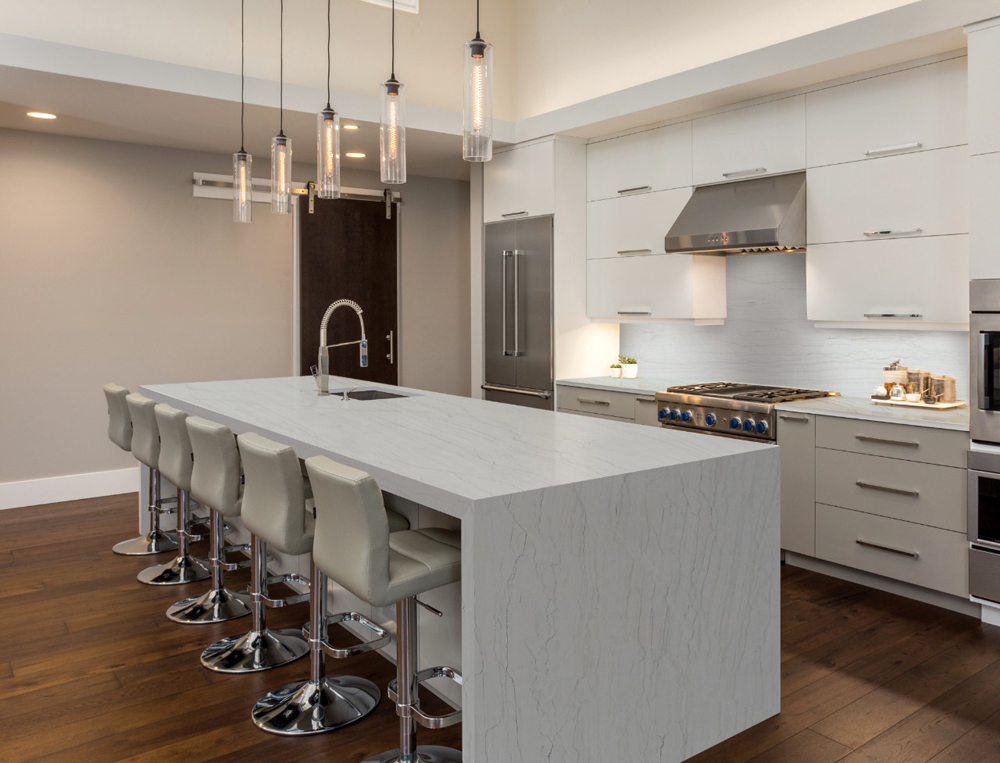 White Montreal Quartzite
With a captivating blend of elegance and durability, our White Montreal Quartzite will elevate the atmosphere in any room. The surface of this stone showcases a pristine white background with soft, feathery veins of gray. The veining creates a subtle yet intricate pattern that adds depth and sophistication to the overall aesthetic.
White Montreal Quartzite's soothing white and gray palette makes it a versatile choice to suit all styles. Whether you need natural stone for a modern, minimalist kitchen or a lavish, traditional bathroom, this countertop can effortlessly enhance the space with its understated elegance. The surface's light-reflective quality can also contribute to a brighter, more open feel in any room.
Cool and Classic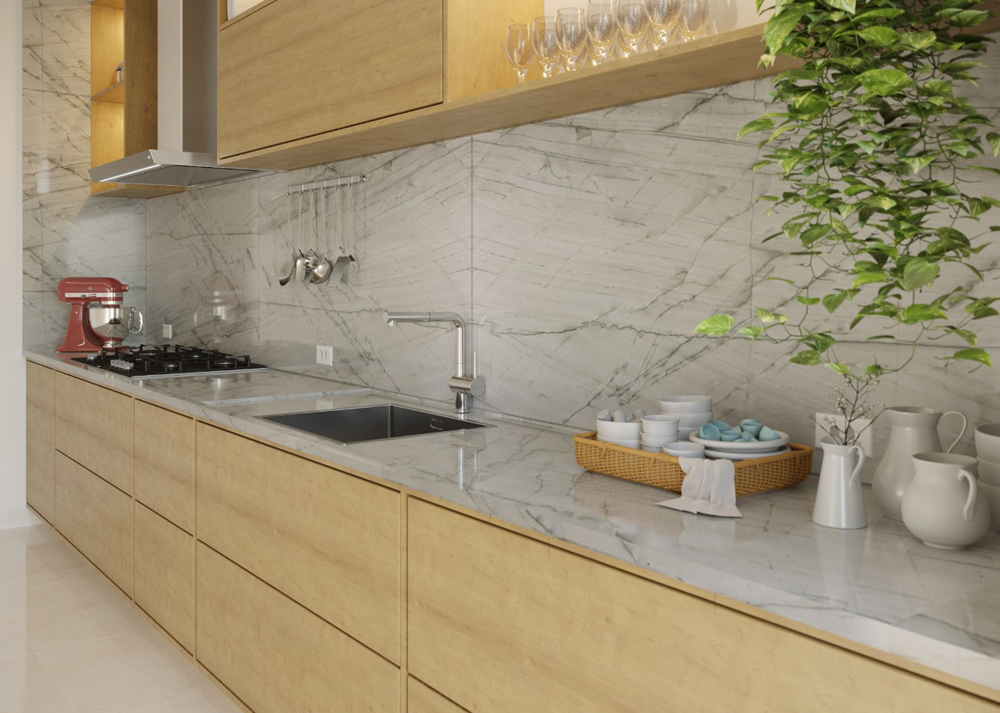 Denali Quartzite
Our Denali Quartzite countertops are a breathtaking blend of natural beauty and rugged durability. As the perfect backdrop for any kitchen or bathroom, this quartzite features a cool grey background paired perfectly with subtle light greige veining throughout. Chic and sophisticated, this striking slab creates a sense of grandeur and movement in any space.
The subdued palette of Denali Quartzite lends itself to a wide variety of interior design styles, from sleek and modern to cozy and classic. The contrasting veins add a dynamic visual element and transforms ordinary countertops into a compelling focal point.
Striking and Rich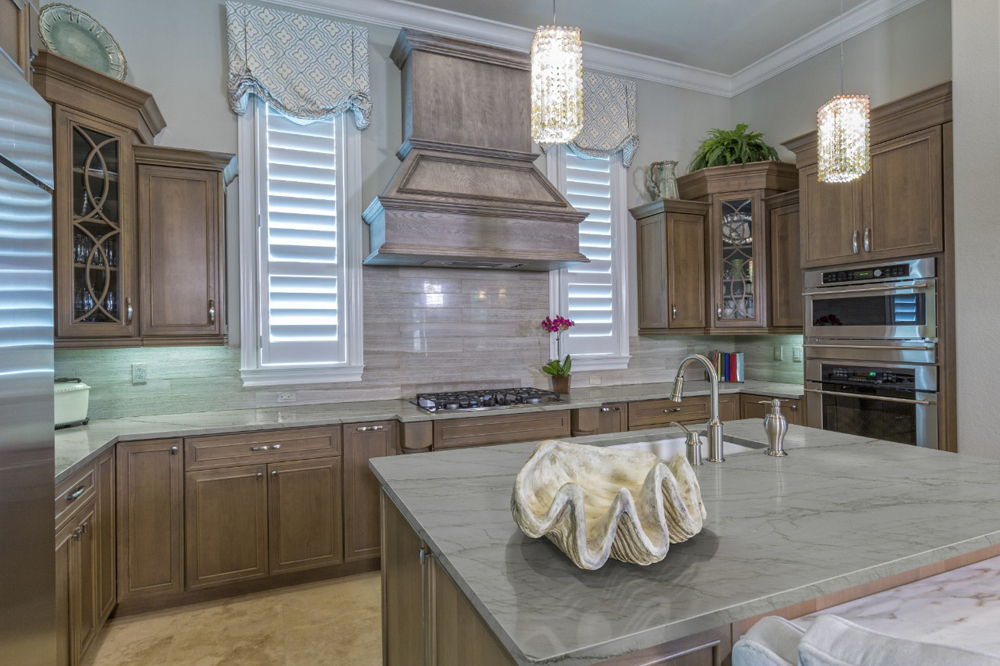 Gray Canyon Quartzite
For a beautiful balance of sophistication and sturdiness, Gray Canyon Quartzite rises to the occasion. This stone features icy whites, grays, creams, and charcoal veins to give the illusion of light dancing on the stone, adding visual interest and a sense of organic movement reminiscent of a windswept canyon landscape.
Gray Canyon Quartzite's harmonious blend of colors makes it a versatile addition to various interior styles. Whether creating a rustic farmhouse kitchen or a sleek, contemporary bathroom, this countertop can seamlessly integrate into your design while adding a distinct touch of natural beauty.
Maintaining Your Quartzite Countertops
Daily cleaning is the first step in maintaining the beauty and longevity of your quartzite countertops. Regularly wiping down your bathroom or kitchen countertops with a soft cloth and a mild soap and water solution can help maintain their shine and prevent haze. Avoid using abrasive or acidic cleaners that can damage the countertop's surface. Instead, always choose gentle, pH-neutral cleaning products to ensure your countertop remains in top condition.
Stain prevention is critical in quartzite countertop maintenance. Although quartzite is naturally resistant to stains, wiping up spills when they happen is a must. That's especially true for acidic or colored liquids, such as red wine or citrus juices, as these can cause discoloration if left on the countertop for extended periods.
Your new marble-look quartzite countertops may require sealing to protect them from stains and damage. Check with the manufacturer or installer to determine if your countertops need to be re-sealed and how often you should do so. Proper sealing can significantly enhance the durability and longevity of your quartzite countertops, making them an even more practical choice for your kitchen or bathroom.
Even though quartzite countertops are renowned for their heat resistance, avoid placing hot pans or dishes directly on the countertop surface. Instead, use trivets or hot pads when needed. This simple precaution can help protect the surface of your counters and ensure they remain in perfect condition.
Quartzite Countertops Are a Gorgeous Marble Alternative
Our stunning selection of attractive, durable quartzite marble-look countertops has something to offer everyone. You will find plenty of countertop choices whether you prefer classic white or stormy, rich gray tones.
Please don't hesitate to connect with our team today to finalize your selections. You can reach us using our website's chat feature, visit an MSI showroom, or find an authorized MSI dealer in your area.
Learn More About Quartzite Countertops
WHY QUARTZITE COUNTERTOPS ARE THE BEST OPTION FOR YOUR KITCHEN
THE TOP 5 QUARTZITE COUNTERTOPS FOR ANY KITCHEN STYLE
NEW AND EXCITING QUARTZITE COLORS TO ELEVATE YOUR KITCHEN