Should I Use Granite Or Marble Countertops For My Kitchen?
January 09, 2021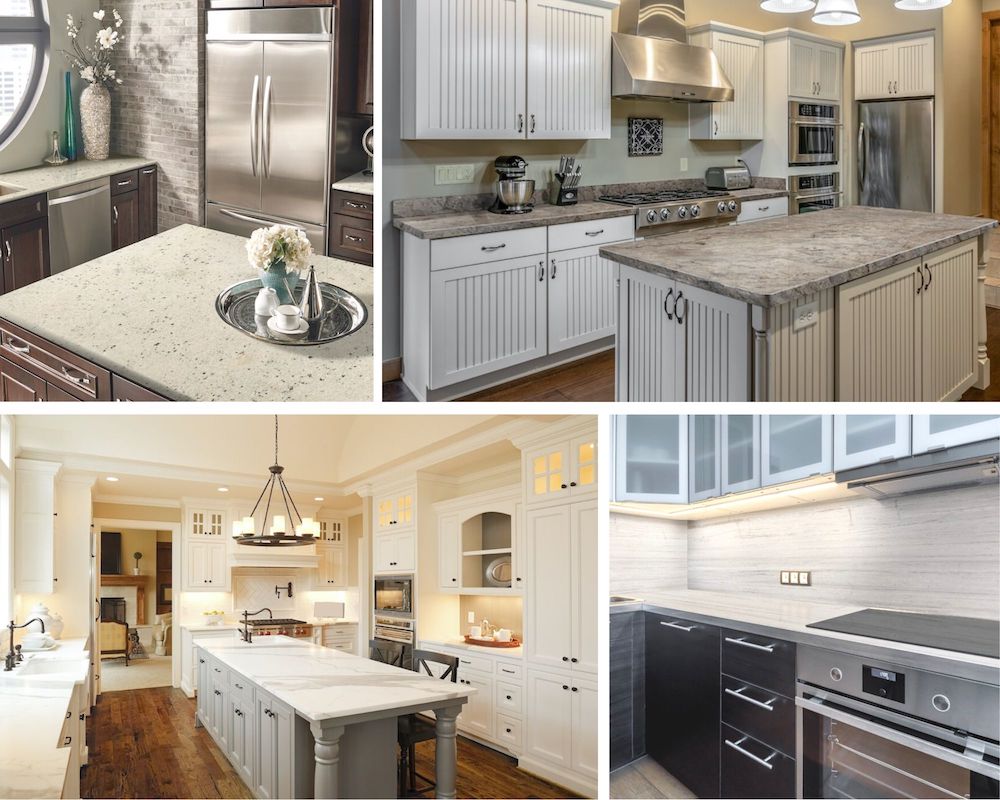 Two of the most sought-after natural stone slabs for kitchen installations are granite countertops and marble countertops. Both surfaces offer various color and texture choices, and these natural stone materials are popular picks since they increase property value, too. Many homeowners select granite for its modern or traditional design aesthetic, while others opt for marble because of its luxurious looks.
But, how do you know when to choose one countertop over the other? It really comes down to personal design preference, durability, maintenance needs, and cost. This straightforward guide will point out the differences and advantages of granite and marble countertops so that you can make the best-informed decision for your next kitchen project.
Appearance
One reason why homeowners go gaga for granite is because of its many colors, patterns, and variations. Choose from white granite, beige, brown, copper, pink, black granite, and everything in between. Some slabs feature subtler specks, while others include a range of unique streaks, so it's key to select a specific slab since no two patterns are the same. Just remember that unusual colors like red or blue may become unpopular over time and attract a smaller niche of potential homebuyers.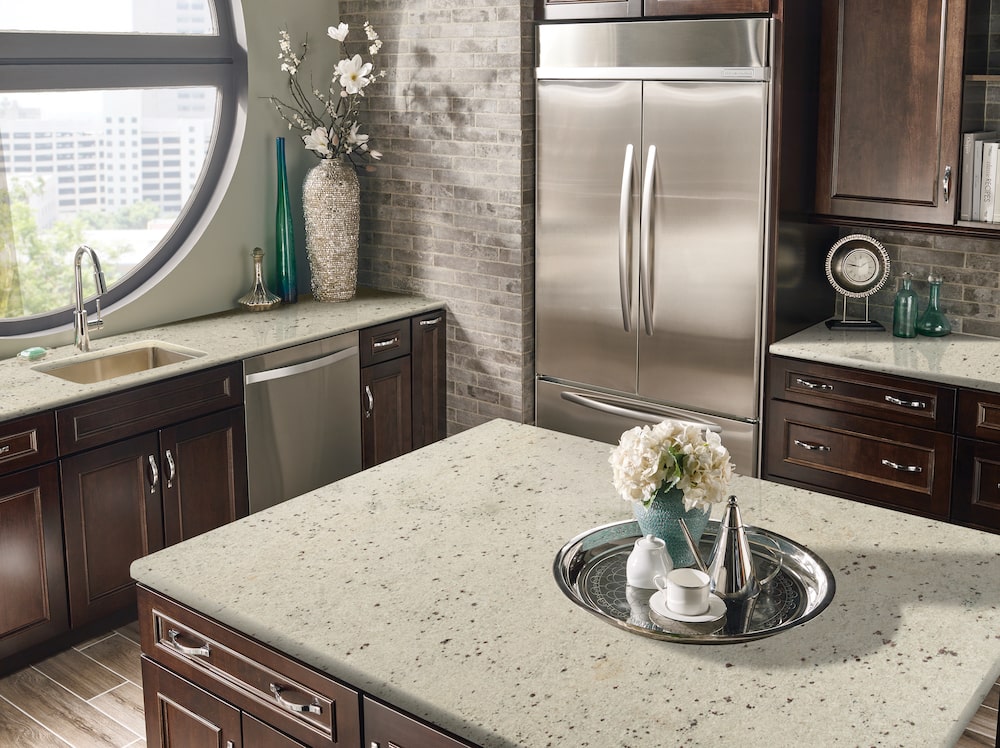 Colonial White Granite
Legendary in its own right, marble is easily recognizable thanks to its heavenly veining and classic, timeless looks. With unparalleled patterns and variations, each slab of marble is unique and easily becomes the focal point of any design style. The most common marble colors are white and cream, but tan, brown, black, and gray are also options. Vein coloring varies from white and cream to gold and gray, and patterns range from fine lines to thicker movement.
Carrara marble, which is similar in price to granite, is the most common type, whereas Calacatta marble marvels with its thicker veining and more luxurious style and expensive cost. Emperador marble comes in various brown shades, while Crema Marfil marble brightens with its beige or yellowish tones.
One feature that's familiar for both products is the surface finishes. Granite and marble come in polished, honed, leather, and brushed finishes. Which one you choose depends on your desire for a shiny, matte, or textured look and feel to go with your modern, farmhouse, rustic, or traditional kitchen design.
Durability
Granite is hailed as one of the most durable natural stone countertops available. That's because the heat-resistant material resists cracks and chips, even if hot pots or pans are placed directly on top. It also resists scratches better than marble but still could possibly etch. Generally speaking, spills will wipe up easily on granite, but it's best to wipe counters quickly to avoid staining the porous surface.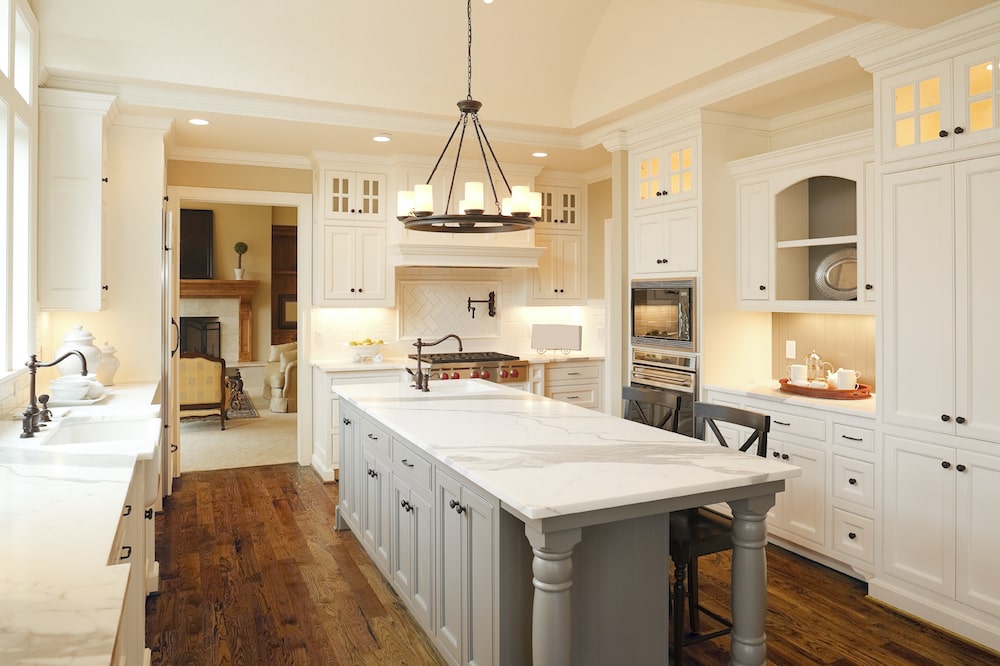 Calacatta Marble
Many think of marble as being just as delicate as it is luxurious. However, it's stronger than its reputation will have you believe, as it resists damage from cracks and chips. The heat-resistant stone can handle temperatures up to 350 degrees Fahrenheit; when cooking anything hotter, you'll need a trivet underneath.
Yet, some of marble's downfalls include scratching and staining. The softer stone is more susceptible to etching, so always place a cutting board underneath when cutting or chopping food. Other things that could also etch your natural stone include acidic foods like tomatoes, lemons, and wine as well as acidic cleaning products. Any spills should be wiped up immediately in order to avoid staining from food, drinks, or water spots.
Maintenance
These stone countertops can be long-lasting with proper care and attention. When it comes to maintenance, natural granite and marble require resealing, but how often may be determined by the surface type and how much use your kitchen gets.
Granite should be sealed approximately every two years in order to keep resisting moisture. If minor damage like scratches occurs, then it can be fixed using a color-matching epoxy, but make sure to leave any large cracks to the professionals. Clean granite regularly using mild soap and water, but always avoid abrasive cleaners as these could leave scratches and even dull the finish. Quickly wipe up any spills to avoid staining, especially oil-based liquids that stain more easily. With these care tips, granite really can last a lifetime.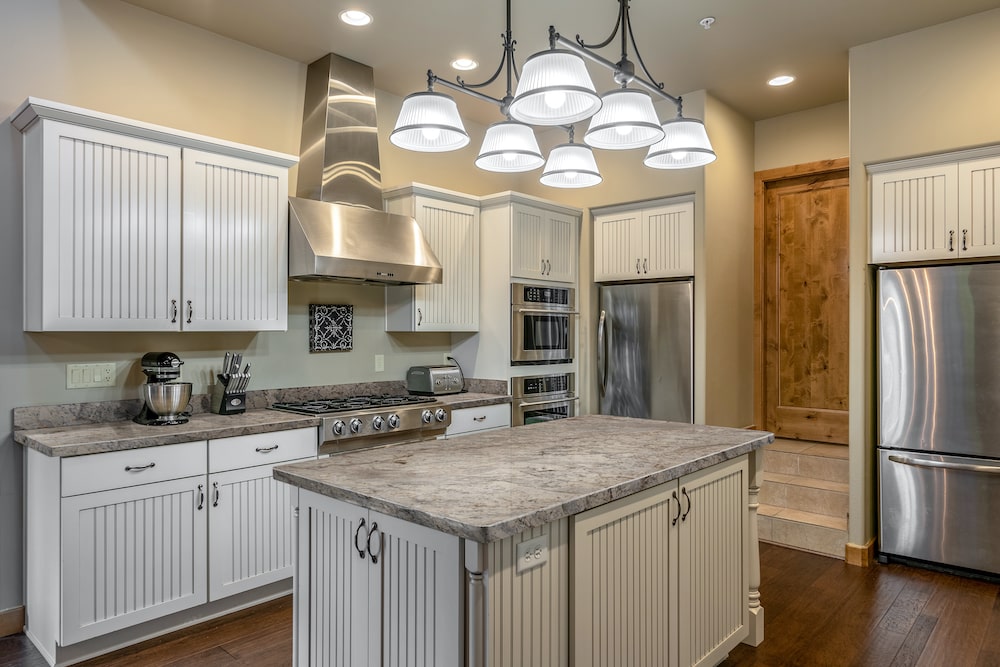 White Spring Granite
Marble should be sealed every six months to one year. Although it will help protect against stains, it won't keep your surface safe from etching. To clean marble, use a pH neutral cleanser or one designed specifically for natural stone. Since it's more porous than granite, wiping up any spills immediately will help your countertop from staining and etching. Also, remember that the luxurious surface does require a specific detergent to help remove stains. With these maintenance suggestions, marble can last for a really long time but is likely to show more wear when compared to granite.
Price
Both granite and marble are considered higher cost countertop options. Granite is typically less expensive, running approximately three-fifths the price of the luxurious stone. On average, costs per square foot for granite range from $40 to $100, while costs per square foot for marble range from $50 to $150.
However, with pricing fluctuations and other factors, prices can change. The type, size, labor, and additional treatments all affect cost. For instance, higher quality stone or rarer colors of granite or types of marble-like Calacatta equates to a more expensive product. Certain shapes, as well as larger slabs for either material, can raise the price, but smaller pieces or even tiles are a more cost-conscious alternative. The complexity of the install and how much labor involvement also adds to the price. Finally, if manufacturers add any treatments like finishes that increase the stain or etching resistance of a surface, then you'll pay more upfront for a more easily maintained product.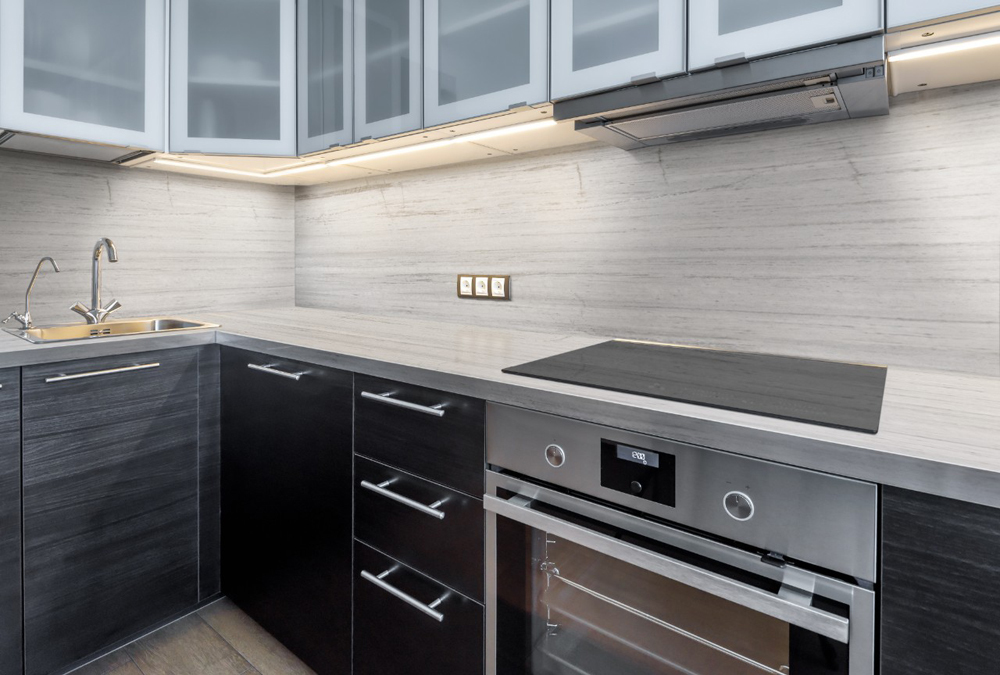 Fantasy White Marble
When comparing granite vs. marble, both natural stone countertops offer beauty, but granite does take the lead regarding additional durability and easier care. While these tips are helpful in determining which surface works best for your lifestyle, you may want to utilize an online marble or granite visualizer to help you see which fits your space best.
Our countertops selections include granite, marble, travertine, limestone, slate, and Q Premium Natural Quartz options in shiny and matte finishes. Use the MSI Countertop Selection Guide to get some ideas for your kitchen. You can also chat online with our team right now, visit an MSI showroom near you, or contact an authorized MSI retailer in your area.
Read More Granite Compared to Other Natural Stone Countertops
Granite, Quartz or Quartzite? Countertop Slab Materials in a Nutshell
Slate, Marble, Granite and Quartzite: 5 Natural Stone Tile Ideas
Should You Choose Marble or Granite Countertops?