Get Peace Of Mind With Our Q Premium Natural Quartz Warranty
August 19, 2022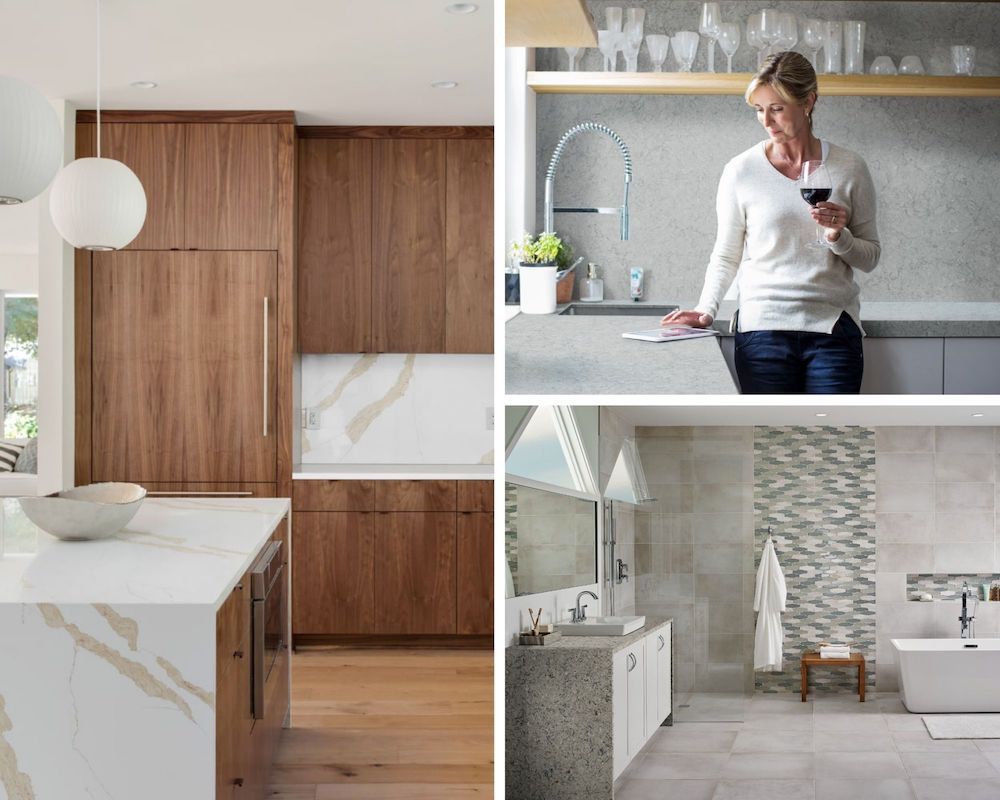 When you choose a Q Premium Natural Quartz countertop, you'll not only acquire a premium surface that will elevate the beauty of your space—you'll have a residential or commercial warranty (terms and conditions apply) to back it up. We'll talk more about this warranty protecting your natural quartz investment later in this article, including the importance of registering it within 30 days of installation.
WHAT IS Q PREMIUM NATURAL QUARTZ?
Take affordable extravagance and combine it with new fashionable practicality, and you have Q Premium Natural Quartz, an engineered premium surface that mimics authentic stone and comes with a host of benefits that the real thing lacks. We call Q Premium Natural Quartz "natural" because we use genuine quartz in the manufacturing process along with pigments and other minerals to produce all of those highly sought-after quartz countertop colors and patterns. Next, a strong resin brings everything together, and then the slabs are formed and cured.
We manufacture Q Premium Natural Quartz using our strict, detailed quality assurance standards. This ensures the quality of excellence that you deserve and for which we are known. Additionally, select products pass through the patented Bretonstone system of Breton S.p.A., Italy.
So why should you choose Q Premium Natural Quartz over other options? To start, it's the supreme pairing of natural and manufactured materials delivering top-shelf looks and world-class performance. This combo of the natural and manufactured gives Q a higher level of function over many other surface choices.
The Q Premium Natural Quartz line offers close to 100 stain, scratch, and heat-resistant styles. With this kind of durability, you can rest easy knowing that Q will retain its irresistible looks even in busy settings that experience a good deal of wear and tear.

Since these countertops are engineered premium surfaces, they can be produced to resemble any type of surface. If the wide variety of solid colors is not for you, there are many looks to choose from like marble, granite, concrete, quartzite, and limestone.
If you're wondering how much a quartz countertop costs, thanks to having the most extensive line of production facilities around the globe and a top-shelf supply chain, we can list our quartz countertops at extremely competitive prices.

Q PREMIUM NATURAL QUARTZ PERFORMANCE BENEFITS
When you opt for Q Premium Natural Quartz countertops for kitchens, you'll enjoy several benefits. First, these countertops require no sealing, regularly scheduled resealing, or other reconditioning or polishing. These surfaces are 99% solid and nonporous. They are chip, scorch, scratch, and stain resistant.
Caring for and maintaining these natural quartz countertops is a breeze, so you'll have less harsh chemicals in your life. This low-maintenance benefit carries over to the stain-resistance just mentioned. It's that nonporous surface that resists fruit juice, coffee, tea, food coloring, and numerous other causes of undesirable staining that make this the ideal countertop for any household.

All you need for everyday cleaning of your Q Premium Natural Quartz countertop is warm water and a soft sponge or a dishcloth. For challenging cleanups requiring a bit more elbow grease, use a gentle liquid cleaner (prolonged exposure to cleaners with a PH level higher than 5 may discolor the surface).

Safety is a huge benefit of these surfaces. Their durability and resilience makes this collection of countertops resistant to bacteria and other unwanted microorganisms. GREENGUARD, NSF, KOSHER, and LEED certified, these eco-friendly counters help keep your spaces healthy and safe. What's more, the entire collection is non-toxic and doesn't contain any foreign substances that could be hazardous.

The benefits of the Q collection expand into design advantages. Among those are a wide variety of timeless looks and colors that will take the look of any room to the next level.

Q PREMIUM NATURAL QUARTZ WARRANTY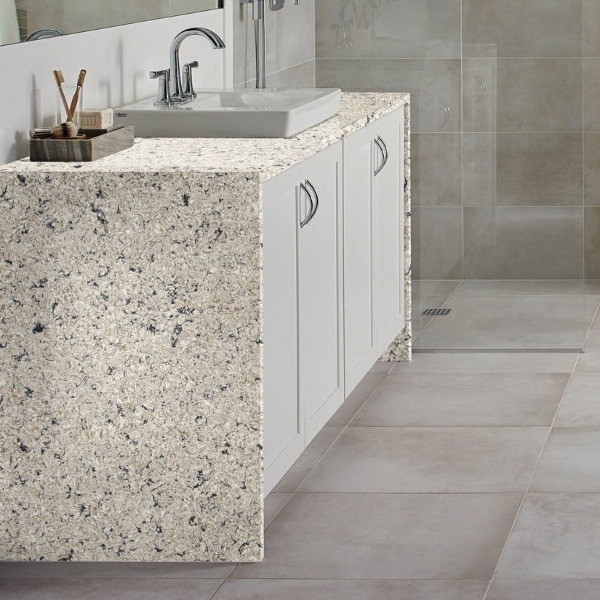 You most likely spent a good deal of your free time working on a design plan for your home upgrades, and you also put time into thoughtfully selecting the right premium countertops. You should have a warranty to back these products up, so you can spend less time concerned about something happening to your investments and more time enjoying and showing them off.
As we previously mentioned, a residential or commercial warranty covers Q Premium Natural Quartz countertops (terms and conditions apply). And don't forget, for the warranty to be valid, you must register your Q Premium Natural Quartz countertop within 30 days of installation. You can register online here.


WRAPPING UP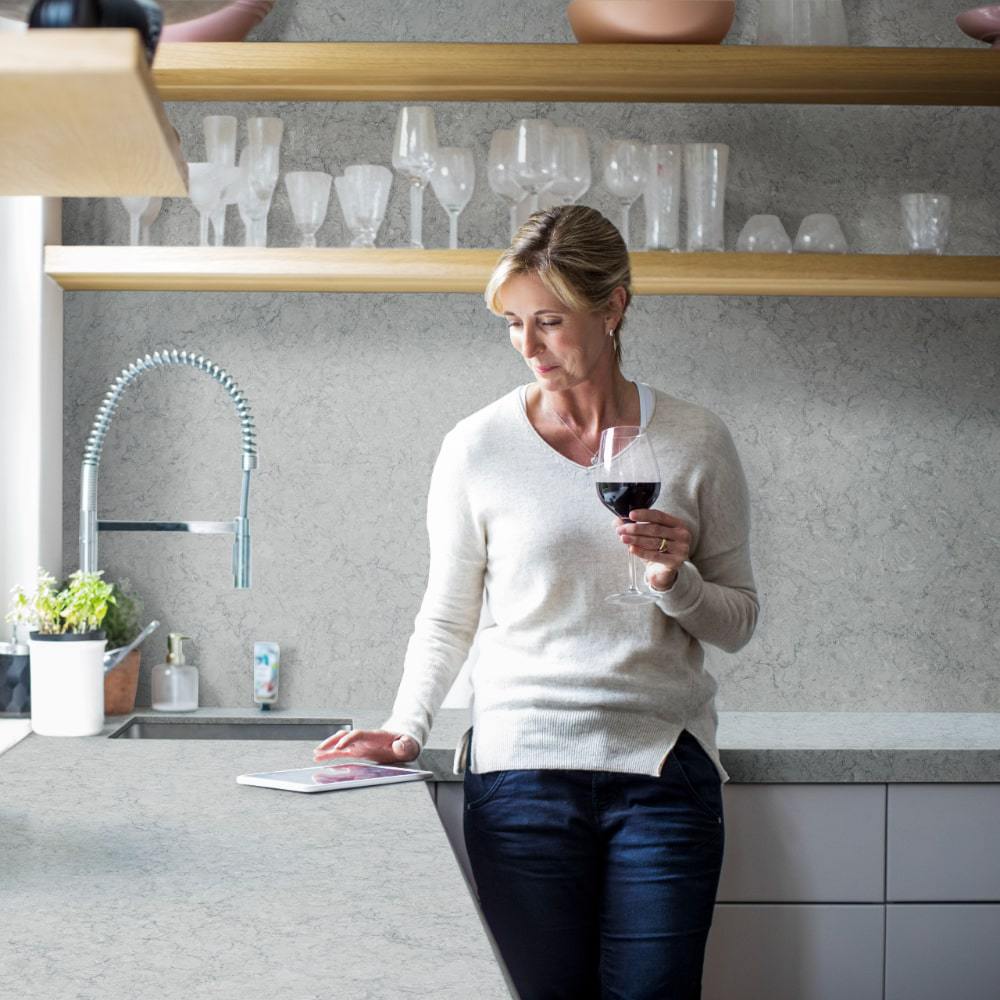 As you can see, our Q Premium Natural Quartz line is as gorgeous as it is practical. The wide variety of chic colors and styles give you the ability to complement any kitchen or bathroom. The countertops are more durable and require less maintenance than the real thing.
Choosing Q Premium Natural Quartz countertops could give you a nice return on your investment if you ever choose to sell your home. Just as granite and marble countertops add to the resale value of a house, today, many potential homebuyers know that quartz countertops are premium surfaces with a lot of benefits and a lot less upkeep than the authentic stones they imitate.

If you have any questions about Q Premium Natural Quartz countertops, warranties, or how to register for your warranty, please get in touch with us by phone, online, or visit one of our showrooms. Our experts are ready to assist you select products to bring your breathtaking upgrades to life.
Also, you can contact us in real-time using our MSI website chat feature. Through this feature, we can field questions and provide additional information about our products. Locating the chat feature is simple—look to the bottom right of your screen on any page on the MSI website. Then, click the circle, and a chat box will pop up with a friendly agent ready to assist you.
Learn More About MSI Quartz Countertops
Sink Choices For Your New Quartz Countertop And Beyond
The Benefits of Prefab Quartz Countertops
Full Height Quartz Backsplashes to Complement Your New Quartz Countertop
6 Reasons To Choose An MSI Quartz Countertop
8 Quartz Countertop Island Ideas to Inspire Your Dream Kitchen