The Different Grades Of Porcelain Tile
May 13, 2019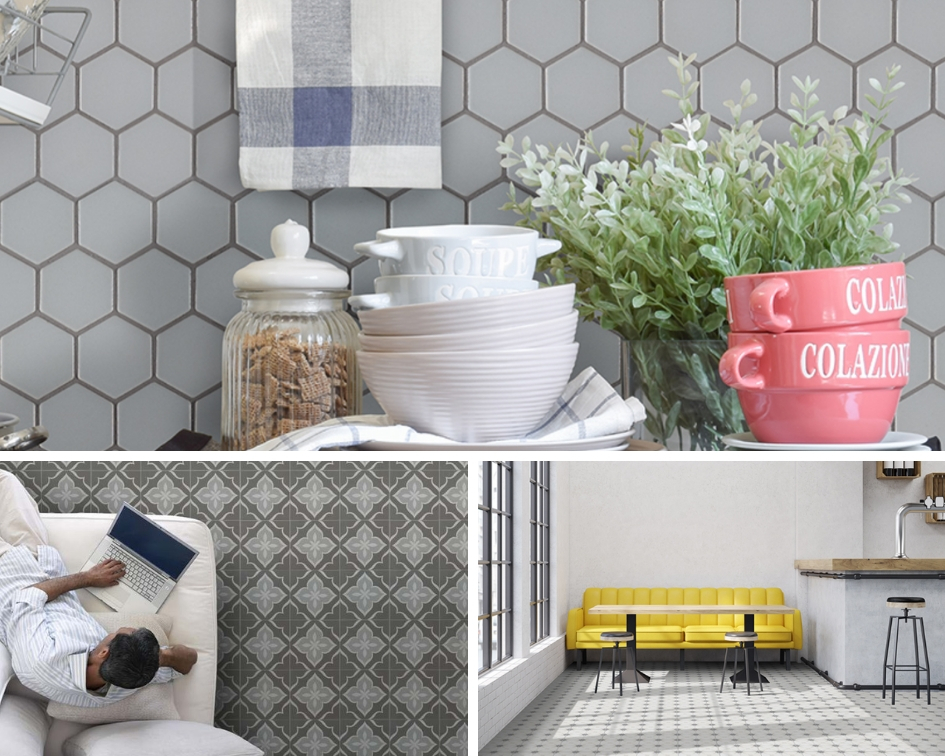 When you visit a tile store or home-improvement store, you'll be offered an incredible array of options for your project. Tiles of different sizes, colors, patterns, textures, and more compete for your attention, along with a big range of prices. Even if you already have an idea of what you want, the process of choosing porcelain tile can be confusing.
In the past, it was difficult for consumers to compare one tile to another, since there were no consistent standards. Two tiles of similar size, appearance, and perhaps even cost could have very different levels of hardness and durability. How disappointing it would be to find out that your favorite tile choice was inappropriate for the project you had in mind!
Today, we have a simple grading system that tells us the strength of porcelain tile — and makes it easy to determine where that type of tile would perform best. It's called the PEI rating scale, created by the Porcelain Enamel Institute. Unlike other materials that are graded, the tile grading system does not indicate the quality of the tile, it just categorizes the tile by its ideal usage. For example, tile with a PEI grade of 1, which is the lowest, can last for years and look gorgeous when it's installed as a decorative wall tile.
The Porcelain Tile Manufacturing Process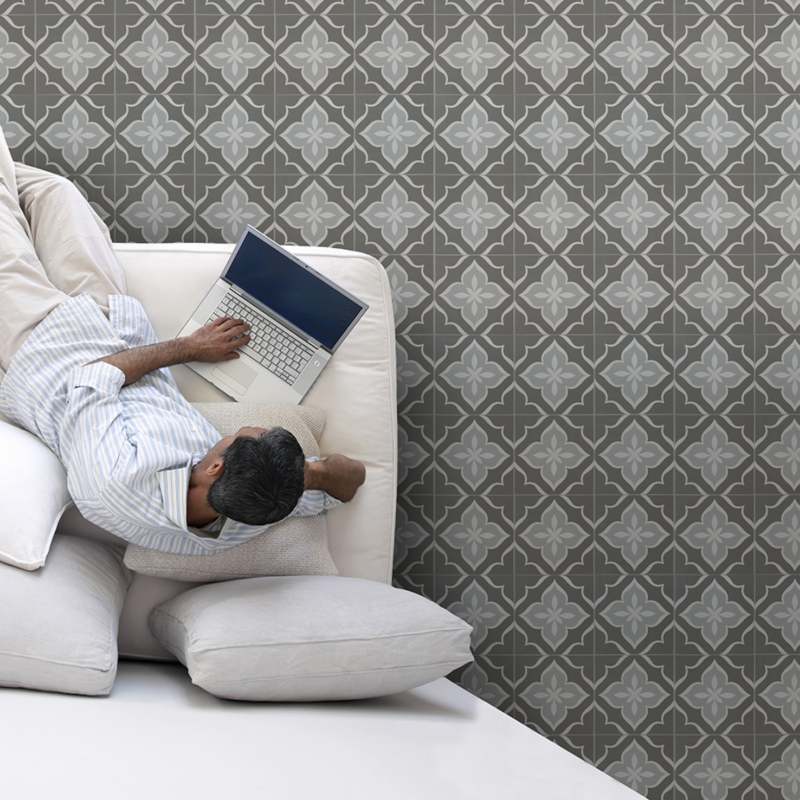 Featured: La-Fleur Porcelain Tile
Ceramic tile and porcelain tile have much in common in how they are manufactured and used. The main difference is that ceramic tile is made from clay, while porcelain's main ingredient is finely ground sand. Its manufacturing process also involves pressure and a kiln with extremely high temperatures. This produces a very dense, durable tile. While ceramic tile is porous and needs to be glazed to protect it against moisture, porcelain tile has a water absorption rate of less than 0.5%.
Here is a summary of how porcelain tiles are made:
Mixtures for porcelain tile includes feldspar, silica sand, clay, and other minerals in varying amounts. These are mixed with water.
A spray dryer removes extra water from the mixture to create the perfect consistency.
The mixture is pressed to form the tile. A punch is used to shape the tile into the desired size and shape.
At this point the tile is called greenware, which refers to a tile that has not been glazed or fired in a kiln.
The tiles are dried, then the pattern and colors are applied using an inkjet printer. Next, a glaze is applied to protect the tiles.
The porcelain tiles are fired in a kiln, reaching temperatures up to 2,500 degrees Fahrenheit.
What Makes Some Tiles Higher in Grade?

Featured: Zoudia Porcelain Tile
The grade of porcelain tile is affected by the mixture of materials used in its manufacture, but mostly the grade is determined by the tile's thickness. Thin, grade 1 tiles are not necessarily lower in quality than higher grades, they just have different uses. You might want a thicker, more durable tile for a floor with high traffic, while a thinner, lighter porcelain tile is better suited for wall application.
Here's how the PEI scale breaks down different types of tile:
Grade 1
The least durable type of porcelain tile, Grade 1 tile is intended for use on walls only. It is not recommended for floors or countertops. These tiles are popular choices for kitchen backsplashes or bathroom walls, as they still deliver many of the benefits of tougher porcelain tile grades such as water and stain resistance, beautiful patterns and colors, and low maintenance.
Grade 2
In rooms that have light traffic such as bathrooms or bedrooms, Grade 2 tiles can be installed as flooring. They are not designed to stand up to heavy foot traffic, and should not be used for tile flooring in commercial spaces. This modern tile is also ideal for use as wall coverings.
Grade 3
Most tiles that are designated as residential floor tiles are Grade 3. They can stand up to moderate foot traffic and everyday wear and tear, and are acceptable for light commercial applications such as offices or small shops. Grade 3 tiles are ideal for residential use in kitchens, family rooms, and hallways, and are also great for countertops. They can also be used as outdoor porcelain tile.
Grade 4
For most commercial installations, Grade 4 tile is recommended. It is intended for heavy traffic, and is often found in restaurants, shops, offices, and other spaces that need a durable, easy-care floor tile. Many homeowners also choose them for spaces that need extra-strength flooring such as laundry rooms and mud rooms. They also make great porcelain pavers for patios.
Grade 5
The toughest porcelain tile available on the market, Grade 5 tiles are used in areas that receive very high foot traffic and are prone to a lot of wear and tear. They are popular for installation in schools, hospitals, grocery stores, and industrial buildings. Grade 5 tiles can hold up to harsh chemicals as well. Since their primary purpose is durability, they are available in a limited variety of colors and patterns.
Other Considerations for Choosing Tile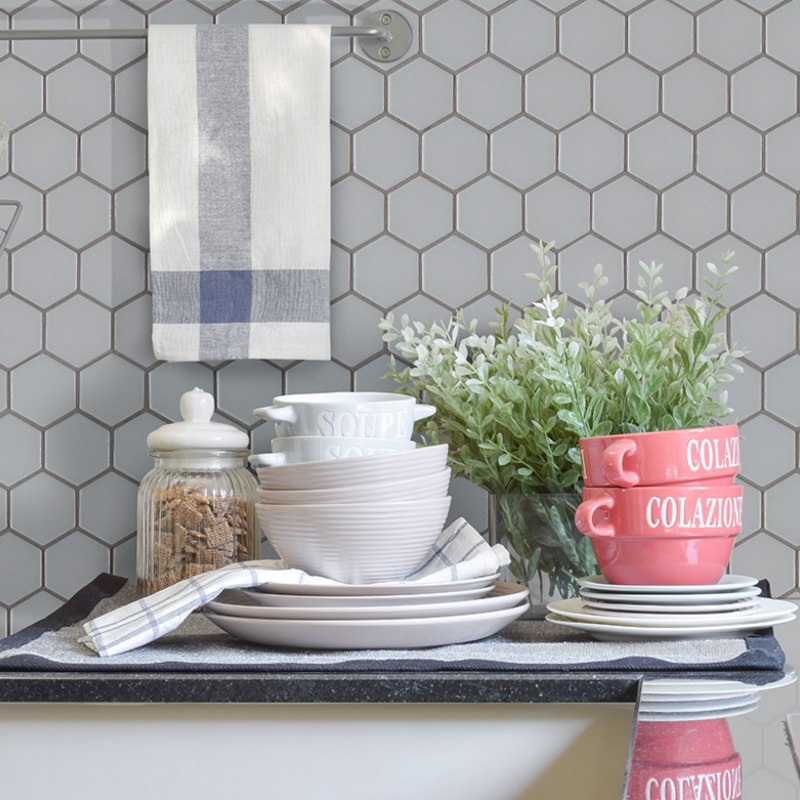 Featured: Retro Hexo Gray 6mm Matte Porcelain Tile
The PEI ratings for porcelain tile focus on the tile's strength and durability, but there are other factors to consider when choosing the ideal tile for your project. These include:
Coefficient of friction refers to the effort needed to move an object across the tile surface, and is used to indicate a tile's slip resistance. The recommended COF is at least 0.6 for level surfaces, and at 0.8 for ramps and sloped surfaces. Depending on where you will install the tile, you may want a higher COF. For example, slip-resistant tile is best for bathrooms, kitchens, and other areas that may frequently be wet.
Shade variation describes the differences in shade, texture, or pattern among different tiles from the same production lot. These range from uniform variation, in which all tiles are virtually identical, to substantial variation, which features random differences between tiles and can create a unique, creative effect.
Selection is an important factor as well. Depending on the type of installation, you may want larger or smaller tiles, tiles with unique shapes, or mosaic patterns that combine tile and stone. You can also choose between a multitude of colors and patterns.
Spend some time browsing MSI's website to learn more about the porcelain tiles we offer. Each tile description will include all the information you need to select the right one — recommended uses, coefficient of friction, size, and more. You'll find we have a tile for every purpose, every decorating style, and every budget.
READ MORE ABOUT THE BENEFITS OF PORCELAIN TILE
The Best Way to Clean Stains From Porcelain Tile Flooring
The Coast Is Calling with Trendy Porcelain Tile
The Commercial Side Of Porcelain Tile: Exquisitely Simple, Beautiful & Practical