Nailing The Wood Tile Look In The Bathroom
December 23, 2017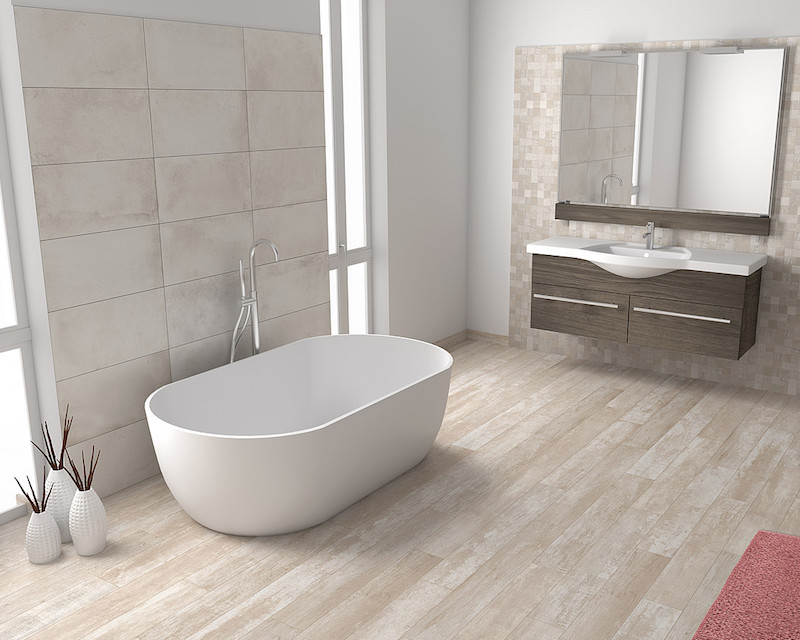 There's no doubt that wood lends a cozy warmth and character to any room. But in the bathroom? Usually, a designer or anyone else with common sense would advise against using this material in the bathroom — unless it's wood-look tile we're talking about!
Real wood in the bathroom is a bad idea for many reasons. However, made from ultra-durable porcelain or ceramic, wood tile gives the realistic look of wood, sometimes even down to the texture of the grain and knots. With wood tile you'll never worry about warping, mold, or splintering. This upgraded bathroom tile is easy to keep clean, resists wear, and it's safe to walk on even the most rustic wood looks with bare feet.
Keep in mind, though, there are a few tricks to "nailing" the wood look — making it appear as realistic as possible, and also stylish, luxurious, and totally on-trend. Check out some of our favorite ceramic wood tile variations, and how the designers have made them work in these rooms.
Stone Country River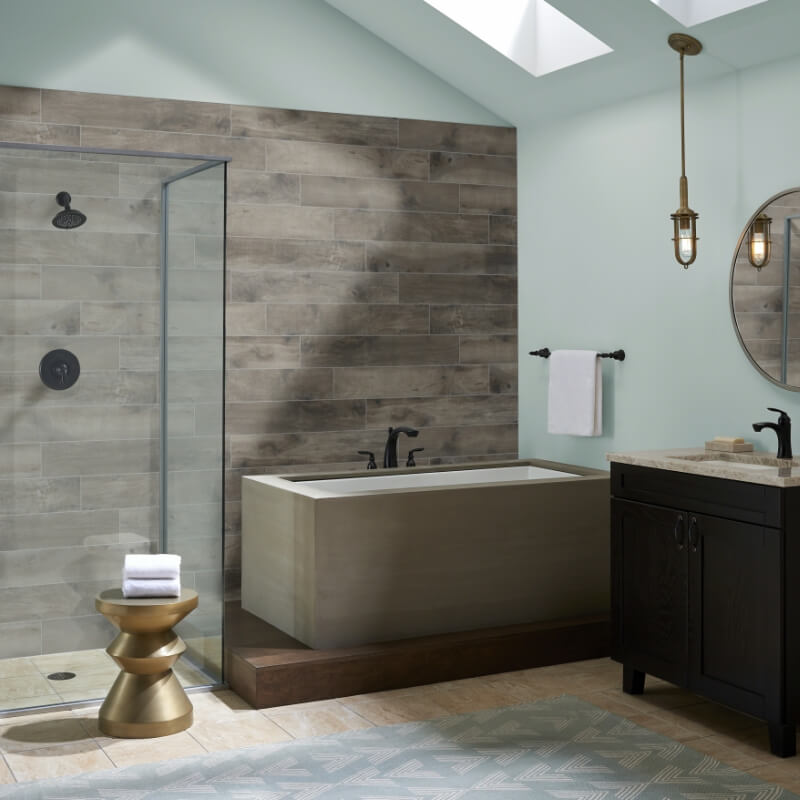 Featured: Stone Country River Porcelain
Tile that looks like wood is as gorgeous on the wall as on the floor, as shown here with Stone Country River Porcelain. One important trick to a realistic finished installation is selecting a tile pattern with several different variations. Real wood planks, after all, are unique by nature — no two are exactly alike. Inkjet printing technology replicates the wood grain, but if every tile looks the same it's a dead giveaway that screams "fake." MSI's wood-look tile includes enough different tile patterns that, when arranged carefully, the result looks natural.
Grigio Watercolor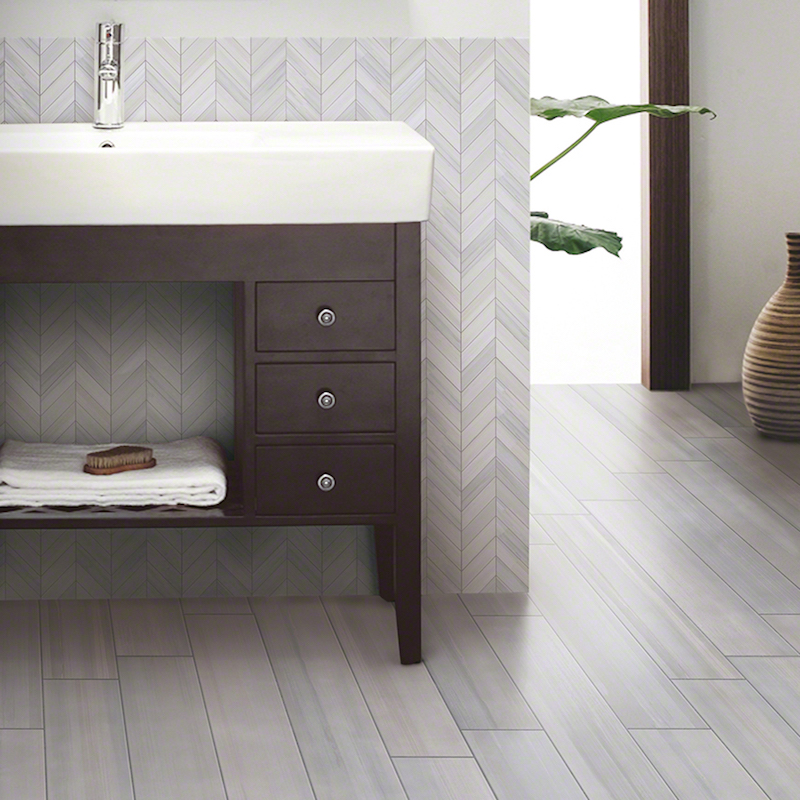 Featured: Grigio Watercolor Porcelain
Any good tile installation depends upon careful preparation of the subfloor. However, since wood-look tiles such as Grigio Watercolor Porcelain are manufactured to be identical in thickness, your subfloor must be perfectly level. If this is not done, and the floor is bowed or warped, the tile won't lay flat and the result will look fake and amateurish. Done properly, though, it's a masterpiece.
Salvage Musk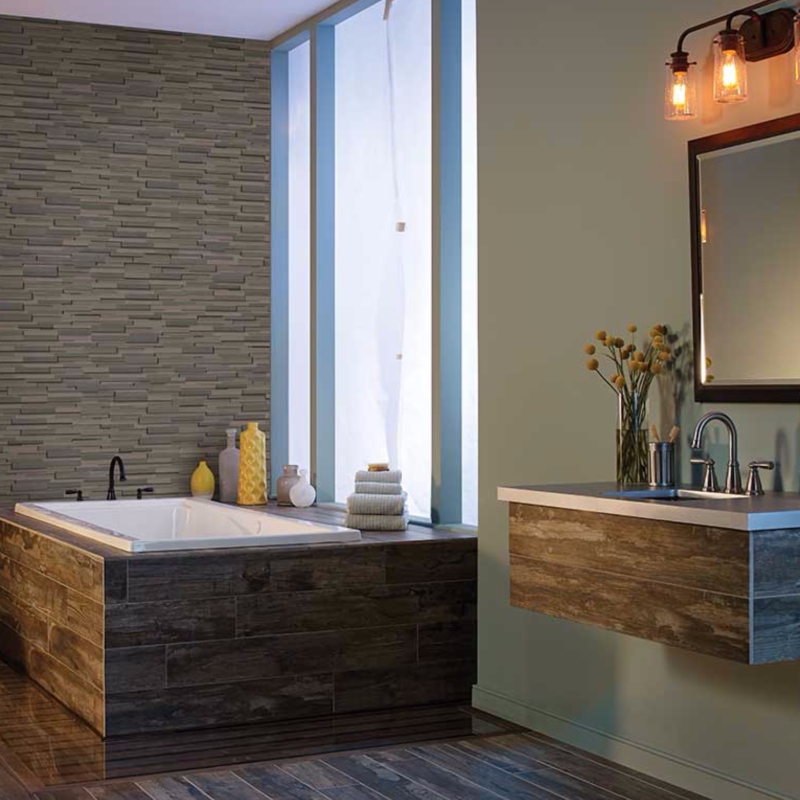 Featured: Musk Salvage Porcelain
You can create the look you want by your choice of grout color — darker or lighter, to contrast with the ceramic wood tile, or similar in shade to minimize the visibility of grout lines. This installation of Musk Salvage Porcelain uses a similar grout color, drawing attention to the beautiful reclaimed-wood look instead of the lines between each plank.
Palmetto Walnut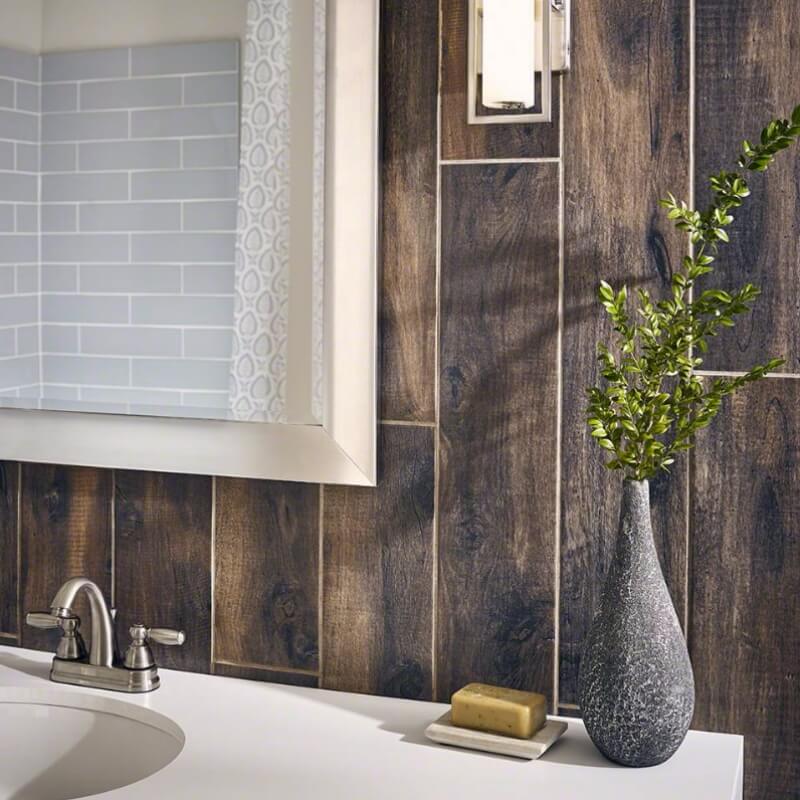 Featured: Walnut Palmetto Porcelain
To make your installation of wood tile flooring realistic, install it the same way you'd put down real wood — such as offsetting each plank by a third of its length so the ends are staggered — as seen in Walnut Palmetto Porcelain. Even better, install them randomly, varying lengths of your ceramic wood tile.
Ash Aspenwood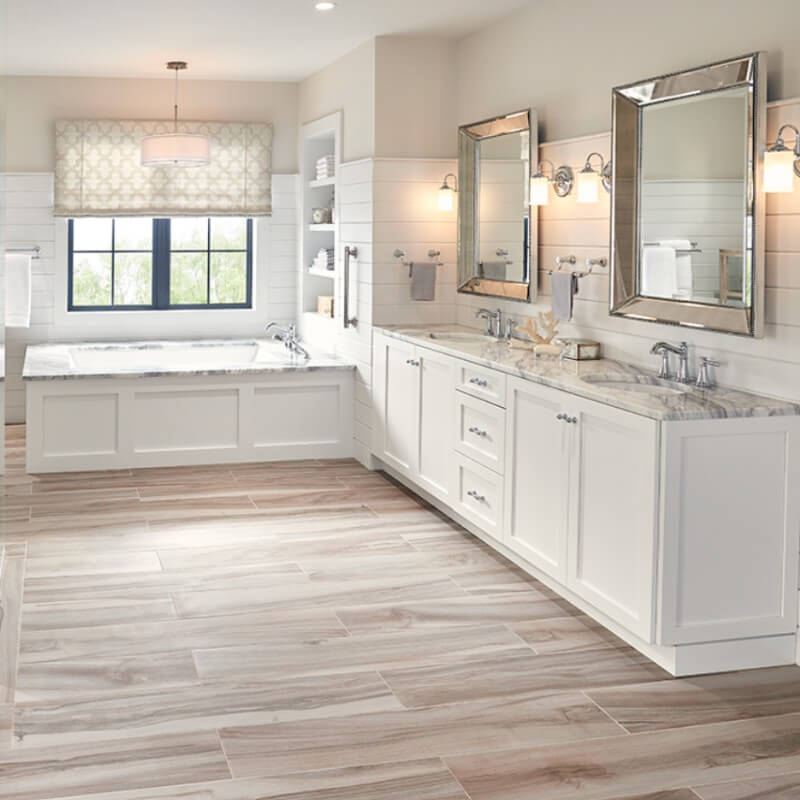 Featured: Ash Aspenwood Porcelain
Even though porcelain wood tile like Ash Aspenwood Porcelain has many different variations, they are not infinite and repetition is unavoidable. You can minimize this by rotating each plank as it's installed, so the wood grain and "knots" are facing the other direction.
MSI offers a wide variety of durable, versatile wood-look tiles that are incredibly realistic, in some cases down to a very touchable wood grain. Whether your style is subtle and classic, or rustic and rugged, following a few tips will get you the most authentic finished look possible.
READ MORE ABOUT WOOD LOOK TILE:
Surprise – It's Wood Look Tile!
Help For Deciding Which Wood-Look Porcelain Tile to Use
Budget-Friendly Ceramic Wood Tile That Looks Expensive
Affordable Ceramic Wood Tile That Looks Expensive