Popular
White-Hot Style = Palette Perfection
September 14, 2015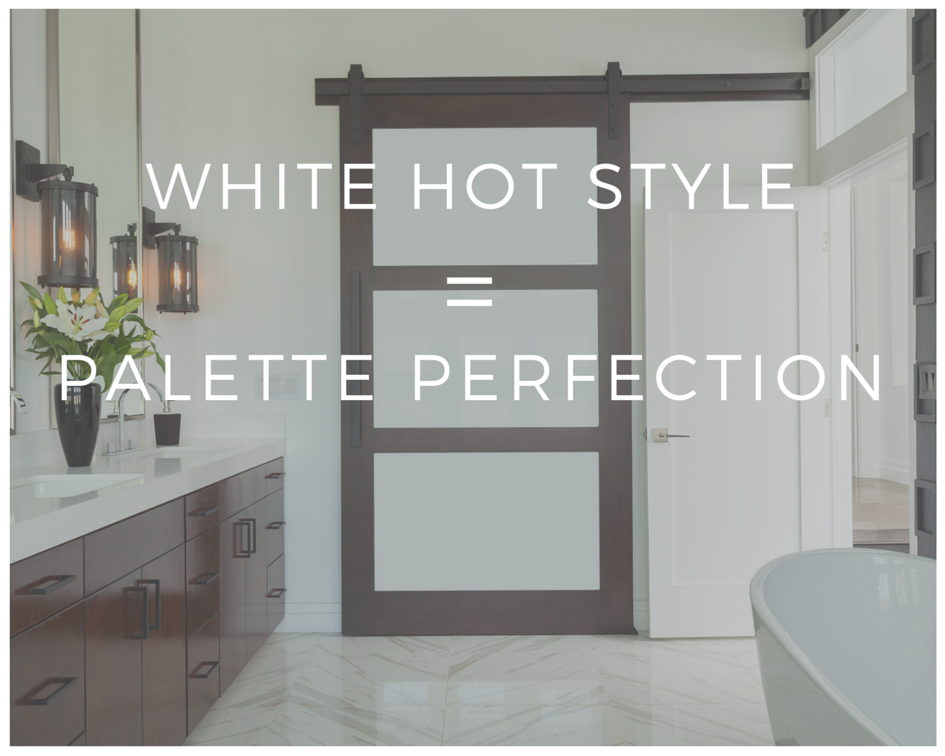 Clean. Crisp. Classic. The color white rises to "gotta have it" status when it comes time for designers and homeowners to select premium surfaces for kitchens, bathrooms, and living areas. Valued by modernists and traditionalists alike, white tiles, countertops, cabinets, and flooring bring sun-reflective surfaces that cause rooms to appear lighter, livelier, and lovelier.
White is the most versatile and brightest of neutrals, works in styles from contemporary to cottage, and partners beautifully with every single color. It is especially valued by those with a penchant for cheerfully breezy spaces, classically elegant chambers, and stylishly streamlined designs.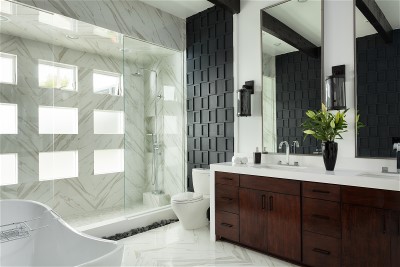 White is especially impressive when presented as expansive installations. Picture the welcome of a formal foyer's bright white porcelain floor. Envision the luxurious appeal of a shower walled in elegant Carrara marble. Dream of crisp white quartz countertops contrasting with a vanity's rich mahogany finish. Now imagine runs of white cabinets accented by black granite countertops.

Recognized in Southern California for her incredible work, Houzz-featured interior designer Susan Thiel (www.susanthieldesign.com) made a powerful statement with white in this redesigned master bathroom. We asked her to share her strategies for incorporating white in all types of designs, including this amazing bathroom remodel.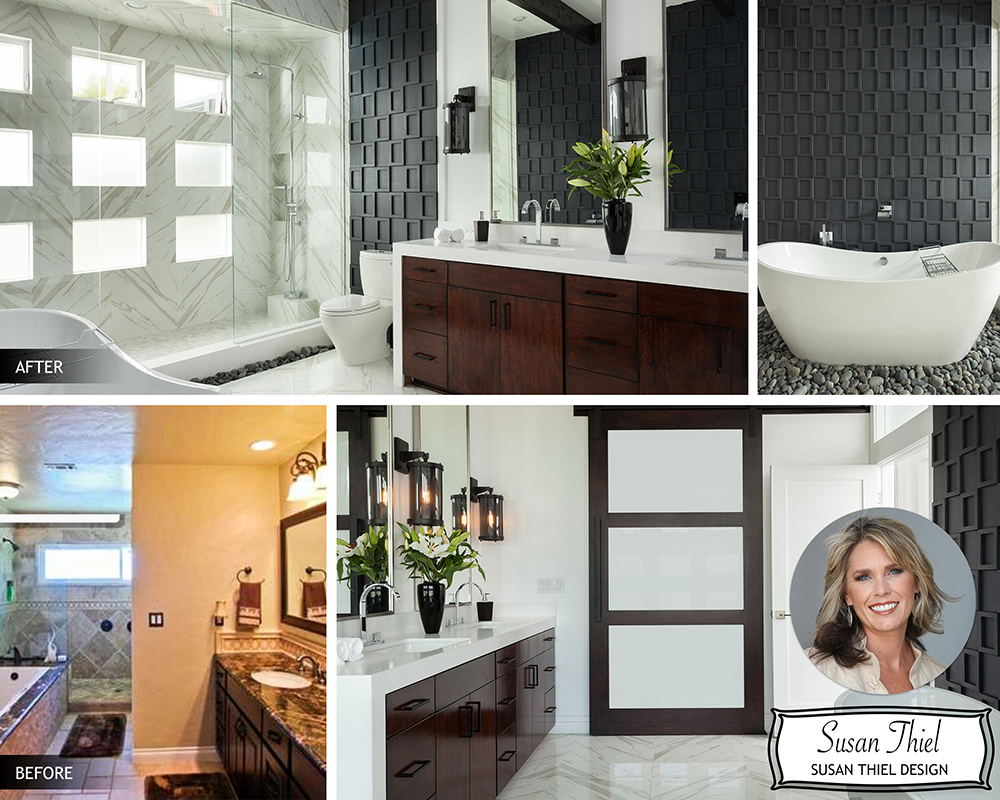 Inspirational Cues
When Susan Thiel's clients requested a contemporary bathroom featuring clean lines and river rock accents, the designer turned to dramatic Pietra Calacatta 24x24 porcelain tiles as her style-setting building blocks. Unlike natural stone, the tiles' vein patterns are uniform, which allowed the tiles to be laid out to create a zigzag effect on the floors and walls.
"Design is a balancing act of form, color and texture," notes Thiel "I needed to find materials that were visually strong enough to balance the river rock and the custom-formed black concrete tiles. Adding the porcelain tile created a great combination."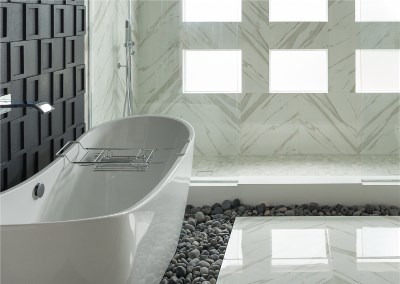 The white surfaces help showcase the beds of river rock running beneath the tub and next to the shower; the black rocks take their cue from the tiles' vein color and help to visually delineate bathing and showering stations. In addition to the rocks, the porcelain tiles complement the black walls and the distinctive barn door at the room's entry.
This High Style = Bold Appeal idea repeats at the vanity—an Arctic White Quartz waterfall edge countertop charmingly encases espresso-brown cabinets outfitted with black hardware.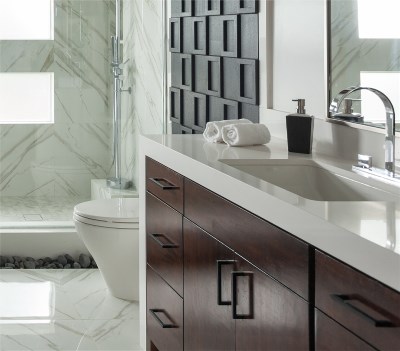 Complementary Companions
Thiel believes that the beauty of working with white is that it performs brilliantly in different looks.
• Sea green and white equals 'beachy'
• White with pops of vibrant hues always pleases
• Chic black and white designs excite
• Soft white and gray palettes soothe
"White is a wonderful backdrop," says Thiel."It allows you to bring in contrasting colors and textures. Clients can easily update a look if the bones of the design are white. You are able to add pops of color with furniture or decorative elements, which can be easily changed over the years."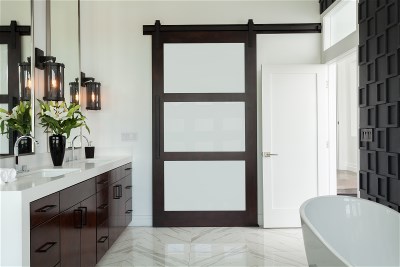 Though weaving white into any kitchen, bathroom, or living space is an easy thing to do, Thiel warns that using white in contemporary rooms requires special attention. Streamlined designs are short on moldings and ornamentation, so it's important to mix in contrasting colors, varying textures, and furniture with sculptural silhouettes, such as the tub used in this bathroom remodel. She adds that white-on-white palettes work well in traditional spaces that boast substantial architectural elements and are furnished with cabinets, counters, and floors sporting ornate details.

No matter the decorating style, white is claiming its proper place in homes great and small. Its popularity continues to grow as more and more homeowners and designers tune into the merits and appeal of white finishes.
Thiel sums up the reasons for the white-hot trends in today's design scene: "With white, there are endless beautiful combinations that can be created. White is a classic, so you can't go wrong."
It seems that with some strategic planning and expert input, white is perfect for every room in the house.