Mosaic Monday: Hex Marks The Spot
September 26, 2016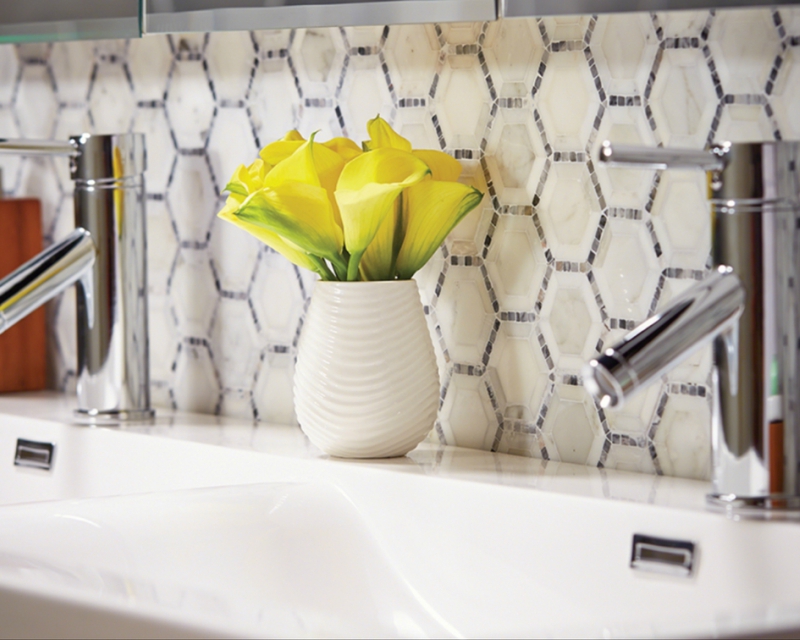 Hexagonal tiles have been in use for home décor for many decades – it's a classic element that can trigger feelings of nostalgia and comfort. They are practical, too, considering that the smaller tiles are less prone to cracking and chipping than larger-format tiles.
But the tiles offered by MSI are not your grandma's hex tiles. Although they can be incorporated to create a cozy vintage look, today's tile shapes, colorways, and materials are just as much at home in a contemporary design. They're made of natural stone, glass, and even mixtures of materials and textures. Even better, they are pre-meshed for a quick and easy installation. Check out these hex tile options, and prepare to be inspired for your next backsplash tile or flooring idea!
Kensington 1" Hexagon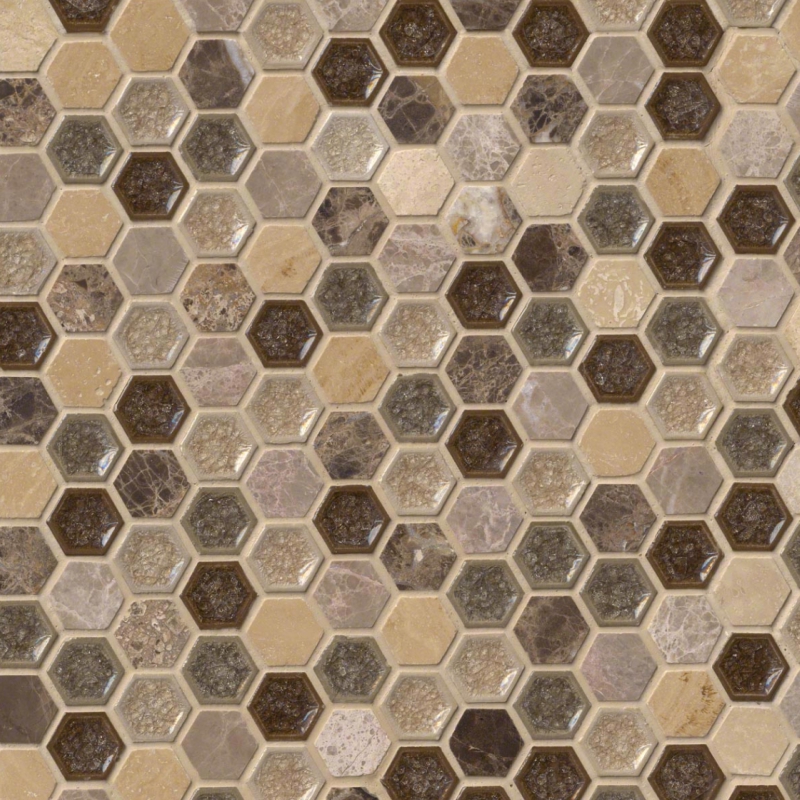 Featured: Kensington 1" Hexagon
Blending shades of brown, tan, and taupe in a mixture that includes both polished and matte finishes, Kensington 1" Hexagon is a glass-stone blend that's suitable for many home applications. If you crave eye-opening drama for your stone or glass backsplash tile, in shades that coordinate well with wood, fabrics and other surface materials, this may be a great fit.
Want to make sure you've picked the perfect backsplash designs before you buy? MSI's Virtual Designer Tool lets you compare a variety of backsplash tiles as well as countertops and flooring to see how well they coordinate, and how beautiful they'll look in your own home.
Belagio Blend Elongated Hexagon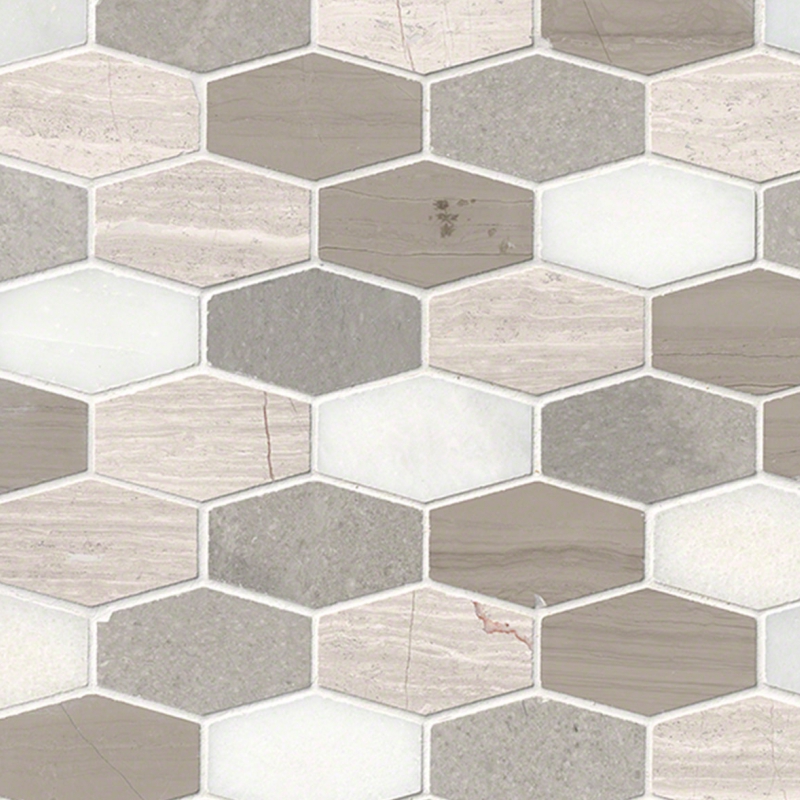 Featured: Belagio Blend Elongated Hexagon
A beautiful twist on the classic hex, Belagio Blend Elongated Hexagon is a pre-meshed mosaic featuring gray marble in varying tones from pale to charcoal, each with its own swirled, veined, and speckled personality.
Henley 2" Hexagon Multi Finish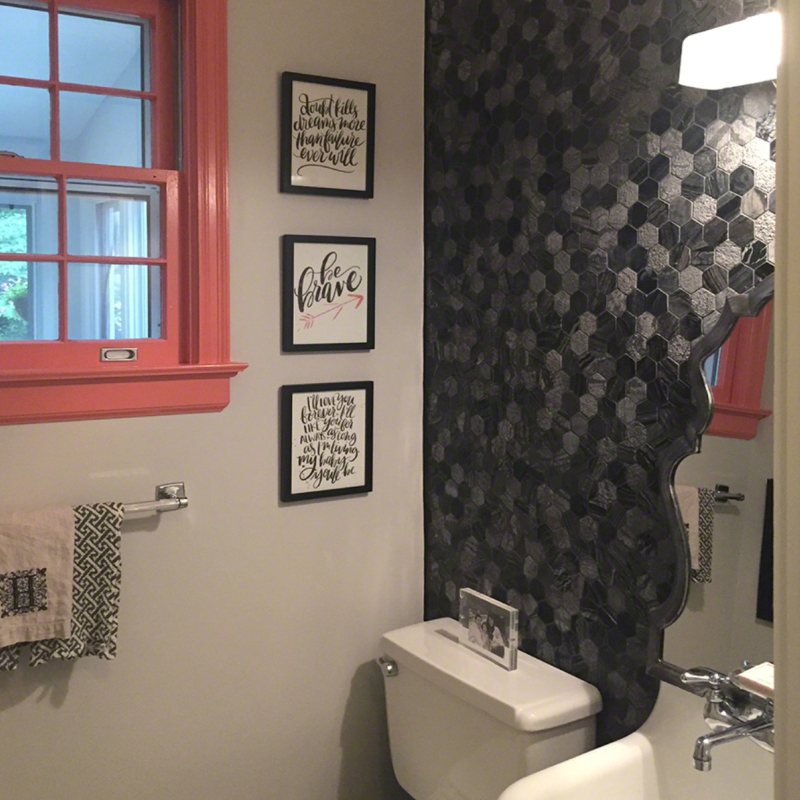 Featured: Henley 2" Hexagon Multi Finish

Black marble reaches a dramatic pinnacle in Henley 2" Hexagon multi-finish tile mosaic. With a variety of different finishes and textures, this natural stone contains veins of beige, gray, and white throughout its ebony background. It's suitable for flooring, kitchen backsplash, countertops, and shower surrounds.
Need a little guidance when planning the perfect bathroom design? MSI's Bathroom Visualizer lets you wade through all the options for flooring, countertops, backsplash, shower surround, and even creative accents so you're sure to make a big splash.
Hexham Blend 1" Hexagon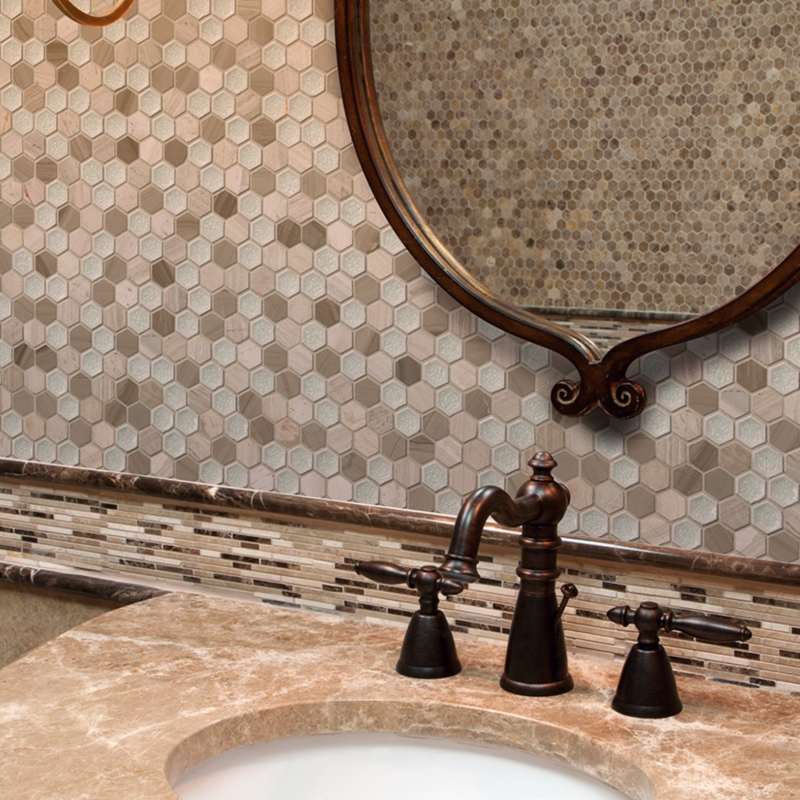 Featured: Hexham Blend 1" Hexagon
Hexham Blend 1" Hexagon is a glass-stone combination featuring shades of white, beige, and brown in delicate, beautifully detailed 1" hex tiles. The stone includes natural striations, contrasting with the crackle finish of the glass. Despite the tile size, it installs quickly thanks to the pre-meshed mosaic.
Urban Tapestry Hexagon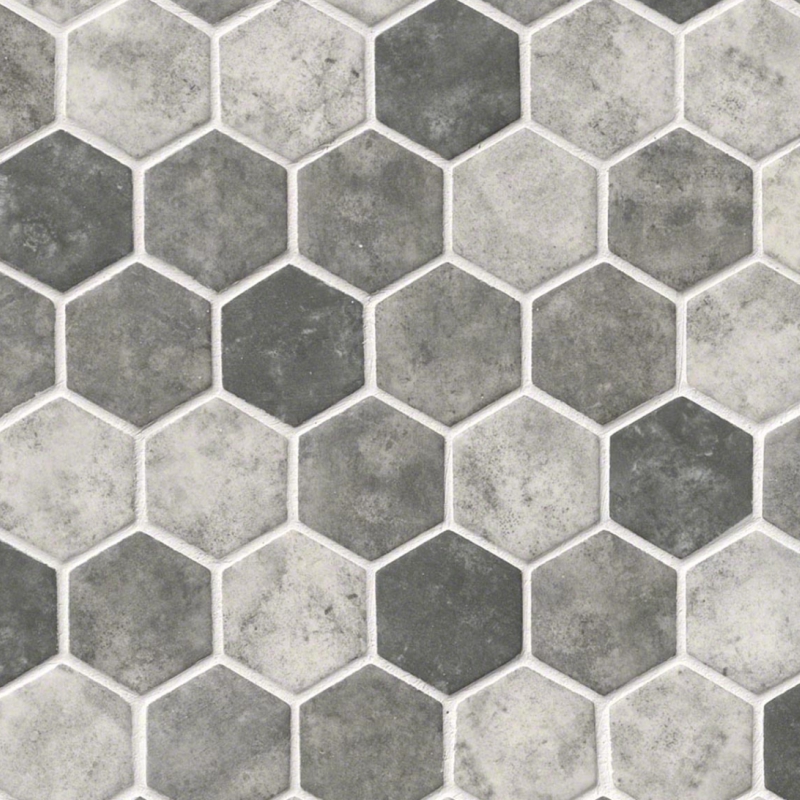 Featured: Urban Tapestry Hexagon
Cosmopolitan, yet rugged, Urban Tapestry Hexagon includes varying shades of white and dark in eye-catching hex tile format. Made from recycled glass, these tiles are durable enough for flooring as well as many other residential and commercial installations.
Don't stop there… MSI offers a multitude of mosaic tiles in specialty shapes such as the hexagon, octagon, arabesque, basketweave and more – both alone and in combination with other tiles to create stunning patterns. Comprised of natural stone, marble, glass, quartz and more, you're sure to find enough variety to create any unique design idea you can dream up.