Popular
Enhance Your Indoor & Outdoor Facades With Ledger Panels
August 11, 2014
Whether it's a small statement wall, a fireplace, or an expansive frame around your yard, natural stone will elevate any space, indoors or out. With ledger panels, the task of recreating your environment is easier than you might think. Natural stone slate tile, quartzite, sandstone, marble and travertine tile options are at your fingertips for an entirely new look that adds dimension.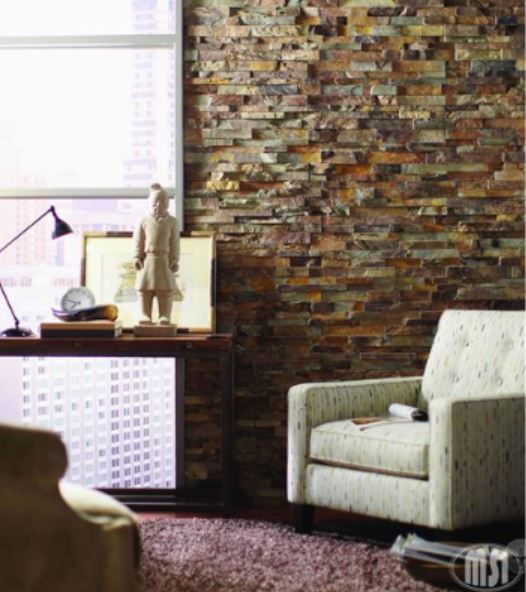 Ledger panels are a great option for bringing nature into a design scheme. Not only are they fully comprised of natural stone, but they are designed with an appearance that is structured but authentic – smaller pieces, variant color and changing textures work together to achieve this look. They appear to be a fully layered stack of stone, like a random country wall or a gorgeous cliff side, though in reality they are sections of pre-arranged natural stone that are easy to maneuver, cut and interlock in place like puzzle pieces that transform surfaces. Ledger panels are a smart way to achieve myriad goals for your space:
Indoors
Inside the home, in only takes a small project to make a big change. You can create a statement wall in your living room with a natural expression. Similarly, you can dress up an interior half wall that defines your spaces, while keeping an open layout and flow. Fireplaces can also be showcased easily, or you can make an entertainment room a true "man cave" with the addition of slate, sandstone, or travertine on one wall, throughout, or as a striking backsplash for the wet bar. In the bathroom, mix with other natural stone products like wood-look porcelain tile planks or granite countertops for an upscale bathroom that can handle the moisture. Whatever application you choose, your design will be beautifully authentic upgrade, as unique as each piece of ledger.
Outdoors
Ledgers outdoors, whether residential or commercial, are a way to incorporate sophistication into a natural landscape. You can use ledgers thoughtfully as enhancements, beautifully showcasing an outdoor fireplace or oven, turning ordinary flower boxes into garden showpieces, highlighting water features and encasing raised Jacuzzis or spas, and giving any vertical surface, including steps and corners, a finished appearance. Or, ledgers can help you alter the entire look – change the appearance of exterior stucco or cement block walls or add sophisticated columns with real stone for designing open, outdoor rooms that blend seamlessly into the environment. If you love ledgers for both inside and out, you may also wish to transition from your outdoor hardscape to your indoor foyer or mudroom with a consistent organic design. Choosing a stone and carrying it throughout makes sense visually but also makes your overall design scheme feel more authentic.
An experienced do-it-yourselfer can achieve a professional installation in just a few days, depending on the scale of the project. View MSI's short video "Ledger Panel Installation Instructions" to see exactly how it's done! A pro with all the right tools, paired with the consistent size and quality of MSI ledger panels, can complete a project even more quickly, saving you money.


Ledgers are a truly beautiful enhancement that must be seen to be appreciated! For more about MSI ledger panels and to see how they look in various applications, enjoy our other videos "Ledgers and Veneers" and "Ledger Panels in Outdoor Barbecues, Pools and Spas, & Water Features".