3 New Sophisticated Modern Quartz Colors Offer Endless Possibilities
December 14, 2021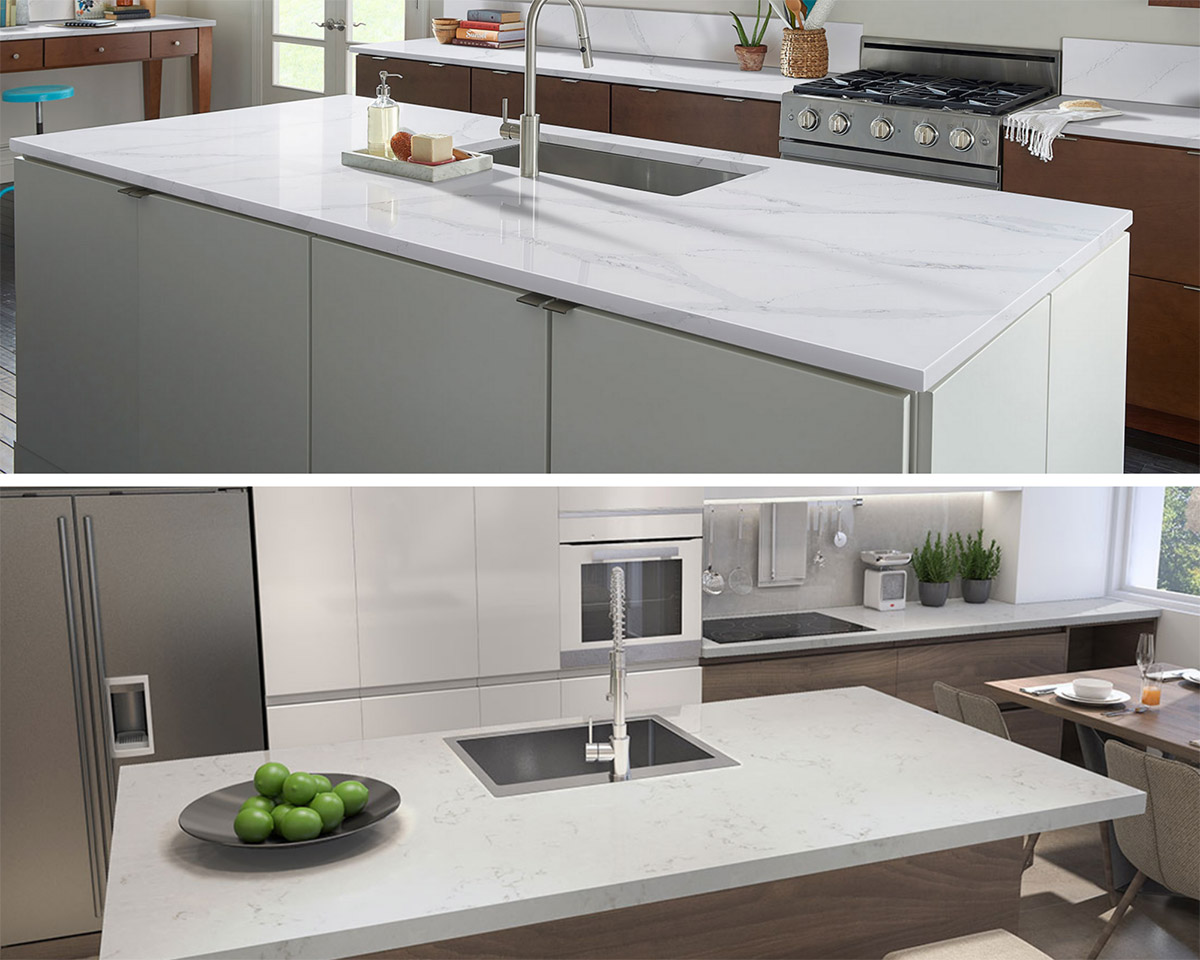 Who knew that deciding on countertops was such a stressful decision? You want something that looks incredible and lasts a long time, and you want something easy to maintain that can stand up to everyday life. Is that possible?
Modern quartz has you covered! Quartz gives you the ability to have glamorous styles in a myriad of colors. Quartz also stands the test of time by being one of the strongest and longest-lasting countertops you can buy.
Read on to find out about the benefits of quartz and learn about some of the latest looks that have hit the market.
The Power of Modern Quartz
Natural quartz is the hardest non-gem material in the world. Quartz countertops are made by combining natural quartz, resin, and other materials. They are combined through a process called Bretonstone Technology.
The process compounds and compacts these materials and heat-cures them to harden them and bring strength and uniformity to the materials. This process has gotten more sophisticated and customizable with time.
Q Premium Quartz
One of the highest quality premium surfaces is the Q Premium Natural Quartz surface offered by MSI. They come with almost one hundred styles that offer unparalleled beauty with the extra hard strength of quartz.
They also carry a limited lifetime residential warranty so you have peace of mind putting it in your home. They also offer a 10-year commercial warranty, so you know it will stand up to the harshest environments.
Cleaning Is a Breeze
The Q Premium Natural Quartz doesn't need any sealing, polishing, or reconditioning. They maintain their luster with simple cleaning and don't require expensive cleaners.
Their surfaces are 99.9% solid with scorch, scratch, stain, and chip resistance. You can also use them in kitchens and bathrooms because they won't absorb water. They also stand up to tea, coffee, and fruit juices.
You can clean them most of the time with just a simple sponge or washcloth with warm water. Stubborn or greasy clean-ups can be easily handled with a PH-balanced cleaner like 409 or Simple Green.
Creative Options
Do want the strength of quartz and the look of another surface? You can have that with the Q Premium styles. They offer many creative looks like marble, concrete, granite, and many other natural styles and looks.
The Q Premium also brings different coloring options with multiple quartz countertop colors and patterns. Your surface could be a clean and bright white tone or a deep and rich black tone.
They offer looks such as marble, concrete, and many other natural styles.
Green and Clean
The Q Premium Natural Quartz is impervious to bacteria and other microorganisms. They are GREENGUARD, LEED, NSF, and KOSHER certified. They are free of any potentially hazardous foreign substances.
Carrara Breve Quartz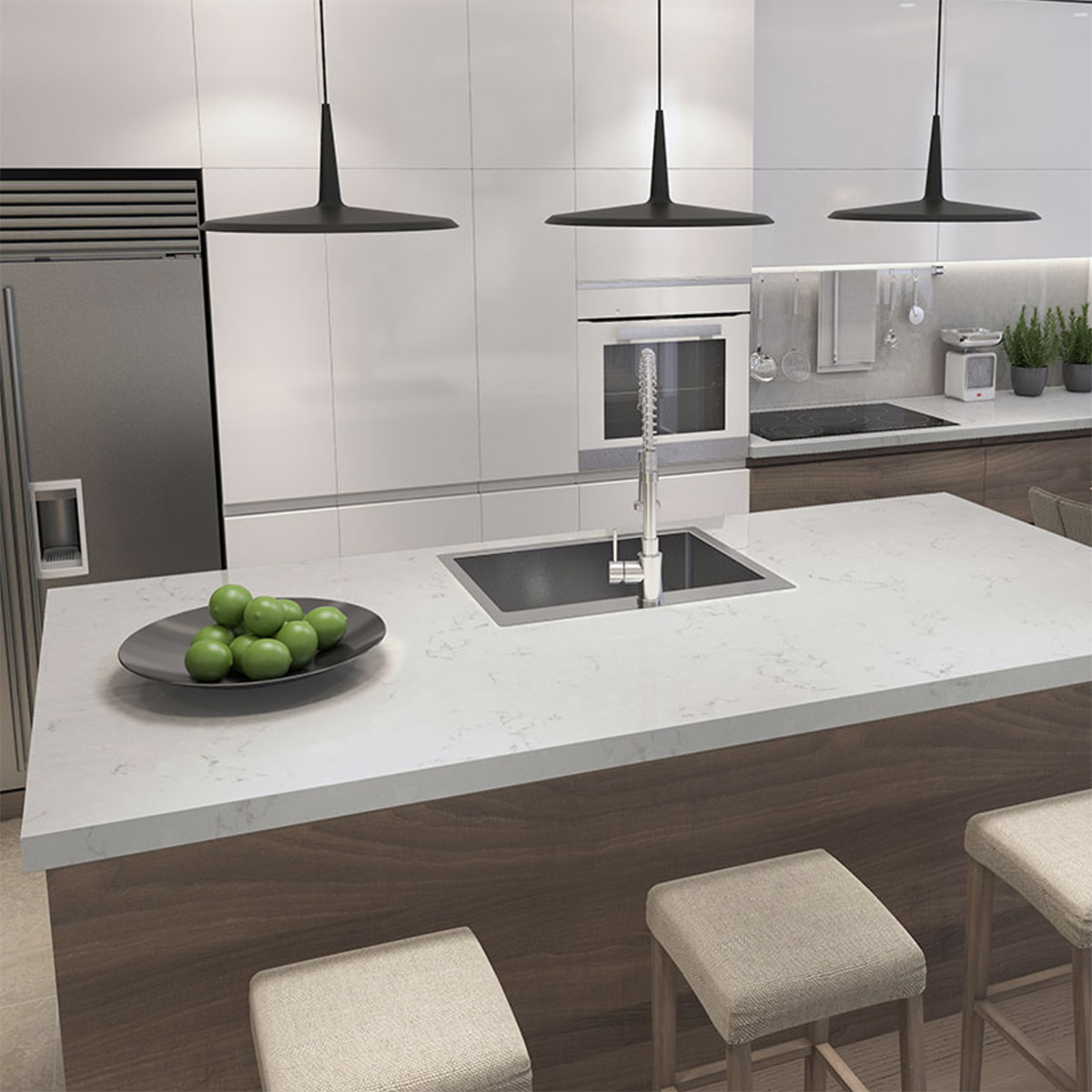 The Carrara Breve Quartz is a Q Premium Quartz that provides the quartz that looks like marble that many desire. The warm white background and short gold and brown veins will stand out in the kitchen or bathroom.
Your kitchen counters will maintain their luster and beauty with the power of quartz. Your walk-in showers will also maintain their shine for years to come because the warm white background will last.
With the strength of quartz, this beautiful surface can also be used as a floor or an accent wall. Its beauty and strength can shine in your home or in your commercial settings.
The Carrara Breve Quartz comes in 2cm and 3cm slabs for your different needs. This gives you more options for design and installation flexibility.
Calacatta Lavasa Quartz
You can add a luxurious feel and a wonderfully modern look with the Calacatta Lavasa Quartz Q Premium Quartz. This quartz can add a sleek look to your kitchen countertops, shower walls, floors, or waterfall accents.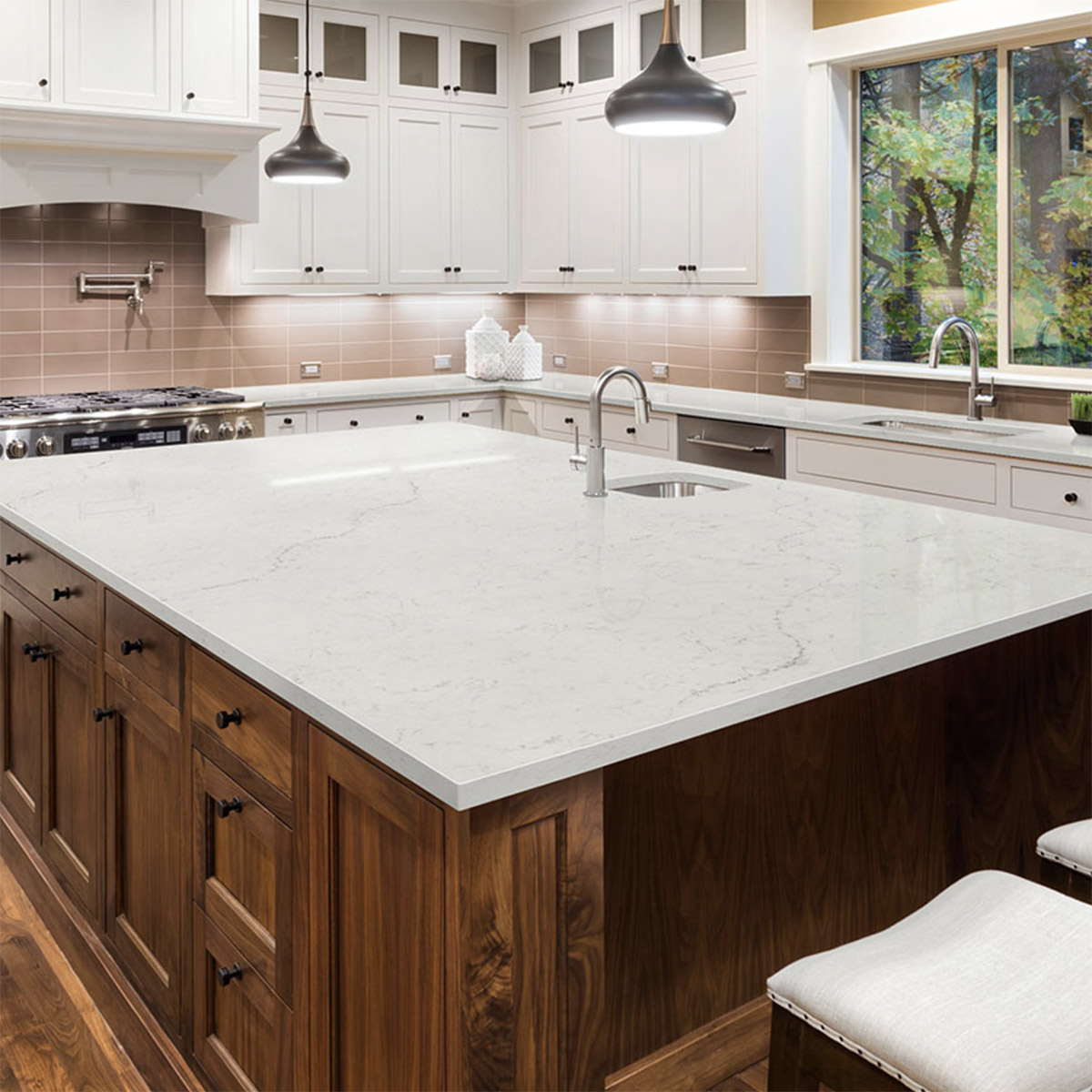 The Calacatta Lavasa has a rich and warm white background that will last with the stain resistance of quartz. Intermingled with the white is a mixture of short and long brown diagonal veins that will stand out and impress your guests.
This quartz also comes in 2cm and 3cm slabs which give you many options for home and commercial designs.
Calacatta Azai Quartz
The Calacatta Azai Quartz Q Premium Natural Quartz is an exciting example of the new LumaLuxe quartz. LumaLuxe is a special MSI formulation that enhances how light interacts with your countertop surface.
Engineered to push the boundaries of realism, the LumaLuxe quartz has increased depth, dramatic veining, and an exciting array of immersive colors. It also has the same strength and durability as all Q Premium surfaces.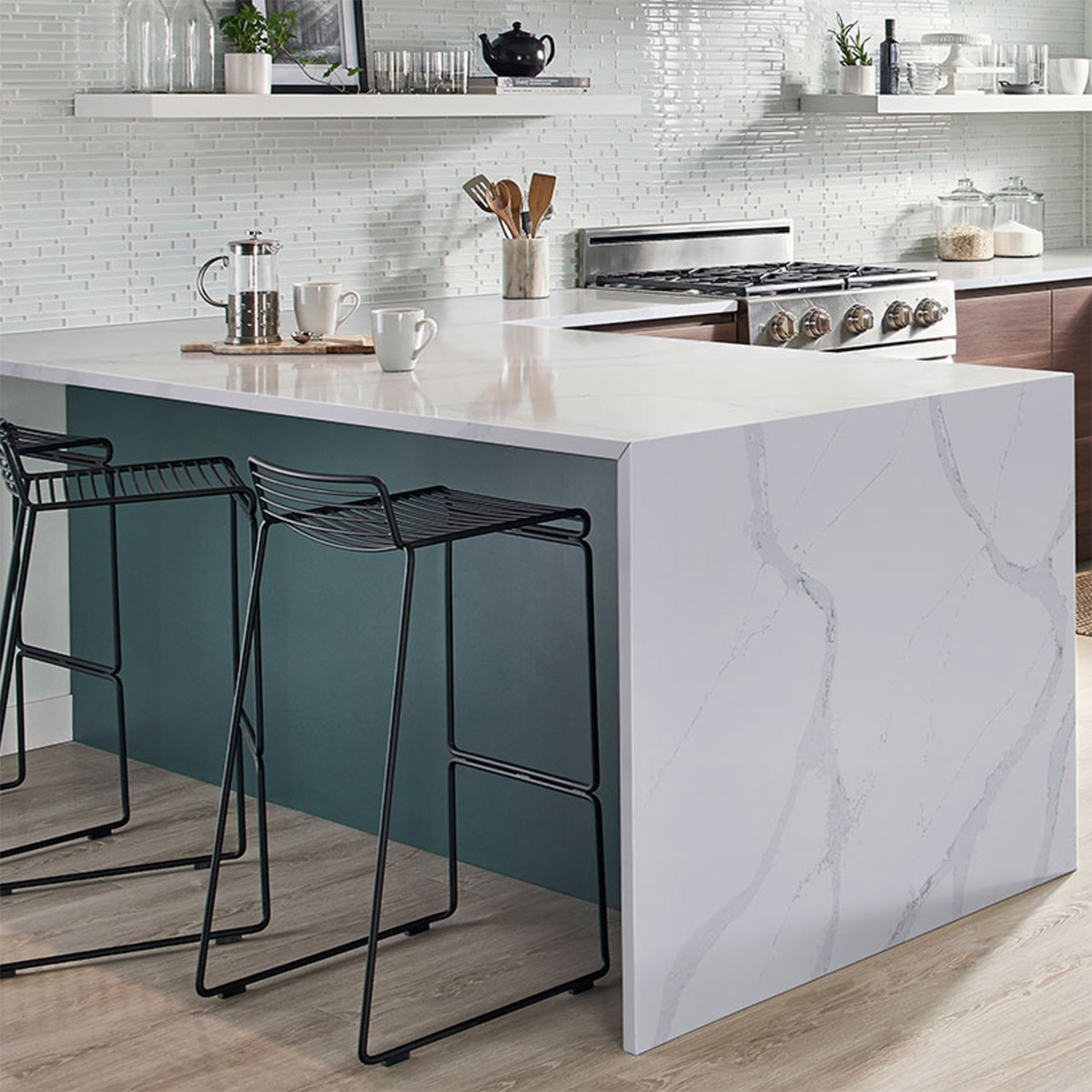 The Calacatta Azai Quartz is a combination of the classic and contemporary strengths of modern quartz. The look of marble comes through with the cool white background and natural-looking gray veins throughout.
With the LumaLuxe technology engineered within it, the Calacatta Azai Quartz will interact with your light in playful and eye-catching ways. With the strength of Q Premium Quartz, you can count on this color lasting for years.
Quartz Experts at Your Disposal
Modern quartz gives you an almost unlimited availability of colors and styles, plus you get the strength of quartz. Add to this, the ease of care and cleaning, and quartz becomes an obvious choice for your home or commercial office.
MSI is your quartz expert and the number one importer of quartz slabs in the United States. Our domestic manufacturing expertise and patent production capabilities have produced the most natural-looking countertops on the market.
This family-owned company can offer many solutions to your space and design needs. Contact us and let us show you how they can help make your dream surfaces attainable.
Explore More Quartz Countertop Colors
10 Beautiful Quartz Countertop Colors From MSI
Cozy Up with Warm Q Premium Natural Quartz Colors
MSI's 10 Most Popular Quartz Countertop Colors