10 Beautiful Quartz Countertops From MSI
November 04, 2021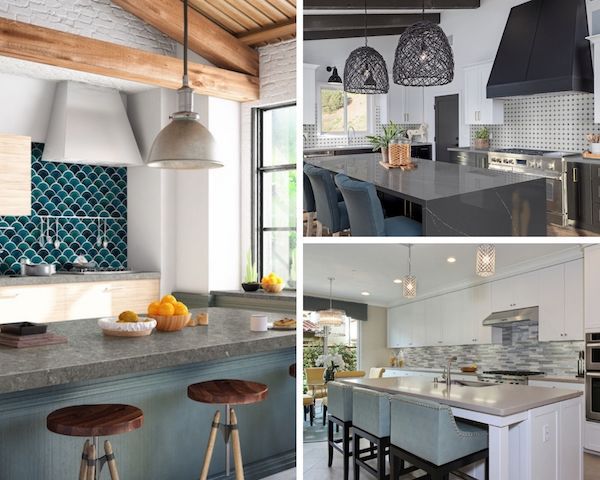 Who can benefit from quartz countertops in the kitchen, as opposed to natural granite, soapstone, marble, or another natural stone surface? Anyone who loves to cook, has friends and family that spend time in the kitchen, wants to spend less time cleaning — in other words, just about everybody who wants to live in their kitchen instead of just admire its beauty. With quartz you can do both!
Modern quartz countertops are more realistic than ever when it comes to replicating natural surfaces that are lovely, but fussy. They are manufactured by combining quartz with other minerals and pigments, then binding it all together with a super-strong polymeric resin. The mixture is cured under high heat and pressure, and the result is one of the toughest, hardest, most durable countertops you can put into your hardworking kitchen.
It's no exaggeration to say there are hundreds of reasons to fall in love with MSI's engineered quartz countertops, and the easy quartz countertop care and maintenance are just one. Here are ten of our top-selling colors and the reasons homeowners have made them so popular.
Soapstone Metropolis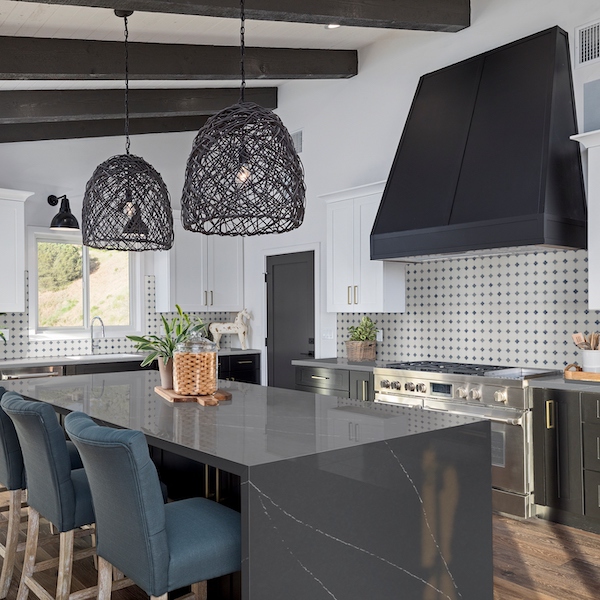 Soapstone Metropolis is a dark gray quartz with dramatic white veining that is especially striking on a vertical waterfall edge, and it combines beautifully with stainless steel appliances. Combine these kitchen countertops with a vintage-inspired backsplash tile and simple accessories for a sophisticated, modern take on the rustic aesthetic.
Carrara Marmi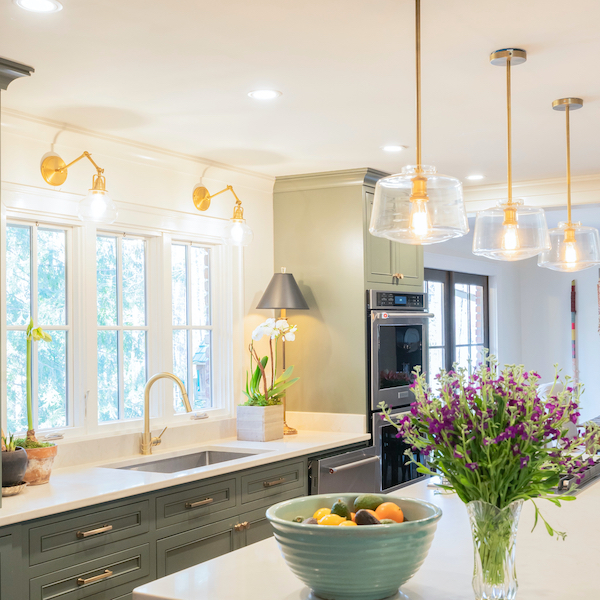 Today's kitchen designers are not restricted to ordinary wood cabinets. Cupboards, pantries, and drawers painted in neutral shades, as well as bright colors, are on-trend, and what better to tie it all together than the look of fine Italian marble? Carrara Marmi is a soft white with subtle pale-gray veins, and it couldn't be more versatile.
Calacatta Trevi

The white-kitchen trend is here to stay, but it's even better when augmented with glossy gray subway tiles, white cabinets, and cool white Calacatta Trevi quartz countertops. This LumaLuxe quartz is accented with gray veining that runs through the entire slab, which has the slightly translucent depth of true natural marble. Since it's quartz, though, you'll have no difficulty keeping quartz that looks like marble a beautiful bright white.
Iced Gray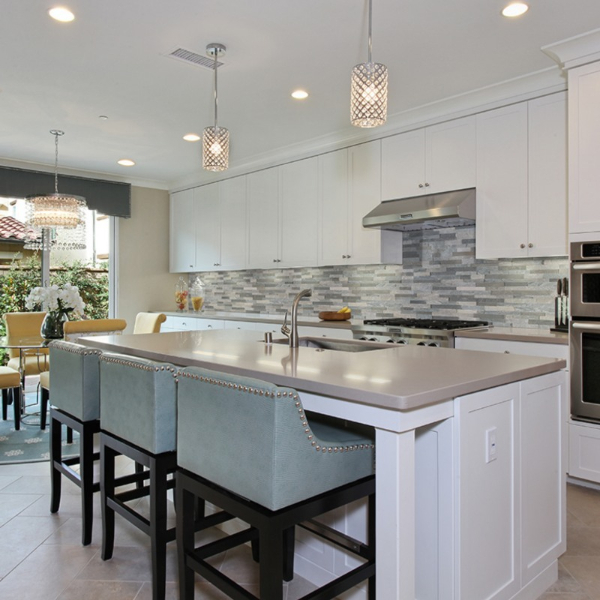 Featuring a pale gray background accented with crystalline specks in shades of darker gray, Iced Gray quartz makes it simple to achieve a sophisticated kitchen design. The silvery sparkle is a natural backdrop to other chrome or silver elements, such as pendant lights, appliances, and cabinet door pulls. Add pops of color with furniture, dishware, or accessories to make it uniquely yours.
Hazelwood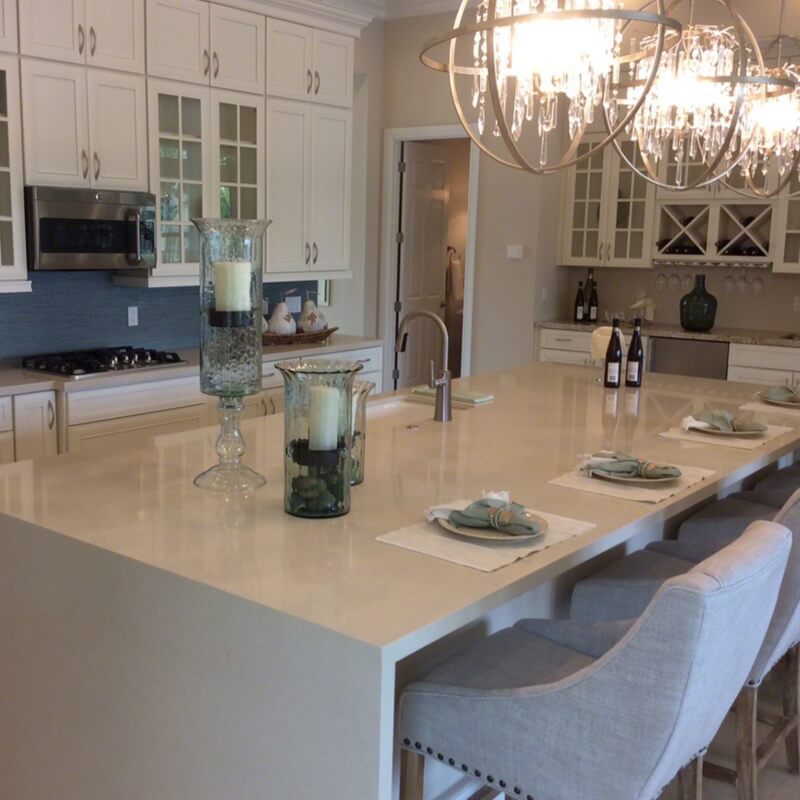 Some homeowners prefer bold countertop surfaces. Others prefer to use neutral shades like taupe Hazelwood quartz countertops as a backdrop to enhance their other decorative elements. In this contemporary kitchen, for example, the ceiling lights over the island take center stage. If you are comparing quartz vs. granite, limestone, or other natural stone, the benefit of quartz is consistency — you know exactly what you will get with each slab, and know each piece will match perfectly. This is the one to pick if you truly want a countertop that harmonizes with anything your creative mind can imagine.
Calacatta Lago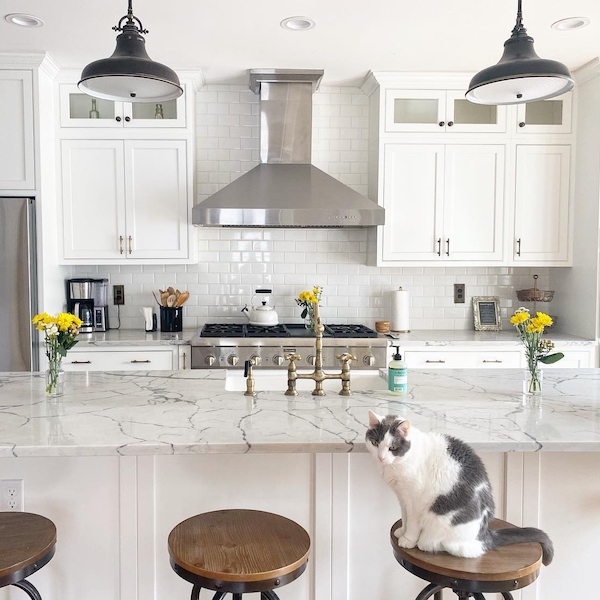 Image Source: Instagram
Even if you have a lovely dining room in your home, the kitchen tends to be everyone's favorite gathering spot. Calacatta Lago quartz offers a cool white background with medium-gray veining, and its easy care requirements and durability make it ideal for a countertop seating area. For a comfortable seating area, you'll need an overhang of 12 to 15 inches, and quartz needs less additional overhang support than many other types of countertop material.
Calacatta Venice
It doesn't matter whether you live in the country, suburbs, or city — a casual, farmhouse-inspired kitchen is always in style. There's no better way to achieve this cozy design than a countertop of marble-look Calacatta Venice. Add some antique kitchenware, retro cabinetry and six-panel doors, and comfortable wood-look flooring. You can almost smell the apple pie baking in the oven.
Babylon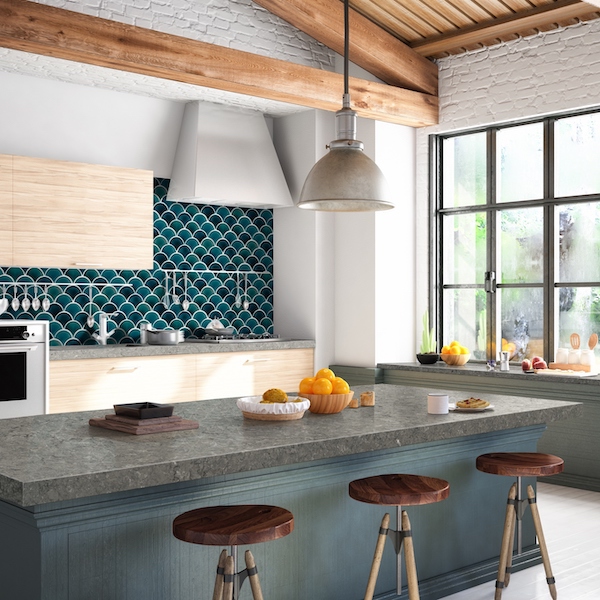 No matter what type of kitchen decor you prefer, the main trend this year is a relaxing space where you can de-stress and nurture your soul as well as your body. Babylon Gray quartz is a friendly combination of mid-tone gray hues resembling concrete. Subtle quartz colors like this are plain but never dull, and it's easy to complement this countertop with unusual decorative elements like this fish-scale tile backsplash.
Fossil Taupe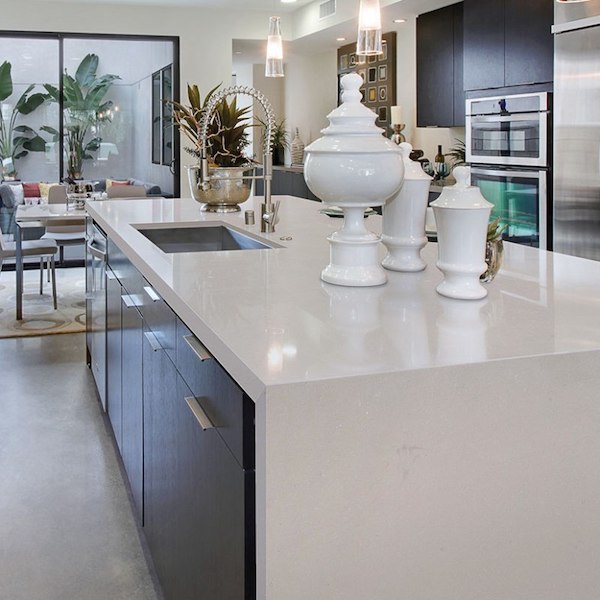 Contemporary and sophisticated, Fossil Taupe quartz is accented with subtle specks that give it that crucial touch of personality without going overboard. These polished, premium surfaces are equally at home in traditional settings and modern. In fact, decades from now this countertop pattern will seem just as up-to-date as it does today.
Marquina Midnight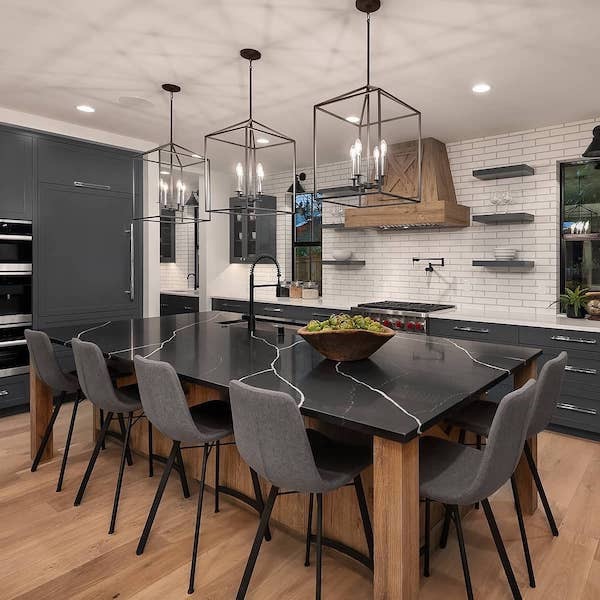 Bold and beautiful Marquina Midnight quartz features a jet-black background with lightning-strike veins of pure white and a polished finish. If you love drama, you'll be obsessed with the way it transforms a kitchen from ordinary to exquisite. If it seems too much for the entire space, consider using a neutral-shade quartz countertop for all but the center island where it can claim star status. Dark surfaces like this work best alongside white walls and high, light-colored ceilings.
The best thing about MSI's quartz countertops — aside from their practical durability and low maintenance needs — is the amazing variety available for you to choose from your home. Whether your tastes range from traditional to contemporary, subtle and pale to dark, bold, and dramatic, we've got you covered. Visit MSI's web gallery to see them all!
Read More on Quartz Countertops
How to Choose the Right Backsplash Tile for Your Quartz Countertop
Can Heat Damage My Quartz Countertop?
The Most Popular Quartz Countertop Trends for White Kitchens
When to Choose Prefab Quartz Countertops
Where are MSI Quartz Countertops Manufactured?