Can Outdoor Porcelain Tile Withstand The Elements?
May 25, 2018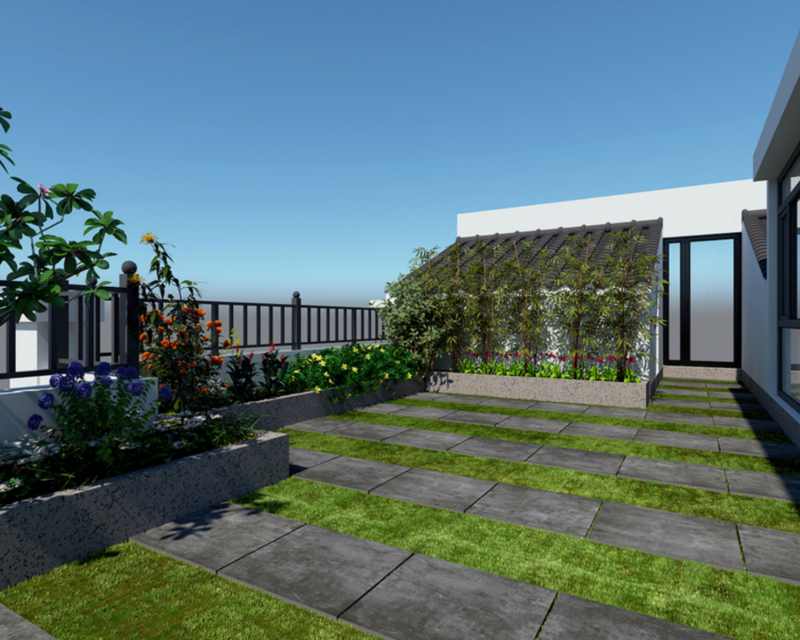 Porcelain tile has been a staple for interior design for decades. And now, with the advent of sophisticated manufacturing and design, there are porcelain tiles that are perfect for outdoor projects including patios, walkways, and more. In addition to being budget-friendly and durable, porcelain's low moisture absorption rate and its density make it perfect for use as outdoor tile.
If you want your outdoor space to be inspired by nature, there are a number of porcelain tiles made to look like natural stone, making them ideal for the look. Thick paver style tiles are also available, and mixing porcelain pavers with natural stone is always an option as well. With that in mind, let's take a look at some of the most beautiful and intriguing hardscaping projects with porcelain tile.
Dreamy outdoor hardwood decks—particularly those in humid, rainy or extremely hot climates—can be a challenge to maintain. The moisture, humid air, or sun take a toll on hardwood decks and deteriorate the finish. As a result, sanding, staining, and sealing are required every year or two. However, with wood-look porcelain tiles, you can enjoy the look, without all the work!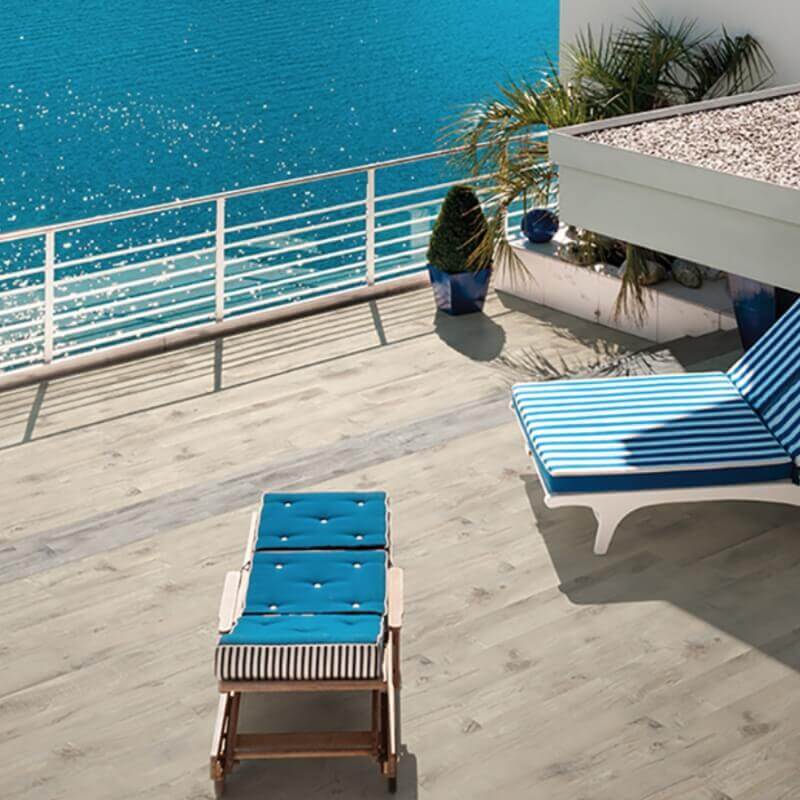 Featured: Country River Stone Wood Look Tile
In this gorgeous deck with a view, our Country River Stone Wood Look Tile is a perfect choice. Light in color to be comfortable for bare feet, slip-resistant for when you get out of the water, and maintenance-free, this durable hardscaping will allow you to spend more time enjoying your outdoor haven.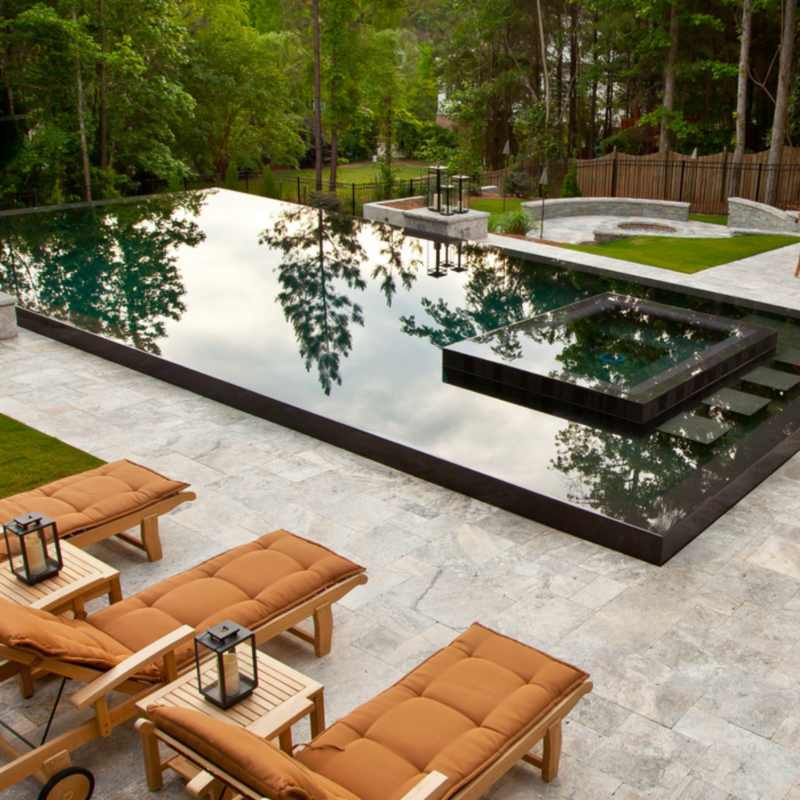 Recreate this look with MSI's Castle Beige Porcelain Tile Versailles Pattern
(Photo Credit: Houzz)
Natural stone looks, particularly travertine, are popular in today's outdoor hardscaping design. Although it is truly beautiful, natural travertine does require some precautions and care.
In contrast, for a more care-free pool deck and patio, our Castle Beige Porcelain Tile Versailles Pattern gives you the traditional look you desire, without all the maintenance. Here, surrounding this dazzlingly modern pool and spa, the soft natural hues of the travertine-look porcelain balance the look, lending character and warmth to the overall design.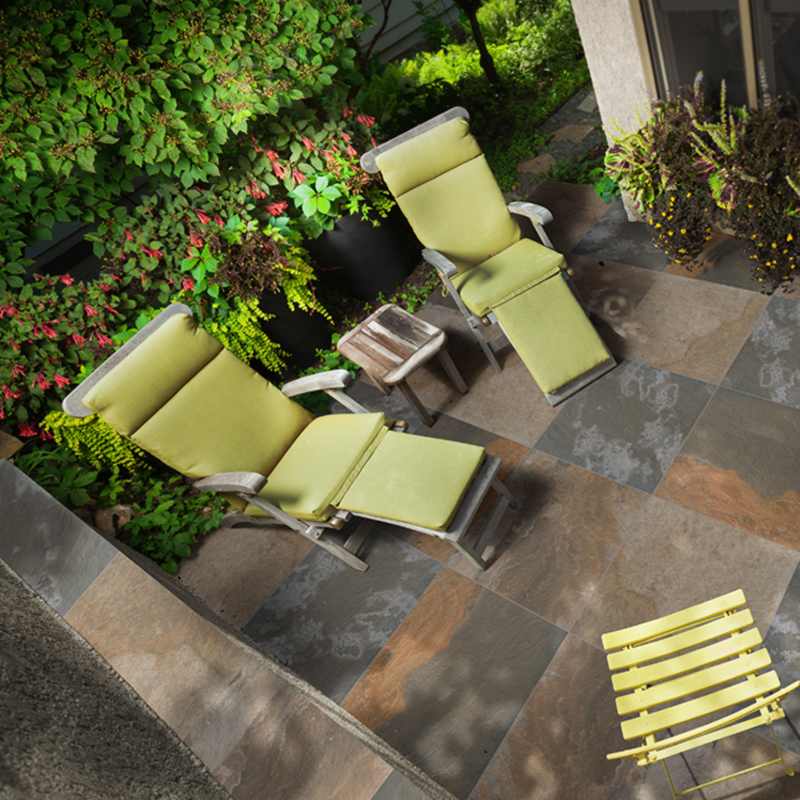 Featured: Mystique Multicolor Porcelain Tile
If you prefer a more rustic look, our Mystique Multicolor Porcelain Tile is a fabulous option. This outdoor porcelain tile is offered in large format sizes that mimic the look of natural multicolored slate natural stone pavers. These matte finish tiles feature hues of umber, red, and charcoal, and are slip-resistant. They are also versatile and recommended for both interior porcelain flooring and exterior projects, making this tile a popular choice for creating true indoor-outdoor continuity to living spaces.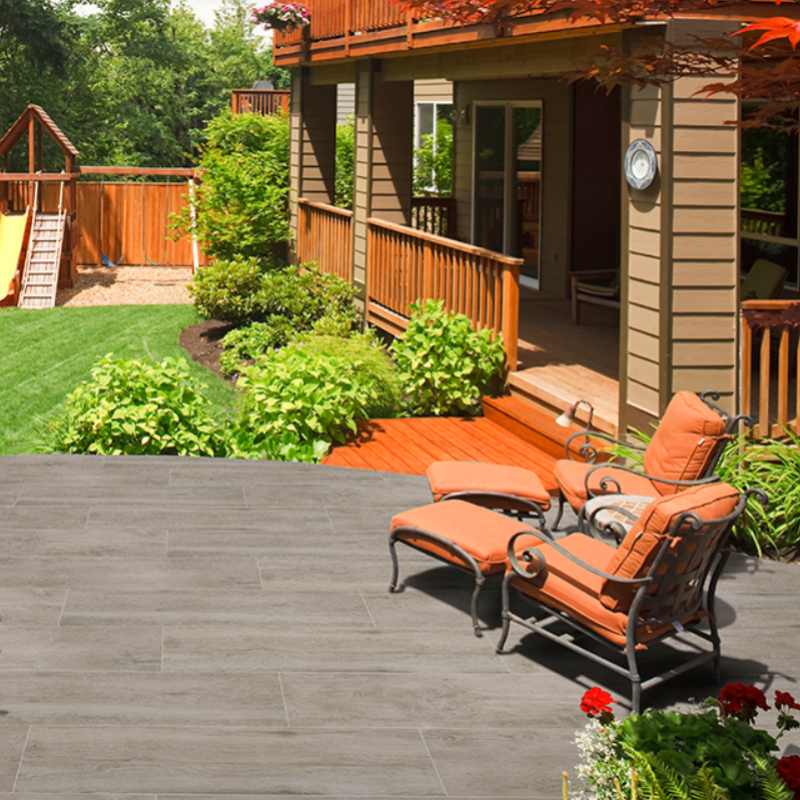 Featured: Luca Canitia Arterra Porcelain Pavers
As mentioned above, wood-look porcelain tiles are a great way to create a maintenance-free deck space. Here, the sophisticated palette of our Lucas Canitia Arterra Porcelain Pavers creates a soothing harmony between the house, grassy areas, and patio.
With its undertone of silvery gray, the deck looks like fine weathered hardwood, but minus the splinters. Comfortable on your feet, slip-resistant, and simply beautiful, this outdoor tile will quickly transform any outdoor space into a relaxing area.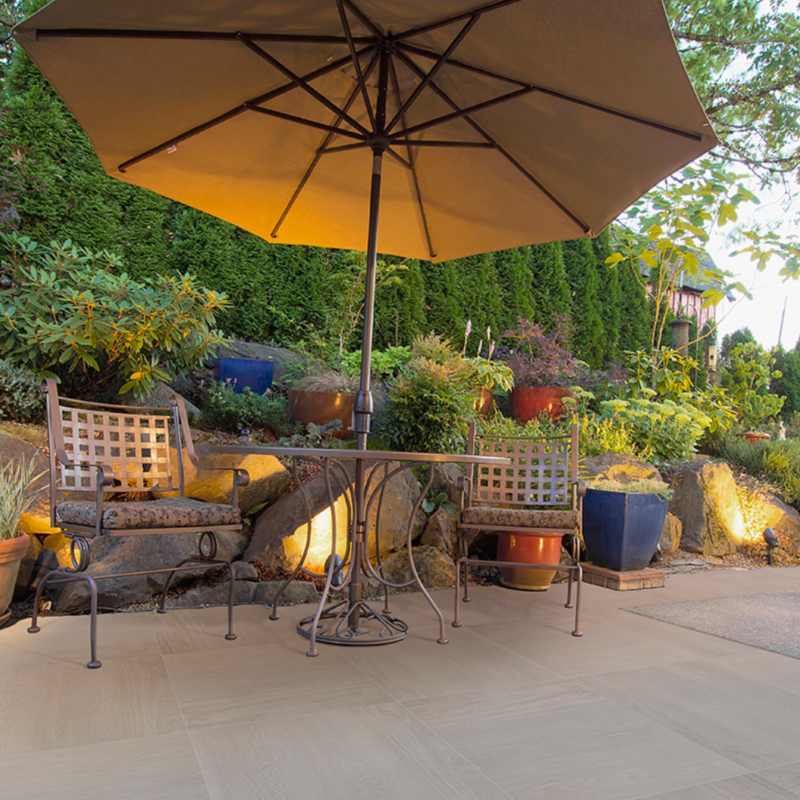 Featured: Palmwood Gris Porcelain Pavers
For a more industrial, modern look, check out our Palmwood Gris Porcelain Pavers. With subtle veins that resemble bleached hardwood, this porcelain paver has a matte finish to complete the look. For flexibility in installation and design, the pavers are offered in both 24x24 and 13x24 tiles. The low variation in color and pattern contributes to a soothing surrounding environment where the beauty of your landscaping and accessories will become the star of the show.
Who wouldn't love to spend more time enjoying their outdoor space, and less time with upkeep and maintenance? With porcelain tiles from MSI, you can! We have natural stone-look porcelain tiles, wood-look porcelain tiles, and pattern kits to transform any outdoor space.
Thicker porcelain tile pavers can withstand the elements, just like their more expensive natural stone counterparts, and many are suitable for exterior projects even in areas with freezing temperatures. Browse through our entire inventory of porcelain tile flooring and outdoor tiles to find the perfect choice for your project.
If you have any questions about appropriate applications for any of our products, please don't hesitate to contact us.
READ MORE ABOUT OUTDOOR SPACES with PAVERS AND PORCELAIN TILE:
New Oversized Arterra Porcelain Pavers Make Outdoor Spaces Feel Larger Than Life
All About Outdoor Tile: Porcelain, Slate, Travertine, And Quartzite
Get Ready for Summer with Modern Porcelain Tile