Design Inspiration: 7 Chic Styles From The Arabescato Venato White Marble Tile Collection
August 22, 2023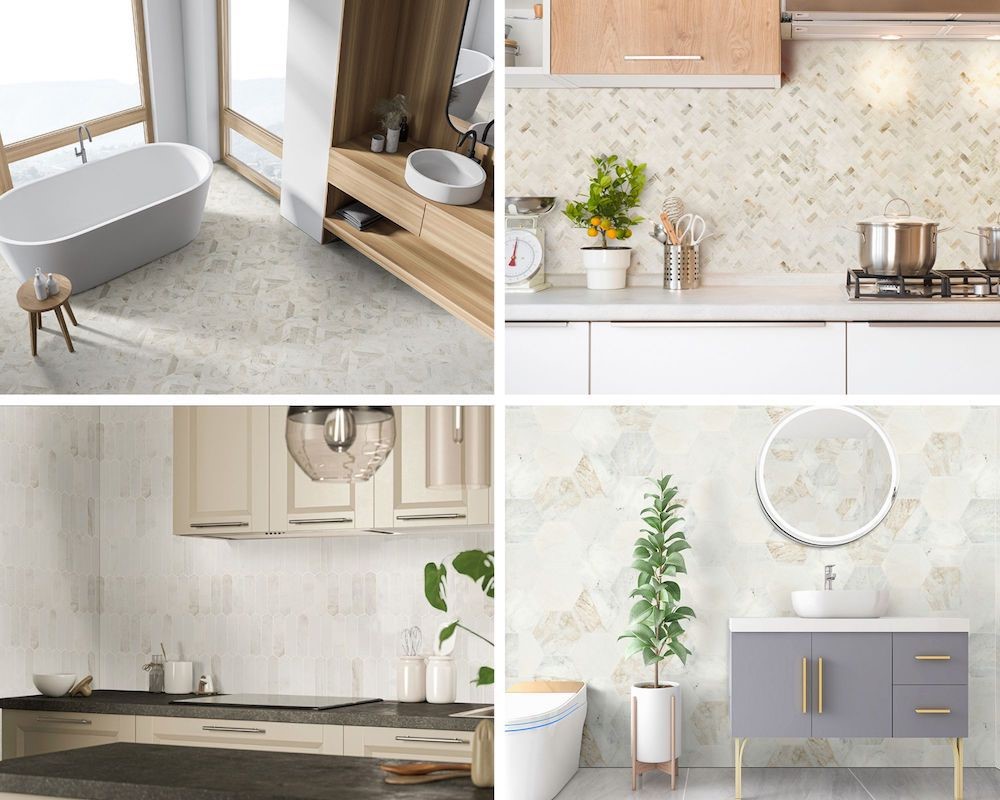 Delicate and intricate, Arabescato marble tile creates a captivating canvas for transforming interiors throughout your home, from kitchen countertops and backsplashes to statement floors and accent walls. Our Arabescato Venato White Marble collection of marble mosaic tiles, crafted into stylish geometric patterns, offers a symphony of warm whites, creams, and hazy grays. The seamless fusion of these soft tones creates an exquisite, honed appearance to any space within your home.
From stunning marble accent walls to functional kitchen backsplashes, luxurious shower surrounds, elegant flooring, and more, our Arabescato Venato White Marble Collection creates timeless elegance wherever it is installed. We will highlight seven chic styles from our Arabescato Venato White Marble Tile Collection.
Captivating Colors and Patterns
Arabescato marble originates in Italy. Rare and highly sought-after, it sets itself apart with its soft white background and dusty gray veining. Venata is a type of Arabescato marble sourced from the quarries of Italy's Carrara region. Its creamy hues gently merge with cascading shades of gray, creating a harmonious palette that evokes calm and sophistication.
Besides its alluring colors, Arabescato Venato is prized for its cloud-shaped pattern. Its subtle, mottled appearance makes it the perfect choice for marble countertops, walls, and floors, both indoors and out. Arabescato's durability and distinctive visual appeal represent quality and value, transforming spaces with its stunning presence.
The Arabescato Venato Marble Tile Collection
This collection is defined by the distinctive geometric shapes that characterize its different patterns. Its wide variety makes these refined white marble tiles the perfect choice for any type of interior design style, from traditional to contemporary.
The rectangular shape of our Arabescato Venato White Subway Tile complements any design style, while its honed finish brings out its natural beauty. It has endured as a classic design thanks to its timeless elegance and versatility. This popular style is inspired by the iconic tiles used in early 20th-century subway stations when it was the pattern of choice due to its easy-to-clean surface and familiar, bright feel.
With clean lines and uniform shape, subway tiles are a favorite for marble accent walls in kitchens and bathrooms. Available in both 2" x 6" and 6" x 12" sizes, they are a gorgeous addition to any room and can be installed vertically and horizontally on both walls and floors and for a distinctive look.
Our Arabescato Venato White Hexagon tile combines a timeless shape with a subtle blend of creamy white, beige, and gray hues that will upgrade any wall or create a statement floor in your home. Because hexagon tiles tend to mirror their environment, they blend seamlessly with every design style. These 2" hexagon-shaped marble tiles make a superb backsplash tile because small tiles can make a big impact in small places. They have endured for decades as a staple for elegant flooring in bathrooms.
The Arabescato Venato White Cube Marble tile adds soft, calming colors and elegance to any space, including kitchen backsplashes, countertops, accent walls, fireplace surrounds, and flooring. Also known as the rhombille tile, tumbling blocks, reversible cube, and dice lattice, this iconic pattern has existed for 2,000 years. It's easy to see why, thanks to its vibrant 3D cube pattern, which adds excitement to any environment.
Our Arabescato Venato White Picket tile features natural marble in warm white, taupe, and gray hues, with a honed finish for enhanced beauty. Its eye-catching picket shape lends a modern twist to the classic hexagonal tile, making it ideal for marble accent walls, backsplashes, countertops, and floors. An elegant alternative to the subway tiles, the picket design with pointed ends offers a sleek appeal and visual movement. While picket tiles are typically applied vertically to highlight their distinctive shape, they can also be placed horizontally or diagonally to make a striking design statement.
A masterpiece of timeless elegance, the Arabescato Venato White Herringbone tile measures 1" x 2" in a gracefully arranged herringbone pattern. The intricate layout of these small tiles forms a mesmerizing design that effortlessly enhances any environment. Whether you're creating a marble accent wall or statement floor, this herringbone tile offers endless possibilities. Its classic pattern adds dimension and movement and brings urban sophistication to your space.
The classic argyle diamond pattern featured in this marble tile is stunning! Elevate your home with the sophistication of Arabescato Venato White Argyle Honed tile. A contemporary twist to the timeless argyle pattern, it is ideal for walls and floors in practically any room in your home. Its soft, creamy colors effortlessly blend together, transforming your kitchen backsplash, fireplace facade, or shower surround into a space with timeless elegance.
Like our 2" Arabescato Venato White Hexagon Tile, the Arabescato Venato 8" Hexagon Honed marble tile combines a timeless shape with a subtle blend of creamy white, beige, and gray hues. While a small hexagon tile is often the choice for a bathroom floor, its larger cousin is perfect for a more contemporary look.
Elevate Your Home: Discover the Allure of our Arabescato Venata White Marble Tile Collection
The Arabescato Venato White Marble Tile Collection invites you to embrace its timeless elegance and natural beauty. From the classic lines of the white subway tile to the captivating herringbone pattern, each design is a testament to the versatility and sophistication of Arabescato marble. Whether adorning your kitchen backsplash, enhancing your bathroom floors, or creating stunning accent walls, these marble mosaic tiles redefine interior spaces with their simple luxury. As you embark on your design journey, let this collection be your guide to harmonizing classic charm and contemporary appeal in every corner of your home.
Need help choosing the right marble tile for your next home improvement project? Chat with a specialist online or visit an MSI showroom or MSI authorized dealer in your area.
LEARN MORE ABOUT BACKSPLASH TILE
MSI Is The Key To Successful Hotel Construction And Remodeling
Marble Backsplash Tile Collections: A Blend Of Luxury And Style
5 Unique Glass Tiles For Your Kitchen Backsplash
The Golden Hour: A Warming Trend For All