Tile Style: Redefining Modern Floor Tile
November 19, 2016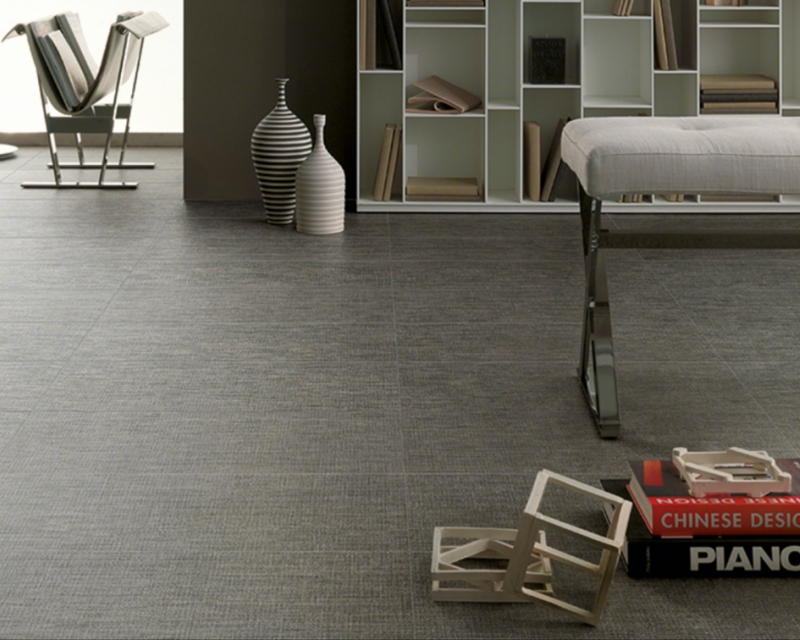 If the idea of installing tile in your living spaces makes you think of stark, cold, and uninviting surfaces when instead your ideal space is rich and elegant, take a look at this collection of MSI floor tile products and prepare for a pleasant surprise.
Today's tile flooring options have patterns inspired by nature – or, in the case of TekTile, fabrics. Contemporary designs using utilitarian, durable, easy-maintenance tiles can be just as friendly and inviting as carpet – and a whole lot easier to keep clean.
Gray Oak Marble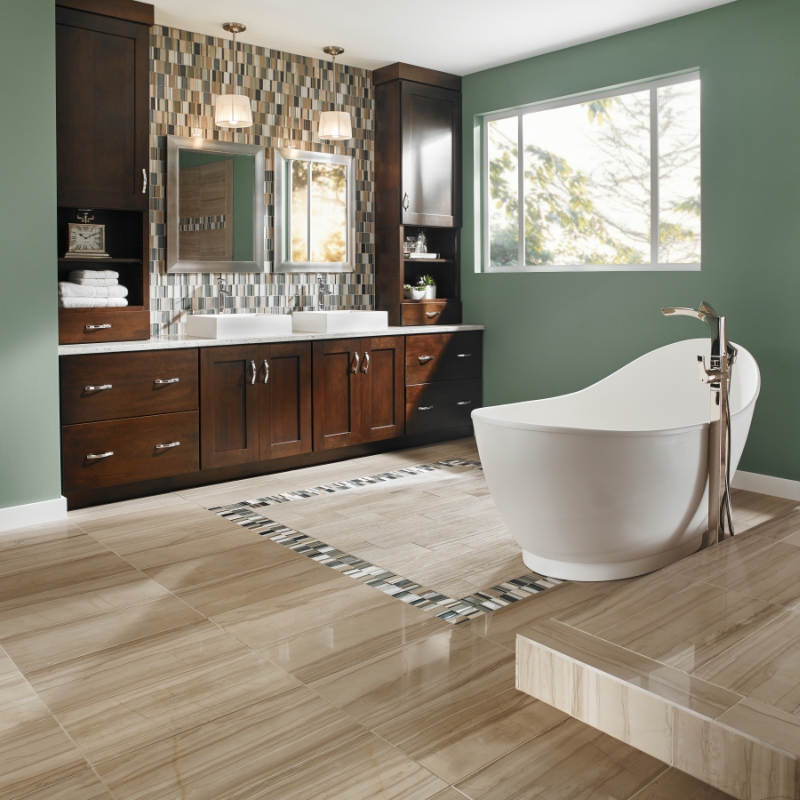 Featured: Gray Oak Marble
When is a polished hardwood floor ideal for frequently-wet locations such as kitchens and bathrooms? When it's really marble that features a linear soft-gray pattern with all the character and warmth of natural wood. Gray Oak Marble, available in 12" x 24" and 6" x 24" planks, may be used in many creative ways in your home.
Calacatta Porcelain with Arctic White Quartz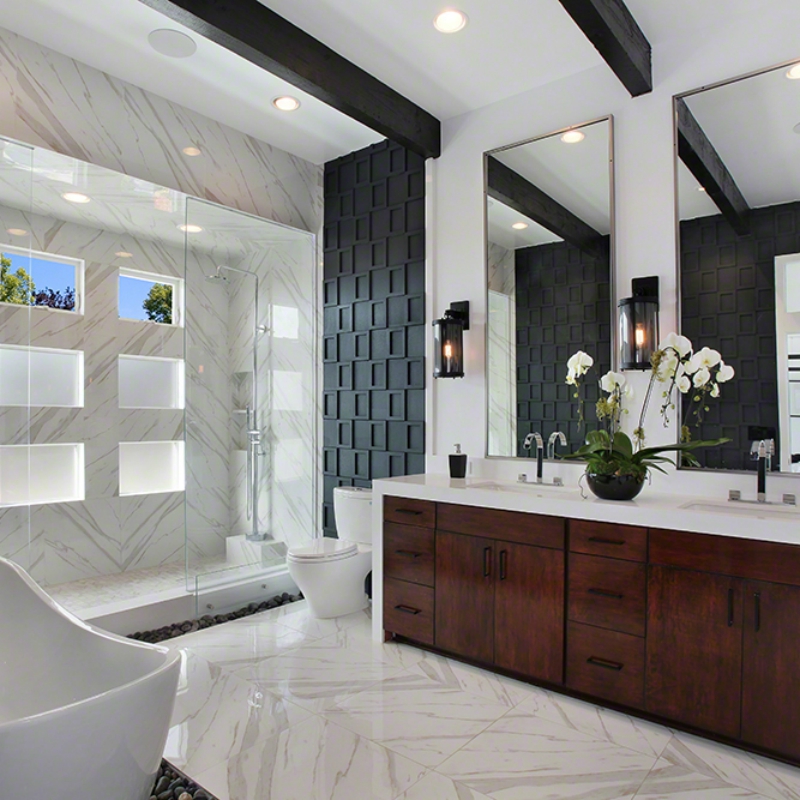 Featured: Calacatta Porcelain and Arctic White Quartz
The dramatic patterning of Calacatta Porcelain is anything but stark and plain. Featuring veins of gray and brown on a white background, it's stunning when used in a random pattern, but even more appealing when placed to strategically maximize its diagonal linear nature. Ideal for tile flooring, you might want to carry this porcelain tile through on other surfaces as well such as shower surrounds, countertops, and backsplashes.
Arctic White Quartz is plain white, with no veins, pattern, or other variegation. Available in slabs, with a bright polished finish, you'd think this was the definition of stark and plain contemporary surfacing – but the truth is, sometimes pure white is exactly what you need. It has an elegance that's hard to resist. The white quartz countertop shown here is especially fetching when paired with a complementary product such as Calacatta Porcelain.
Bianco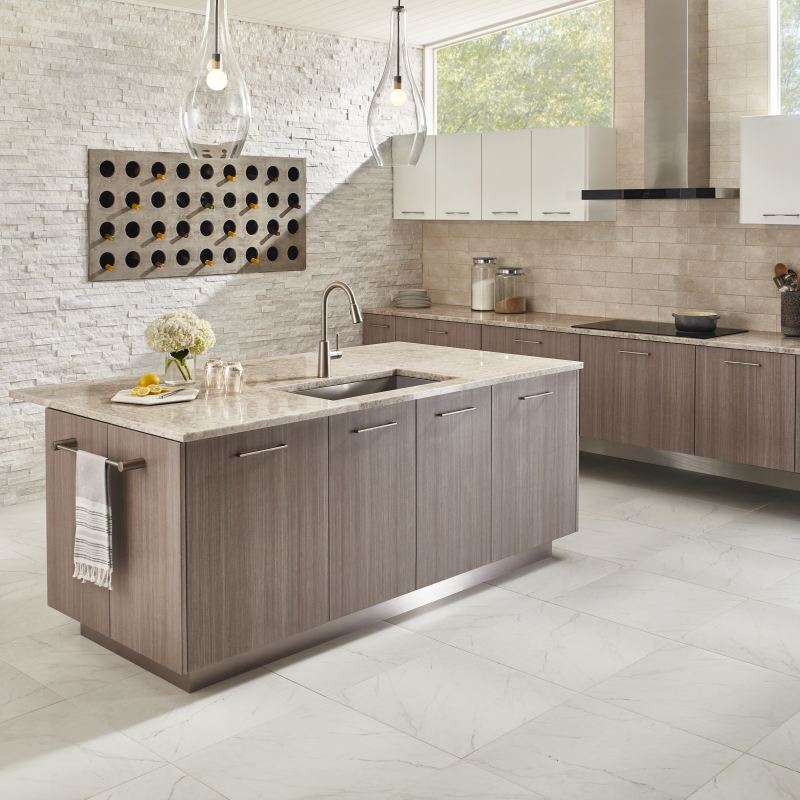 Featured: Bianco Porcelain
There's no doubt that marble has a warm glow, and adds an upscale ambiance to every room – this is also true of marble-look Bianco Porcelain. These tiles feature a soft white background with gold veining and are glazed for incredible durability and easy maintenance. They are available in 24" x 24" squares, perfect for creating a crisp, cheerful look as flooring in kitchens like the one shown here.
White Oak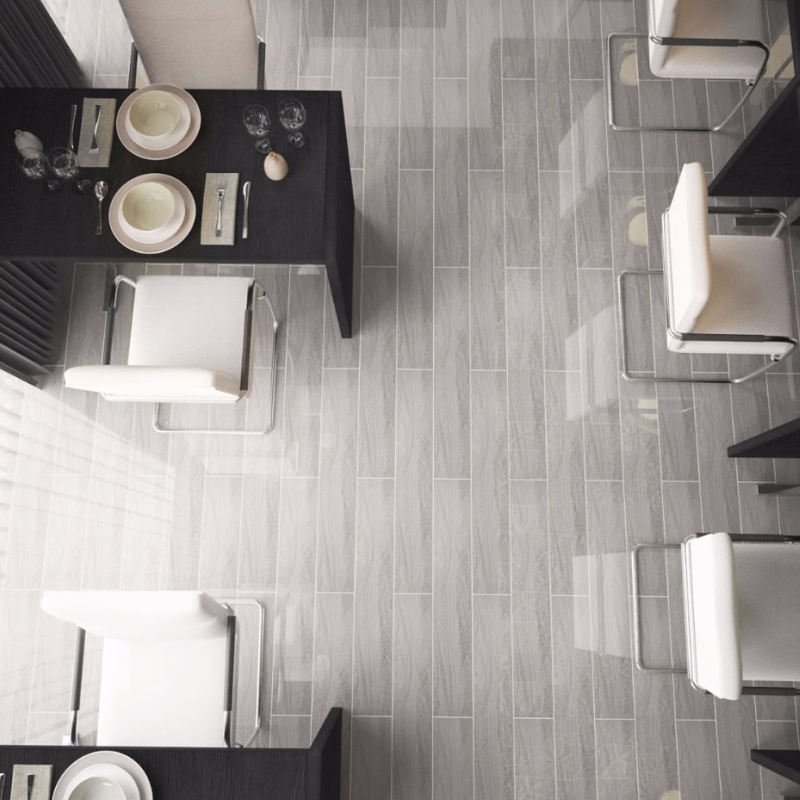 Featured: White Oak Marble
Wood-look tiles come in many different shades, from dark and rustic planks resembling reclaimed barn wood to pale, subtle varieties like this one, White Oak Marble. This natural marble tile surface provides the cozy, visual interest of wood grain, with a soft, elegant charm. Need another reason to love White Oak? It's available in many different sizes, from 6" x 24" planks all the way to large format 18" x 36" tiles.
Hopsack Gray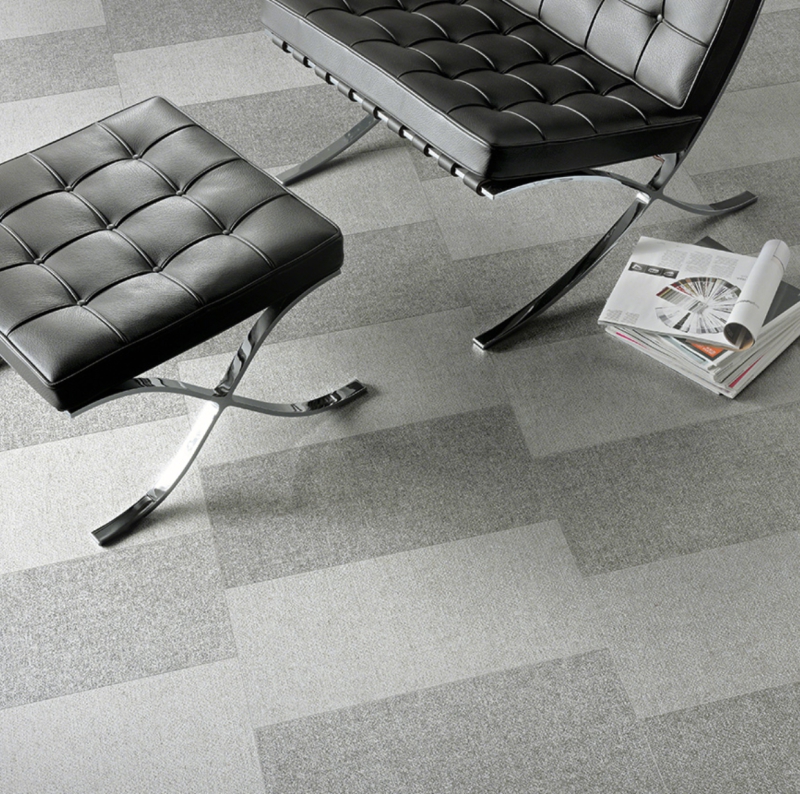 Featured: Hopsack Gray TekTile
Introducing TekTile – a durable, easy-care porcelain tile that delivers the texture of various fabrics. It's a hot trend, and Hopsack Gray TekTile is an excellent example. If you aren't totally sold yet on replacing carpet with tile flooring, this may change your mind – it's available in 12" x 24" tiles, with a textured matte finish.
Pets? Kids? Muddy footprints? Splashed water or kitchen mishaps? No problem. These modern marvels demonstrate several ways that modern tile flooring, and the contemporary looks it creates, can fit into the most stylish home. Whether you choose polished marble, glazed porcelain tile, or the new TekTile products, you'll love the opportunity to enjoy the easy maintenance and cleanup without ever sacrificing beauty and charm.