Find Porcelain Tile Inspirations With Our Backsplash Tile Guide
February 13, 2022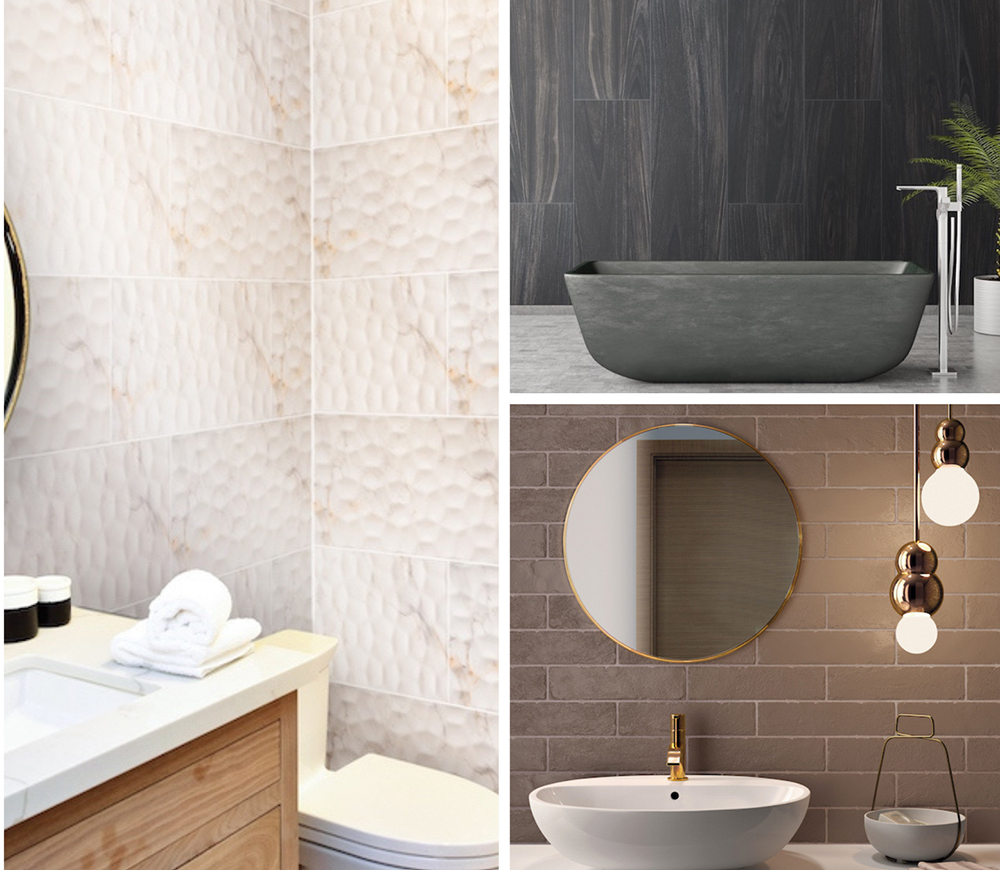 When it comes to the benefits of backsplash porcelain tile, the answers are nearly endless!
Kitchen backsplashes protect the wall behind the sink, oven, or other part of the room against damage from inadvertent splashing of water or foods. They add a style and sophistication that can be both subtle and completely transformational. Backsplash tile can protect a wall or floor from moisture, enhance décor, make cleaning easier, and increase home value.
Finding the right style of backsplash is an important decision, as it can drastically affect the mood of any room. And since homeowners spend a lot of time in their kitchen and bathrooms, it's especially important to take your time. When thinking about the right type of porcelain backsplash tile, you want to picture what types of surrounding décor you have. What color is your sink? Do you have a bathroom mirror that might look best with a particular color? What is the style of your countertop and what kind of backsplash would it pair well with?
In particular, porcelain is denser and less porous, so it's ideal for a wall tile in a kitchen (versus standard ceramic tile) because it's more stain and impact resistant. Because of its density, it is less likely to crack than ceramic tile. Basically, porcelain tile is tough as nails and can withstand nearly whatever comes its way, making it a top pick for frequented rooms like the kitchen or bathroom.
Obviously, any design pick for a home is both practical and aesthetic. People can wring their hands for hours attempting to make the right decision. While there is no magic wand to make the choice for you, there are some tools like our Backsplash Tile Guide that can make the process much easier. It can give you a thorough window into of all the options MSI has to offer and get your own wheels of inspiration turning to find the best fit.
In this article, we're going to explore various how the Backsplash Tile Guide can help you determine the right style, texture, and color of porcelain tile for your home. This is an incredible creative and practical tool that enhances the process of determining the right design. Who doesn't love to sit and imagine different possibilities? Luckily, this tool helps you do just that.
And to get those wheels of inspiration turning accordingly, we're going to dive into some popular styles. Maybe you can imagine some of these in your own home? Or maybe you like certain colors or designs but want a slightly different take? The Backsplash Tile Guide helps you select pattern ideal for you, so let's get started!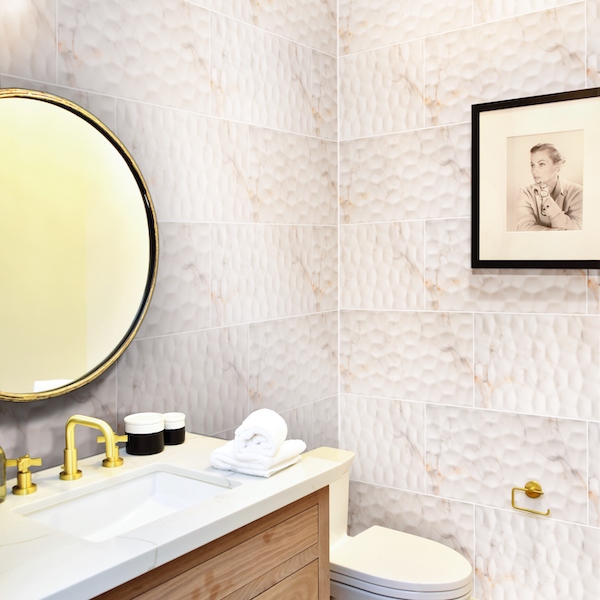 This Adella Viso Calacatta Porcelain Textured Bathroom Wall Tile is an incredible addition to any home. Ideal for the bathroom, the varying shades of white and slight veining add a texture and class to this style that give way to complimenting vanity mirrors, sinks, faucets, and shower designs. Your dinner party guests will feel refreshed and rejuvenated upon visiting the powder room with this particular porcelain tile design. And so will you! This veined porcelain tile that looks like marble will make anyone feel elevated and sophisticated.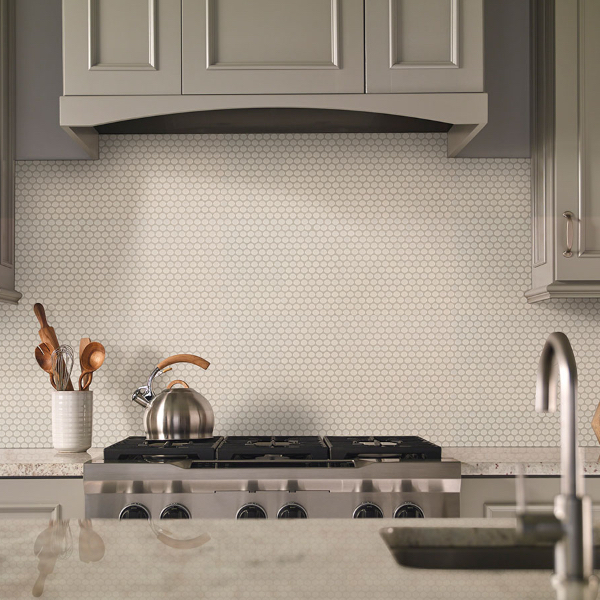 Take a look at the Almond Glossy Penny Round Mosaic Kitchen Wall Backsplash—doesn't that look like a calming design for the meal where all your meals are prepared? Its geometric pattern blend in well with stainless steel kitchen appliances and looks amazing next to a marble countertop. And did we mention this is easy to clean and wipe off from food spills? This is just one of many in a wide selection of porcelain tiles our Backsplash Tile Guide has to offer.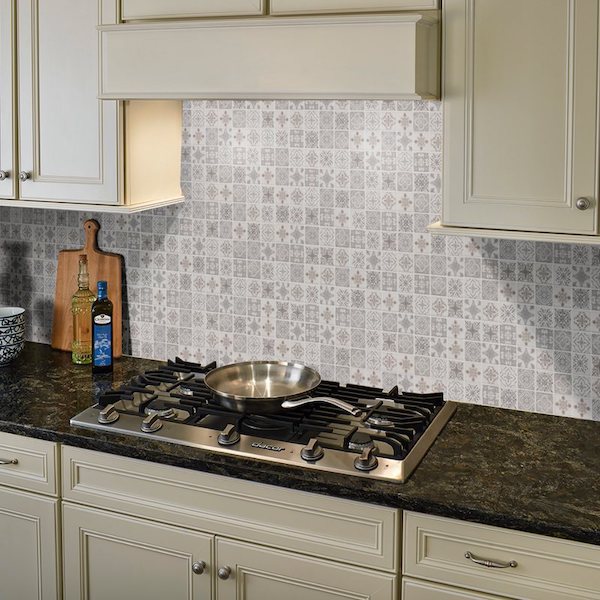 If you're looking for a design slightly more eclectic and intricate, the Anya Blanco Porcelain Tile Mosaic Kitchen Backsplash may be just the thing for you. Each tile is varied and stunning with in depth shapes that delight the viewer. The subtle gray tones throughout also give this particular style the potential to pair well with various kitchen décor!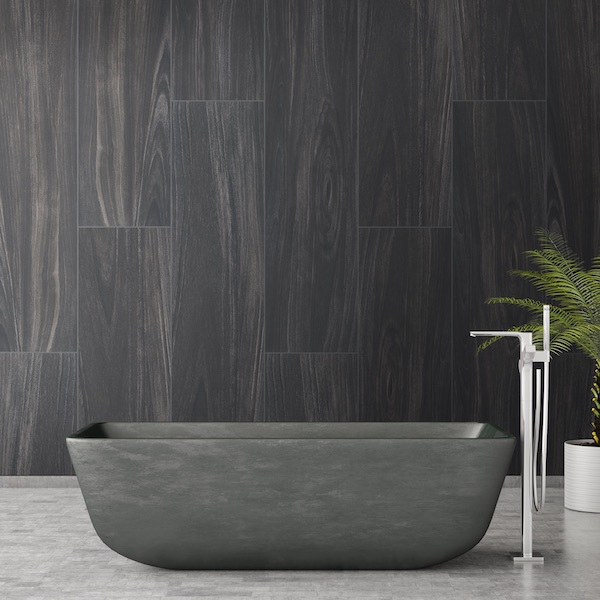 Our Midnight Porcelain Wood Panel Tile is perfect for your bathroom with a stylish tub. This porcelain tile that looks like wood intrigues the eye with darker gray shades. Modern, chic, and simple—Midnight Porcelain is a relaxing wall to look at while you're unwinding in the shower after a long day.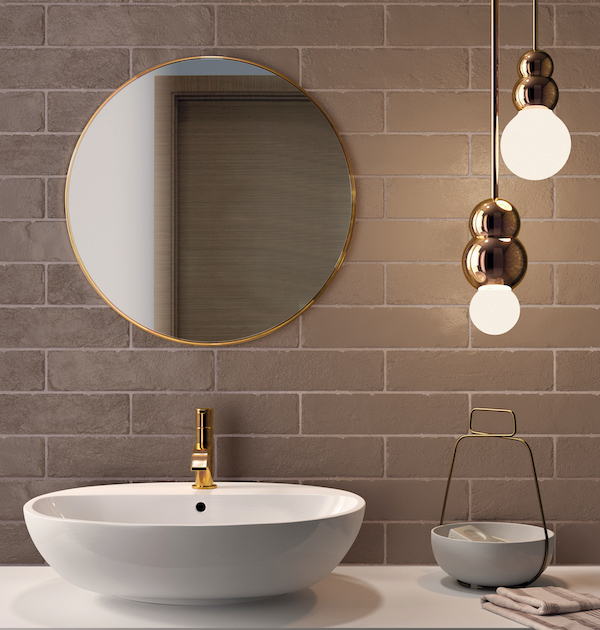 Finally, the Putty Camel Brown Brick Look Bathroom Wall Backsplash is a perfect option for lovers of moderate and darker brown tones. This style pairs well with gold, silver, and white bathroom décor. Its brick look porcelain floor tile would look just as good under your feet as it would directly facing you on the wall!
Backsplashes are known to increase the value of any property through its stylish décor and easy-to-clean capabilities. By incorporating backsplashes in your kitchen and bathroom where water spillage is more common, you are protecting your walls from damage. They safeguard your home from grease, food, and other damaging items.
Cleaning your new porcelain tile backsplashes is a breeze, as you can just use vinegar or a mild detergent and simply wipe clean with a cloth or sponge. If you have an especially greasy mess in the kitchen from an elaborate dinner, you can also use a degreasing cleaner.
As you can see from some of the designs mentioned, our Backsplash Tile Guide is an optimal tool for finding the right fit. And what's not to love about the process? It's fun to sift through these various designs and picture the right style for your home. It really gets the wheels of inspiration turning and creative juices flowing. The array of contemporary, traditional, and even transitional options is a delight to explore for any homeowner.
So what are you waiting for? Make full use of the Backsplash Tile Guide to find the right porcelain tile for you!
READ MORE ABOUT THE BENEFITS OF PORCELAIN TILE
Get Vertical with Trendy Porcelain Wall Tile
How to Clean Porcelain Floor Tiles
Improve Any Room with These Easy Porcelain Floor Tile Patterns
Improving Upon Perfection: Capella Porcelain Tiles
READ MORE ABOUT MSI BACKSPLASH TILE
Creative Backsplash Tile Patterns For Standard Tile Shapes
How To Remodel Your Kitchen With A Stacked Stone Backsplash
Don't Ruin Your New Backsplash Tile With A Bad Install
Enhance Your Kitchen Backsplash Tile With Dimension And Texture