Upgrade Your Kitchen Or Bathroom With 6 New White Quartz Styles From MSI
August 21, 2023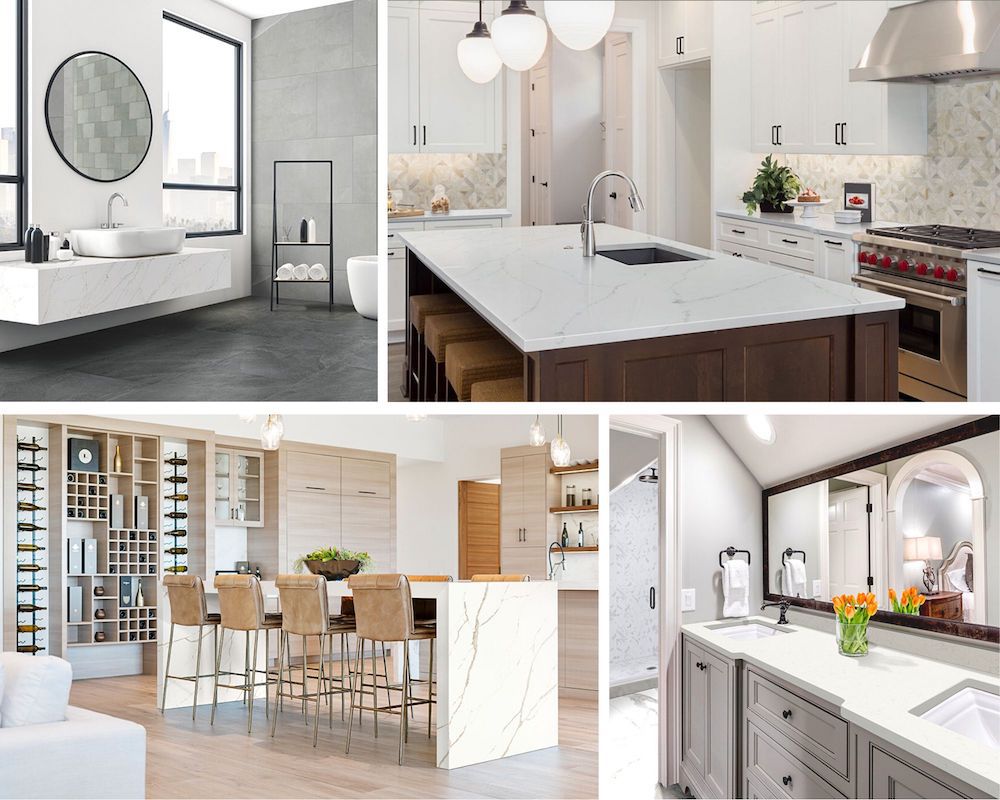 When it's time to upgrade your counters, choosing between a timeless aesthetic and a cutting-edge design can be truly exciting. With our incredible selection of white quartz countertops, you can enjoy a large array of looks and colors that cover the best of both worlds.
These beautiful countertops add to the ambiance of your home with affordable luxury. And because the material is durable and low-maintenance, it's easy to keep clean and stain-free. It's also non-porous, making it a sought after hygienic surface.
Quartz is an ideal choice for any decor or theme. All that remains is selecting the perfect design to match your personal style, and we're delighted to introduce six new quartz colors for you to expand your options from.
Calacatta Viraldi™ Quartz features a warm white base with intricate wispy veins in brown and green, offering a timeless and durable aesthetic suitable for various spaces, including bathrooms. Its scratch and stain resistance, along with low maintenance needs, make it a practical choice. Crafted from natural quartz crystals, resins, and pigments, it strikes a balance between elegance and environmental mindfulness. Ideal for countertops and backsplashes, it seamlessly blends style, resilience, and sustainability.
Are you interested in elevating the appeal of your home and adding charm? You'll get your heart's desire when you choose Calacatta Miraggio Sienna™ Quartz from the Q Studio™ Collection, made in the USA. Crackled veins in gold and burgundy slice through the white backdrop, and the LumaLuxe® Ultra formulation makes for a surface that positively glows.
Offering a chic counterpoint to cabinets and accents in any color or style, the design potential for this gorgeous quartz is limitless.
Calacatta Laza Oro™ Quartz is the ideal choice for anyone seeking a marble-look quartz that pairs a bright white background with expressive veining in warm, golden tones. This bold pattern lends movement and personality to your space, especially when it spills over the sides of a waterfall island. This quartz stands out in almost any setting, but the honey hued striations are perfectly suited to pairing with wood tones.
If you're looking for soft shades to enhance the soothing vibe of your spa-like primary bath, Carrara Miksa Quartz has everything you need in one beautiful design. The white background, lightly brushed with wispy strokes of gray and gold, is the ideal complement to a tranquil space.
Pairing your vanity top with gray cabinets creates subtle contrast that helps to add dimension to your design. Meanwhile, the antique bronze accents of mirror frames and faucets bring sophistication to the room.
Calacatta Miraggio Cielo™ Quartz will take your breath away, showcasing unique, through-body veining in cool hues of silver and blue. Accented by clouds of gray on a bright white background — not to mention the luminosity of LumaLuxe® Ultra — this design from the Q Studio™ Collection captures the authentic look and feel of marble.
For high contrast and depth, consider a waterfall island and perimeter counters in Calacatta Miraggio Cielo™, dark wood cabinets in a mahogany tone, and beige and tan flooring and backsplash to seamlessly transition from light to dark surfaces.

Revitalize your living spaces by incorporating Calacatta Elysio ™ Quartz countertops. This exquisite slab boasts an appealing blend of subtle taupe veins with various shades of soft beiges and muted grays amidst a white background. Infusing a vibrant and modern aesthetic, the diagonal orientation of the veins authentically mimics the allure of natural marble, bringing a touch of timeless elegance to any room in the home.
If you're considering a contemporary kitchen remodel, you'll discover that this quartz design makes a stunning statement when placed atop an island base accompanied by luxurious dark cabinetry. The combination of the quartz's intricate pattern against the deep, rich tones creates an alluring visual contrast that truly captures the essence of modern sophistication.
Rejuvenate Your Countertops with White Quartz
When it comes to kitchen and bathroom design trends, timeless beauty is a safe yet elegant choice, and you'll find it in spades when you choose white quartz from MSI. With a plethora of refined styles and appealing practical benefits, it's no surprise quartz is such a popular choice in modern home design.
How can you choose the best white quartz for your renovation? Our team at MSI is ready to help any time of day through our convenient online chat feature. You can also visit an MSI showroom or contact an MSI authorized dealer for assistance.
Learn More About Quartz Countertops
TRANSFORM YOUR KITCHEN WITH POPULAR DESIGN UPGRADES: LUXURY VINYL FLOORING AND MORE!
AFFORDABLE HOTEL FLOORING AND BATHROOM COUNTERTOP UPGRADE IDEAS
GRANITE VS. QUARTZITE: WHICH IS BEST FOR KITCHEN COUNTERTOPS?