Granite Vs. Quartzite: Which Is Best For Kitchen Countertops?
January 16, 2023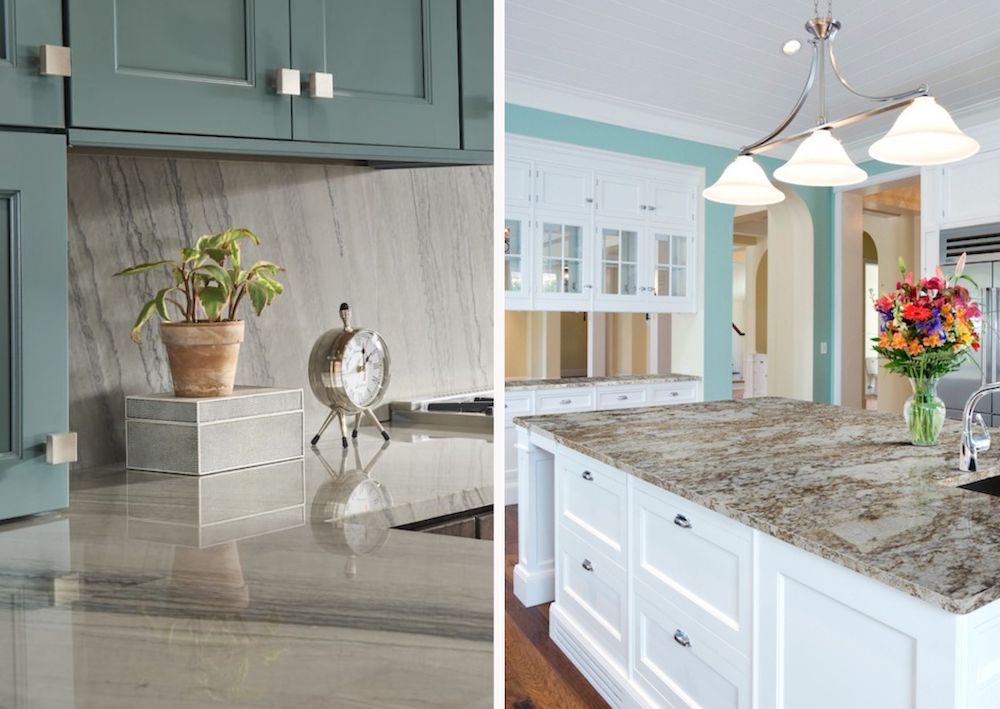 Natural stone kitchen countertops have many advantages – that's why so many homeowners choose them. From granite to quartzite, these eye-catching surfaces have the ability to transform living spaces from drab to fab with little effort. Probably the most obvious draw is their beauty and durability, but there's also the fact that no two slabs are alike. Every countertop is unique, just like those who enjoy it in their homes.
Beacause there are so many benefits of both granite and quartzite, it can be tough to choose between these two popular natural stones. So let's dive in and discuss their differences and similarities to help you choose which one may be best for your kitchen renovation project.
The main difference between granite and quartzite is how they are formed; quartzite is metamorphic, and granite is igneous. You may remember these terms from your school science class. Metamorphic quartzite is formed from sandstone when exposed to immense pressure and heat, and it's typically found in shades of white, gray, and beige. Granite forms from cooling magma – molten rock from within the earth – and can be found in many colors.
As for price – a quartzite stone countertop tends to be priced slightly higher than granite countertops. However, this is not always the case. The price per square foot of granite countertops can vary depending on each color's thickness, quality, and abundance. Exotic, bold colors tend to be in shorter supply and have to travel farther from their source; therefore, they are more expensive. When selecting between the two, make sure you are pricing two comparable premium surfaces.
So what do they have in common? They make beautiful countertops that are easy to care for, long-lasting, and stylish. Another common trait is their uniqueness, a quality not found in engineered surfaces such as quartz countertops. That means savvy homeowners will want to pick out the exact slab they want in person. Watch this short video to learn about MSI's slab selection process and how we make it easy and convenient to choose just the right countertop.
Here are a few of our popular quartzite and granite colors to inspire your home improvement project – two of each, along with room scenes that show them off. Remember, though, that the available choices in color and pattern can seem nearly endless, so you'll want to browse our web galleries for more options and additional information.
DESERT BEACH GRANITE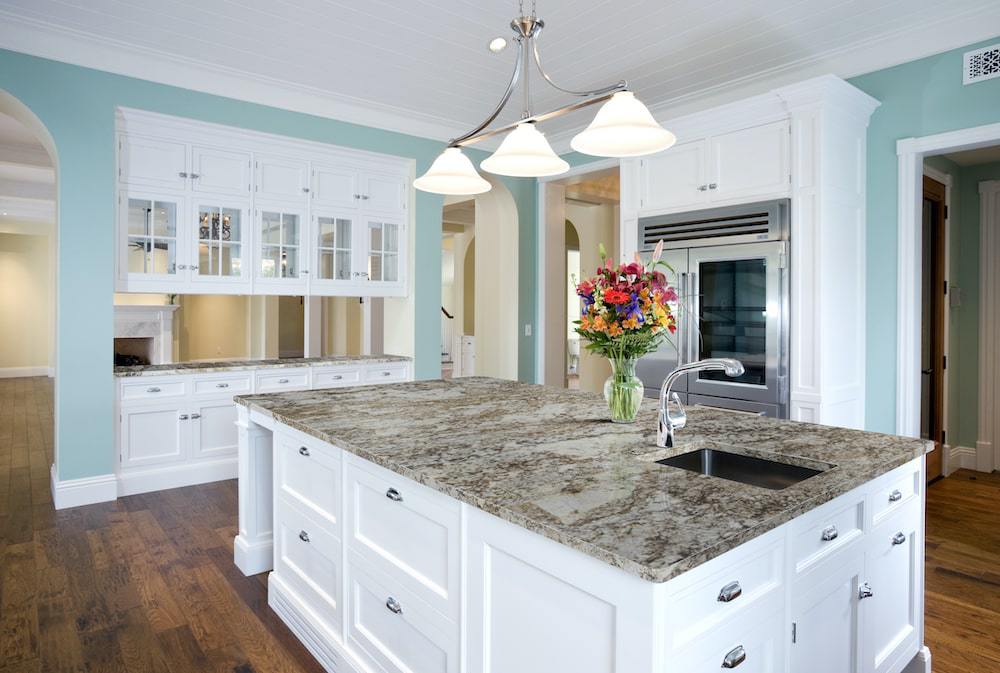 With rich chocolate-brown accents contrasting with creamy white, Desert Beach granite is a bold choice. The neutral colors make it easy to fit in with your other decorative elements, such as the white cabinetry and dark hardwood flooring shown here. Whether your décor is traditional or contemporary, this granite countertop will add the final touch you need to elevate your home's style.
Consider using it for a large central kitchen island, where it can quickly become the star of the show. You can pair it with a different, complementary material for your side counters or go all out and use it even for a matching backsplash. Whatever you choose, you will definitely want to meet this slab in person before purchasing because no two are alike.
SUNSET CANYON GRANITE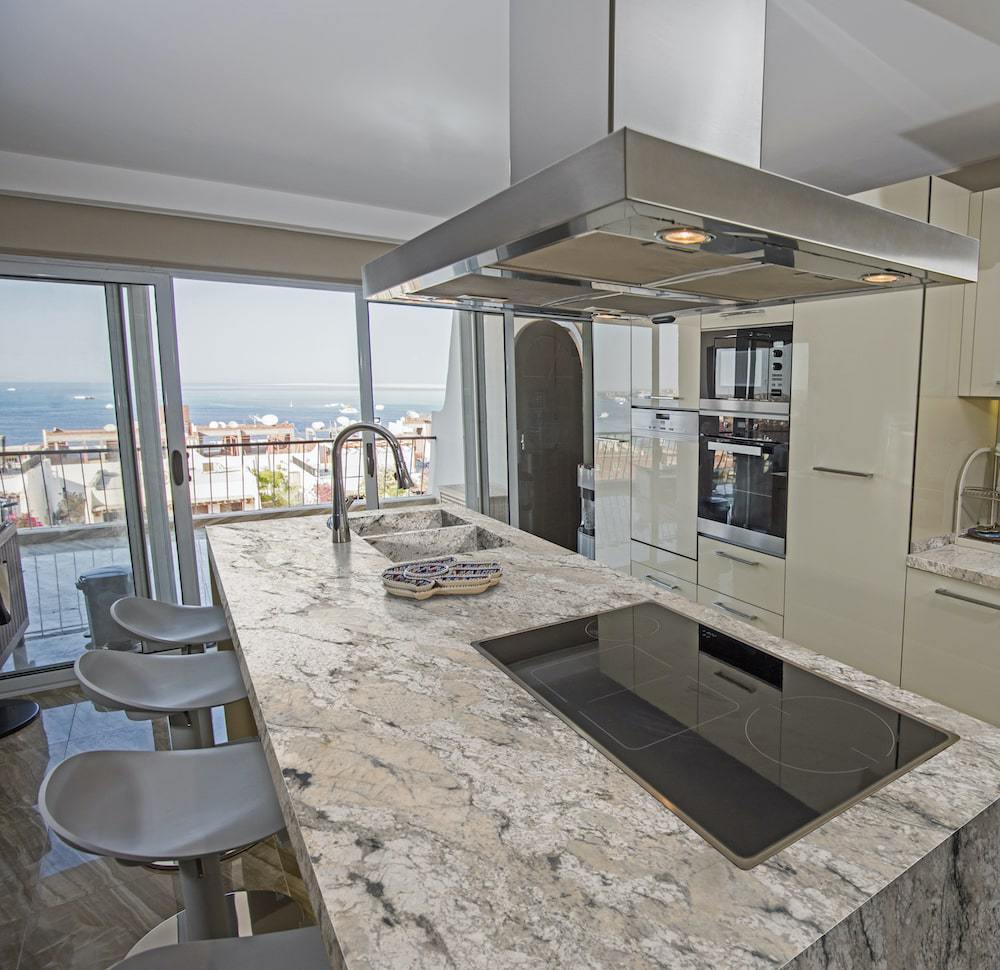 Contemporary, modern kitchen designs can be a bit spartan and generic. Many homeowners appreciate this streamlined, uncluttered look. But to make the space pop, you need to add a special art piece – and a countertop with Sunset Canyon granite may be just what you're looking for. It's a neutral beige augmented with white and taupe splashes and eye-pleasing black streaks. The look is sophisticated, cheerful, and welcoming.
Customize it further by choosing a brushed or polished finish and perhaps a custom edge treatment. Your fabricator can include as many cutouts as you desire for cooktops, sinks, and other fixtures.
AUDACIA QUARTZITE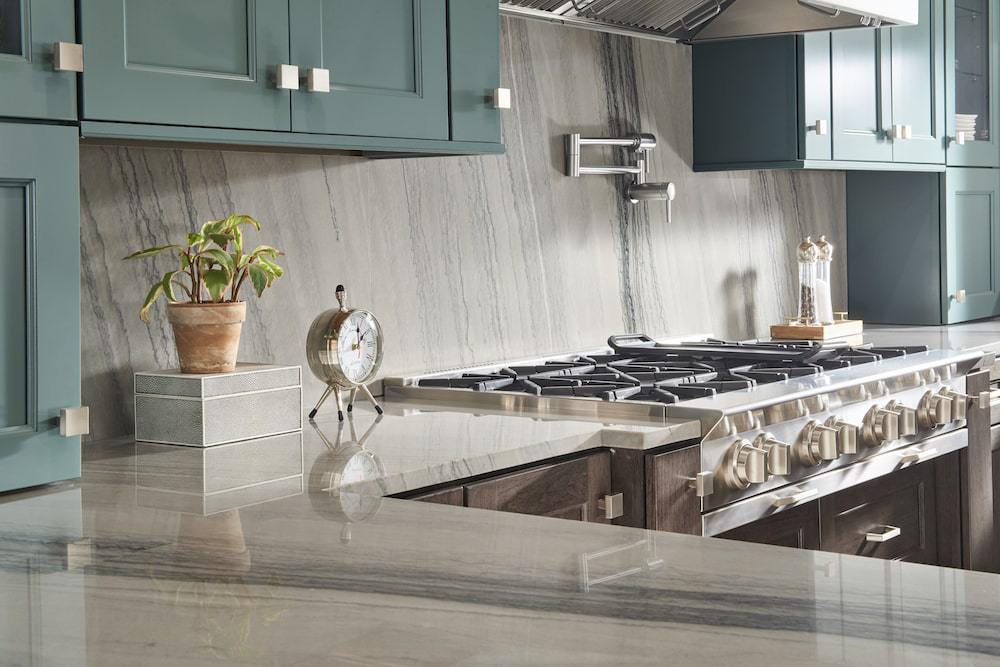 Homeowners today are embracing the look of nature within their interior spaces – but only the very best will do. Audacia quartzite highlights the best of what nature can offer with its bold striped movement and high contrast, blending pale beige with dramatic greenish-gray and charcoal black.
With bold granite colors, visiting an MSI showroom in person is essential to the design process. By using Audacia's linear patterning, extraordinary installations can be created. For example, as shown here, the orientation of the quartzite backsplash alongside the matching lines of the countertop creates a look that is impossible to duplicate with any other type of surface.
CALACATTA MONTREAL QUARTZITE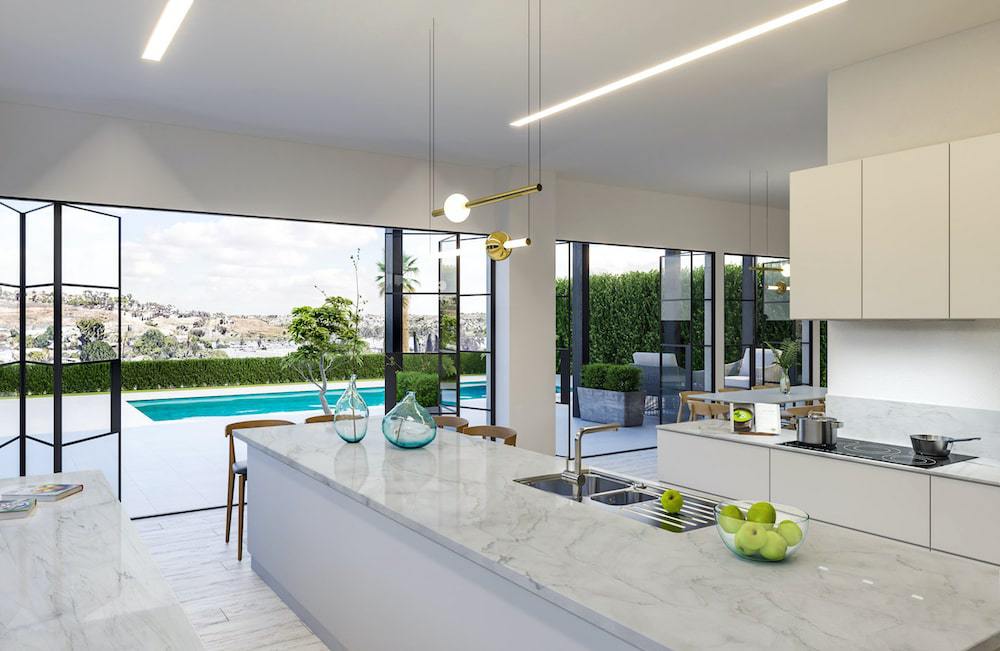 If you've ever seen marble kitchen countertops and wondered how their owners kept them clean despite using them for actual cooking preparation and everyday life, chances are it might have been quartzite instead. Marble is gorgeous but needs extra care to maintain because it's much softer than granite or quartzite, prone to damage from chipping, scratching, etching, and staining. But quartzite can give you a look you love without the worry and work - this Calacatta Montreal quartzite is a perfect example!
Another big plus about quartzite countertops (and granite, too) is that you aren't confined to using it indoors. Outdoor kitchens are on-trend right now, and quartzite countertops make them as elegant as they are practical. They are resistant to damage from the sun, stains, and cracking from weather extremes.
Now that you've learned more about these two popular countertop materials, are you ready to renovate your kitchen? Before you begin, contact us at MSI. We can help you choose which natural stone is right for your needs and guide you along the process of preparing, selecting, fabricating, and finally installing.
We can also assist with other elements of your home remodeling project! We offer a wide selection of products to help you create your unique interior design. We also have tools to help you visualize how the completed project will look! Contact us online by email, visit one of our showrooms, or chat with an expert in real time through our website chat feature.
LEARN MORE ABOUT QUARTZ COUNTERTOPS
6 MOST POPULAR KITCHEN COUNTERTOPS
8 QUARTZ COUNTERTOP ISLAND IDEAS TO INSPIRE YOUR DREAM KITCHEN
7 KITCHENS WITH GLAMOROUS CABINETRY & QUARTZ COUNTERTOP PAIRINGS
6 POPULAR KITCHEN COUNTERTOPS YOU SHOULD CONSIDER FOR YOUR REMODEL