Different Types Of Finishes For Granite Countertops
July 26, 2019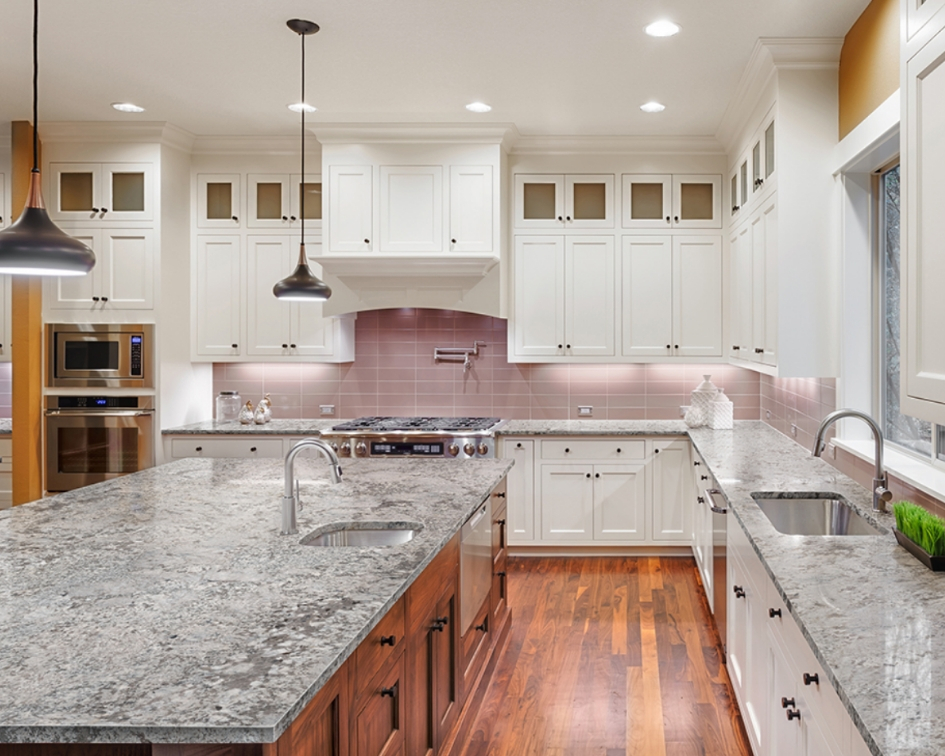 Many homeowners and designers alike select granite countertops for their kitchen or bathroom remodel without hesitation. That is because the popular natural stone provides beauty, durability, and functionality. Additionally, it comes in a wide range of color stories. And, just like the way the pigment, pattern, and countertop edges of granite greatly impact the interior design of a space, the finish also affects the overall look and maintenance of the stone. Make sure to take your time when selecting the right texture and sheen, and use this guide to learn more about the different types of finishes for your subtle or dramatic granite slab.
Polished Finish
The most common, well-known granite finish is the polished finish. This glossy, reflective shine is a result of using fine polishing pads to buff the stone. The classy style also gives the surface a smooth feel and enhances the original colors by making them richer and darker. With its mirror-like surface, the polished finish also beautifully reflects natural light, which is great for smaller spaces.
The process does seal more pores so that the natural granite repels water and moisture better, makes the surface more stain resistant, but likely will show etching from anything acidic. But, because polished granite is less porous than other finishes, your premium surfaces will be more sanitary, easier to clean, and not need to be resealed as often.
Honed Finish
Second to polished granite is a honed finish. This matte or flat finish features a smooth surface but with very little to no sheen and is achieved when manufacturers stop the finishing process before the granite gets buffed. Its velvety texture and softer look create a more casual, cozy vibe, and since the color is more dull than the vibrancy of a polished finish, it is better suited for lighter colors as it is more noticeable on dark granite. And, with varying degrees of honing, you can choose from different subtypes of honed granite, including diamond smooth, machine smooth, satin, velvet finishes.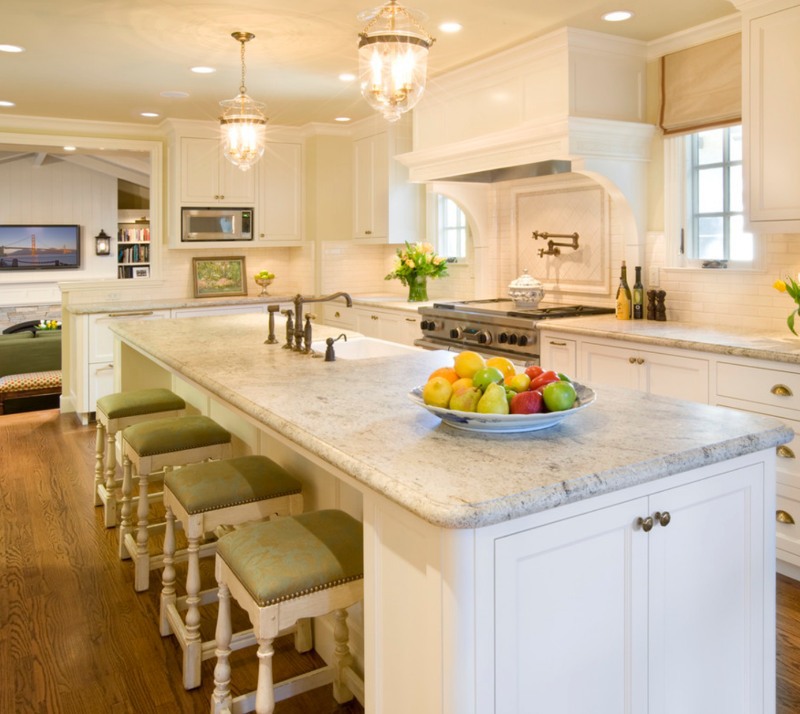 Photo Courtesy of Houzz
The low-key look is excellent for contemporary designs, but it really can go with a wide range of design aesthetics. Yet, you must be extra cautious with honed granite because it demands higher maintenance. Strongly colored food or drinks may discolor or stain the surface, while anything acidic is more likely to etch. However, scratches and the like are less obvious on the matte finish. Things like dust and handprints are also more noticeable and harder to get rid of. Resealing is needed more frequently, ideally every few months, in order to prevent it from absorbing water and easily staining.
Leathered Finish
One of the newer finishes on the rise is the leathered finish. First, a honed finish is created, and then the slab is textured using diamond-tipped brushes that run across it to create small dimples in the stone. This new finishing style provides a sophisticated look and is perfect for darker colors because the natural granite color remains and does not fade from the process. It also does an excellent job at resisting stains and hiding water spots and smears.
Flamed Finish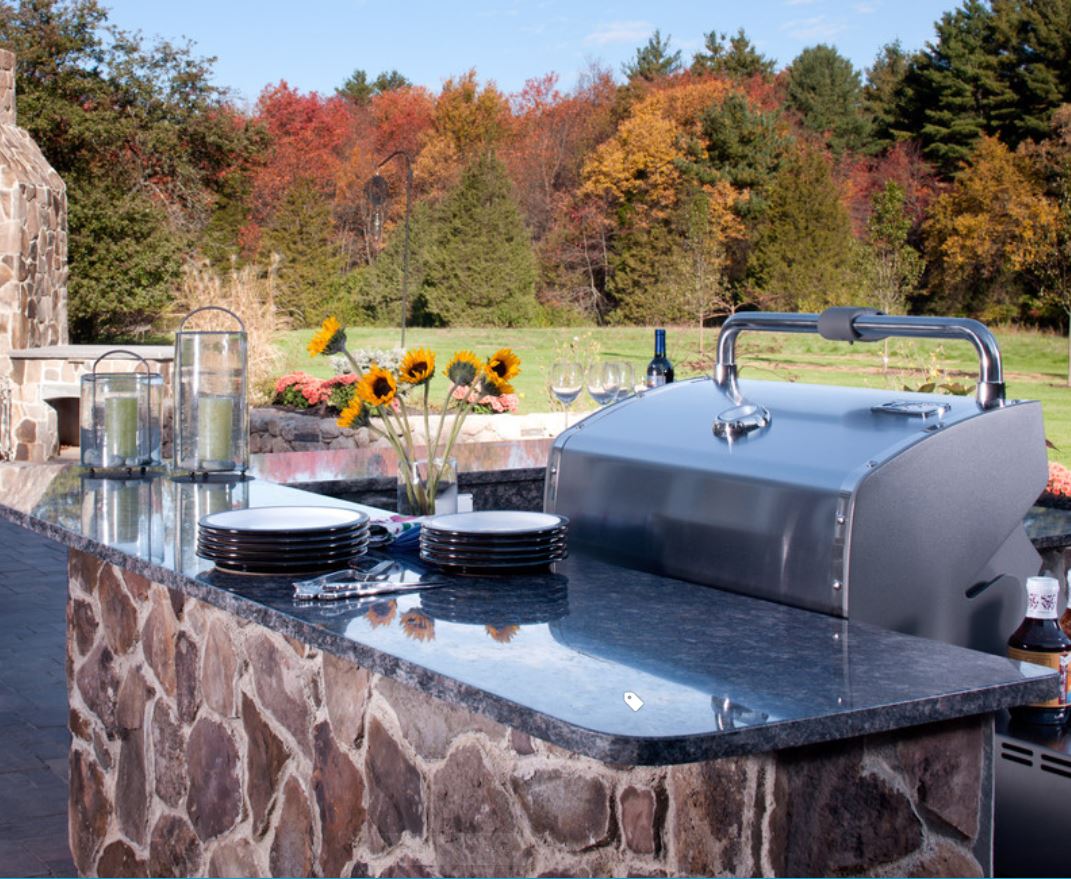 Image Courtesy of Houzz.
Probably the most unique granite finish is the flamed finish since it can only be performed on this specific natural stone. This rough texture and faded appearance is created when intense but controlled heat from a flame is fired at the slab. The process results in the grains of the granite bursting and becoming rough and causes colors to change from the original hue to a more muted look. While the finish can be done for interior applications, it is more popular for outdoor kitchen counters because it does well in areas susceptible to moisture.
General Care for Granite
Granite's strength, low maintenance, and durability are definitely some of its strong suits. However, no matter what type of finish you choose, you still must complete proper care on a continuous basis in order to keep them looking like new.
When it comes to spills, it is always best to clean them up quickly with any type of surface. This is even truer concerning acidic liquids that include common things like alcohol, juices, and vinegar. For daily cleaning, use a soft sponge or cloth with some warm, soapy water and wipe dry with a clean cloth or paper towel. Always avoid using coarse or gritty cleaners since they may dull the finish and cause your counters to be vulnerable to etching and scratches. Also, do not use products with vinegar, bleach, and ammonia as they can cause damage to the surface.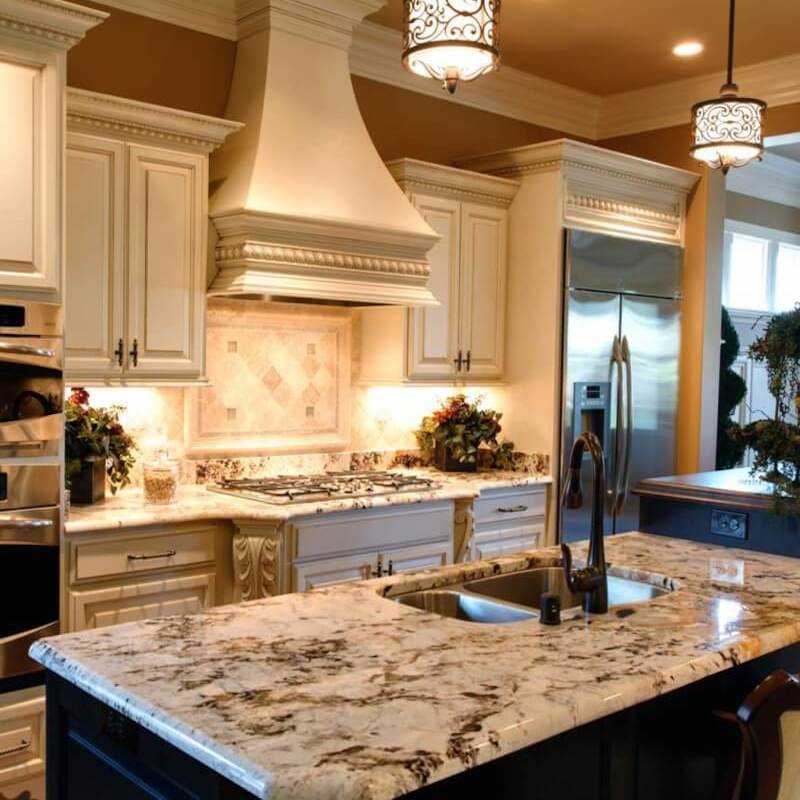 Photo Courtesy of Houzz
While sealing requirements for granite varies, especially considering the type of finish, they typically need resealed every one or two years. However, places around wet areas like a sink or more commonly used surfaces like a kitchen island may require sealing more often. When feeling unsure, it is best to check with your manufacturer to ensure proper care. You can also perform a quick test by placing a wet paper towel on top of your granite for 10 minutes. Once you remove it, inspect the paper towel for any slight discoloration. If you see any stains or splotches, then it means your surface soaked up some of the water and is time to reseal.
Whether you have a large, busy family or like to entertain friends or coworkers, your kitchen and bathroom surfaces see a lot of traffic every single day. Beautiful granite is one of the go-to countertops for remodels, and selecting the right granite finish is just as important as picking a color. But, remember that it is not just for looks as it also affects how well it may stay stain-free and how often you should seal your surface. Utilizing today's technology can assist in your decision-making, and playing with a granite visualizer will help you envision your new countertop. Choose the one that keeps the stone's natural coloring or alters the hue in the way that works with your personal preferences, and you will love your granite for ages!
READ MORE ABOUT GRANITE COUNTERTOPS
Colors Of Granite - Creating Your Own Color Scheme
Comparing Marble And Granite Countertops
Comparing Polished, Honed, And Leathered Granite Countertop Finishes
Does Luxury Vinyl Flooring Go Well with A Granite Countertop?