Tile Backsplash Beauties
May 09, 2016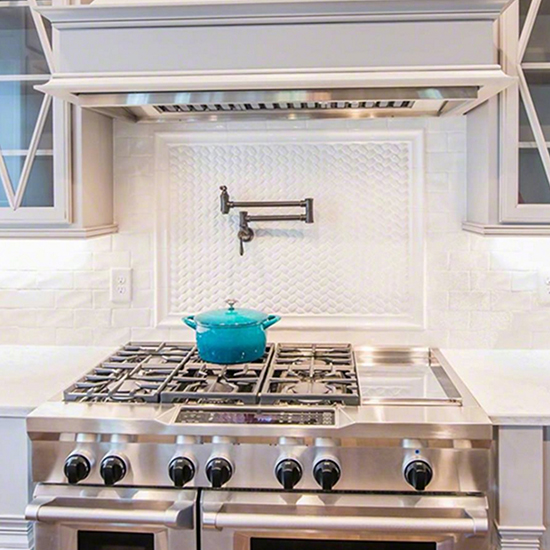 Tile backsplashes were initially designed to protect countertops and walls from spills and spatters. Today, the backsplash is a central design feature in any modern kitchen and should never be an afterthought. Where style and practicality are concerned, modern backsplashes do double-duty. Without skimping on either looks or function, a backsplash does wonders to enhance both the practicality and beauty your kitchen.
With a myriad of materials, colors, and textures to play with, the style options are limitless. To help you envision your dream kitchen, we've rounded up a few of our favorite backsplash designs. From crystallized glass to marble, there's a gorgeous wall tile from MSI that will take your kitchen into the next stratosphere of style.
Arctic Storm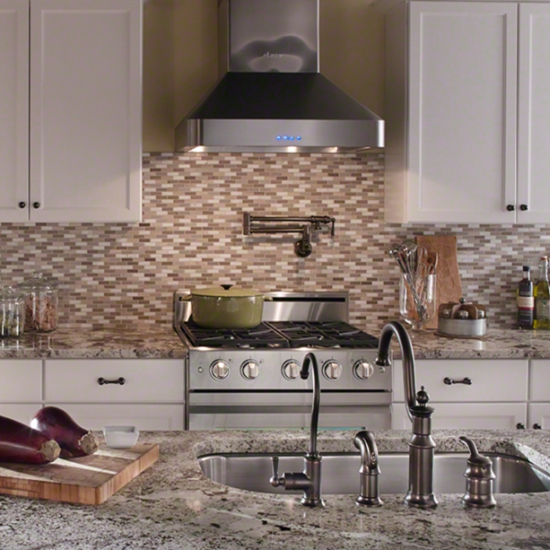 Featured: Arctic Storm
In this bright and sunny kitchen, Arctic Storm Marble Mosaic Hatches take center stage in a deluge of grays, whites, and beiges. The beauty of this design lies in its variation of pattern, texture, and tone. The kitchen pictured features linear backsplash tiles and countertops with a free-flowing feel. The result is an eclectic look that creates intrigue without adding color. If you crave a graphic and elegant backdrop in your kitchen, a hint of Arctic Storm will make you feel right at home. These wall tiles add excitement to a neutral color palette and pair well with other natural-stone products from MSI.
Mystic Cloud Herringbone
Featured: Mystic Cloud Herringbone
Who said backsplashes are reserved for the kitchen only? In this chic, contemporary sitting room, Mystic Cloud Arched Herringbone mosaic tiles create a gorgeous statement. Neutral beiges create a soothing mood, and complement mid-tone browns and light grays. In this design, the marble herringbone pattern delivers the texture needed to break up a neutral color scheme. The delicately curved design of Mystic Cloud Arched Herringbone adds character and draws the eye forward into a room. This honed white oak marble tile is beautiful on floors, countertops, and backsplashes.
Ayres Blend Brick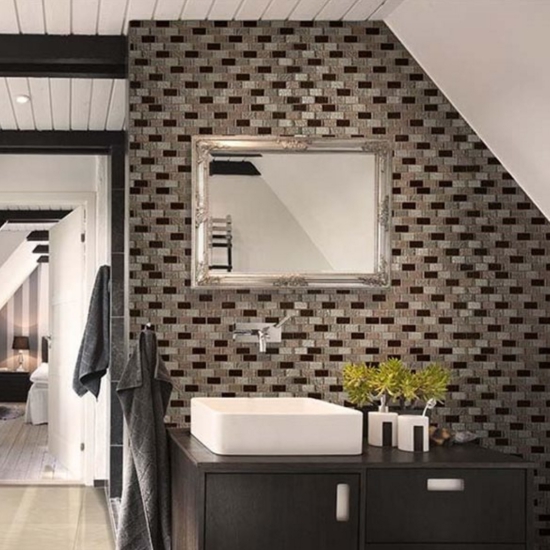 Featured: Ayres Blend Brick
Neutrals are wonderful for small kitchens since they create the appearance of more space. To pull light into your kitchen, add a touch of shimmering crystallized glass. Ayres Blend Crystallized Glass beautifully reflects light and creates an open, airy vibe. These easy-install mesh-backed tiles shimmer in gorgeous grays, beiges, and chocolate browns. If simple sophistication is what you're after, opt for a crystallized glass mosaic in a sparkling neutral palette.
Keystone Blend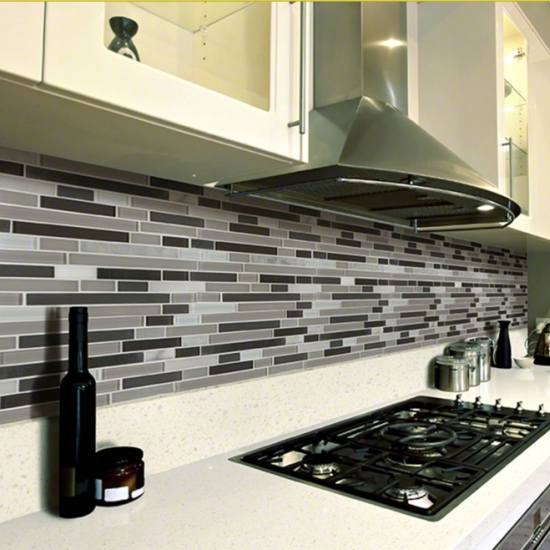 Featured: Keystone Blend Interlocking
You may not think of blue as a neutral, but it can act as one. Just like your favorite blue jeans that pair with almost anything, the right shade of blue looks stunning with a range of accent colors. If you long for a hint of color in your décor, sweep Keystone Blend Interlocking Pattern wall tiles across kitchen backsplashes. Grays, green-blues, and whites combine for a palette that's subdued and soothing. This marble-and-glass tile makes an elegant statement on backsplashes and accent walls alike.
Top kitchen designers know that when it comes to contemporary kitchen designs, it's all about adding dimension in key places. The sleek look of tiled backsplashes is the perfect way to add that wow factor and with MSI's extensive mosaic tile options, creating your unique modern look is easier than ever.
READ MORE ABOUT MSI BACKSPLASH TILE
The Modern Way To Tile Your Kitchen Backsplash
Think Outside The Box With A Metal Tile Backsplash
Tips For Matching Your Backsplash Tile With Your Countertop
Unique Backdrops With Backsplash Tile