How To Create A Modern Outdoor Oasis With Porcelain Tile
July 10, 2018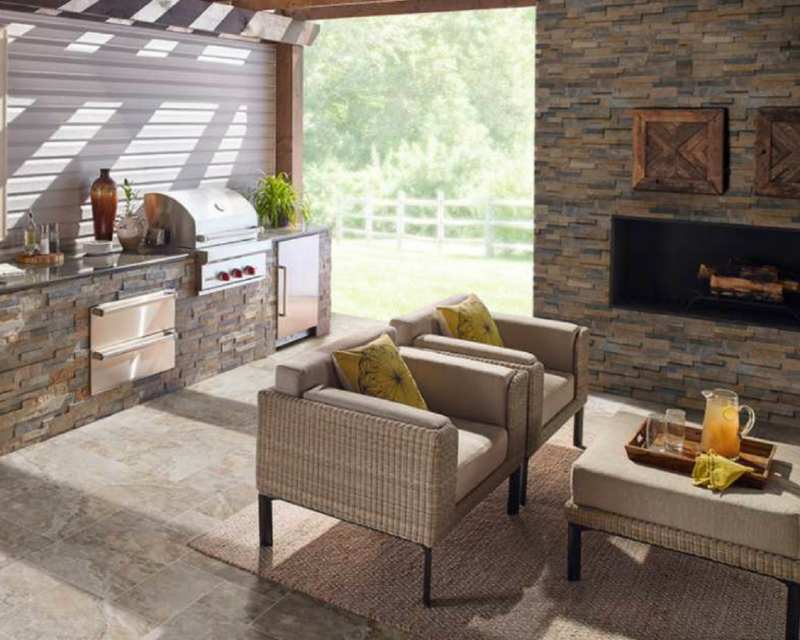 Summer is here — is your patio ready for outdoor entertaining? It's not too late to create a gorgeous, inviting outdoor space for family and guests to make the most of the summer months. With porcelain tile as the foundation, your outdoor oasis will come together like a breeze.
No matter your style of décor, the right paver can make or break a design and your enjoyment of the space. Porcelain tile may not be the first material you think of for your pavers, but there are many reasons why it should be on your list of choices as you consider creative ways to cool down your patio.
Why We Love Pavers:
Durable: Porcelain pavers are resistant to scratching and chipping, so they can handle heavy foot traffic, furniture, spills, and more.
Fire-resistant: Fire features are a great way to add charm to your outdoor living space, and allow you to use them almost year-round. Porcelain pavers used as hardscaping stand up to the heat!
Non-porous: Porcelain tiles do not absorb water, and never need sealing. This means they are resistant stains, and won't crack from freezing and thawing.
Slip-resistant: Porcelain tile pavers are available with a matte glazed finish, so they are ideal for use around pools and water features, or anywhere you're concerned about slippery floors.
Easy to Install: Since porcelain outdoor tile is uniform in size and shape, there are no surprises while installing them and no odd shapes to fit into your spaces.
To inspire you, we've provided a few examples of how porcelain pavers can be used to create the ultimate backyard getaway.
Living Style Beige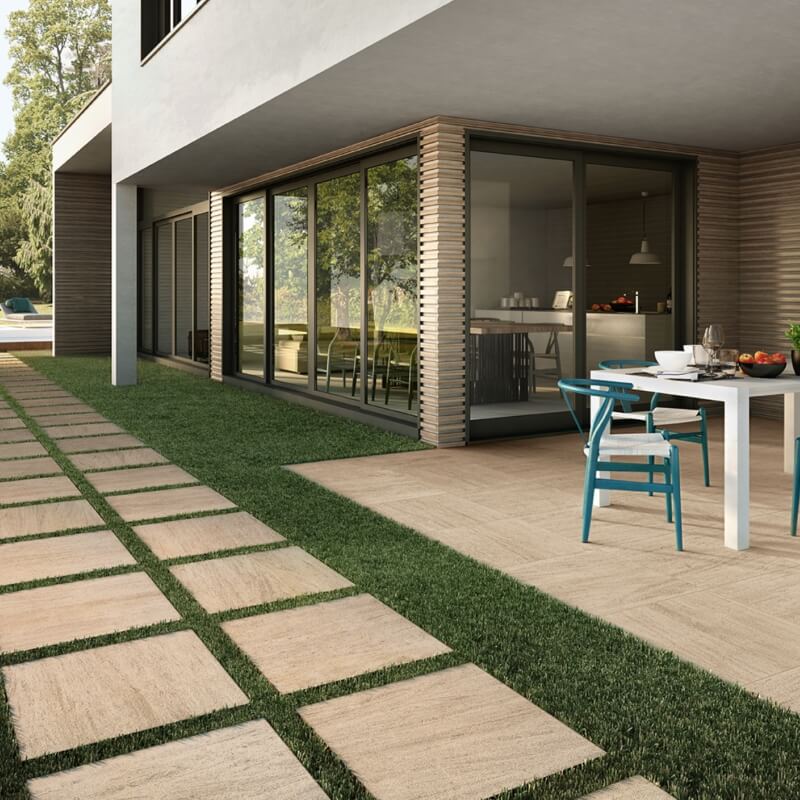 Featured: Living Style Beige Porcelain Pavers
Large scale 24" x 24" pavers such as Living Style Beige are perfectly uniform in size and thickness, so they can be used to create a contemporary-looking walkway, and a tidy patio with perfect 90-degree corners. Their low profile means you can even mow over them without any trouble. The soft beige tones of this tile are reminiscent of natural stone, so there's no compromising character.
Argento Travertino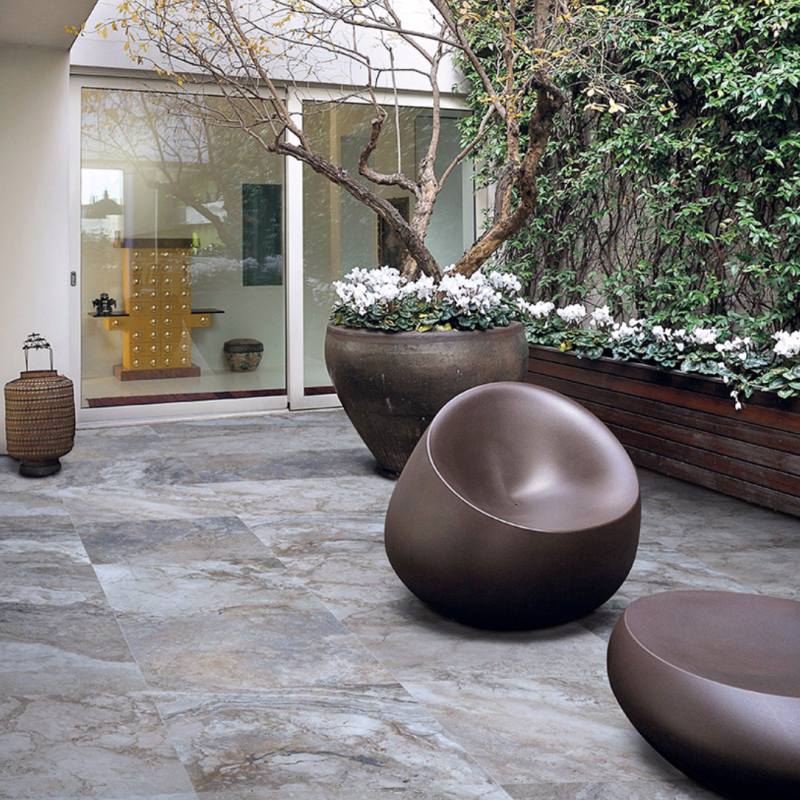 Featured: Argento Travertino Porcelain Pavers
With modern design, there's no need for a cluttered look; minimalism calls for just a few statement pieces to create a complete room. Argento Travertino features a combination of soft taupe, gray, cream, and white with enough bold personality to become the room's focal point.
Optima Gray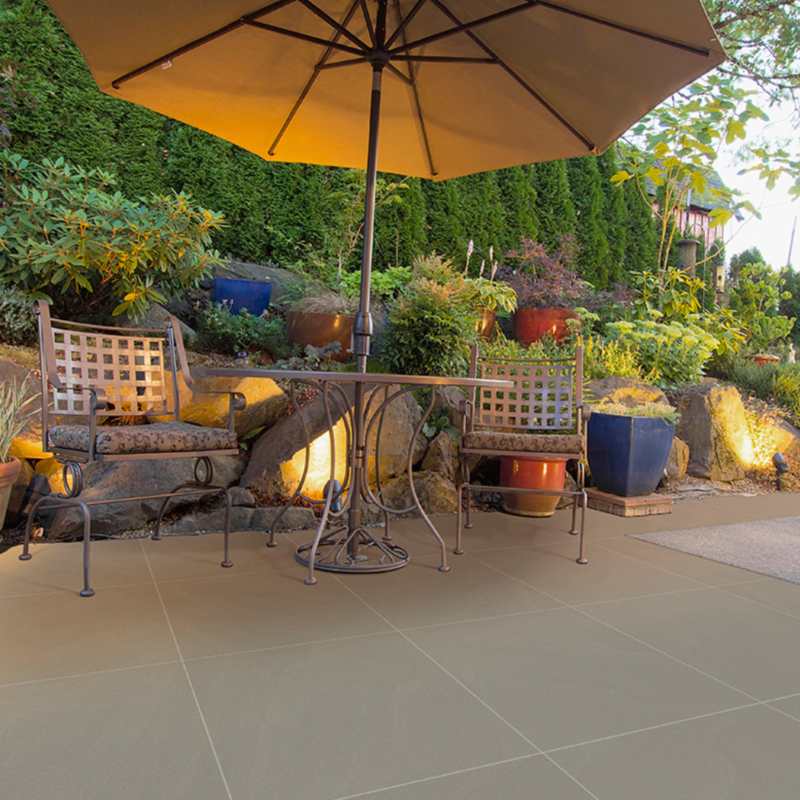 Featured: Optima Gray Porcelain Pavers
Your oasis can be whatever you want it to be. You can create a personal space for just you and your family to escape and relax, enjoy a swimming pool or a meal al fresco. Or, you can make it a party zone — porcelain pavers are tough enough to handle the traffic. Optima Gray is a simple soft gray, solid paver, up for anything.
Beton Gray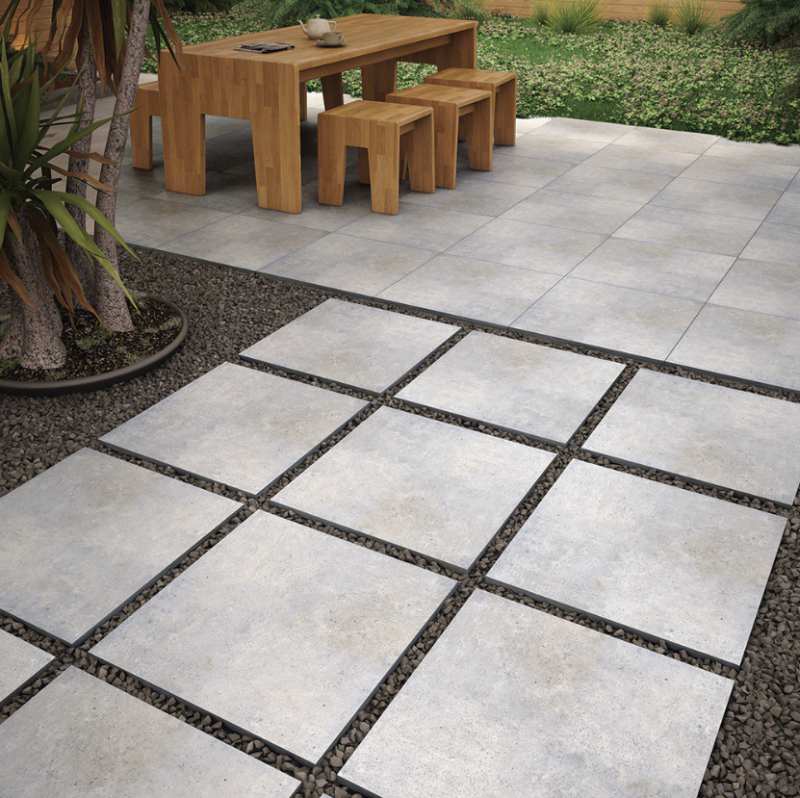 Featured: Beton Gray Porcelain Pavers
A minimal design does not mean boring and plain. All you need is a focal feature such as a water feature, a statement plant, or a clever geometric installation of tile surrounded by contrasting pebbles. Beton Gray is well suited for such a simple application, since it provides a porcelain floor with a subtle eye-catching pattern.
Pedra Azul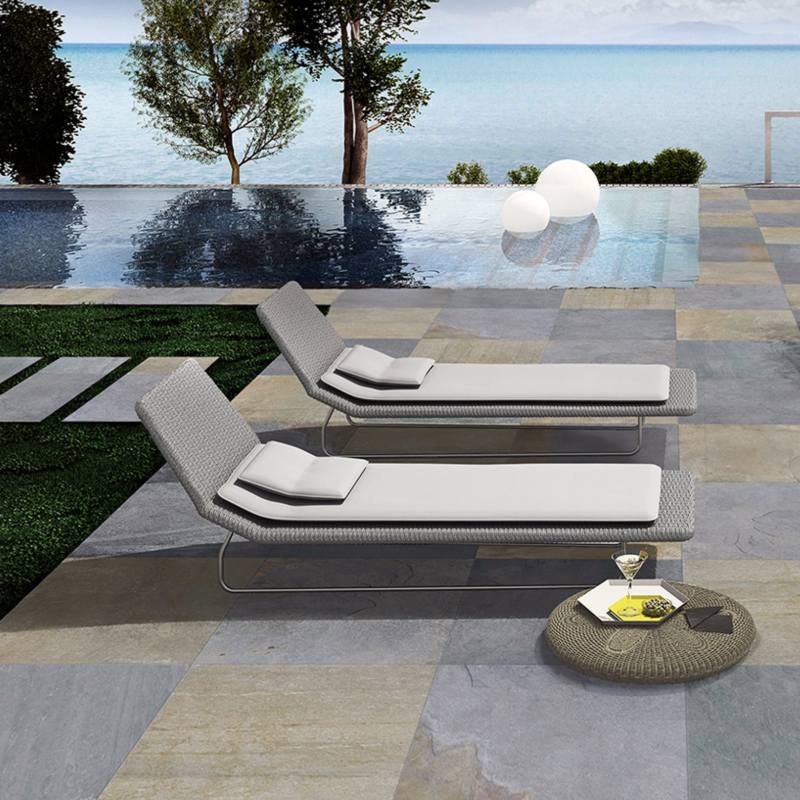 Featured: Pedra Azul Porcelain Pavers
If you love everything about porcelain tile but are still longing for that natural-stone look, Pedra Azul is made with you in mind. With gray and beige-gold tones, and some variety between the tiles, it has all the variations of natural stone. This large-format tile defines the space, so there's no need to install over the entire area.
With MSI's Arterra Porcelain Paver Collection, it's easy to upgrade your outdoor living spaces. If you've been holding off because you thought installing stone pavers would be a long, drawn-out, difficult and expensive project, go for it — porcelain pavers make it easier than ever. Visit our web gallery to see the ones listed here along with many more options.

MORE OUTDOOR LIVING IDEAS
Take It For Granite: Can A Granite Countertop Withstand The Great Outdoors?
Outdoor Oasis: Travertine Or Slate – Which Outdoor Tile Is Your Favorite?
Outdoor Oasis: Will Stacked Stone Add Value To Your Home?
Outdoor Oasis: Will Power Washing Ruin Your Outdoor Stacked Stone?
Outdoor Oasis: Porcelain Pavers That Look Like Real Stone
READ MORE ABOUT OUTDOOR SPACES with PAVERS AND PORCELAIN TILE:
New Oversized Arterra Porcelain Pavers Make Outdoor Spaces Feel Larger Than Life
All About Outdoor Tile: Porcelain, Slate, Travertine, And Quartzite
Can Outdoor Porcelain Tile Withstand the Elements?
Get Ready for Summer with Modern Porcelain Tile