Porcelain Pavers Add Instant Curb Appeal
July 27, 2018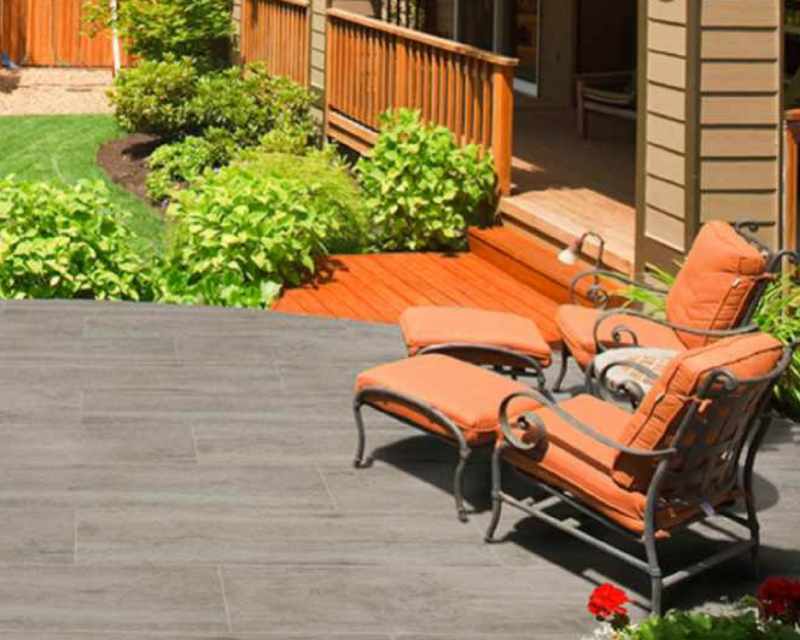 Great curb appeal is one of the most important factors to consider when putting your home on the market. Why? Because a solid first impression can make a potential buyer instantly fall in love with a home, before they've even crossed the threshold!
Alternatively, an unkempt exterior can make prospective buyers run for the hills, even if the home has a stunning interior.
Beyond making a sale, if you plan on staying in your home long-term, who doesn't want to return to a beautiful home each day? Not to mention that you'll want to make a warm welcome for your guests and family as well! There are many reasons to give your home's exterior an attractive update, and while there are many ways to do it, one of the easiest, quickest and least expensive is to add porcelain pavers.
Pavers have long been a popular choice because they give an upscale, custom look, adding distinct style and enhancing a home's drive-up impression. And by choosing man-made porcelain over authentic mined stone, homeowners like you can achieve the look of natural stone at just a fraction of the cost! Here are a few of our favorites that will instantly add curb appeal to any property.
Mystique Multicolor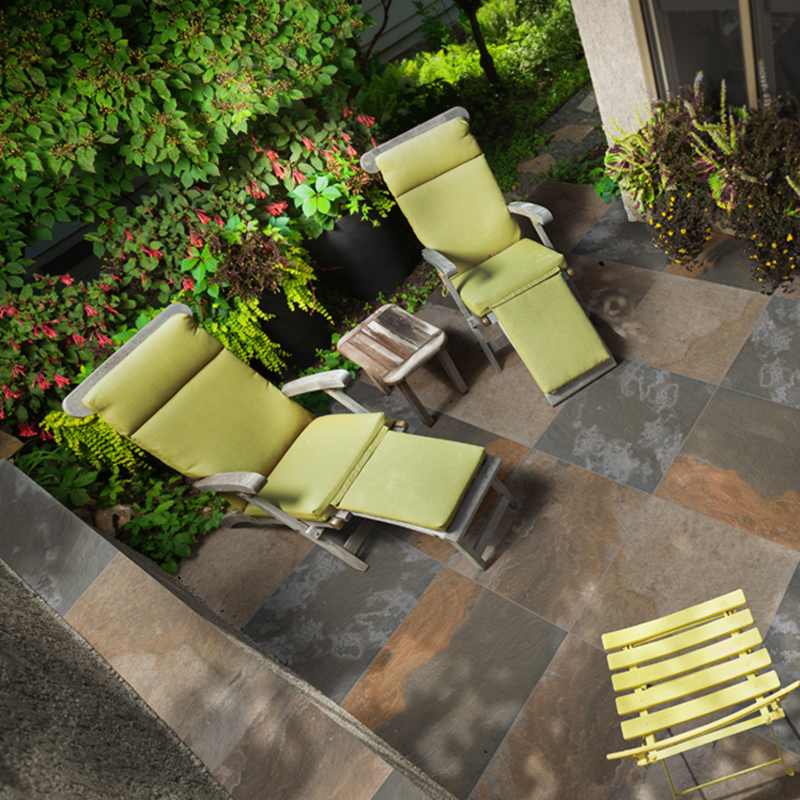 Featured: Mystique Multicolor Porcelain Pavers
Mystique Multicolor is a bold choice with character to spare. It features a blend of warm browns, deep greys, and rich coppers, and looks just like natural slate. Here, the rich hues of the pavers in this private outdoor sanctuary provide a warm backdrop against which the lime green lounges and vibrant foliage pop.
These beautiful porcelain pavers come in the large-format sizes of 13x24 and 24x24. The matte finish tiles are a perfect low-maintenance option that will leave you with less work and more time for lounging outdoors. Plus, with their authentic look and feel, only your pocketbook will know they aren't real stone!
Praia Crema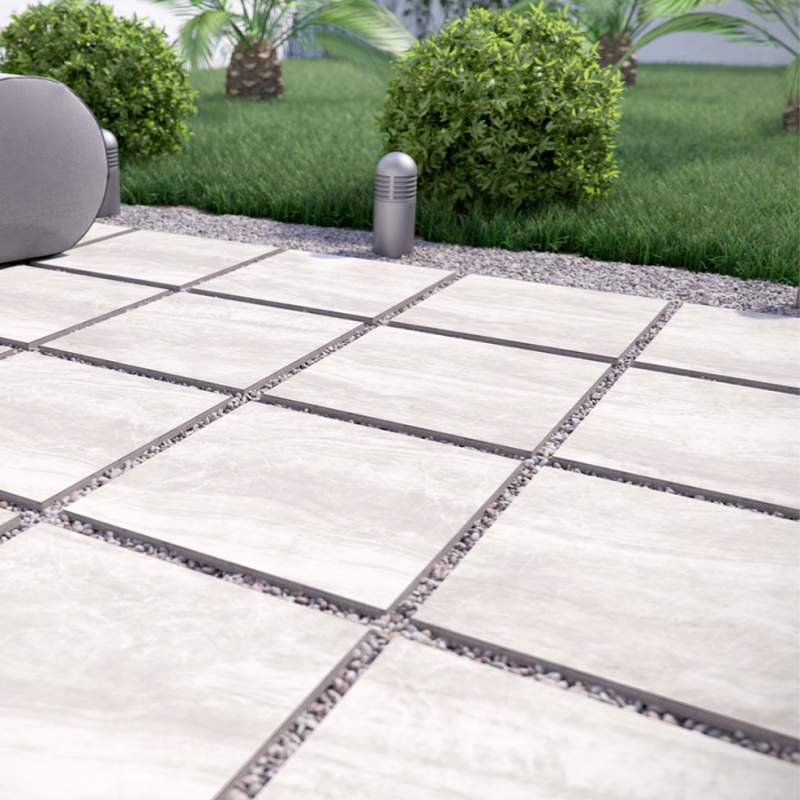 Featured: Praia Crema Porcelain Pavers
Praia Crema pavers provide a soothing and harmonious neutral that complements many design styles. They bring together swirls of soft creamy hues and light grey tones, all in a soft, matte finish.
The monochromatic color scheme of this modern patio creates a calming effect, the geometric angles of the outdoor tile and grey gravel providing a pleasing contrast to the rounded greenery, landscape lighting and furniture. While this homeowner favors a contemporary style, you can use the 13x24 or 24x24 tiles in any style from traditional to modern.
Tierra Ivory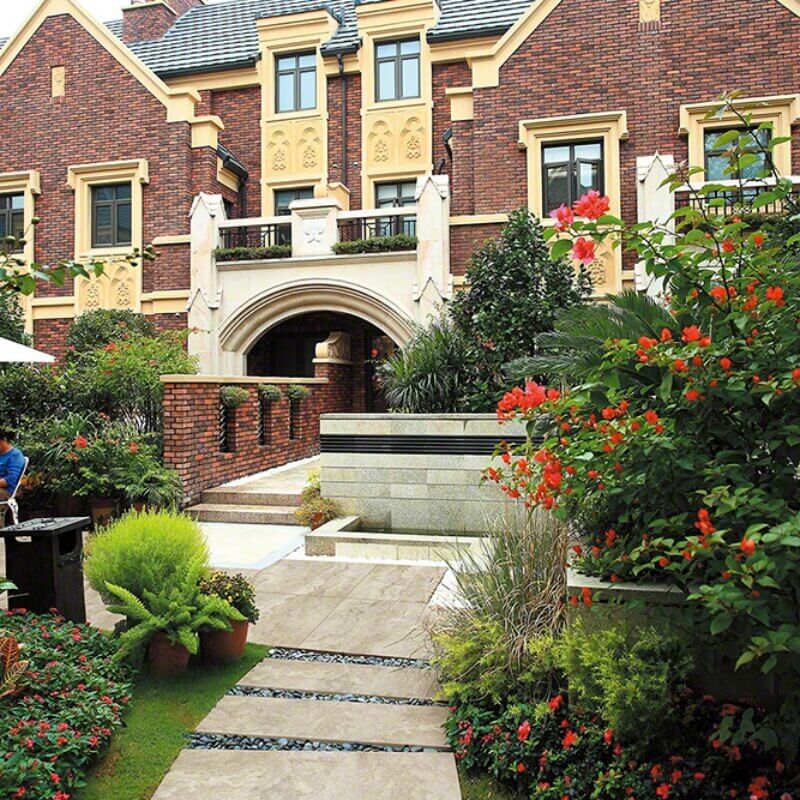 Featured: Tierra Ivory Arterra Pavers
Tierra Ivory pavers create an enchanting entrance that is sure to impress. The porcelain tile convincingly mimics natural travertine, with subtle white and cream hues running across its textured surface.
With the varied size options of 12x24, 13x24, and 24x24, you can craft a custom hardscaping looking to suit the style and scale of your home. For example, this stunning exterior features both rectangular and large square tiles in its design.
A blend of materials comes together seamlessly in this grand entrance. The travertine look of the hardscaping plays off of the cream and yellow trim on the red brick façade, adding to the timeless, elegant look.
Vulkon Grey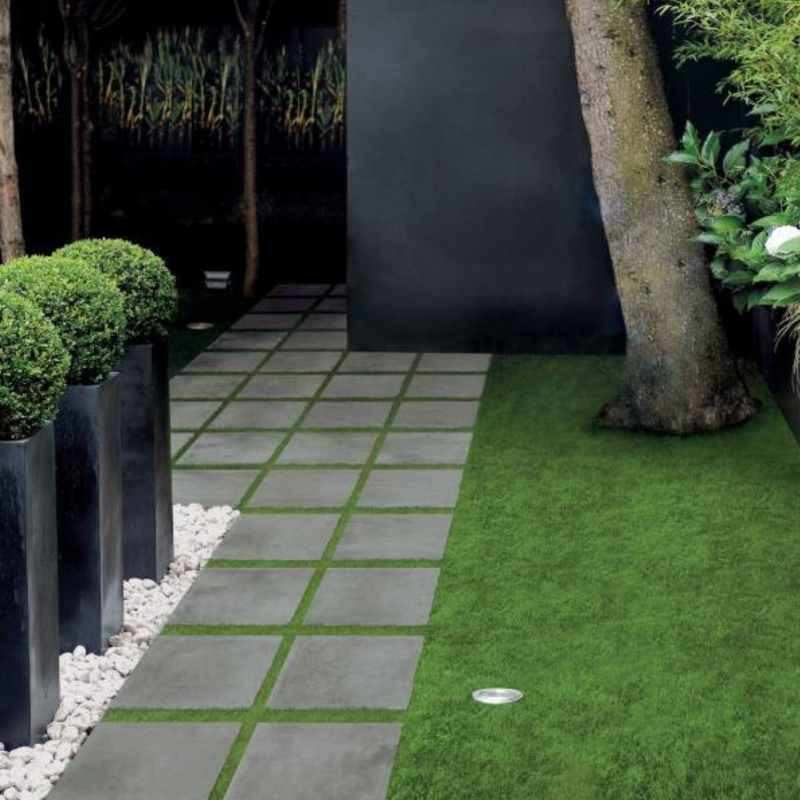 Recreate this look with MSI's Vulkon Grey Arterra Pavers (Photo Credit: Houzz)
Vulkon Grey outdoor tile is perfect for achieving a natural grey slate or concrete look, but without all the maintenance. The medium grey matte finish pavers, which come in 24x24 porcelain tile sections, feature a subtle pattern for depth and authenticity. The dramatic stormy gray hue is on point with today's trends, but is also a timeless choice.
In this sleek design, the square tiles form a gorgeous grid-like pattern when combined with artificial grass, another low-maintenance landscaping material. The minimalistic design of this outdoor tile goes well with the simple yet inviting black, white, grey, and green scheme of this outdoor pathway.
Beton Grey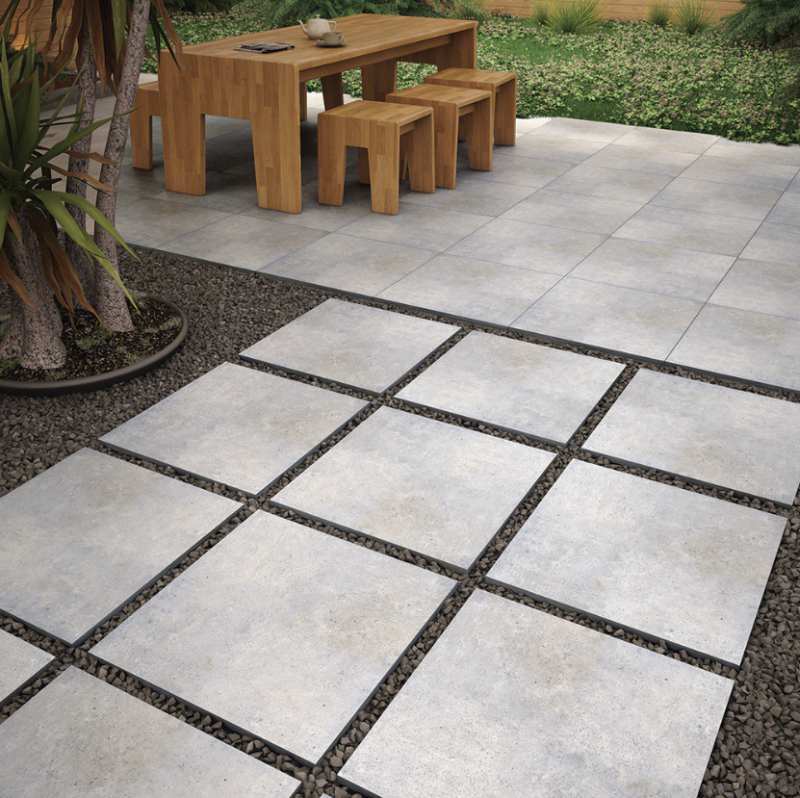 Featured: Beton Grey Arterra Pavers
Beton Grey also provides a timeless aesthetic for your curb appeal. The warm grey, with its tonal clouds, swirls, and specks, comes together to give visual interest to this patio's porcelain floor. The matte-finish tile comes in both 13x24 and 24x24 options, allowing you to customize the look to suit.
These homeowners got creative with their patio area by spacing the pathway tile with darker pebbles, while showcasing the outdoor dining area with a tightly laid paver pattern. The overall effect is clean and inviting.
It really doesn't take much to create a beautiful exterior, and porcelain pavers are one of the easiest, most affordable ways to add curb appeal to your home. MSI offers a wide variety of colors and styles to suit your specific design and architectural needs.
To learn more about these porcelain pavers and other wood tile options, visit your local MSI showroom or check out the full Arterra Collection online.
READ MORE ABOUT OUTDOOR SPACES with PAVERS AND PORCELAIN TILE:
Outdoor Tile Guide - Porcelain, Slate, Travertine and Quartzite
Porcelain Pavers Come in with A Bang
Porcelain Pavers That Look Like Real Stone
You Won't Believe These Inkjet Porcelain Tiles Aren't Real Stone