Current Obsessions: What Is It About Quartz Countertops That Has People Talking?
August 14, 2018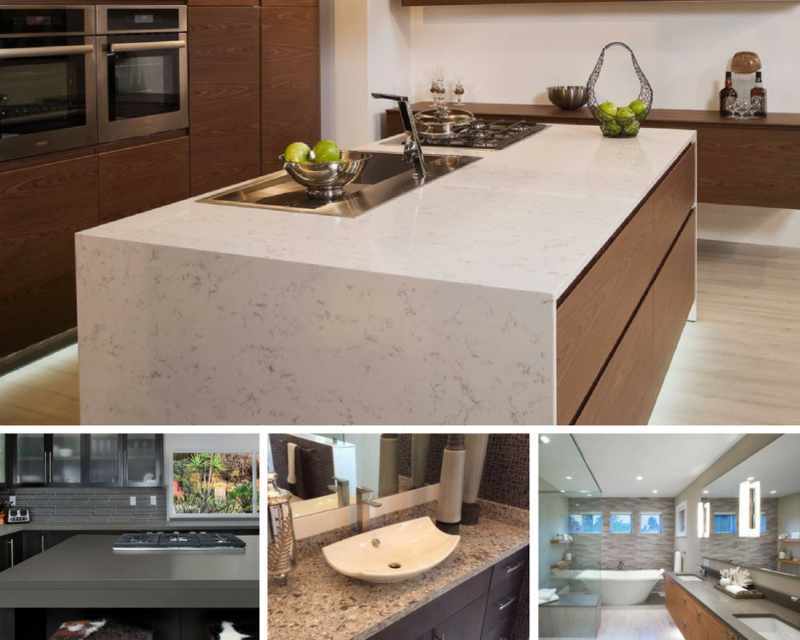 After years playing second fiddle to granite, quartz is lunging forward, capturing the eye of designers and homeowners alike. Made of 90 percent ground natural quartz and 10 percent pigments, resins, and polymers, quartz countertops are engineered for a lifetime. Crafted to not require sealing like granite or marble, quartz is the ultimate in easy-care surfaces for kitchens and bathrooms.
And let's be honest; there is a part of us that is always looking for how to always have a clean kitchen even on the busiest of days. A carefree quartz countertop that requires just a wipe down after meal prep, a dinner party or the creation of an award-winning science project, is just a good idea. In the last decade, quartz countertops are surging in demand as the colors and patterns have evolved making them some of the most beautiful countertop surfaces available on the market.
Let's take a look at some of the top reasons people love their quartz countertops.
1. Quartz countertops can mimic the look of natural stone while maintaining a modern look. Marble has long been prized as one of the most luxurious stones for countertops, but it isn't for everyone. Marble requires regular maintenance, careful cleaning, and the wiping up of spills quickly. However, marble look quartz, like Calacatta Classique gives the look of marble, in a durable and no sealing is required. Feel free to spill, do art projects, homework, and entertain with abandon on this expansive kitchen island.
2. Modern families appreciate the ease of care. At home, we just need to be able to spill without fear. Kitchens are made for entertaining, great late-night conversations, and early morning breakfasts. With work, school, activities, and travel, the last thing busy families want is to have to dedicate extra time to cleaning and preserving countertops in their kitchen or bathrooms. White quartz countertops like our Fairy White are elegant and sophisticated and lend a contemporary air to any design.
3. Quartz countertops have a modern, yet timeless appeal. Countertops are an investment in your home, and you want them to stay in style for decades to come. Solid colors like our gorgeous Manhattan Gray provide a fresh look for sophisticated kitchen designs. In the years to come, updating this kitchen can be as easy as swapping out the backsplash tile, hardware, and fixtures to something more traditional and this quartz countertop will remain timeless and beautiful.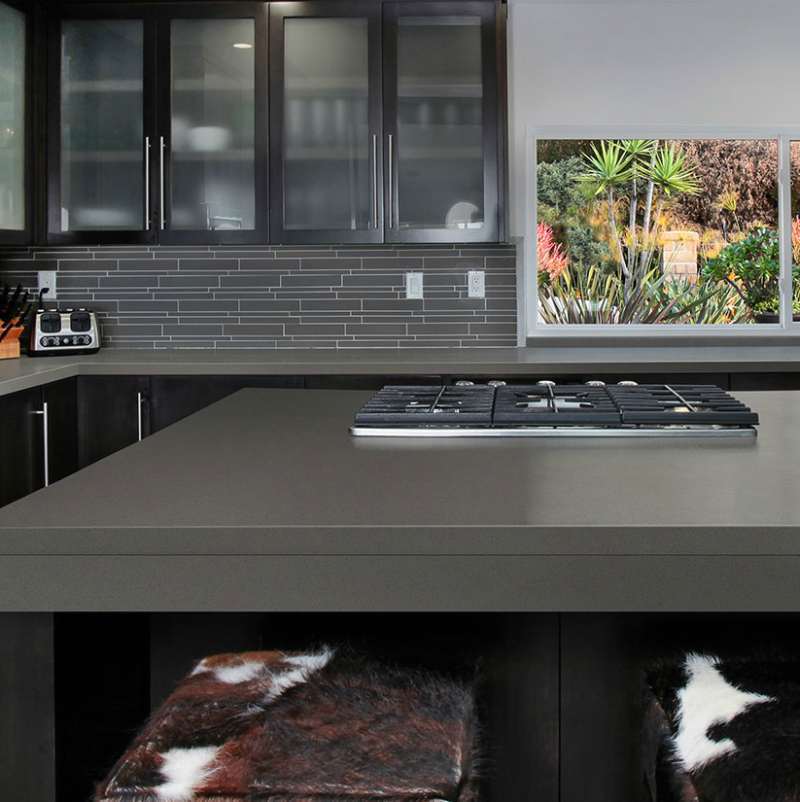 Featured: Manhattan Gray Quartz
4. Quartz comes in unnatural colors. There is much talk about marble look quartz and granite look quartz countertops, but sometimes, the overall design of a kitchen or bathroom calls for something more sleek and clean. Our Concerto quartz countertops are reminiscent of concrete but feature subtle hints of speckles in tone-on-tone shades. The result is a modern and lustrous surface.
5. Takes the worry away. Quartz countertops are stain-resistant and chip resistant, making them the perfect choice for high-traffic kitchens and bathrooms. Bathroom countertops take a ton of abuse; beauty products, cleansers, and the like can take a toll on natural stone surfaces. Sandy Cove, one our beautiful neutral-hued quartz adds a touch of texture and color to enliven any space.
Don't let all of the benefits of quartz countertops scare you away from choosing it because of the price. A quartz countertop cost is comparable to mid-priced granite countertops, and remember, it will never need sealing. Quartz countertops never need to come in second place to any countertop material; it is durable, beautiful, easy to clean, and never requires sealing. It is a great surface for active homes that want to spend more time entertaining and enjoying life than worrying about spills and stains.
More on Quartz Countertops
Common Misconceptions About Quartz Countertops
Here's Why Quartz Countertops Are the Best Choice to Busy Families
10 Reasons Why We Love Quartz Countertops
Have You Considered Quartz Countertops for Your Kitchen Remodel
Monochromatic Quartz Colors are the Perfect Canvas for Kitchen Creativity