Popular
Fall In Love, Brick By Brick
September 23, 2015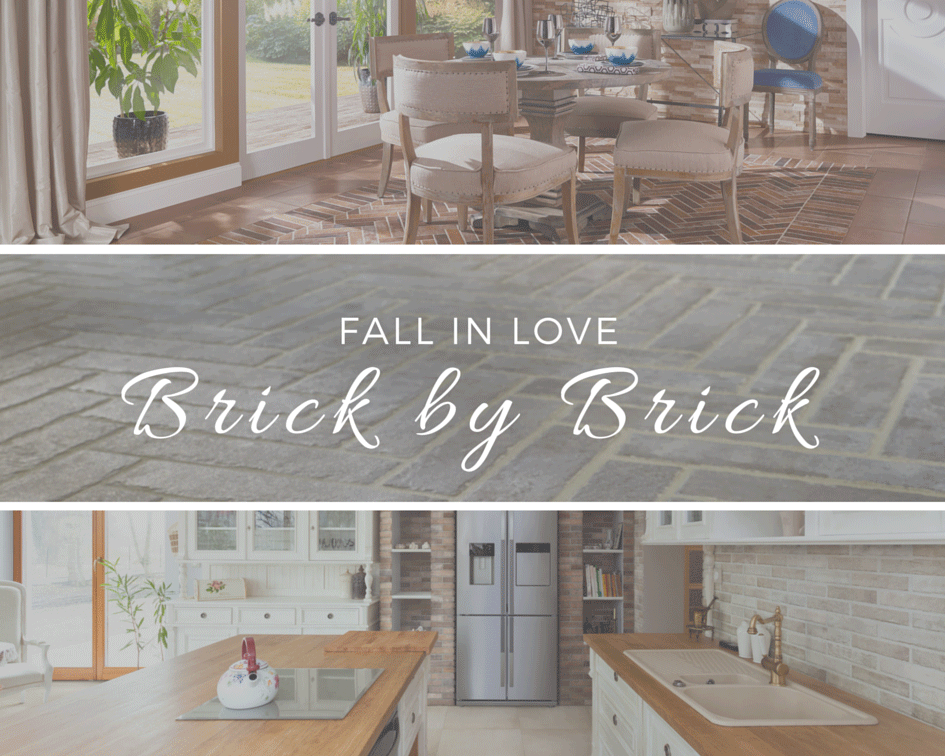 Have you ever been inspired by brick walls or flooring in an urban loft in New York, a funky bar, or a grand atrium? During a home remodeling television show, do you wait anxiously for the reveal of a hidden brick wall? You're not alone! Bricks add instant warmth, create a nostalgic texture, and bring a refined rustic charm to any room. Yet, many homeowners are hesitant to install bricks inside the home – particularly in the kitchen – due to installation challenges, weight and maintenance. But there's no need to fear! Brick-look tile is the perfect solution offering the authentic look and style of real bricks in effortless and durable porcelain. Brand new Capella Bricks from MSI can help you achieve a dreamy brick style with three incredible colors – classic Capella Red, soft white-washed Capella Ivory, and warm Capella Taupe.

Capella Red Capella Ivory Capella Taupe
Mix, Match, and Create
Backsplashes, floors, accent walls, fireplace surrounds, and virtually every other area of your home come alive with one of today's hottest trends: brick-look tiles. Available in a highly sought after 2x10 size, these new tiles add the charm of brick with a contemporary flair and were designed to mix and match with other tile looks in the collection – terracotta-inspired and wood grain tiles. Use together or separately to create incredible backsplashes, countertops, flooring, and shower surrounds. Perfect for whole house installations, the line is especially designed to coordinate between the Cotto, Wood Planks, and Bricks, transitioning seamlessly from one room to the next – a dream solution for homeowners craving the look of a professionally designed home. For example, in the scene below, Old World terracotta-inspired Clay Cotto partners perfectly with classic Red Brick in this stunning dining room.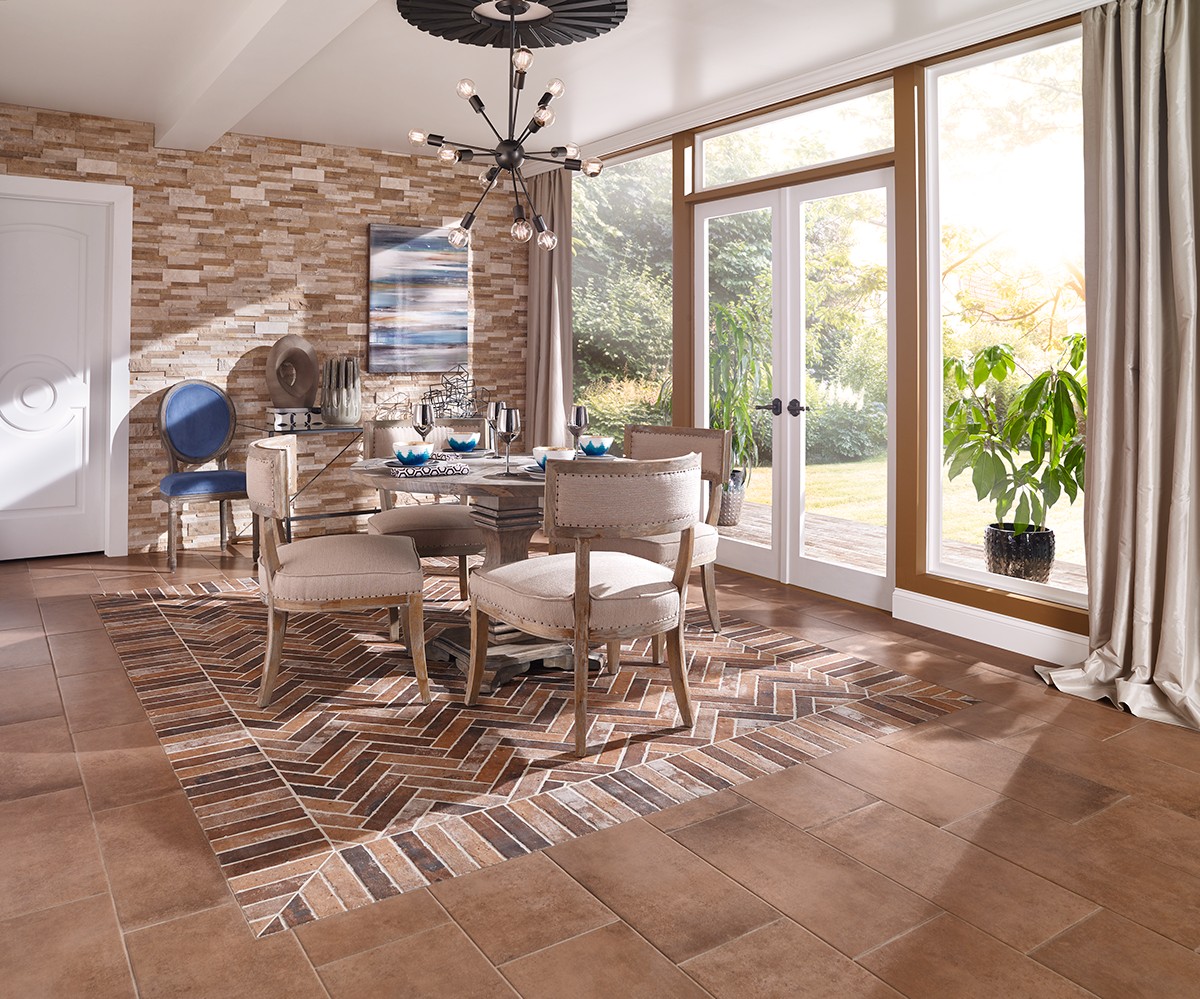 Featured: Capella Red Brick Inset & Capella Clay Floor
Recreate the storied feel of an old loft with a Red Brick wall – or a French or Italian farmhouse with Ivory and Taupe Brick. These new brick looks complement a variety of other surfaces including traditional hardwood, porcelain, granite, and marble and can be used to design a kitchen, living and dining room, bathroom, or entry that is uniquely yours.
For added visual interest and design, try using two different colors of brick-look tiles together. While this may seem counterintuitive, because these tiles are designed with the same qualities, in the same sizes, they can balance an entire room. For the other hard surfaces, select colors and textures that complement each of the brick-look tiles chosen, to weave these beautiful accents into a cohesive design. In this beautiful kitchen, colors and textures are repeated, with just a twist. Light creamy tiles are placed on the floor, echoing the soft hues in the Ivory Brick backsplash. The natural hardwood countertops bring out the rich, warm tones in the Red Brick accent wall. The combination makes this kitchen warm, inviting, and visually interesting.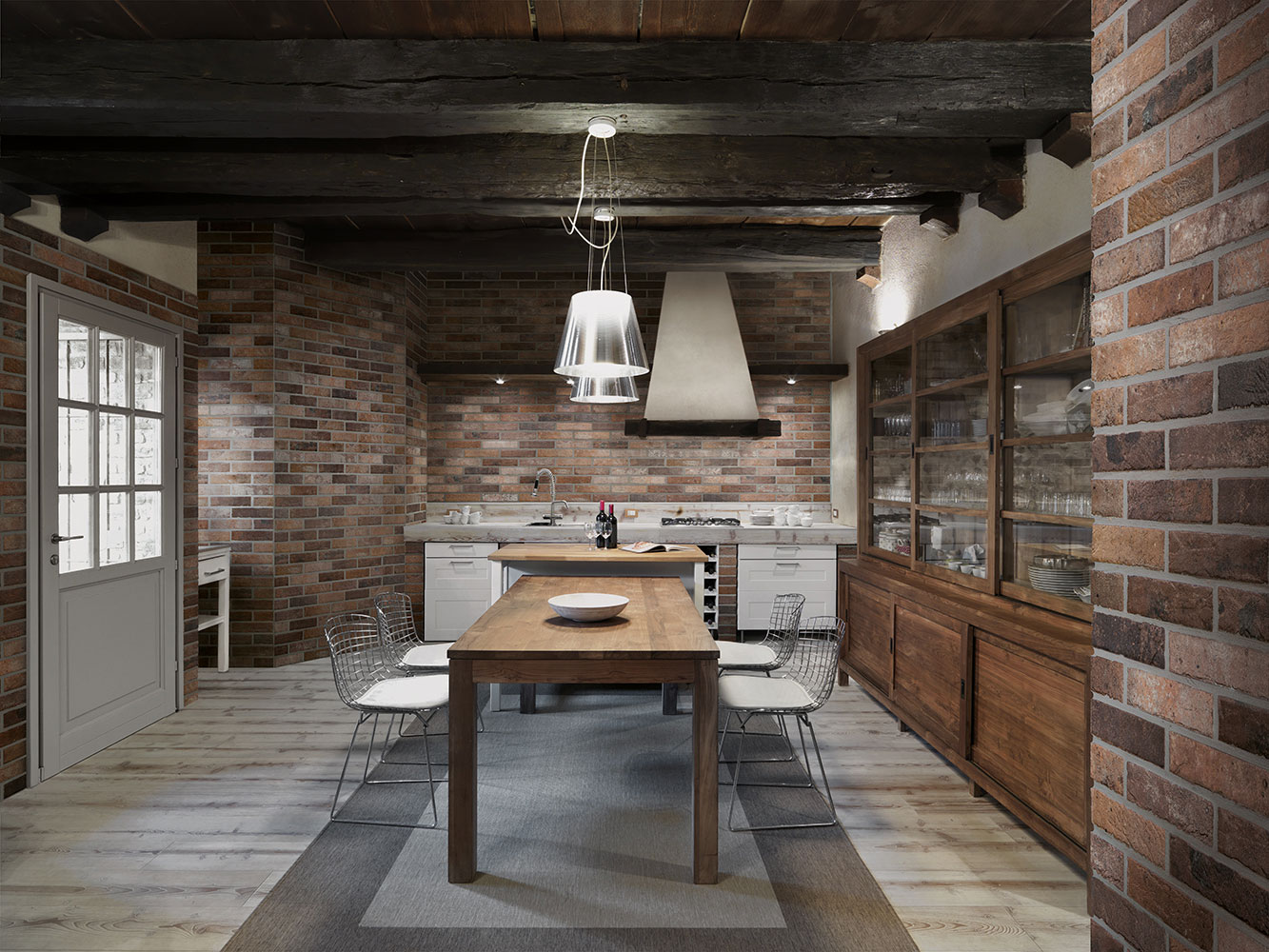 Featured: Capella Ivory Backsplash & Capella Red Brick Accent Wall
Mudroom Spruce Up, Anything But Ordinary
Mudrooms and laundry rooms don't have to be dreary or dull. Great for busy families, and especially families with pets, mudrooms should be outfitted with surfaces that are durable, easy to clean, and virtually maintenance-free. Celebrate the use and utility of this space by updating it for function and beauty. Move your laundry out of the dark dingy basement and into a space with abundant natural light and that's more accessible to the busy center of your home. When designing with a modern aesthetic in mind, adding in classic elements — like a brick floor — makes the home more interesting and appealing. Above all, mudrooms and laundry rooms must be functional, easy-to-clean, and require little maintenance. The perfect solution? Capella Brick on the floor. Install in creative patterns like chevron and herringbone to turn an ordinary space into an extraordinary one.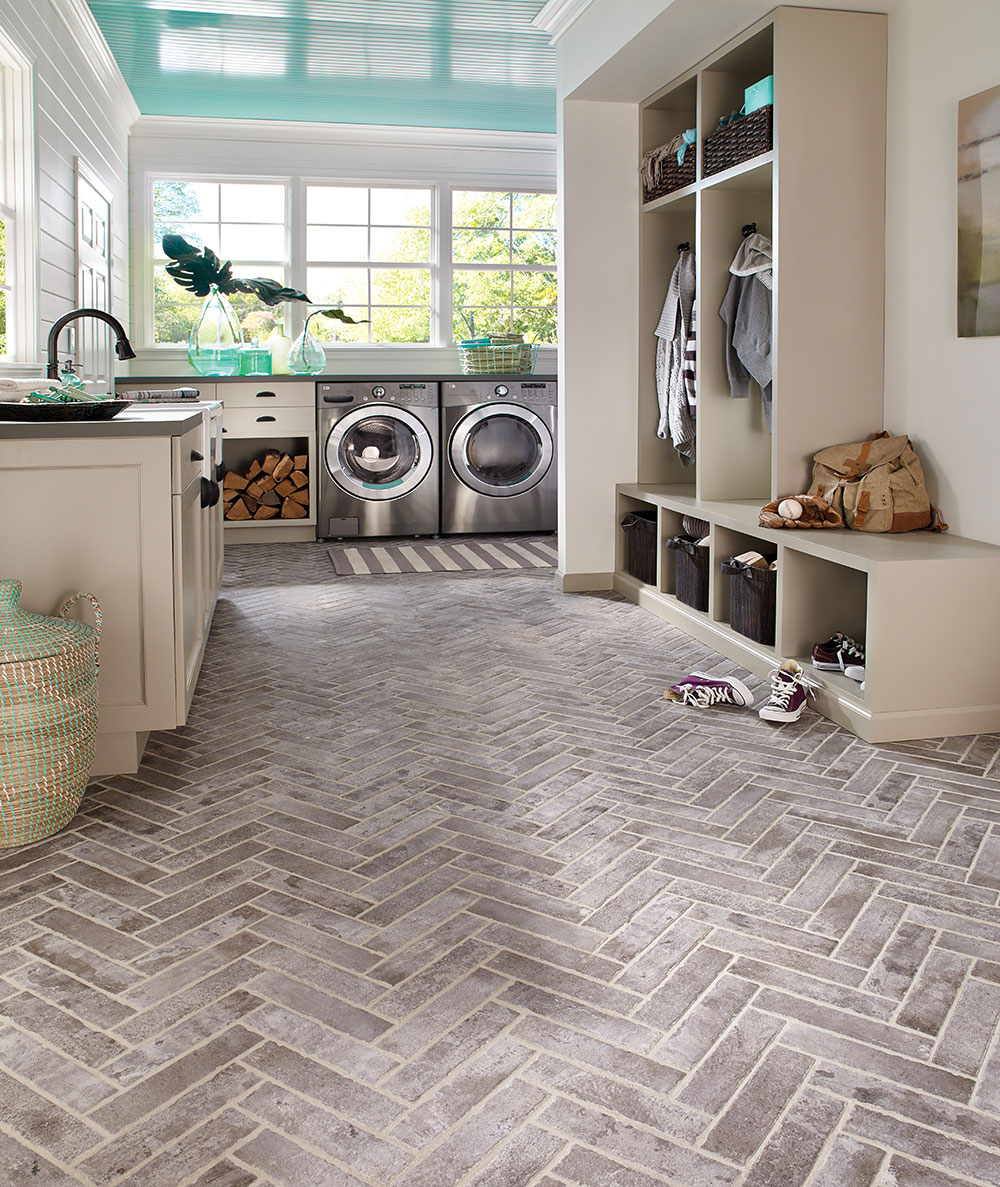 Featured: Capella Taupe Brick Floor in Herringbone Pattern
Neutral Tones, Comfortable and Cozy
Looking for inspiration that sets the foundation for a warm, inviting and cozy home? Look no further. Taupe Brick has subtle undercurrents of many different earthy neutral tones. Select wall colors, furniture and accent pieces that bring out these undertones to produce a cohesive and elegant environment that makes you want to dive into an evening conversation with loved ones or curl up with a great book. When used as an accent wall, the charm of brick tiles grounds the room and creates a charming and relaxing area.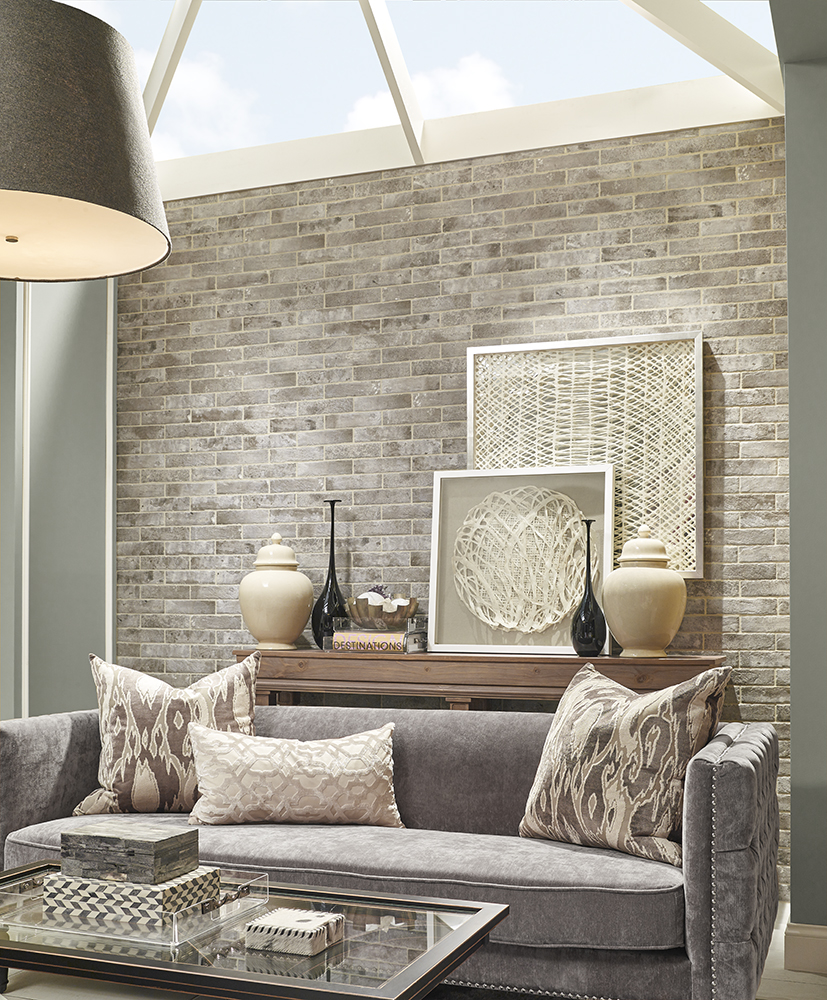 Featured: Capella Taupe BrickAccent Wall
The Look of Brick – Without the Maintenance
While traditional bricks are beautiful, they do require significant maintenance and special cleaning. MSI's Capella Bricks bring you the classic rustic nature of Old World bricks with the easy cleaning and care of porcelain tile. These brick tiles can be used practically anywhere, including high-moisture areas like bathrooms and mud rooms— they make great backsplashes in even the busiest of kitchens. A simple wipe down or damp mopping is all that's needed to remain handsome for decades to come.
Browse the entire Capella Collection and be inspired to mix and match the Bricks, Wood Planks, and Cotto tiles. Pair rich brown Java Wood Planks with Red Brick for an old-style look or Ivory Brick with Sand Cotto for a traditional feel, or even Taupe Brick with Talc Cotto or Silt Cotto for a lighter and more contemporary feel. Let your imagination run wild!