New Oversized Arterra Porcelain Pavers Make Outdoor Spaces Feel Larger Than Life
March 18, 2021

With the warmer months coming around, you're probably counting down the days until you can sit out on your back patio with friends and family. If your outdoor space needs some sprucing up, installing porcelain pavers is an easy way to completely transform the space. You'll get the look of natural stone that you love but at a much affordable price point! You're going to be amazed by your backyard transformation simply from the oversized porcelain pavers.
If you're considering porcelain as an affordable alternative to natural stone, the Arterra Pavers collection is one you don't want to miss. These versatile tiles can seamlessly blend into any existing space and make it feel like your outdoor oasis to escape to. We've put together a guide to help you understand the benefits of oversized Arterra porcelain pavers so you can begin envisioning them in your home's outdoor space.
The Benefits of Jumbo Arterra Porcelain Pavers
When determining if porcelain pavers are the ideal choice for your outdoor space, it's important to consider the pros and cons. Here are X benefits you'll experience when opting for jumbo porcelain pavers.
Affordable
If you're planning a home improvement project, you understand how quickly costs begin adding up. Many people love the look of natural stone but don't like the high price tag that comes along with it. As a high-quality alternative, many homeowners opt for a more affordable option like porcelain pavers that are designed to mimic natural stone. With porcelain outdoor patio tile you'll be able to get the look and feel you desire without going over your set budget.
Versatile
Because porcelain pavers are created with clay, they are available in a variety of colors, designs, and sizes. This makes it easy for you to customize the look of your backyard exactly to your liking. Along with the versatility of the pavers, you can customize the installation design to create a truly one-of-a-kind outdoor space. Our new oversized porcelain pavers are available in a range of sizes:
True Bluestone – 12x24, 24x24, 24x36, and 24x48
Concerto Grigio – 24x24 and 18x36
Tierra Ivory – 12x12, 12x24, and 24x24
The wide range of sizes makes it possible for you to create an array of patterns and installation designs.
Durable
Due to its location outside, you need a paver option that is extremely durable and able to withstand foot traffic, weather, and heavy impact. Porcelain is an extremely tough material that is suited perfectly for high-traffic areas and outdoor use. Made from clay and kiln-fired to temperatures of 1,200 to 1,400 degrees, porcelain pavers are made to resist weather and anything you throw their way.
Water and Stain Resistant
With Mother Nature constantly knocking on your door, you'll be glad to know your porcelain pavers perform optimally when exposed to moisture. Due to being less porous and denser than competing paver types, their composition makes them extremely water-resistant. If you live in an area with heavy rainfall or snow or are looking for a pool tile option, then porcelain pavers are it. Similarly, their non-porous composition prevents stains from forming on the surface allowing them to retain their appearance.
Easy Maintenance
No one wants to install pavers only to have to reseal them or scrub them constantly. You need an outdoor paver option that will retain its beauty for years to come. Because of their non-porous nature, porcelain pavers won't require you to reseal their surface to keep up their water-resistance. Being outside, there is a chance your porcelain pavers are exposed to debris, liquids, and oils that easily stain an absorbent material — but you can have peace of mind knowing there's minimal maintenance required!
View the video below to learn more about the benefits of the Arterra porcelain pavers to determine if they're the best option for you:
MSI's New Oversized Arterra Porcelain Pavers
If you're in the market for jumbo porcelain pavers to complete your outdoor space transformation, you'll be excited to see MSI's latest Arterra Porcelain Pavers. Have a particular paver style in mind? Use our image search tool to find paver by picture — helping you get the outdoor space of your dreams.
True Bluestone Porcelain Pavers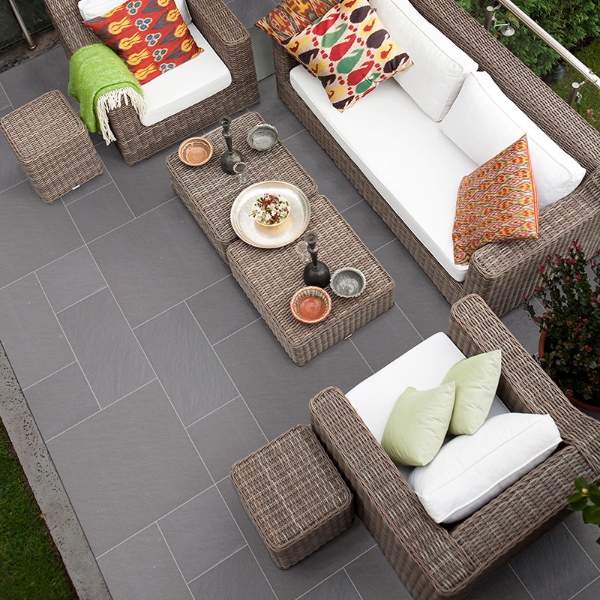 Looking to transform your outdoor space into a place where you can escape for the evening? Oversized True Bluestone Porcelain Pavers come in a remarkable shade of blue-gray that is perfect for both indoor and outdoor applications. Whether you want to add understated elegance to your backyard or your bathroom, laundry room, or entryway, these porcelain pavers are sure to make a statement. Available in three sizes, 24"x24", 24"x48", and jumbo, allow you to mix and match to create a unique and one-of-a-kind pattern. There's nothing quite like the beauty of True Bluestone Porcelain Pavers, you'll be happy with your selection for years to come.
Tierra Ivory Arterra Porcelain Pavers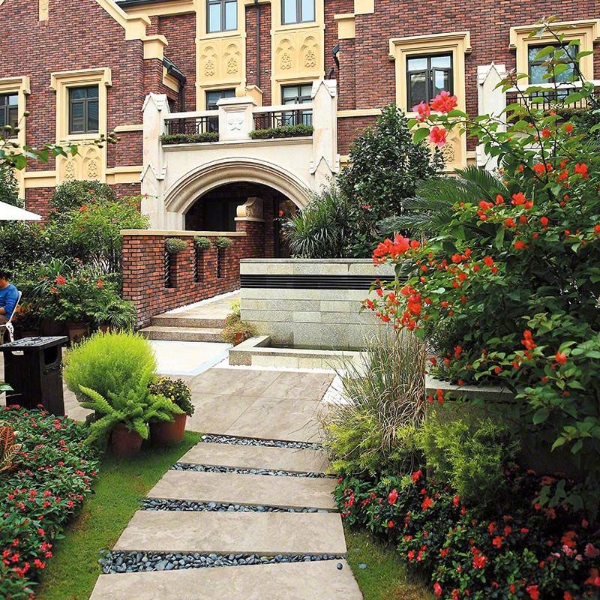 Are you planning your next hardscaping project? If you're in the market for an elegant paver that seamlessly blends into any space, look no further than Tierra Ivory Arterra Porcelain Pavers. Blending together subtle shades of white and cream hues, this remarkable appearance will leave your guests with their jaws dropped. Because of its luxurious appearance, it's the perfect option for a continuous floor from indoors to outdoors — opening up your space and making it appear larger than it actually is! These porcelain paver tiles are sure to elevate your home's aesthetic.
Concerto Grigio Arterra Pavers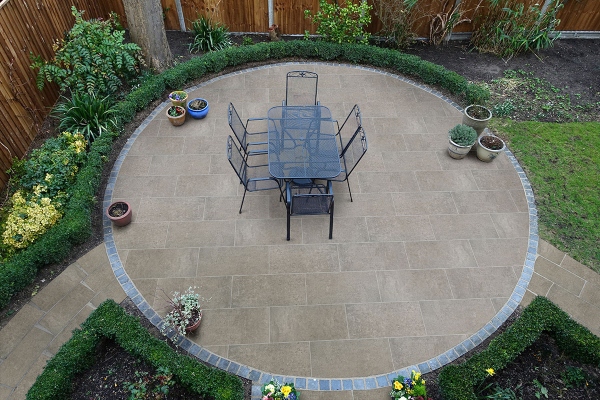 Another great option for blending an indoor and outdoor space is our Concerto Grigio Arterra Pavers. Providing a modern concrete-look to your backyard, you'll easily create the natural stone look you love. Offered in two sizes, 24x24" and 18x36", you can use these beautiful porcelain tiles to achieve ultimate design versatility. With subtle hints of grey hues with a weathered appearance, these pavers are ideal for outdoor use and will retain their high-end appearance due to their durability. With minimal maintenance required, Concerto Grigio Arterra Pavers are sure to be a crowd-pleaser.
Whether you're looking to create a seamless transition from your indoor living space to your outdoor living space or you want to elevate your backyard, MSI's new oversized Arterra porcelain pavers are the ideal solution. With a variety of sizes and color palettes, there's something for every décor aesthetic. For backyard design inspiration, head to MSI's Outdoor Inspiration Gallery to start planning your next project.
READ MORE ABOUT OUTDOOR SPACES with PAVERS AND PORCELAIN TILE:
All About Outdoor Tile: Porcelain, Slate, Travertine, And Quartzite
Can Outdoor Porcelain Tile Withstand the Elements?
Get Ready for Summer with Modern Porcelain Tile