Create A Welcoming Kitchen With Warm Quartz Countertop Colors
March 01, 2022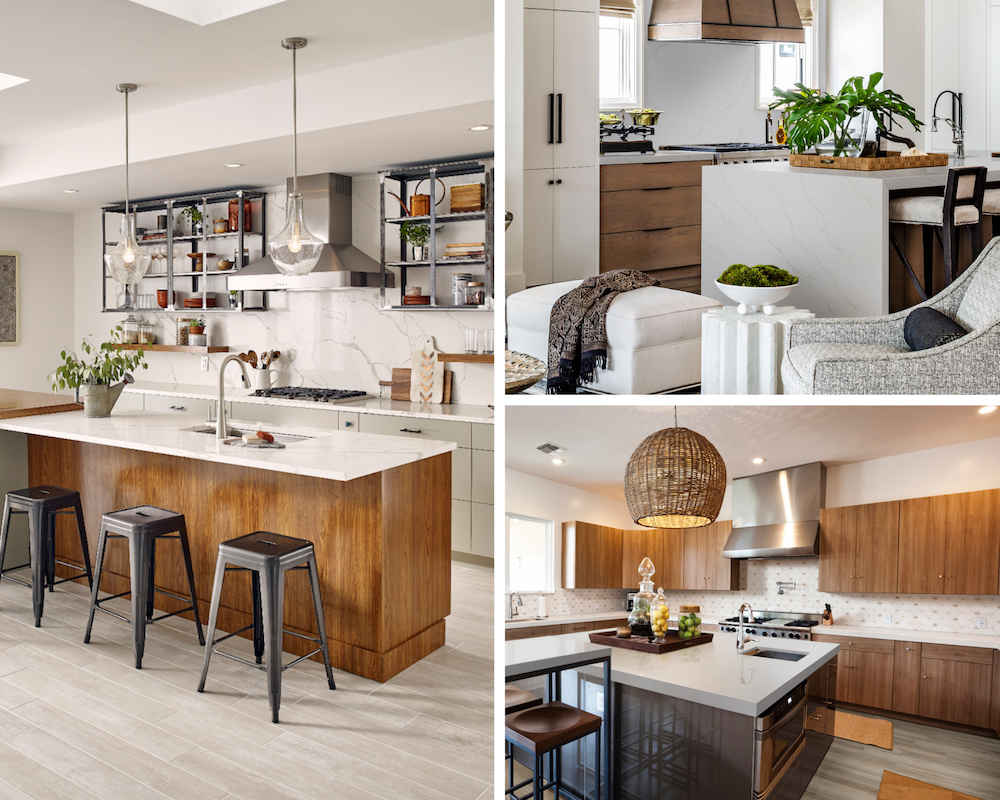 The kitchen is the social hub of the home. While it's designed for the practical functions of prepping, cooking, and storing food, it tends to serve as a central gathering space for family and friends to connect while cooking, eating, and sharing the joys of daily life.
With the right design elements, from appliances and fixtures to flooring and cabinets and breathtaking quartz countertop colors, you have the best opportunity to create a room that's not only functional but also incredibly inviting.
White countertops are a staple of classic kitchen design, but some bright whites can feel cold and impersonal. You need engineered quartz that delivers the clean aesthetic you crave but also has a hint of warmth to complement your welcoming, modern kitchen.
MSI has just what you're looking for with a range of Calacatta look-alikes from the Q Quartz Collection that deliver the perfect blend of dreamy white with a warm undertone. What can you expect from these gorgeous quartz varieties, and how can you pick the perfect options for the kitchen and bathrooms in your home?
Calacatta Arno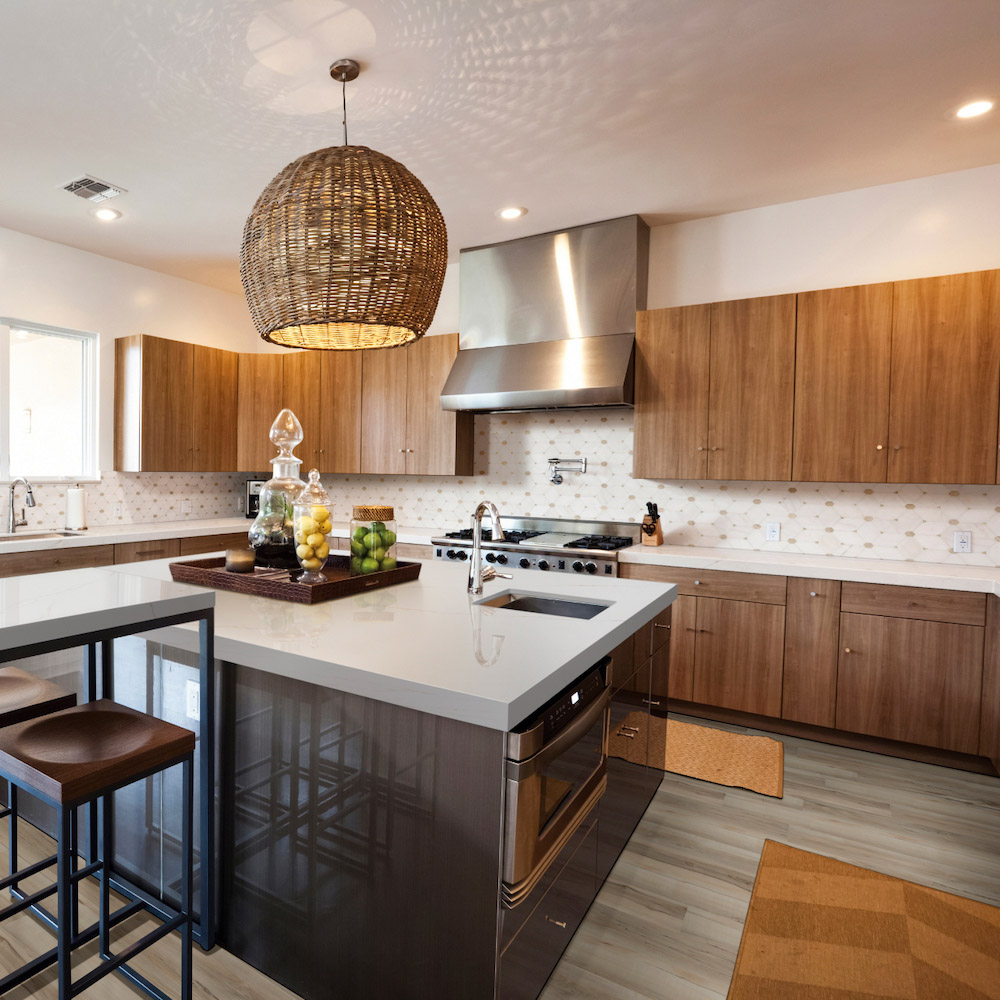 Whether you like the idea of a tonal white kitchen, you want the high contrast of classic black and white, or you prefer a lot of warm wood tones, the countertop material you choose will have a big impact on the overall ambiance of your kitchen.
With the right natural quartz countertops, you can get the bright look you love without resigning yourself to a spartan interior.
Calacatta Arno is an ideal addition to any kitchen or bathroom space, thanks to a soft white background that leans slightly warm. The surface is intersected by wispy veining in pale gray with golden accents; this look will go great with both cool and warm color palettes.
You can warm up pure white cabinets or offset gray or black cabinetry, depending on the level of contrast you like. It also looks lovely against wood tones ranging from blond and golden to cherry or mahogany, enhances weathered effects, and pairs well with colored cabinets or backsplash tiles in literally any color.
Do you love the dark greens, teals, and blues that have dominated kitchen design for the last few years? Maybe you prefer a sunny yellow or millennial pink.
No matter what elements you pair with this stunning, white quartz, the versatile color, soothing pattern, and polished finish are sure to stand out and transform your home into the modern, welcoming environment you crave.
For inspiration, take a look at our video on Warm Looks:
Calacatta Laza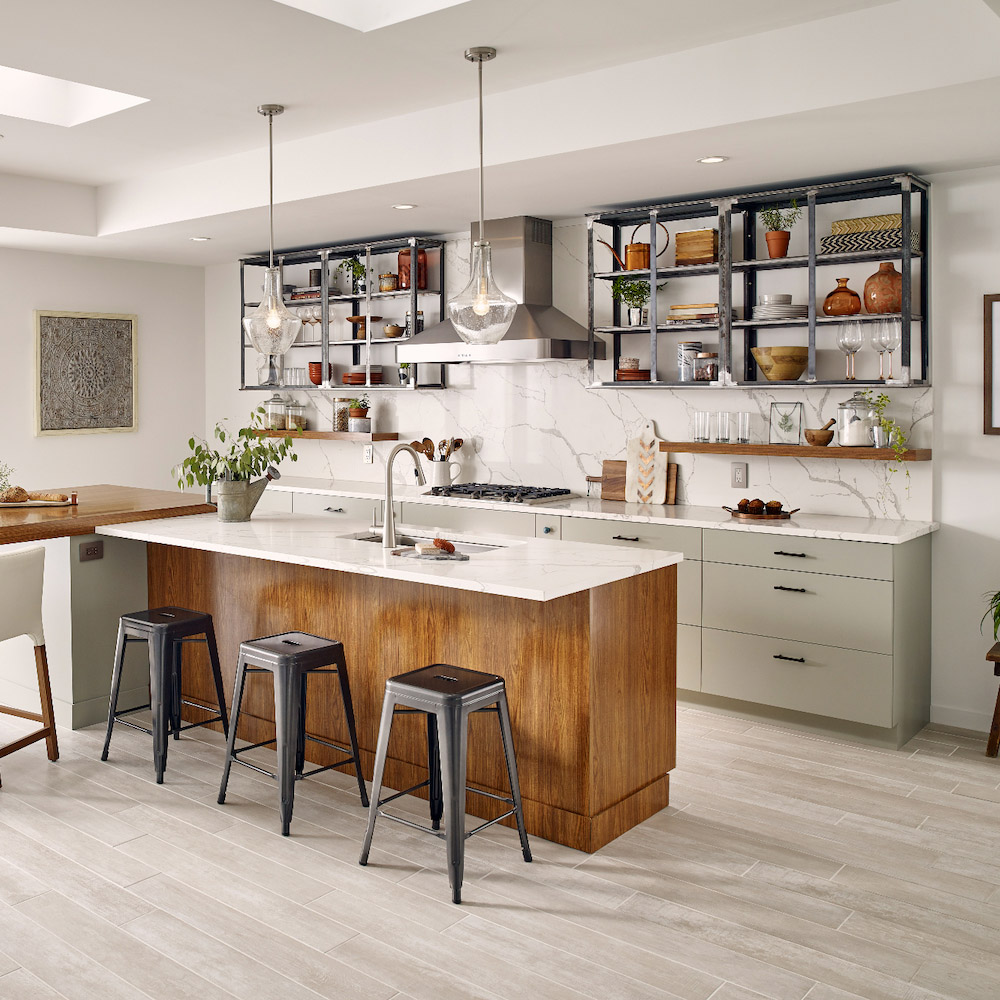 As marble look quartz goes, Calacatta Laza is perhaps the closest in color and pattern to what you might expect from the natural stone it is based on.
Its background is bright white with a milky quality that adds a soft, luminescent appeal. The surface is accented by prominent veining in gray and soft brown tones, lending this variety a versatility that interior designers love.
If you're looking for quartz colors that will add a bit of warmth to an otherwise cool color palette, this variety is a perfect fit. The warmth is subtle, but it's enough to temper cabinetry in bright white, and it's especially well-suited to modern design elements like gray lower and white upper cabinets, as well as stainless appliances.
It also pairs beautifully with the navy blues and forest greens that have lately dominated kitchen design. When you throw in trendy gold hardware and fixtures, you can draw on the warmer elements in the quartz to tie the whole look together.
While this bold neutral can certainly be paired with wood, ashy or weathered options may offer the greatest visual appeal.
The important thing to keep in mind with Calacatta Laza is that it's going to be the star of the show in your kitchen or bathroom design, thanks to truly striking patterning. In other words, you'll want to plan your interior design around your countertops, making sure that every other element complements the quartz.
Calacatta Miraggio Gold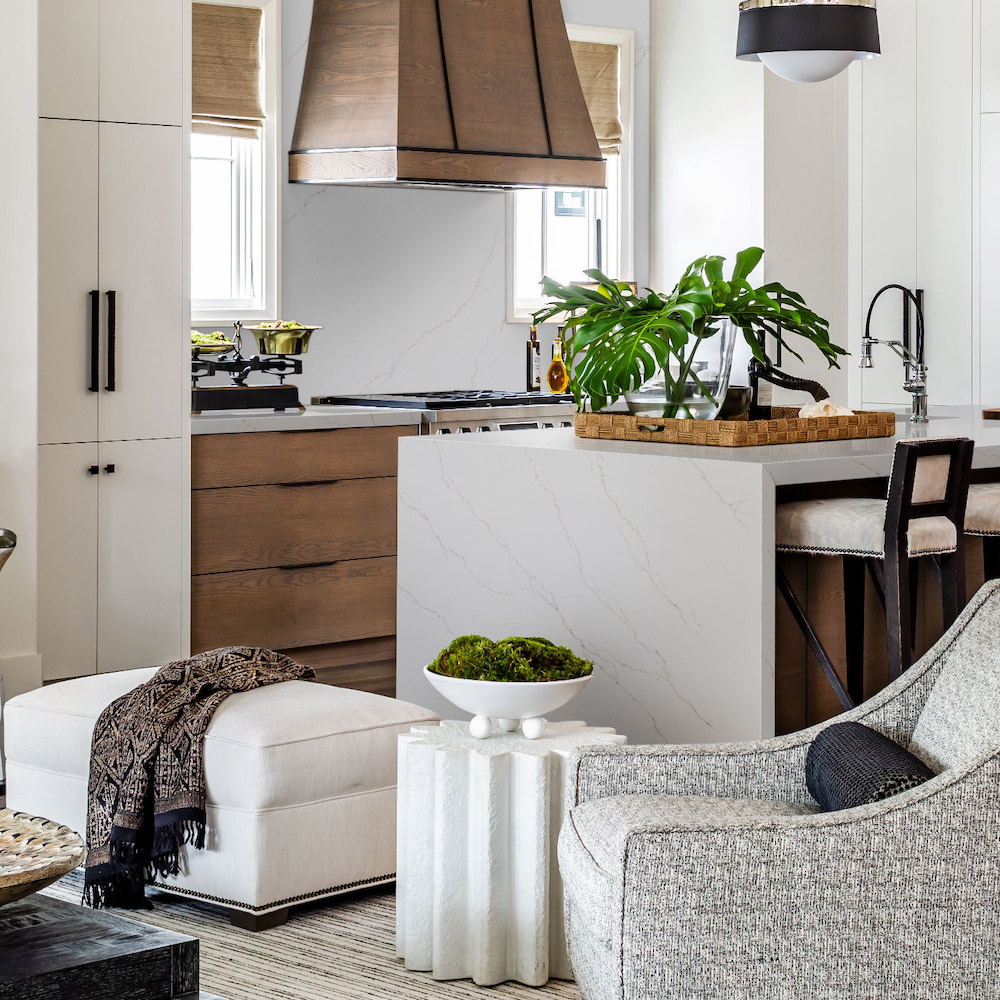 Marble, particularly white marble, is known for its luminosity, or the way natural light seems to imbue it with an inner glow. You might not think it's possible to capture this appealing attribute with quartz countertops for kitchens, but you'll find that Calacatta Miraggio Gold proves you wrong.
This eye-catching quartz's crisp, white background makes for an elegant and versatile option for everything from countertops and backsplashes to flooring in styles ranging from traditional to contemporary. It also features MSI's exclusive Lumaluxe formulation to mimic that almost intangible characteristic of marble that gives it an inner glow.
When you pair it with subtle, warm veining in a golden-brown hue, it's hard to imagine a more appealing addition to a sophisticated interior design. While it works well with both white and black cabinetry, this variety is particularly lovely against blond, honeyed, and mid-range wood tones, and it works incredibly well with a warm color scheme.
Calacatta Valentin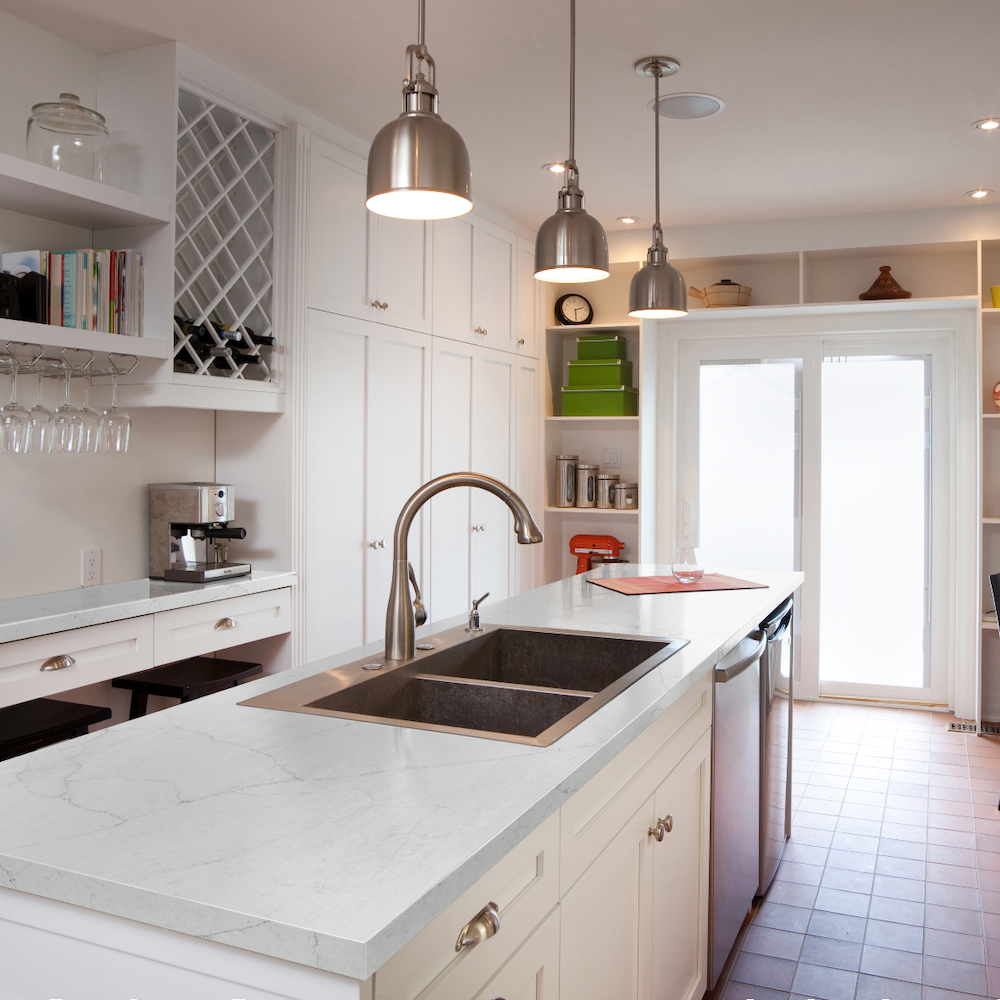 If your preferred color palette includes warm wood cabinets and flooring, you can't go wrong with complementary Calacatta Valentin, which not only features a soft white background but also includes subtle gold veining throughout.
Sweet and soothing, this quartz is the perfect counterpart (no pun intended) to rich wood elements included in your bathroom or kitchen remodel.
This Calacatta quartz variety will serve as a lovely transition between gray and white cabinets or soften the starkness of bright white or black cabinetry, but it's the perfect choice for darker wood cabinetry, like cherry, mahogany, or espresso shades.
If, for example, you want to make a large kitchen space feel cozy with dark wood, and you'd like to offset it with a vibrant but not stark counter surface, Calacatta Valentin is a wonderful choice.
With the right warm white quartz from MSI's Q Quartz Collection, you can enjoy the elegant look of Calacatta varieties you love while creating a welcoming environment that makes your family and friends feel right at home.
Read More About MSI Premium Quartz Countertops
Stylish And Durable Quartz Hotel Bathroom Countertops
Selection And Installation of Your New Quartz Countertop
Our Top 10 Dark and Dreamy Quartz Countertops
Get Elegant Long Vein Marble Looks with Quartz Countertops
Why We Love Environmentally Sustainable Quartz Countertops
Stay On Budget and On Track with Prefabricated Quartz Countertops