Popular
Tricked Out Tile
April 20, 2018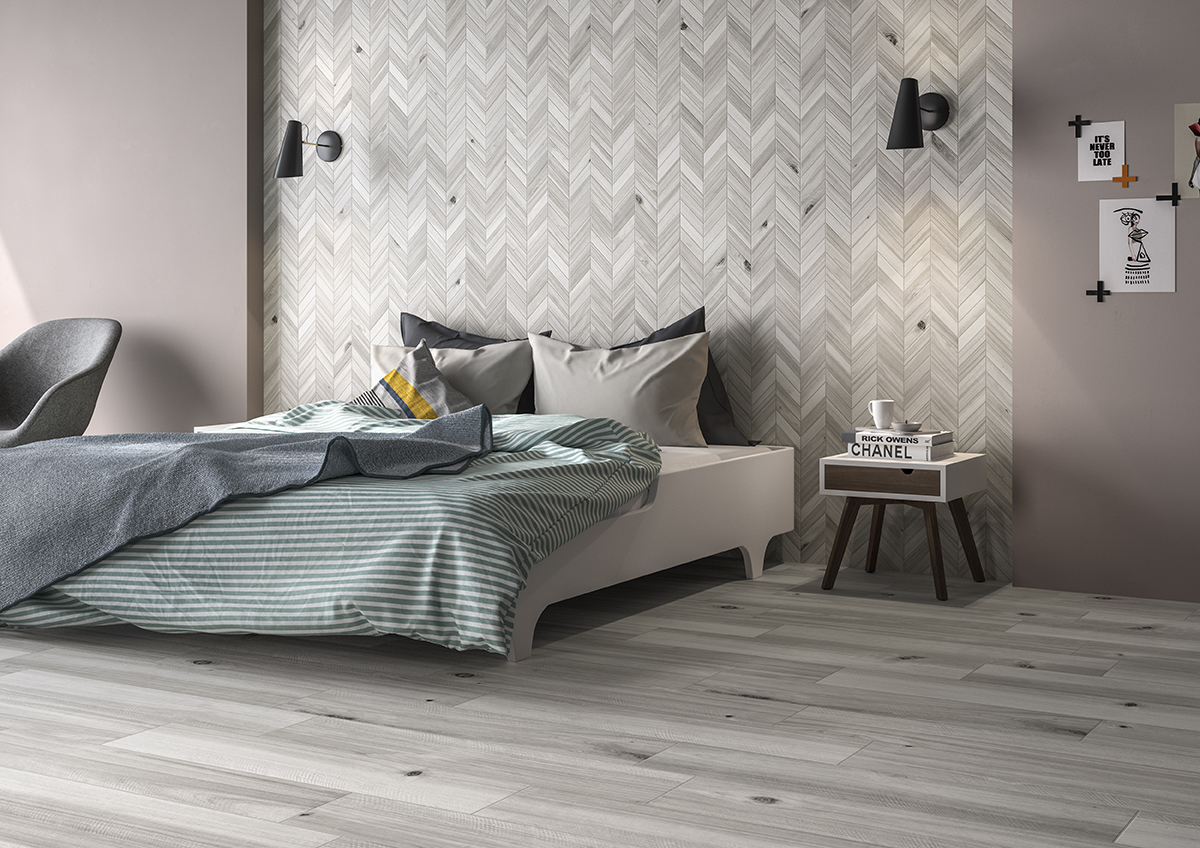 In the world of tile, sometimes seeing isn't believing - especially today. It's becoming a thing to walk into a room or onto a patio and think, "Wait, no way, that's tile?!" If you're a design lover, you're compelled to do the touch test, and nonchalantly run your hands along the wall or floor. Who would have guessed that tile would grow up so beguiling! The greatest surprise of all? No matter how many times we see Tricked Out Tile, the trend continues to wow us. (No, we're not immune!)
To kick off home renovation season, we asked Emily Holle, our Director of Design and Trend to share the stories behind these head-tripping tiles, and share her favorite ways to increase property values. From limestone lookalikes that flow seamlessly from the heart of the home to the great outdoors to wood look planks in the bath, we owe Emily's rundown—and all the double-takes they inspire—to the quantum leaps of digital technology. These no-fuss, budget-friendly luminaries prove that tile has evolved in all the right ways, and homeowners can't get enough of a good thing!
Major League Buzz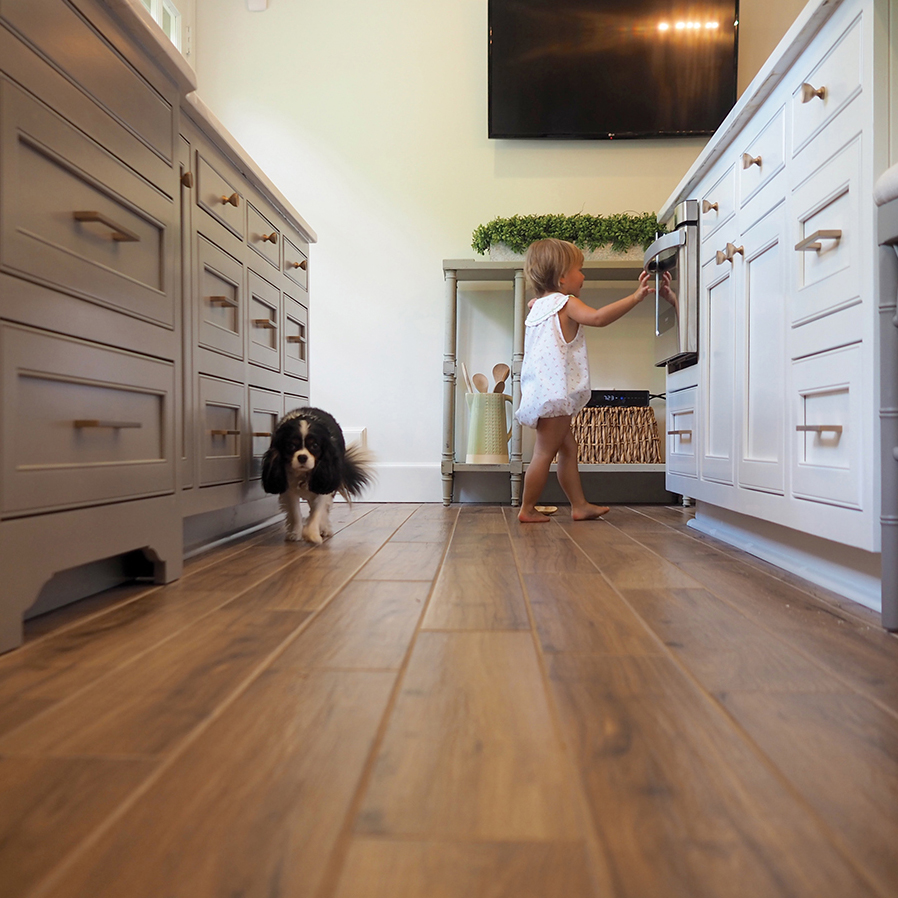 Emily's sister-in-law, Sarah, updated her floors with Palmetto Porcelain planks - perfect for toddlers and the pet set.
Our porcelain and ceramic wood look tile collection- flush with elegant standouts – is a design-savvy way to bring an outdated space into modern territory. Gray-wash floors anyone? "From true-to-wood knots and grains to authentic glazes, lineups like Palmetto, Belmond, and Havenwood are classic choices for homeowners," said Emily.
To keep your kitchen and bath from the flat or matchy-matchy look, she recommends mixing wood look tile with painted cabinets. Or incorporating different wood shades with the same undertone throughout a room.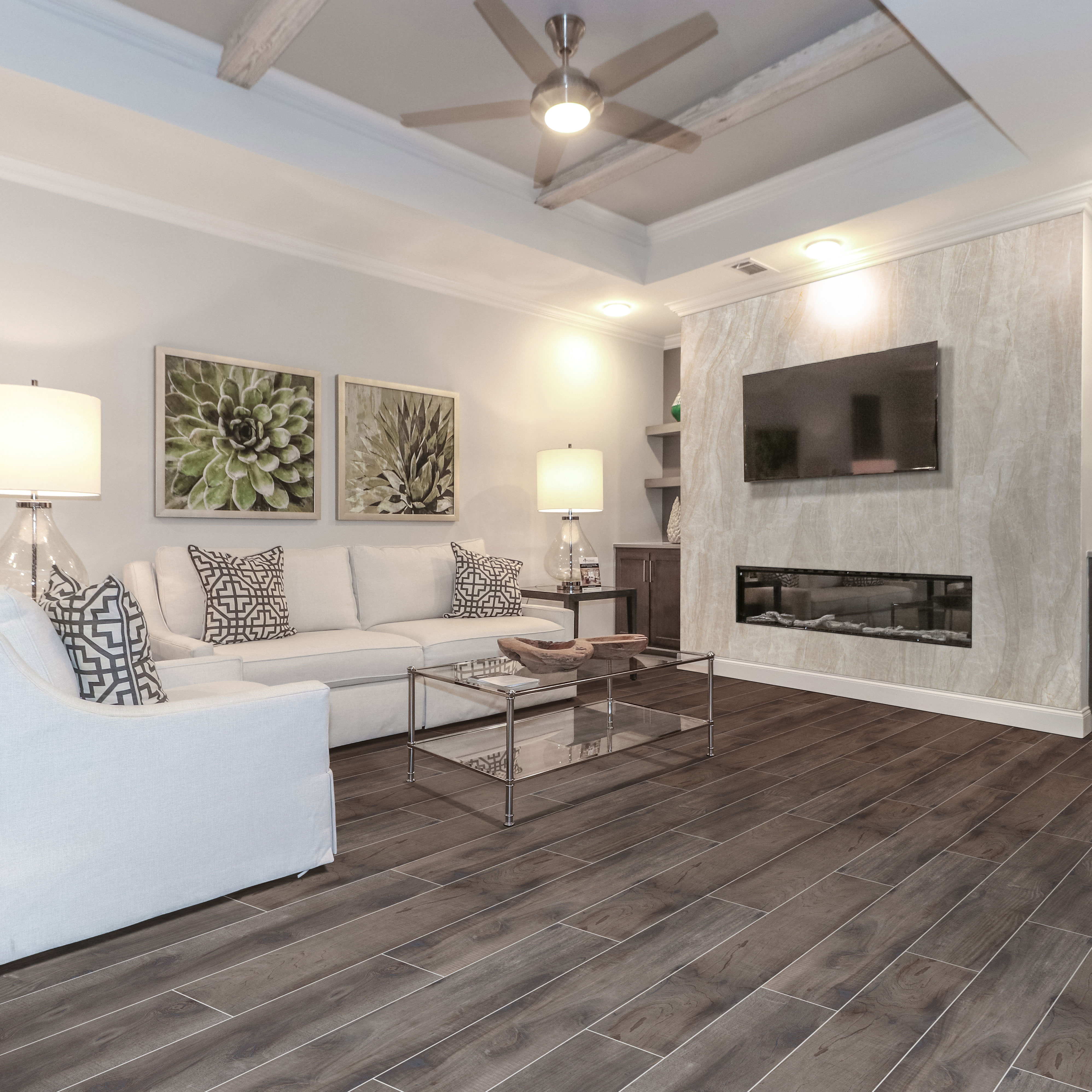 There's a whole lot of beautiful going on here with Country River Porcelain underfoot and Stile on the fireplace.
Living Large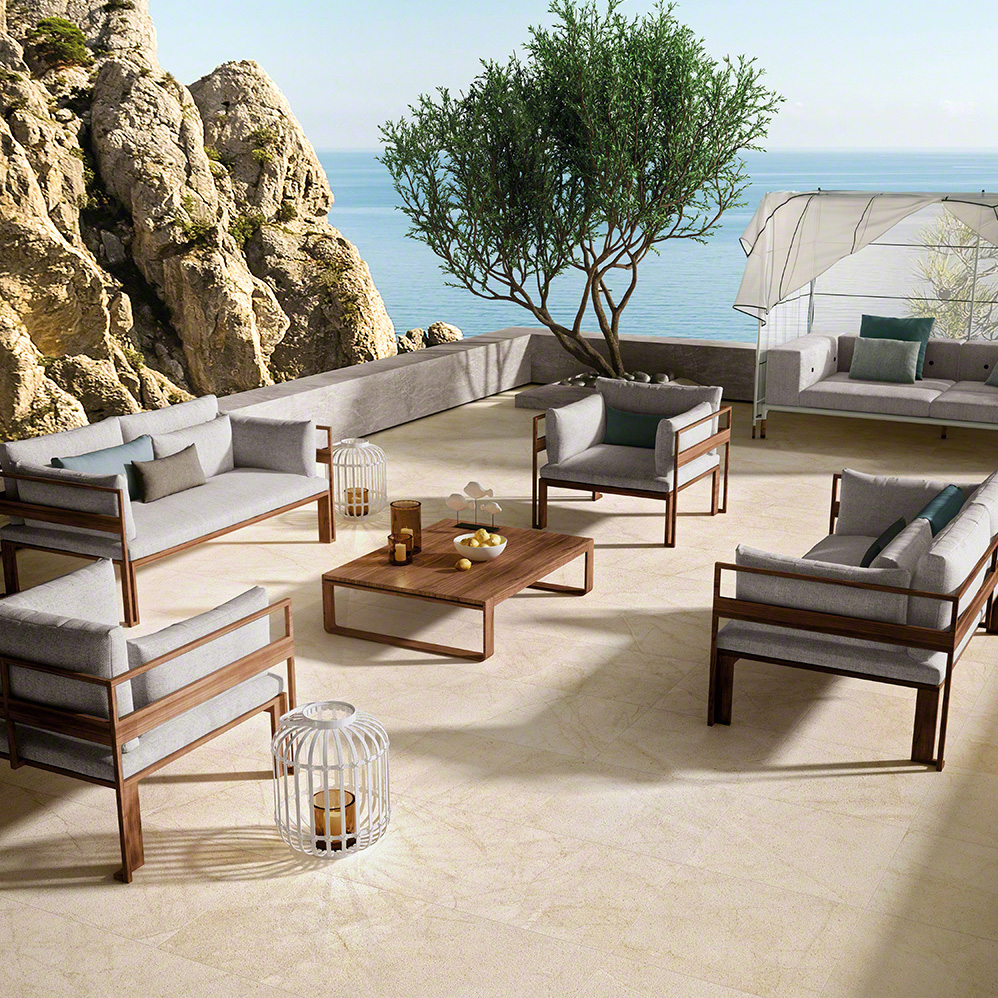 Why blur the lines between your indoor and outdoor spaces when you can erase them with Livingstyle Porcelain.
The heart wants what it wants. And for homeowners, creating a flow between indoor and outdoor living spaces is a top priority this spring. Nothing complements an open-concept design like a unified look from your interiors out to the terrace. And if it's a large-format lineup like Livingstyle Porcelain?
Even better, says Emily, "Livingstyle's porcelain 18x36 tiles and 24x24 pavers are designed to support an open concept footprint, but in a highly functional way. It gives an entire ground floor a polished, pulled together look. Indoors and out, the larger sizes cover more ground, so the aesthetic is super sleek and clean." Tricked out natural stone looks in a high-performance, low maintenance line? You don't need a patio overlooking the ocean to see the beauty in that.
The Peak of Chic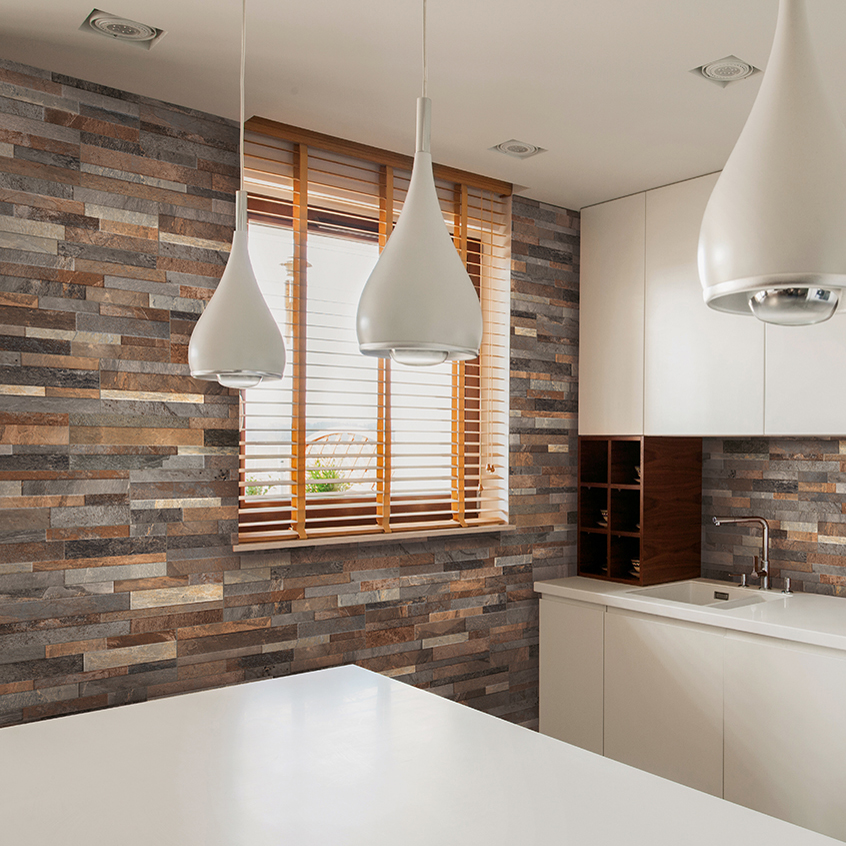 Tile that looks like ledger panels? Yes, please! Meet Dekora's Rocky Gold Porcelain Panels.
From family room fireplaces to bedroom walls to stairwells and bookcases, we adore how effortlessly stacked stone elevates an entire home. And while we love the warmth of natural stone, a budget-friendly alternative—especially if we're renting—keeps the dream alive.
"Our latest collection, Dekora Porcelain Panels, is a game changer. It's never been easier to create show stopping architectural features, and it's inspiring homeowners to take tile beyond the kitchen and bath," Emily said. Dekora Porcelain Panels bring everything we love about ledger panels into focus: tone on tone colors, true-to-life texture, and dimension.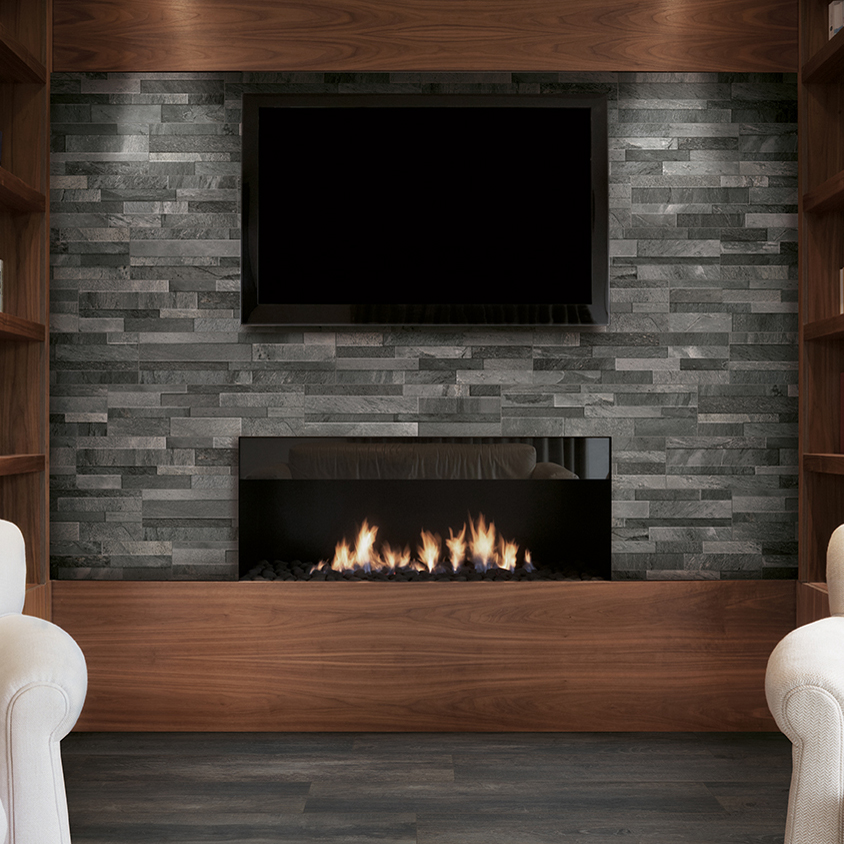 A dramatic focal-point, Dekora Ardesia Black lights up this fireplace like a dream.
Whether you need to conceal an uneven wall, give a sleek room earthy character, or add a bit of intrigue to an open concept floor plan, Dekora Porcelain Panels belong on your Tricked Out Tile short list.
Divine Double-Takes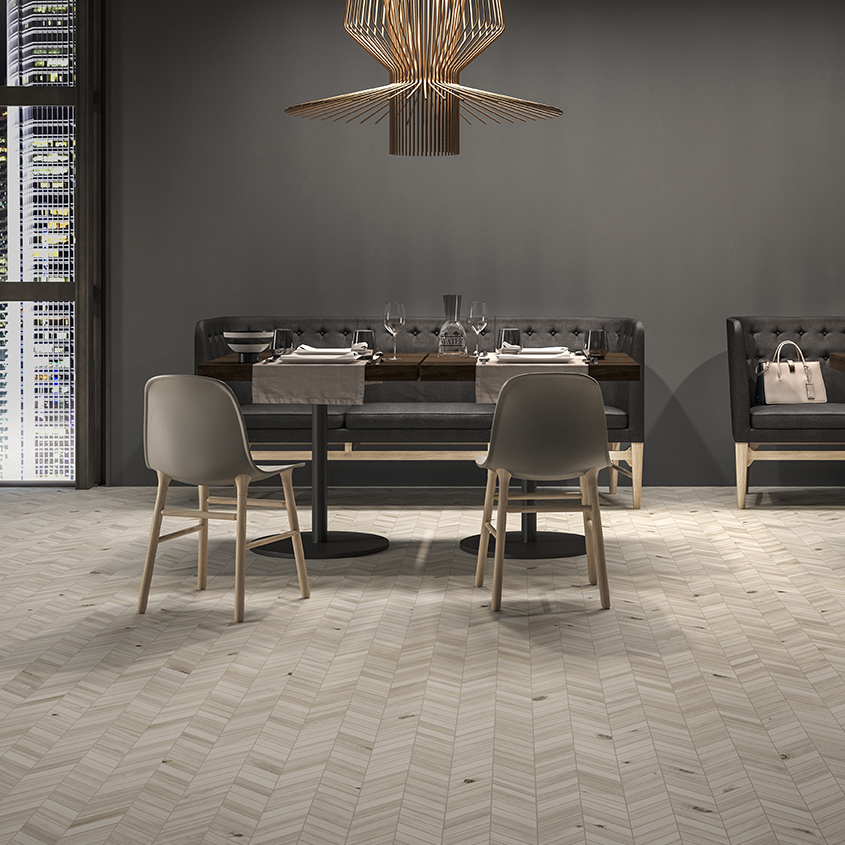 A crowd-pleaser from any angle: Havenwood Dove Chevron Mosaic.
Chevron is one of the season's hottest patterns – and seeing it here in porcelain, juxtaposed against a dark accent wall, is a little bit of heaven. When reimagining your home calls for something chic yet practical, Havenwood sets a stunning foundation. Installing porcelain planks in a chevron or herringbone pattern is an unexpected way to add movement to your rooms. Longing to see your most loved spaces in a new light? Look-at-me floors help.
"Havenwood has a warm, progressive profile, one that takes the chill out of sleeker spaces and elevates a room from the ground up," Emily said. We can hear the oohs and ahhs from here.
Better Than Brick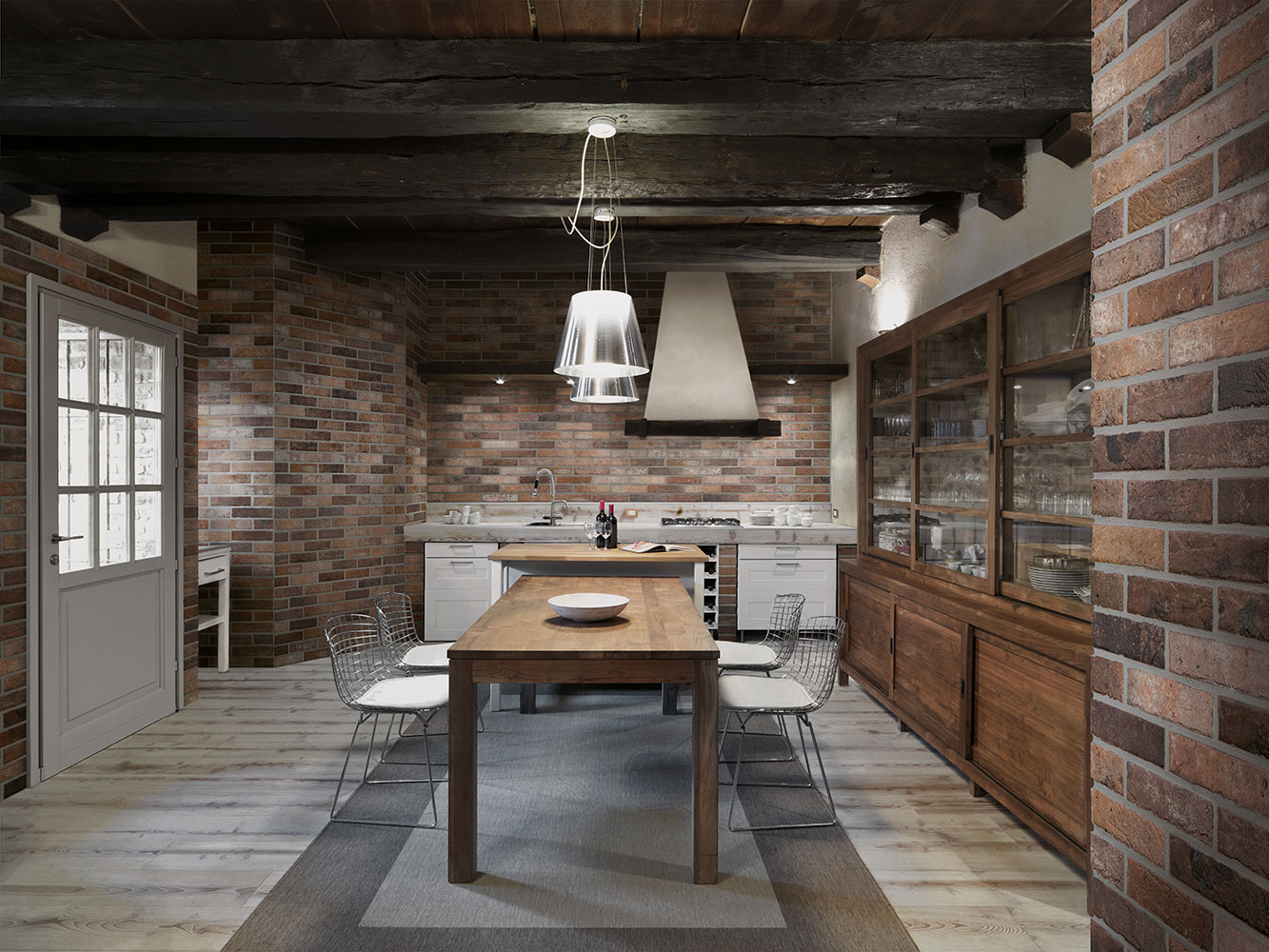 Brickstone's Red Porcelain takes this loft-like kitchen to a whole new level.
A classic in historical architecture, we have a soft spot for exposed bricks. Trendsetters have reinterpreted it through the years, and it's a central element in industrial design. Fortunately, it's not just a fixture in the NYC loft scene anymore. The relaxed and effortless brick look is popping up everywhere these days.
Step aside, chandelier. Brickstone Taupe is always the center of attention.
"They have looks in common, but Bricktone Porcelain gives homeowners a low-maintenance, modern way to achieve the look of real brick. It's in a class by itself because it stands up to everyday life and never goes out of fashion," Emily said. In classic colorways red, ivory and taupe, Brickstone Porcelain Tile is a natural for creating timeless drama on fireplaces, walls, and floors.
Game On, Wood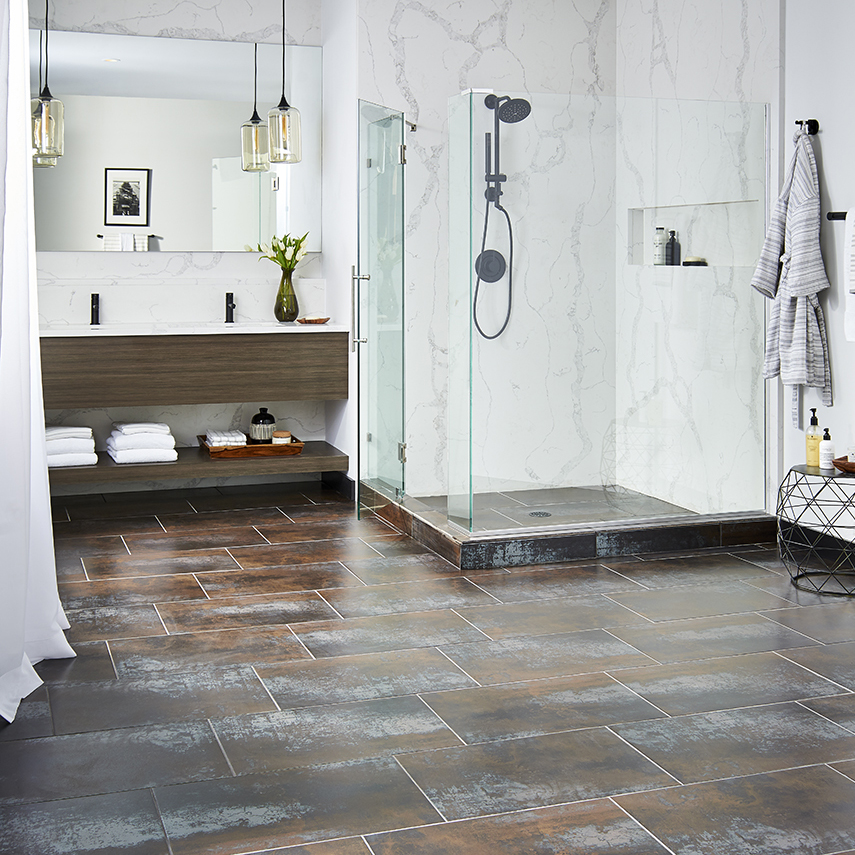 Install Antares Saturn Coal Porcelain tile on the floor and proceed to worship.
If you're a fan of rustic wood look tile— in all their weathered charm—then our latest crop of reclaimed timber looks is worth exploring. "The lived-in and rarified look of our Salvage, Vintage and Antares collections are inspired by the Japanese aesthetic wabi-sabi.
It celebrates the beauty of imperfection – especially as things age," Emily said. For homeowners swept up in the casual side of the wood look tile trend, it's one of the easiest ways to dial up a room's warmth and turn a plain wall into a work of art.
For the Love of Marble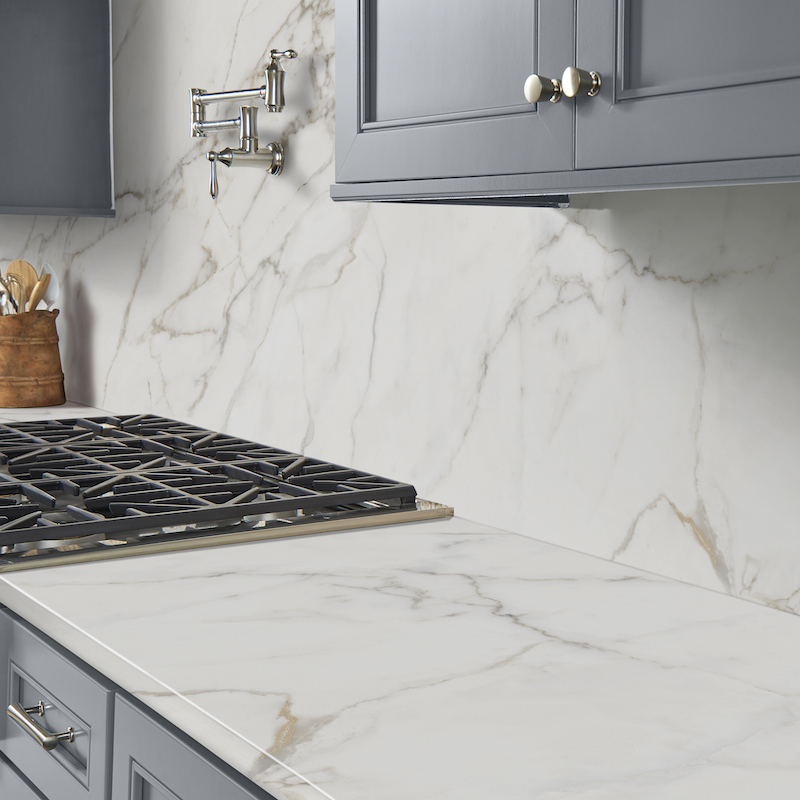 Calacatta Luca Polished shines brightly on this kitchen backsplash.
A fast-lane trend in home design, marble lookalikes are sublime in the heart of the home. Planning a spring refresh? Take a cue from Emily, "Large porcelain slabs with white marble looks—like Stile—are utilitarian without compromising style one little bit. The collection is designed to give your room a more seamless, modern feel." Also, don't be afraid to embrace the beauty of different materials.
"My favorite spaces balance the old and the new - so they look like they evolved organically over time. Pairing a chic backsplash with antique-stained cabinetry tells a visually intriguing story," Emily said.
So, are you ready to take a leap into the world of Tricked out Tile? Dare to be bold and design with confidence knowing each space is unique and integrating tile in unexpected places will create a WOW factor like no other!