What's A Wear Layer And Why This Luxury Vinyl Flooring Feature Matters Most
April 13, 2021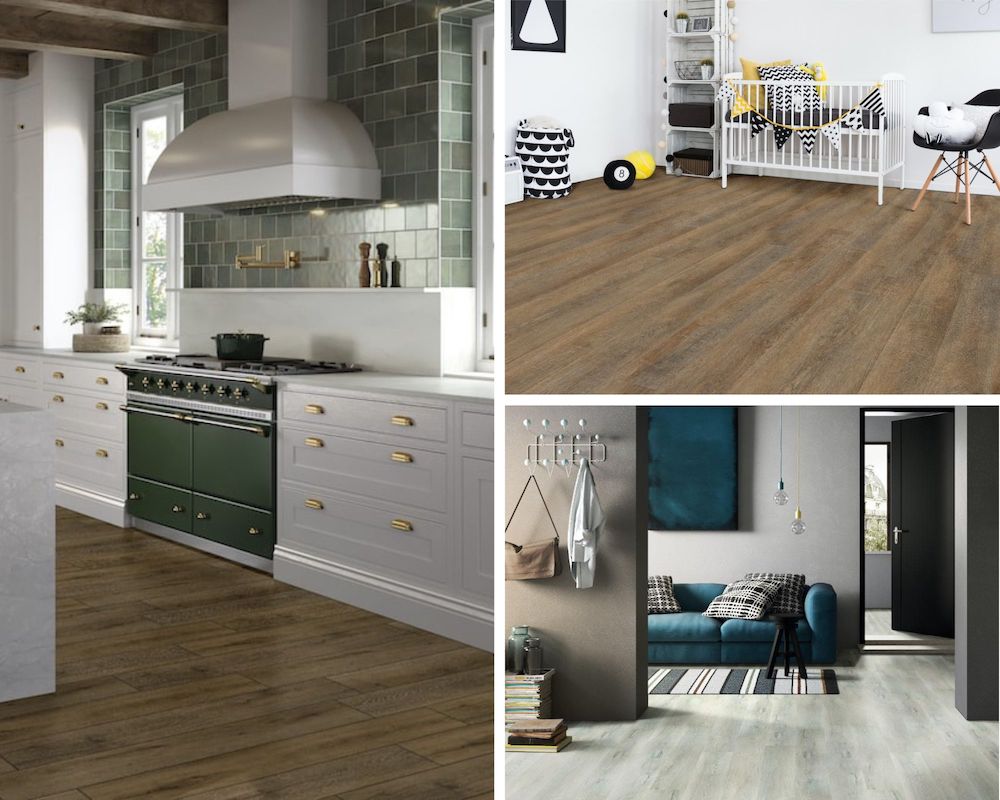 One of the most common questions about luxury vinyl flooring is about the wear layer. What is it, you ask? Well, besides loving the look of your new luxury vinyl plank flooring, this top layer is one of the most important features of your floors. Choose wisely because this critical component protects the print design of your vinyl from daily wear-and-tear to more serious damage. In this guide, you'll learn what makes up a wear layer and why it matters most when it comes to your new luxury vinyl floors.
The Wear Layer Materials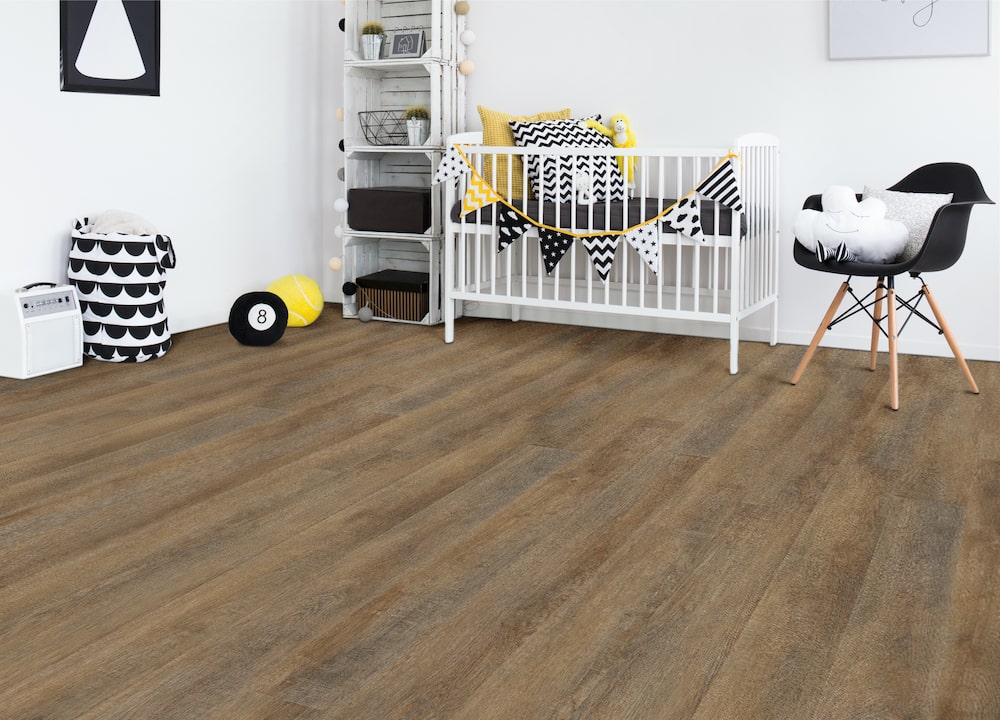 Reclaimed Oak® Luxury Vinyl Planks
Luxury vinyl plank flooring consists of several layers, starting with the top wear layer with or without a coating. The wear layer then covers the print design that sits on the vinyl core. Some planks may or may not include an attached backing underneath the core depending on the install type. The clear wear layer is made up of virgin or recycled PVC or vinyl and serves as the main protection of the flooring. In fact, it's the only thing stopping spills and scratches from damaging the paper print film that showcases the beautiful wood- or tile-look designs.
Now that you understand what a wear layer is, you can see how important it is to protect the design, like in MSI's Reclaimed Oak® Luxury Vinyl Planks from the Katavia series. The various coffee tones in this LVP with 6-mil wear layer contrast beautifully with the warm grey tones and minimal décor.
The wear layer is often textured or embossed to give it a more realistic look. Some vinyl flooring may only have a few grooves per plank, while others may have lots of texture across the top, all depending on the look and style of the LVT or LVP. The embossing can also help to provide some slip resistance as opposed to a solid, slick surface. The wear layer is what makes the vinyl flooring care and maintenance so simple and easy, too!
When you have a strong variation of color and pattern like you do with MSI's Hatfield luxury vinyl planks from the Andover series, then you know it's going to contain plenty of embossing to enhance the beautiful wood-look style. And, the thicker 20-mil wear layer means that you can provide different levels of texturizing for this soft mocha flooring.
The Wear Layer Coatings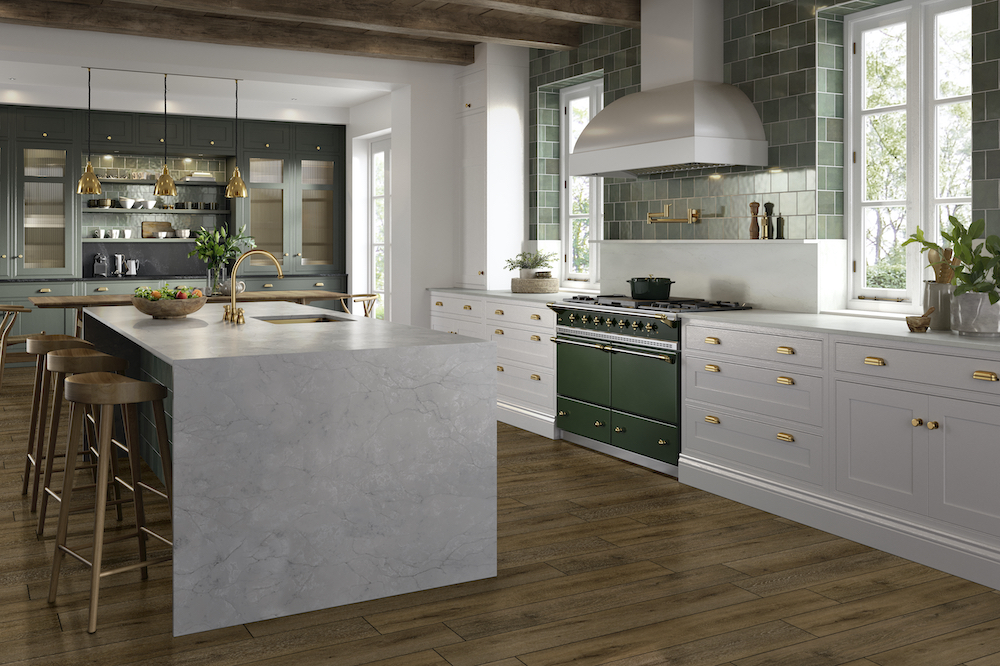 Hatfield Luxury Vinyl Plank Tile
On top of the wear layer is typically a clear, urethane-based coating with some sort of additive, although there are some products on the market that don't include an extra coating. Many manufacturers incorporate additives like aluminum oxide, ceramic beads, or nylon beads into the wear layer's coating. This serves as the first line of defense against scratches before wear-and-tear begins to show on the actual wear layer.
The clear coating provides further protection, keeps your floors looking fresh, and controls the desired sheen for the finished product. Plus, with advances in technology, some coatings include UV protection, too, just one of the luxury vinyl flooring benefits that helps keeps floors in tip-top shape.
MSI's Kardigan luxury vinyl plank from the Cyrus series is a perfect example of the wear layer coating controlling the sheen. The bluish-grey luxury vinyl flooring features a matte finish and a 5-mil wear layer.
The Wear Layer Thickness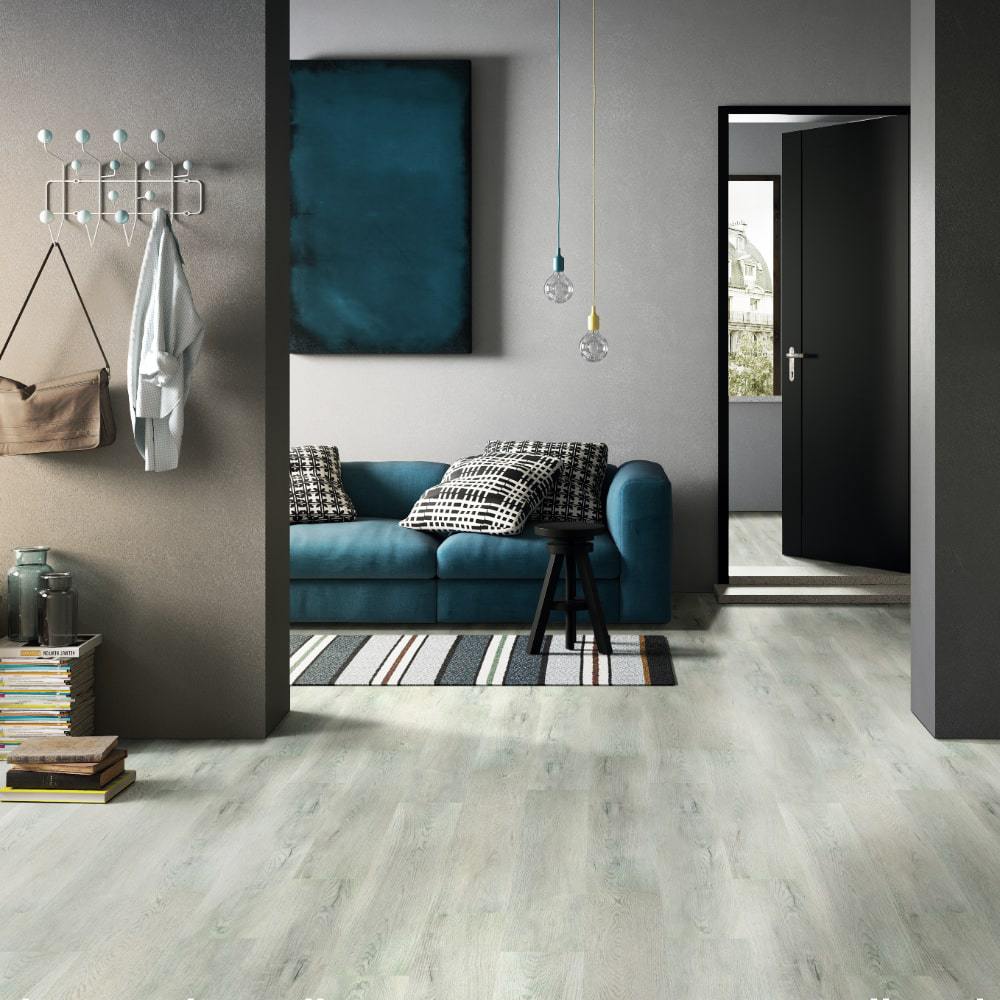 Kardigan Luxury Vinyl Planks
The thickness of the wear layer is not to be confused with the thickness of the plank. Wear layers are measured in mil, or a thousandth of an inch, not to be confused with mm, or millimeters. Wear layer vary in thickness from 4 mil to 40 mil. How thick of a wear layer you choose should be based on how high or rough your foot traffic may be from household members and guests to pets. Residential projects with foot traffic in an entryway or households with pets should stay in the 12-mil to 20-mil range, while lesser-used areas could handle a lower wear layer. For commercial projects, stick with a 20-mil to 40-mil wear layer for the best protection possible.
For better comparison, a 4-mil wear layer is equivalent to 0.1 mm. A 12-mil wear layer is equivalent to 0.3 mm. A 20-mil wear layer is equivalent to 0.5 mm. A 28-mil wear layer is equivalent to 0.7 mm. A 40-mil wear layer is equivalent to 1.0 mm.
Of course, product with a thicker wear layer typically costs more, so check if a higher-quality wear layer works within your budget. Remember, though, that thinner floors may need to be replaced more often. And, it's not just the cost of the floors you'll deal with. A replacement could include labor for removal or moving furniture and new vinyl flooring installation, other materials like baseboards or stair noses and treads, plus the stress and inconvenience of upending your home or workplace. Whether you plan to stay in your forever home, are remodeling a rental, or run a business, the best decision you can make long-term is to go with the thickest wear layer possible from the start. However, you could save money on a thinner wear layer for light usage areas like a guest bathroom or bedroom wall.
One of the best things about vinyl is that it can be installed in any room, thanks to its waterproof properties and durable wear layer, so it can flow from one room to the next.
The Wear Layer Features From MSI
MSI offers a wide range of realistic wood-look flooring options, and the entire Everlife Luxury Vinyl Flooring Collection includes MSI's CrystaLux wear layer --an exclusive top layer protection with best-in-class performance. The CrystaLux layer on all Everlife LVT products guards vinyl floors against things like spills, pet accidents, scratches, and sun damage. Choose MSI and its superior CrystaLux wear layer for durable flooring that's made to last.
Need more assistance? We're happy to help! Chat with us online or visit an MSI showroom or an MSI authorized dealer near you.
More on Vinyl Flooring
MSI's Luxury Vinyl Plank Series
What to Look for When Buying Luxury Vinyl Plank Flooring
Breaking Down the Cost of A DIY Install of Luxury Vinyl Tile Flooring
5 Reasons to Use Luxury Vinyl Flooring