Popular
In The Mood For Blues
May 04, 2020
When Pantone named Classic Blue (19-4052) the color of the year for 2020, we quickly saw how industries from across the globe were influencing this trend. From fashion and entertainment industries, to textiles and new technology-- all areas of design utilize this dependable color for its reassuring qualities. Physiologically, blue soothes the nervous system. When our brain registers the color, it produces chemicals that soothe the mind and relax the body. A bright and beautiful cloudless sky, the deep reflection of tropical waters against a sunny day, blue is associated with all that's right with the world. With the power to invigorate the senses and invite tranquility, this 2020 color movement is a powerful catalyst for home design.
Making Space for Blue
A hue of blue effortlessly changes the look and feel of a home. Imagine the impact of walking into a room with a cobalt blue accent wall or an elegant dining room table graced with silver and cerulean table settings. Embracing a splash of blue in your design creations can be an instant game changer. Whether you're remodeling an entire kitchen or looking to shake things up with a simple refresh, tile is a high-impact design element that has the power to turn a room around.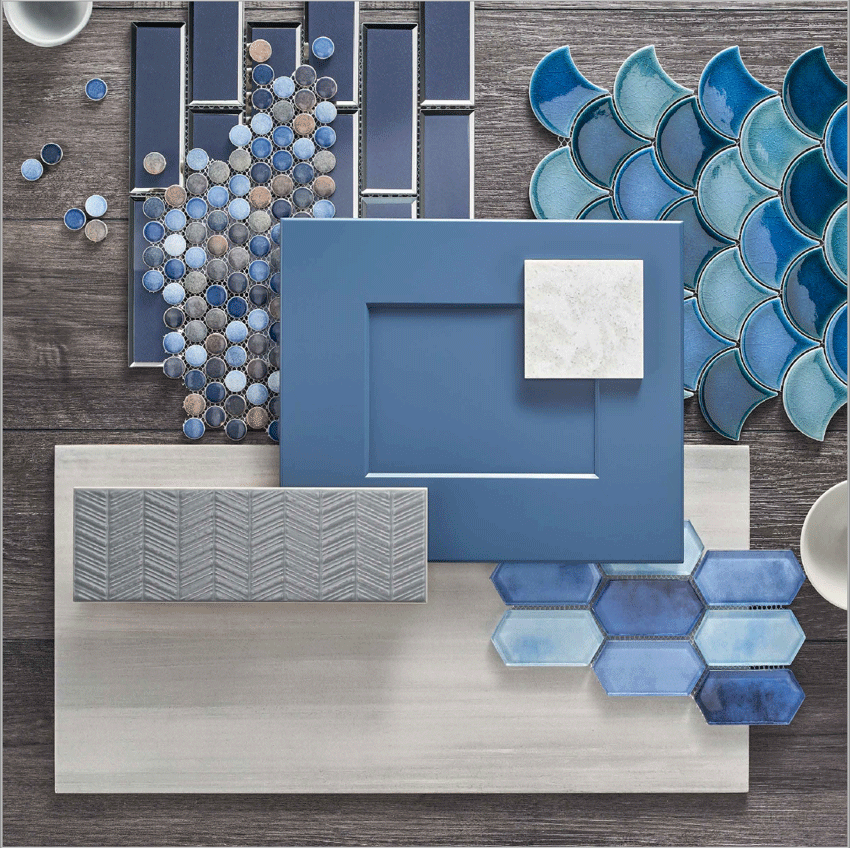 MSI's Director of Trend & Design, Emily Holle, said, "There's nothing like the color blue to create a specific mood: from light and ethereal, to electric and brilliant, to dark and serious. No matter where it sits on the color wheel, options are plentiful."
Timeless, simple, and elegant, this 2020 color trend lends itself to a wide variety of spaces and materials – from artfully crafted porcelain and glass tiles to striking combinations of natural stone mosaics and countertops. Whichever way you integrate this Top Five Design Trend of 2020, we hope our favorites inspire you.
SPLASH OF BLUE: Mosaics Set the Mood
Mix and match the pigment. Chances are, they will suit each other. This incredibly diverse color family offers endless hues and applications, making blue a fresh alternative to some of the more commonly overused colors we see so much in design today. That's especially true in monochromatic designs. "We're starting to see more and more neutral rooms– on both the dark and light spectrum —with backsplashes of every shape, size, and material in the blue family," said Emily. Not to mention that this trend is a great way to integrate color into existing gray and white design color schemes.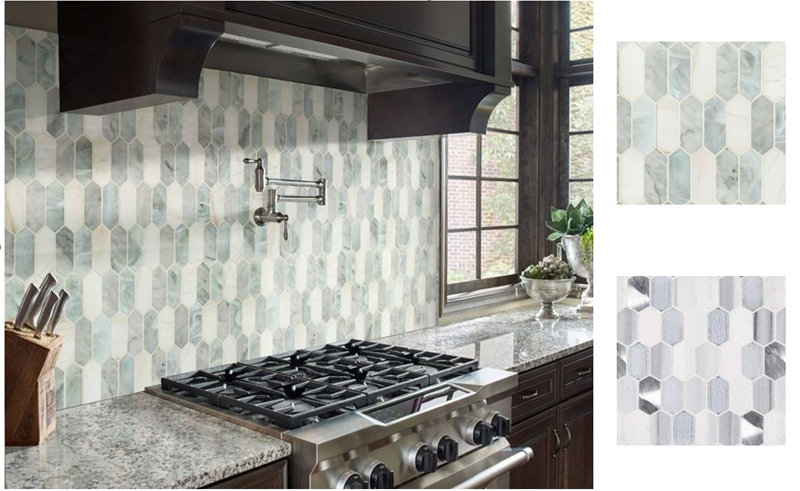 Cienega Springs Picket makes a clean statement in this kitchen.
For a touch of blue-gray, Harlow Picket sets the mood.
In the Moody Blues Lookbook, you'll find design team favorites like Harlow Picket and Cienega Springs Picket, which combine marble tiles with glass and metal to create a soothing palette in a classic geometric pattern. The blue-gray veining and naturally occurring clouds of cool and warm white in the stone are perfect for adding a touch of tranquility into a master bathroom or kitchen. We love these decorative mosaics for their subtle color mixes, which can really help tie a room together. Natural stone selections can offer soothing blue, gray, and cream tones that can also tie in other shades of blue into the room, or balance out heavier design elements. When only marble will do, try intricately cut patterns like Azula Floret, Azula Hatchwork, or Azula Hex, which will instantly elevate floors or walls in any style of home
COUNTERTOPS: The perfect pairing
When we think of countertops, the color blue isn't usually top of mind. However, white counters atop navy islands are more popular than ever. "Like chinoiserie and toile, blue and white is a classic color story, so it will always have a place in design. We just see more transitional and modern kitchens using this high-impact color palette." Q Premium Natural Quartz is a perfect option to achieve this look since there are countless white color options -- and stain resistant.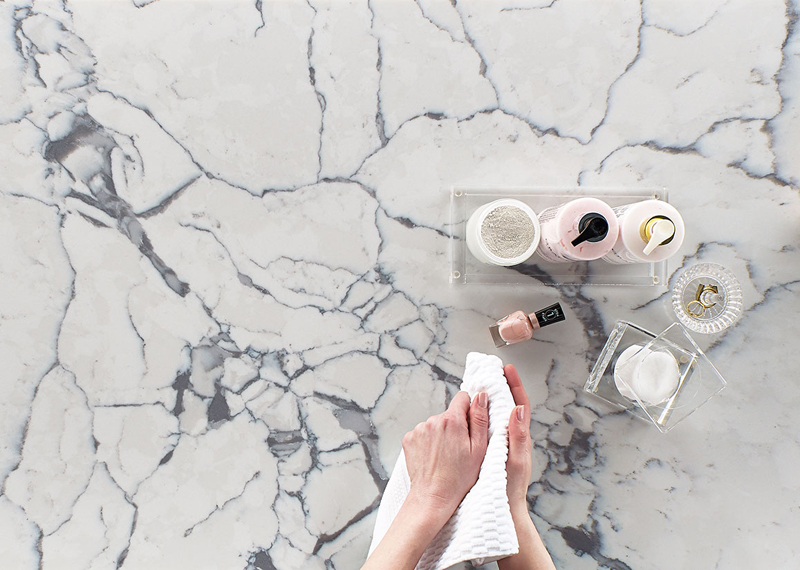 Quartz options like Calacatta Lago contrast dark gray-blue veins against white quartz for a striking effect. Go for something more dramatic in a 2 CM or 3 CM slab.
For a sleek, contemporary statement, consider Calacatta Trento on a waterfall edge island, navy cabinets, and industrial-style light fixtures.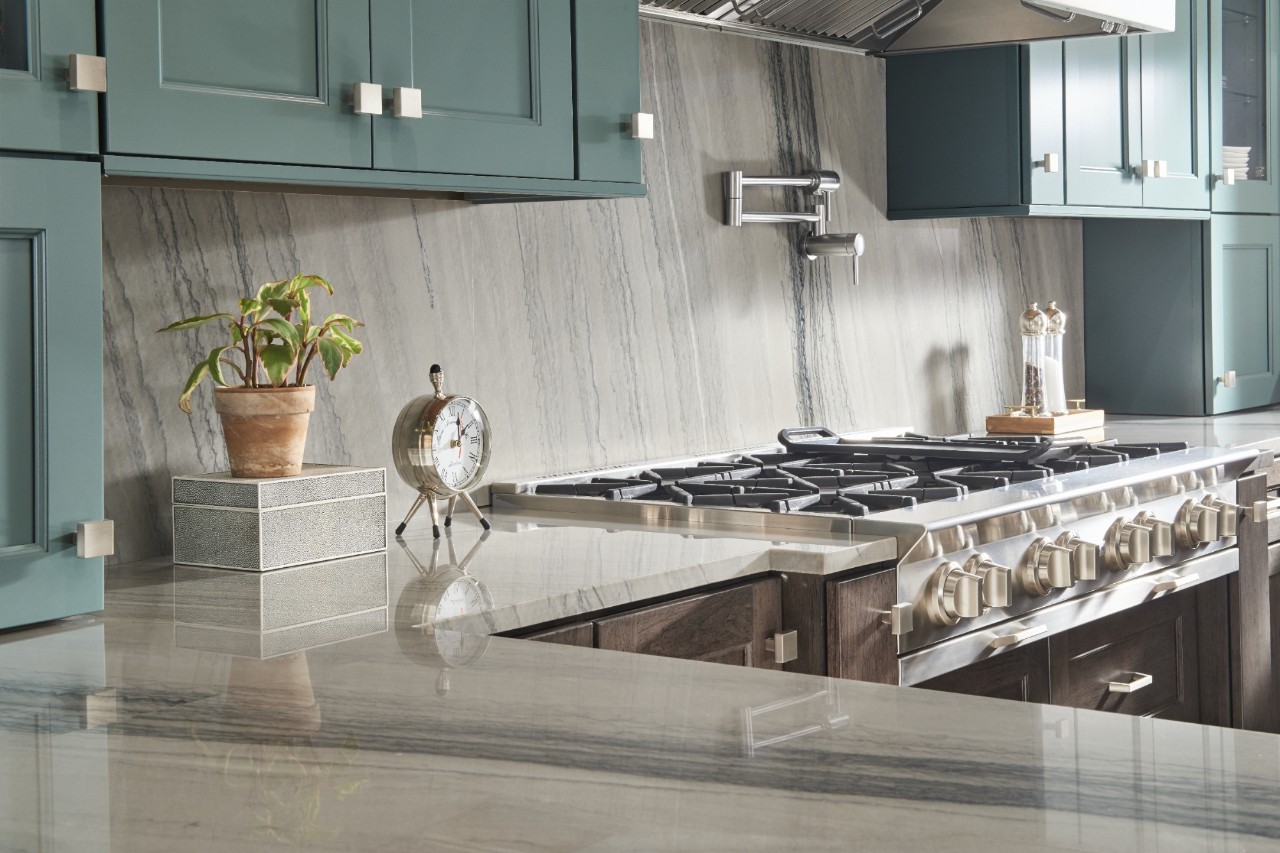 Natural stone slabs serve as Earth's loving reminder of the power of blue. Audacia Quartzite or Granite Blue Bahia—both natural stones from Brazil—have beautiful movement. The deep cerulean tones in granite and quartzite make eye-catching countertops throughout the home and even outdoors. Emily said, "The beauty of blue-vein granite and quartzite isn't lost outdoors. In the desert, blue pops against sand-tone landscapes, so it's an excellent choice on alfresco counters, fireplaces, and water features."
WALLS: A Bold Blue Statement
As walls continue to evolve as a major area for tile design, we love finding fresh takes on classic patterns and wall tiles which can completely revitalize a room. Subway tile can provide a modern update, especially when done with unique textures or colors, like Urbano Navy – a 4x12 ceramic subway tile in a rich, sophisticated shade of navy blue. "Deep stormy shades can call for reflection. If, on the other hand, you want to grab attention, bold blue is exciting," Emily said. "The easiest way to get a luxurious and polished designer look is to install blue wall tiles from the floor to the ceiling. Use too much of it in a room, though, and it's hard to relax."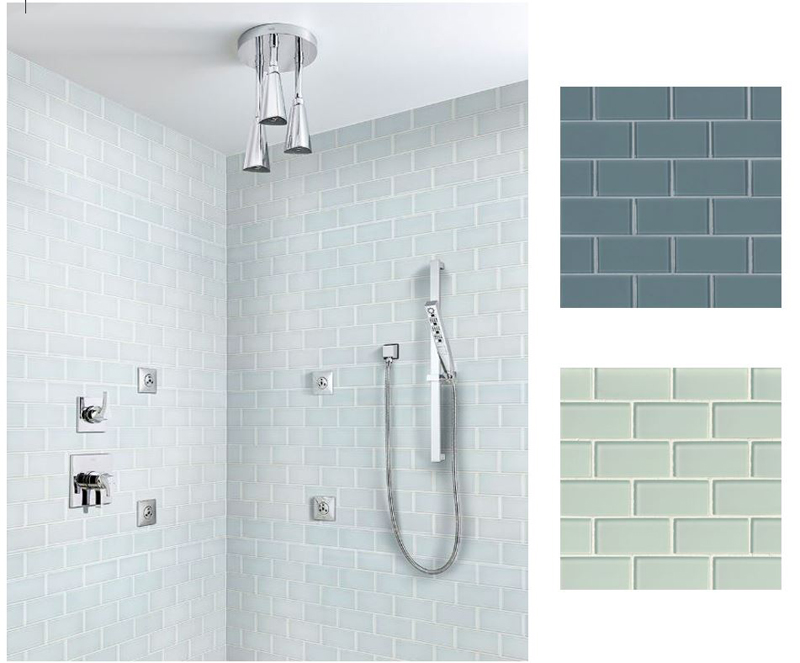 Ice Subway Tile Glass Mosaic looks clean and modern in a white bathroom.
Harbor Gray can create a bolder look, or Arctic Ice can keep things on the cooler side.
"You just can't go wrong with watery tones in the bath– especially when you intend to create a spa-like feel." Solid glass subway tile is a great way to make small spaces feel larger, since glass tile (especially with a beveled edge) is designed to catch and reflect light.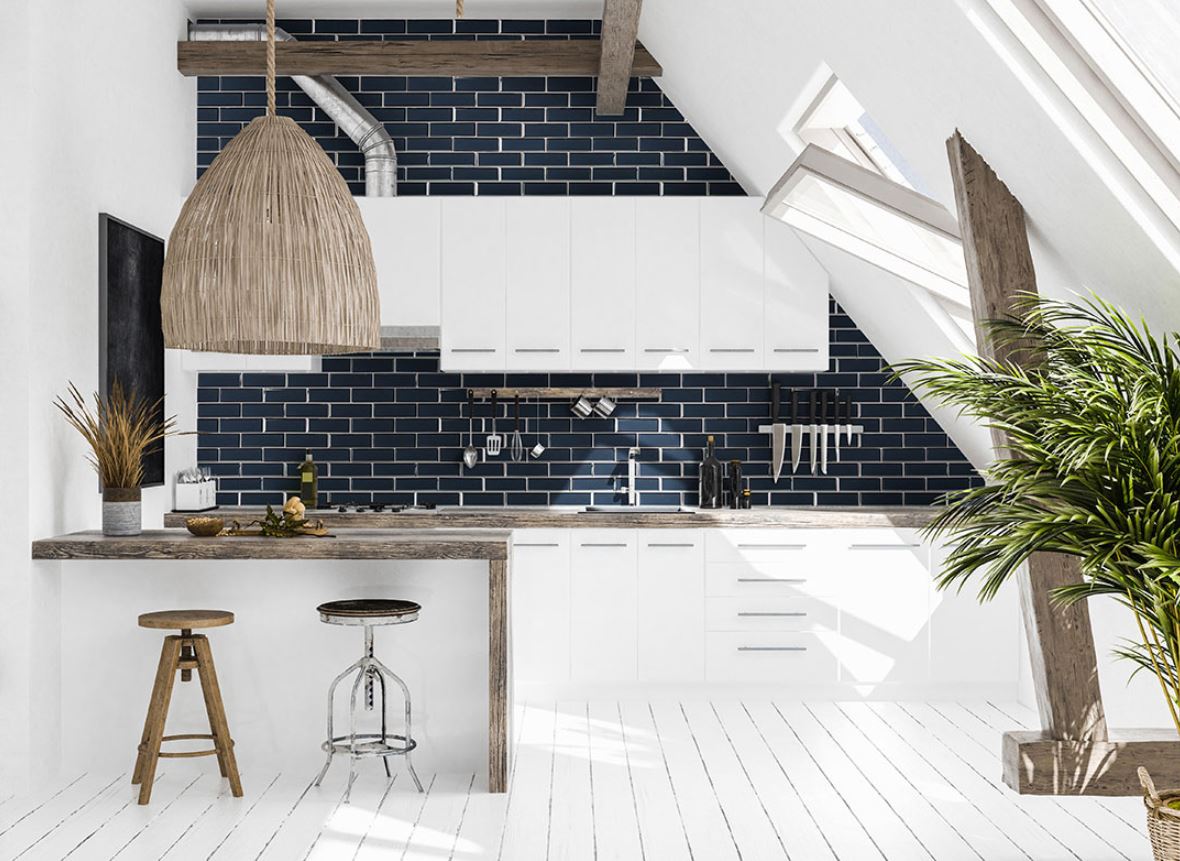 Explore deeper shades like Tahiti Blue or Vague Blue to invite mystery or contrast into your space – these high-impact tiles have alluring reflective properties that will change the vibe of your space throughout the day as light shifts. From elevating grooming routines to boosting home values, there are plenty of stunning ideas on both ends of the swatch book to enhance walls in any area of the home.
FLOORS: Stepping into Blue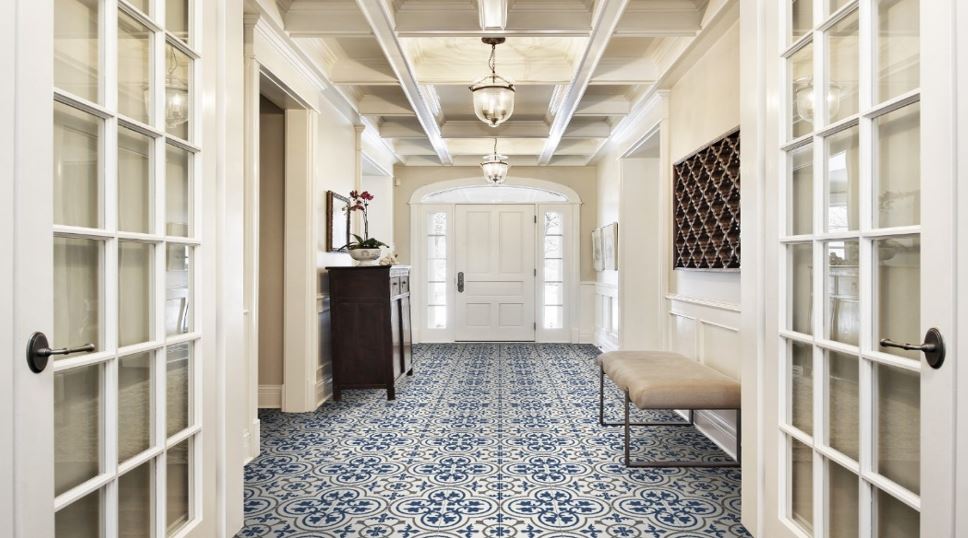 When blue is involved, our obsession with patterns and shapes only grows. And on the floors, they pack a punch. "When encaustic tile first came back in style, we'd see it here and there in designer spaces. It's more sought after today. In an otherwise simple room, bold tile patterns and unique shapes make an ultra-sophisticated statement on floors," Emily continued. "Styles like Kenzzi Zanzibar Porcelain Tile are a modern-day version of the handmade stamped tiles beloved for centuries in Europe."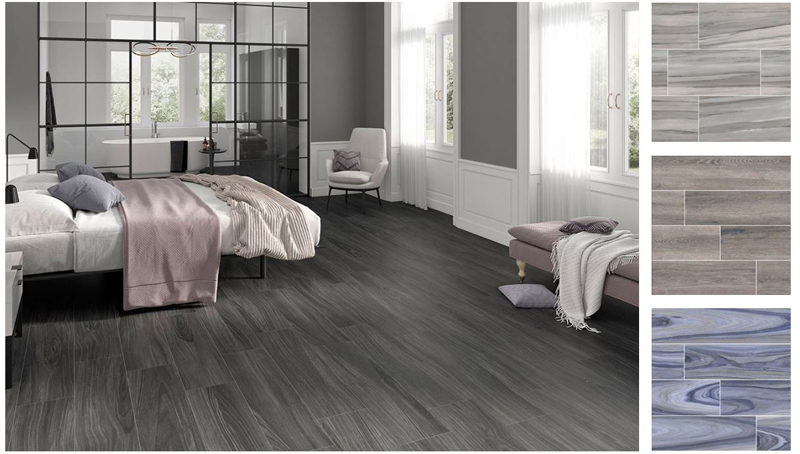 Braxton Midnight adds depth to this bedroom while Asturia Azul, Antoni Gris, and Dellano Exotic Blue can create a design statement in any room.
Neutral colors, stone and wood look tiles continue to evolve as trusted favorites for flooring installations. Blue can be found emerging subtly from cooler and darker neutral palettes, especially in wood planks where color mixes are abundant through layers of graining and texture. Consider porcelain options like Asturia Azul or Antoni Gris which softly blends cool blue undertones with creamy whites and greiges for a neutral, yet dynamic look. For something a little more dramatic, we look to darker selections, like Braxton Midnight , which embrace deep blue hues in an oversized porcelain plank format. Options like these are great for leveraging the power of blue without being quite so literal, but if you're ready to go all in with a trend statement, try something bold like Dellano Exotic Blue.
Whether revamping a home design or starting a project from the ground up, the options for this growing 2020 color trend are limitless. If you're anything like us, you're inspired by how homeowners, designers, and trade professionals alike can embrace the Moody Blues trend to capture the emotional essence of a space. How do you want to feel when you enter the room? Peaceful. Exhilarated. Dreamy? Whatever the goal, MSI has everything you need to begin planning your project with confidence. Be sure to check out the Moody Blues Lookbook for more inspiration and use tools like the MSI visualizer to see your vision come to life!