A Guide To Maintaining Granite Countertops
July 22, 2018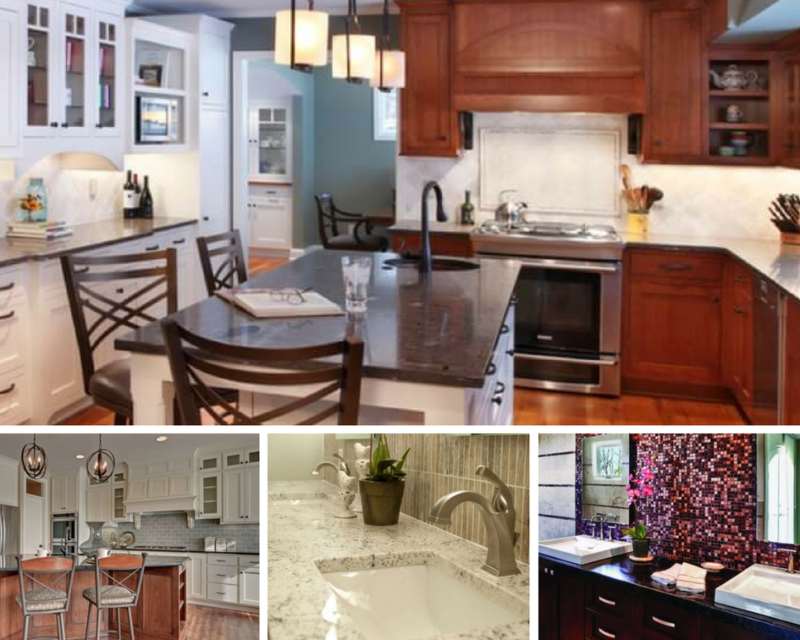 Contrary to popular belief, there actually is a natural stone that is also easy to maintain! Granite countertops provide all the natural appeal of other leading stone products, while offering fairly simple maintenance for the years ahead.
Plus, granite is extremely tough and takes a significant impact to cause damage, and that's an advantage over marble and some other stones. However, there are a few tips you should know about granite care, in order to keep it looking like it was freshly installed for many years to come!
To keep your granite countertops looking brand new, wipe down spills immediately and use placemats on your breakfast bar when eating and drinking. Also, take care when using sharp tools around granite counters; they are scratch-resistant, but are not scratch-proof.
Avoid cleaners that contain vinegar, ammonia, and bleach, as these products can dull the polished finish of your countertop. For your daily cleaning routine, simply use soap and water and then wipe down the surface with paper towels to dry it.
While granite is moisture-resistant, it is also porous, which is why you need to use sealants to block liquids from seeping in. When sealed properly, a countertop will simply cause liquids to bead on the surface.
Never fear, because water marks will eventually evaporate. However, you'll want to make sure you keep oily or staining liquids from making their mark by sealing regularly. It's a fairly easy process and will ensure that your granite countertop lasts a lifetime.
Now that you know just how easy it is to keep your granite looking pristine, let's take a look at a few of our latest options for granite countertops. Let the dreaming begin!
Mascarello Granite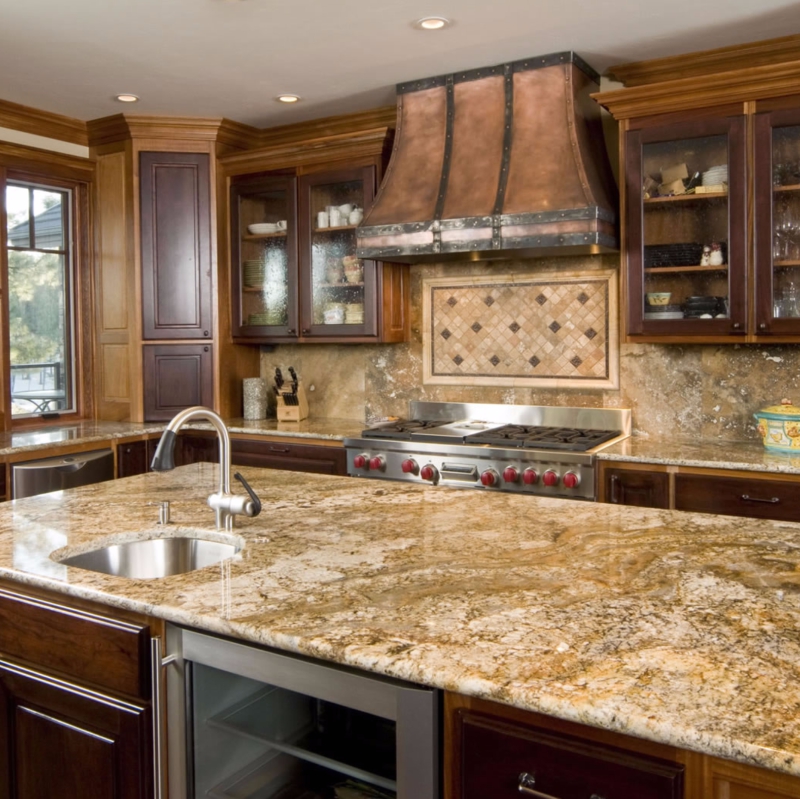 Featured: Mascarello Granite
With its dramatic variations of gold, rusts and black, durable Mascarello Granite gives luxury appeal to both flooring and countertop applications. The varied dark wood tones and massive copper stove hood are balanced by the lighter-hued solid granite backsplash that tops the surrounding countertops and massive island.
The overall effect of this Tuscany-inspired kitchen is warm and inviting, and family and friends are sure to gather round. Just remember to wipe down the surfaces with soap and water after mealtime to remove all traces of spaghetti sauce and red wine to retain that unique appeal.
White Ice Granite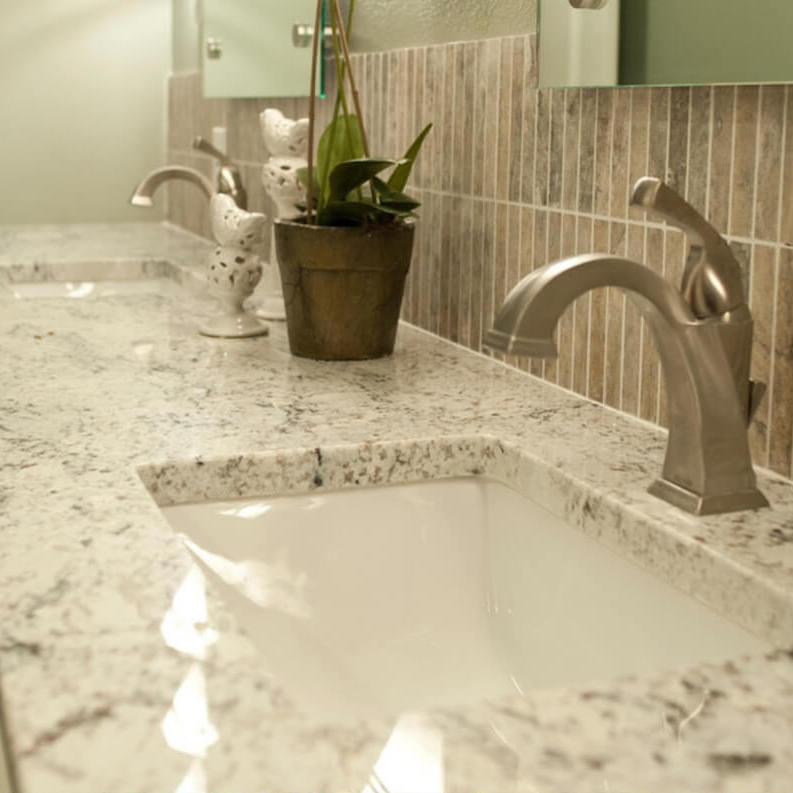 Get this look with MSI's White Ice Granite (Photo Credit: Houzz)
Soothing gray and bright white coloring are combined with black flecks in White Ice Granite, for a fresh and peaceful surface. Here, the expansive polished vanity countertop provides the perfect base for the vertically installed taupe-hued backsplash tile, nickel-plated faucets and elegant accessories. To prevent etching that brilliant white surface, take care to wipe down after using cosmetics, hairspray, and other potentially abrasive products.
Silver Creek Granite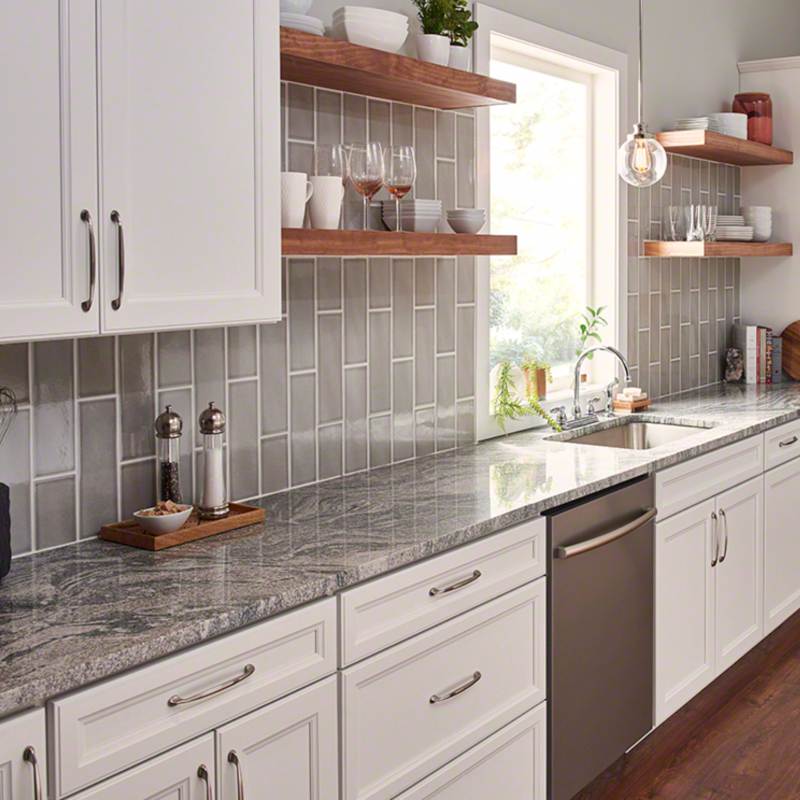 Featured: Silver Creek Granite
If you prefer a more dramatic countertop design, Silver Creek Granite may perfectly fit the bill. Featuring swirling hues of gray from dark gunmetal to light cloud, this unique granite countertop is highly durable, making it a great low-maintenance option for family homes. Paired with vertically installed dove gray large-size subway tile, fresh white cabinetry and natural wood flooring and open shelving, this stunning kitchen is a design triumph.
Cygnus Granite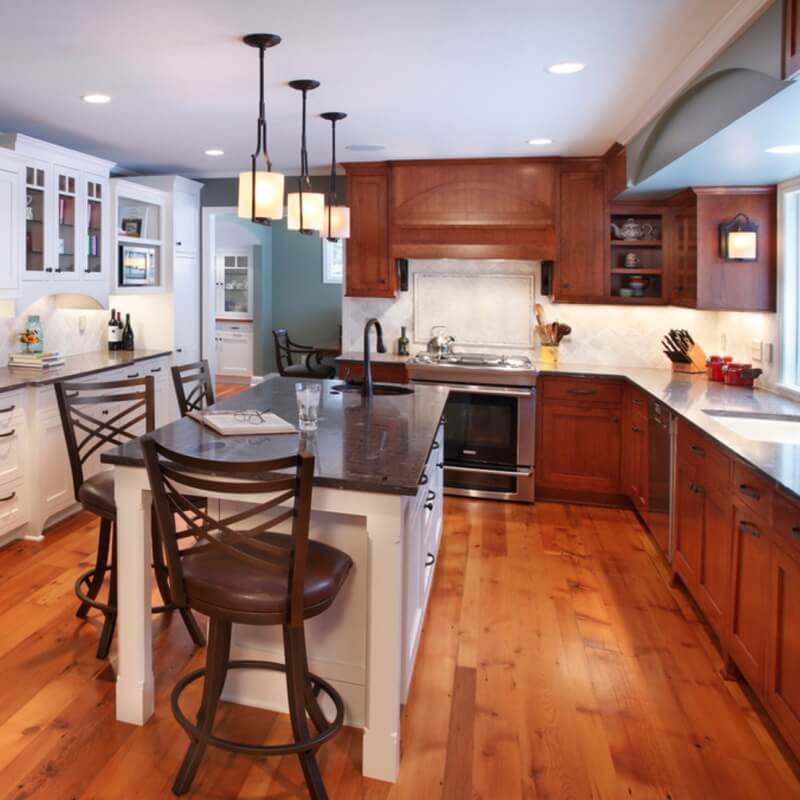 Get this look with MSI's Cygnus Granite (Photo Credit: Houzz)
For homeowners who favor dark countertops, Brazilian Cygnus Granite features a blend of bronze, antique copper and coffee tones. Here, it tops a generous eat-in island with white cabinetry and is complemented by dark-hued bar stools, faucet and cabinet hardware. The pleasing contrast of the honey floor planks and auburn surrounding cabinets makes for a warm and inviting space. Cygnus granite slabs can be used for countertops and backsplashes and is tough enough for both indoor and outdoor applications.
Brown Antique Granite

Featured: Brown Antique Granite
For moody drama, stay on the dark side with Brown Antique Granite. Available in both slabs and tiles for granite installation of flooring and countertops, this elegant stone features deep brown hues and flecks of white crystal for a captivating appeal. This extra-thick slab gives further substance to the dark cabinetry, while picking up the darker tones of the stunning glass mosaic backsplash that stretches all the way to the ceiling. A daily wipe-down with mild soap and water is all that's required to maintain this stylish surface.
These options and more can change the whole look and feel of your home, and with so many granite colors available to you, you're sure to find one that suits your style.
Plus, as one of nature's strongest materials, you won't need to worry about your granite…a bit of simple care is all that is needed. Learn even more about streamlining your home maintenance projects, and simplify your home cleaning today.
READ MORE ABOUT GRANITE COUNTERTOPS
7 Granite Slab Backsplashes For An Inspired Kitchen Design
7 Vibrant Granite Colors That Turn Up the Heat In the Kitchen
9 Popular Black Granite Countertops