Get The Look And Warmth Of Wood With Waterproof Flooring
August 09, 2022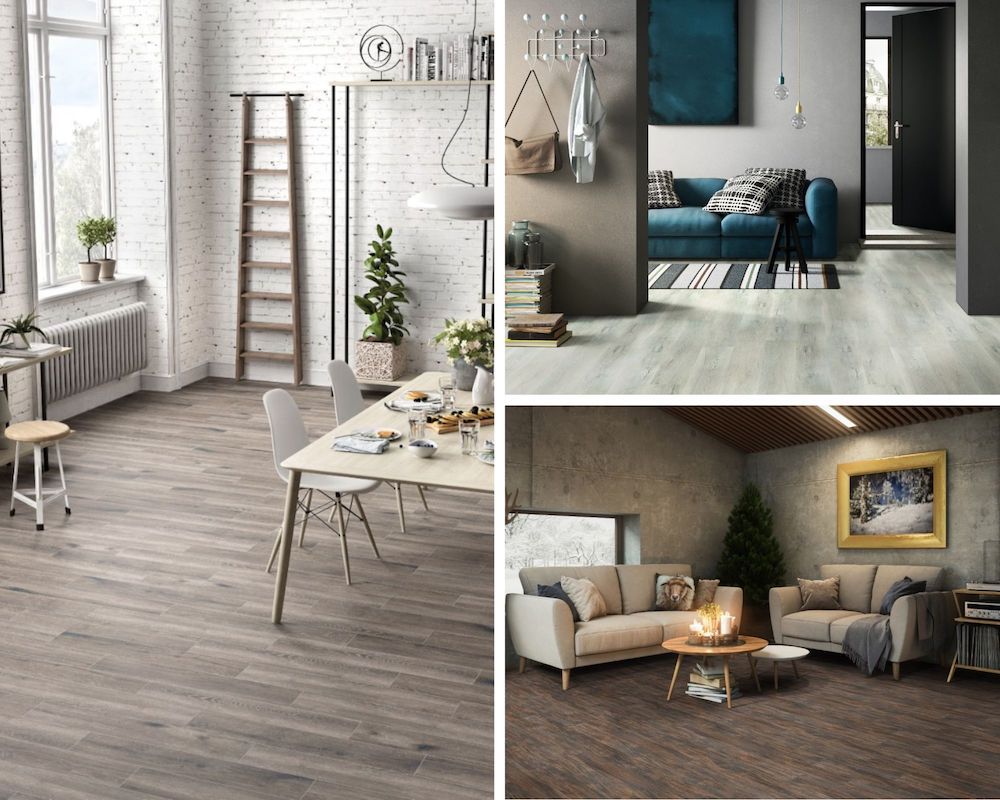 There's a lot to love about solid hardwood flooring — the elegance, cozy warmth, and natural pattern and texture, just for a start. What's not to love, though, is the potential for water damage. Even excess humidity can shorten the life of a natural wood floor. But MSI has the perfect solution to this dilemma: wood-look waterproof flooring.
With luxury vinyl or porcelain wood-look planks, you can enjoy all the advantages of natural wood flooring without any of the hassles or worries. What's more, you can install them in places where the real thing is not appropriate, such as bathrooms and laundry rooms. With wood-look porcelain planks, you can even use it outdoors to create a durable, splinter- and maintenance-free patio with the look of a rustic deck.
Here's a short video that will give you some inspiration and ideas for how vinyl and porcelain tile that looks like wood can help you achieve the look you want in your home, from rustic to high-end elegance:
We'd also like to share a few of our favorites here — and keep in mind, we have dozens of wood-look plank collections to choose from, each with their own unique aesthetic and set of features.
BERGEN HILLS LUXURY VINYL PLANKS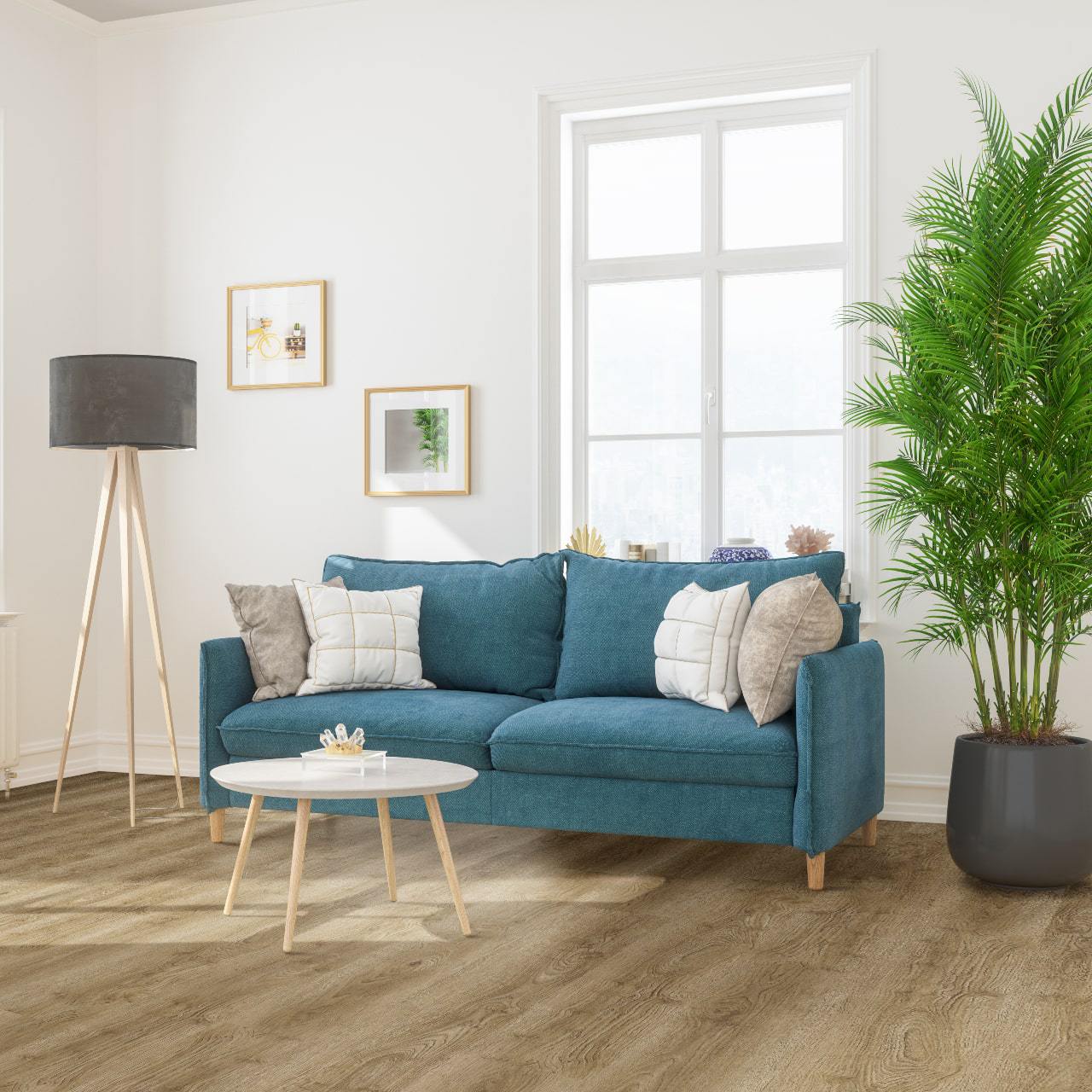 You'll be amazed by the authentic look of Bergen Hills luxury vinyl planks from our Ashton collection. Modern technology allows us to manufacture them with realistic wood patterning, including grains and knots. Like all of our LVT planks, this color includes our patented CrystaLux wear layer, which gives it impressive durabiity and protection from scratches, stains, and everyday wear and tear.
This color features shades of medium- to light-brown, with a variation pattern that creates a linear, almost striped look when installed. One benefit to this type of planking is that you can use it to make a room look wider or longer, depending on which direction it's installed. It's available in two sizes — 7" x 48" and 9" x 60, allowing you to choose which is most attractive proportional to your space.
KARDIGAN LUXURY VINYL PLANKS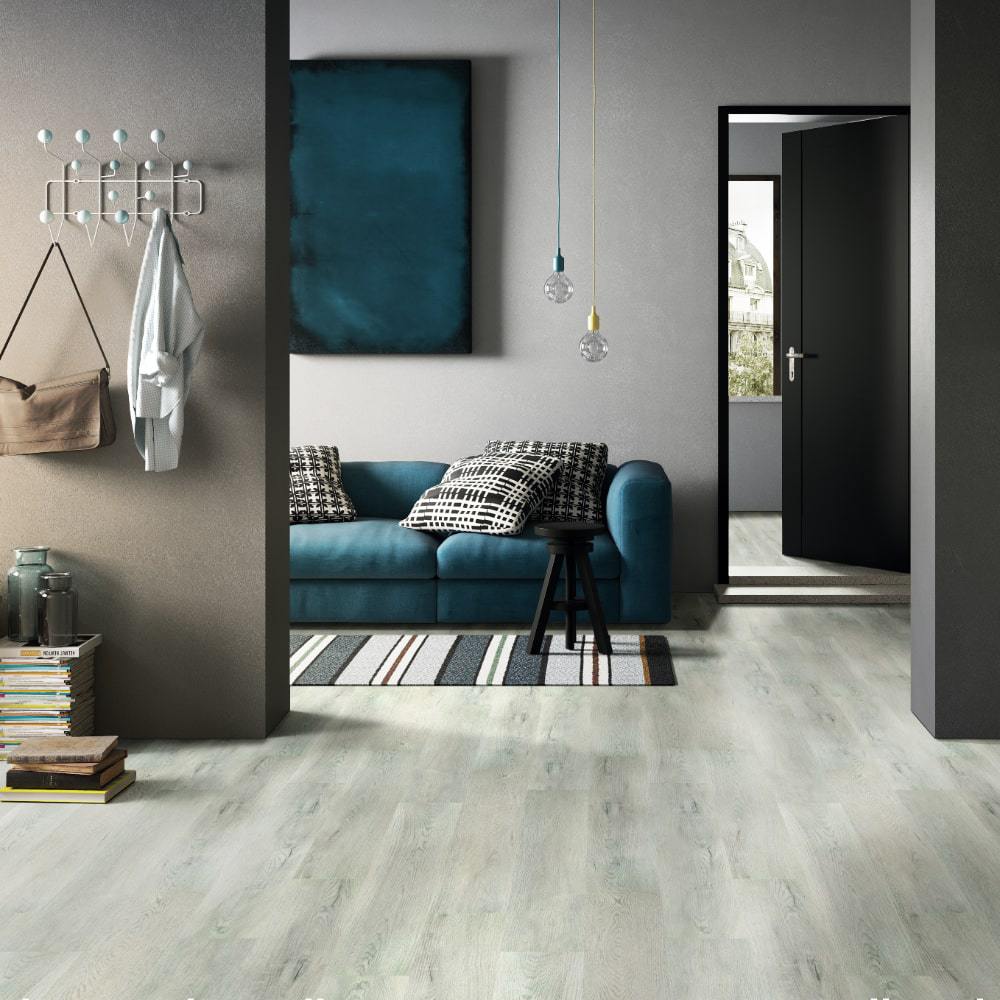 For a more unique type of wood look, consider Kardigan luxury vinyl planks from our Prescott series. The reclaimed-wood aesthetic is one of today's hottest trends, and this color achieves that in a subtle way that will stand the test of time. It's an easygoing neutral combination of gray shades alongside hues of creamy-white and a slight blue tint.
Although we love to talk about how great water resistant LVT planks work in bathrooms and other wet areas, there are many reasons to install it in living rooms, dining rooms, and bedrooms. For one thing, its pre-attached backing enhances its comfort, warmth, and sound-absorbing qualities. But no matter which room you're in, there's always the chance for spilled drinks, pet accidents, windows left open in the rain, and other wet mishaps. With waterproof LVT? No worries.
GRIS PORCELAIN WOOD LOOK TILE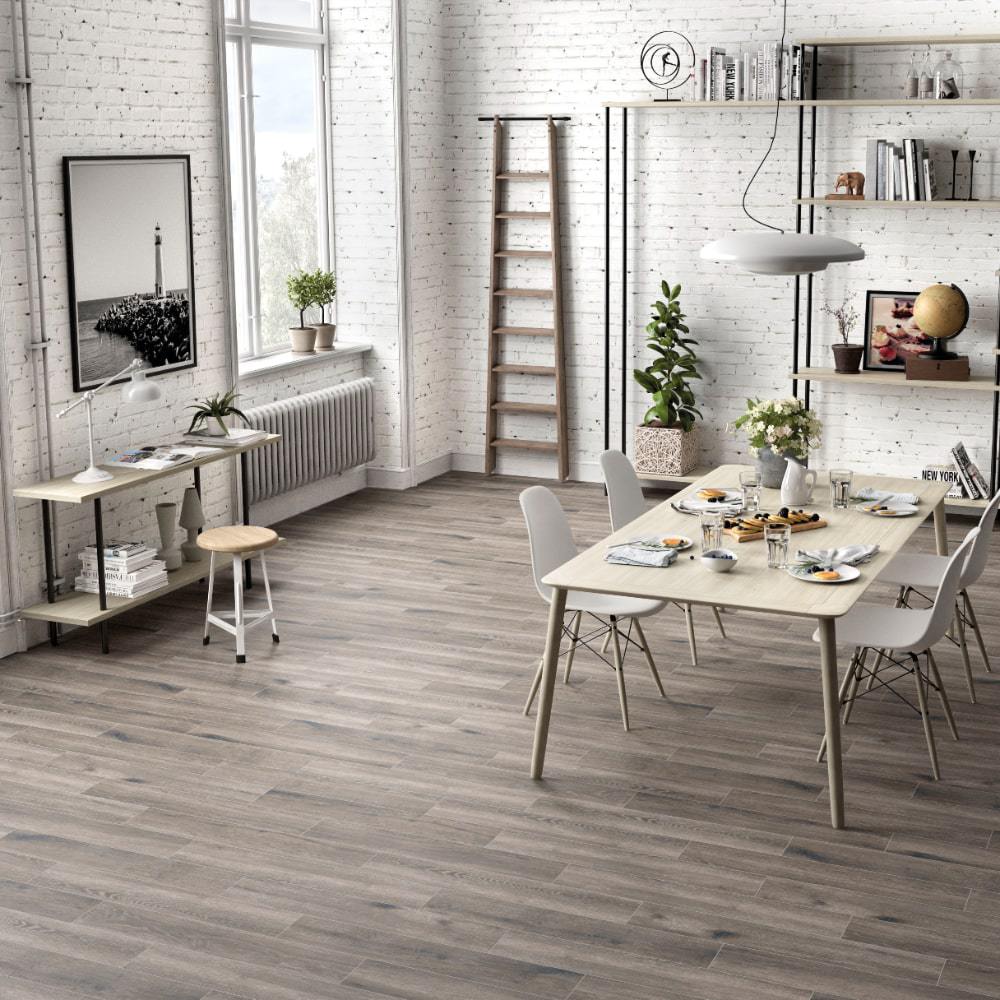 Gris Porcelain tile from MSI's Antoni collection is another way to enjoy the reclaimed, weathered wood look without worrying about scratches, water damage, or splinters on your bare feet. It features shades of medium gray with realistic shading, graining patterns, and knots. Smart homeowners, as well as those who maintain rental properties or commercial spaces, are loving our wood tile flooring because of its durability and ease of care. It never needs sealing, stands up well to high foot traffic, and has a non-slip glazed surface to prevent slips and falls even when wet.
But don't just think of porcelain plank tiles as flooring — it's also popular for use as kitchen backsplashes, shower walls, and fireplace surrounds, both indoors and outdoors.
TEAK PORCELAIN WOOD LOOK TILE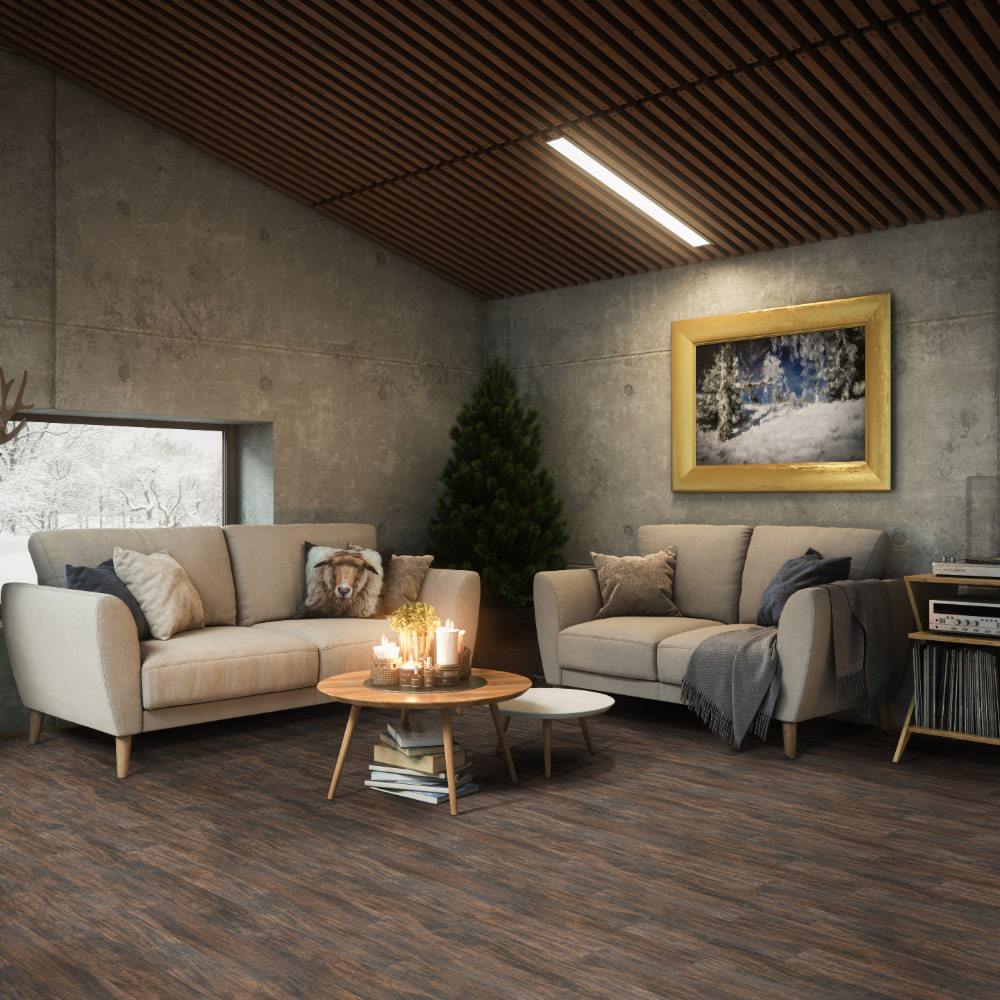 If an effortlessly elegant look is what you're dreaming of, Teak porcelain tile from our Botanica series may be the perfect choice. It features rich shades of dark and medium brown, with the same authentic grain-and-knot pattern you've come to expect from all of MSI's wood-look planks. Of course, it fits just as well in a more casual environment, because versatility is one of the reasons people love the wood look in the first place.
Aside from the waterproof angle — which is a big plus, of course — you can feel confident installing MSI porcelain floor tile in your home because they are GreenGuard Gold and LEED-certified. That means they won't adversely affect your indoor air quality.
If you have children or pets, a busy lifestyle, or just hate spending your time cleaning and maintaining your flooring surfaces, worry-free, waterproof flooring from MSI is a great way to simplify your life. That's why we provide so many flooring options and other top-quality products!
We want you to love your new flooring, and are always happy to offer information on selecting, installing, and maintaining our products. So before you make that important investment in new flooring for your home or business, browse our website or visit one of our showrooms in a city near you, or give us a call.
Discover More About Waterproof Flooring From MSI
What Is The Best Luxury Vinyl Flooring For Bathrooms?
Check Out These 7 Instagram Worthy Rooms Featuring Waterproof Flooring from MSI
MSI Luxury Vinyl Flooring Product Overview
Waterproof And Pet-Friendly New Luxury Vinyl Flooring
Whitewash Vinyl Flooring Planks From MSI