Outdoor Oasis: Top Five Hardscaping Trends
December 28, 2016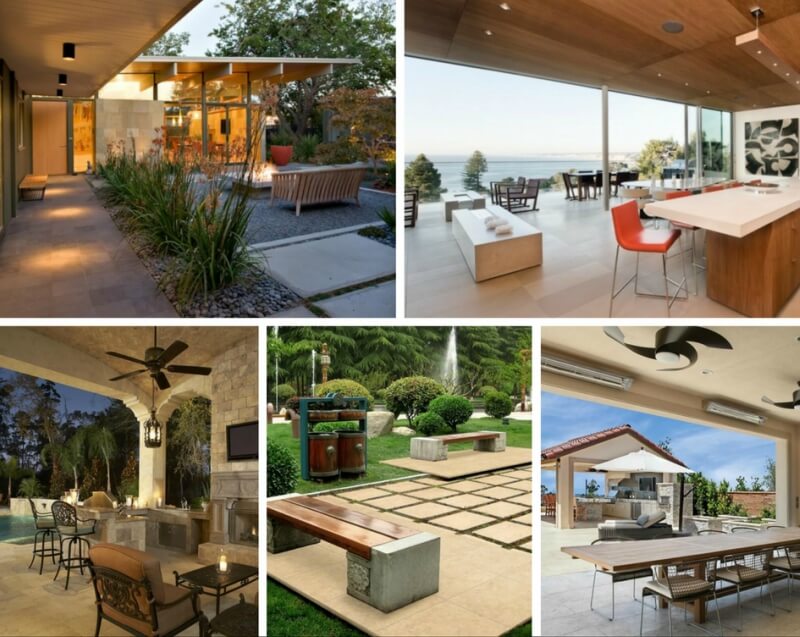 Want to make the most of your dirt-filled backyard or boring landscape?
One way to transform your outdoor space into a more functional, luxurious oasis is to add hardscaping. And what makes many of today's popular hardscaping elements unique is their more modern interpretation.
With that in mind, we're counting down the top five hardscape trends to inspire you to dream up your own perfect patio or entertaining haven.
#5 Outdoor Kitchens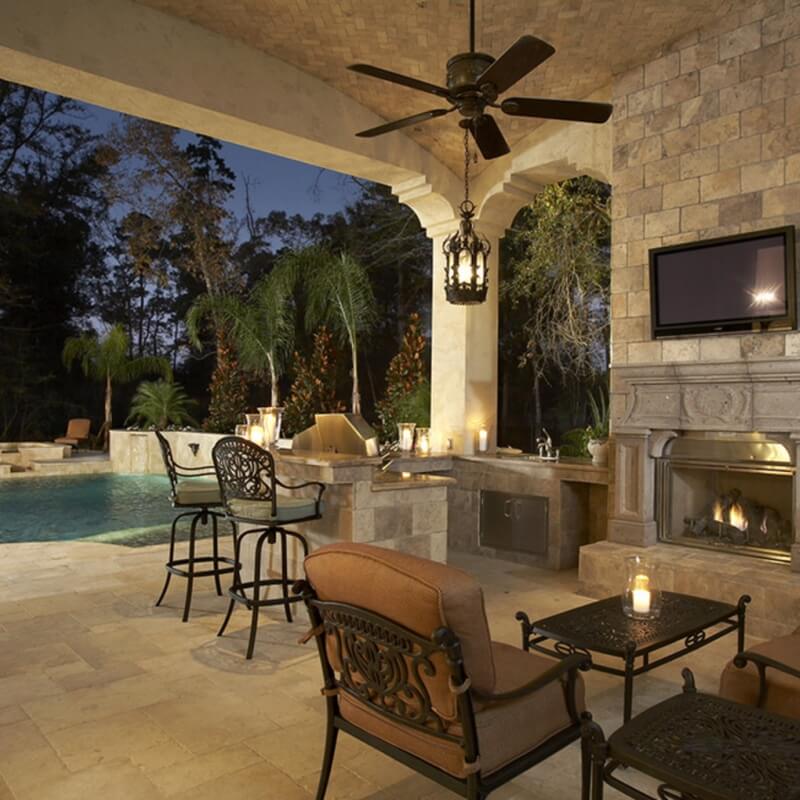 Featured: Tuscany Walnut Tumbled Travertine Pavers
While the kitchen may be the center of your home's interior, it can also become the hub of your backyard if you enjoy cooking and eating next to nature. Today's outdoor kitchens are more than just a place to grill; they're fully functional spaces equipped with proper ovens, sinks, mini refrigerators, and even pizza ovens. So... consider taking the opportunity to hardscape your outdoor kitchen.
For example, the tile around this built-in, U-shaped kitchen takes its design to the next level. The Tuscany Walnut Tumbled Travertine Pavers boast beautiful shades of browns, taupes, tans, and creams that blend in with the rest of the natural stone installations. Now, it's a luxurious spot where any chef or home cook would love to spend time.
#4 Seamless Tile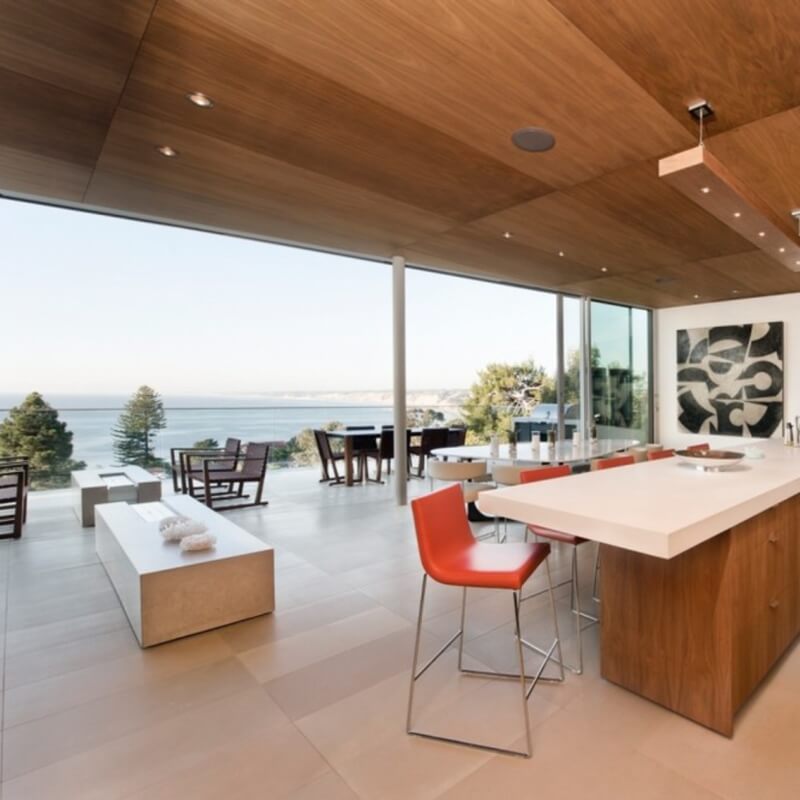 Featured: Khaki Porcelain Tile
At first glance, you will notice that this is a covered patio with an incredible outdoor kitchen, plenty of seating, and one amazing view. But look closer, and you will realize that this home's design features a seamless transition from indoors to out. Using outdoor tile is one way to achieve that continuous flow.
The pictured Khaki Porcelain Tiles from MSI's Focus collection are a contemporary, elegant design with a soft neutral color, tonal stripes, and a matte finish. The 12x24 tiles draw the eye toward the stunning ocean views and unify the indoor and outdoor living areas.
#3 Outdoor Dining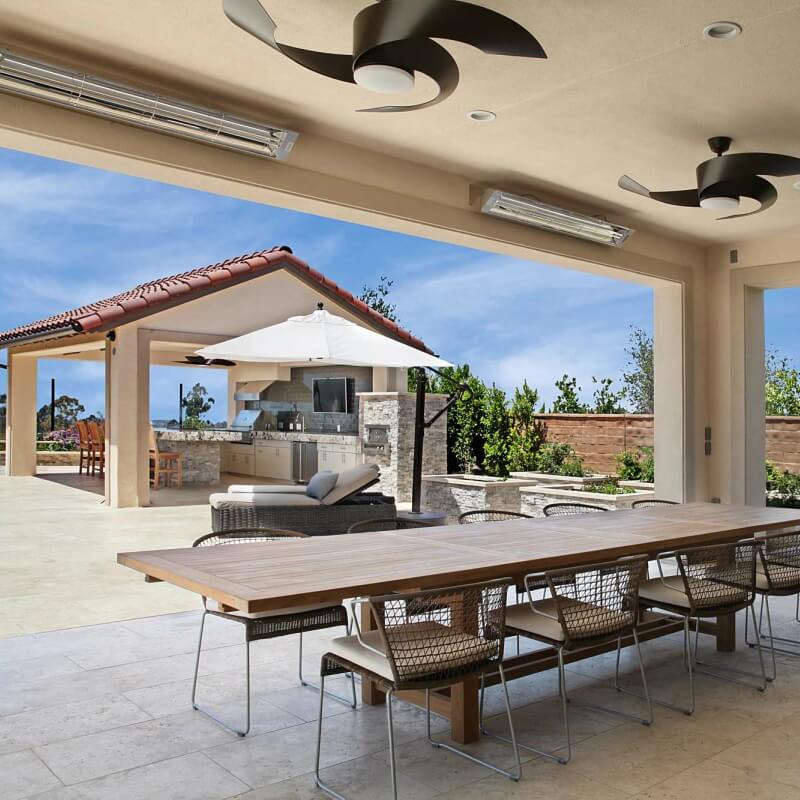 Featured: Tuscany Platinum Travertine Tiles
A dedicated outdoor dining space makes it possible for you to gather outdoors more often for fun, memorable times with friends and family. Spruce it up for a formal dinner, or dress it down for a casual cookout. Depending on your climate, you may even be able to enjoy your entertaining space year-round. For example, to prepare for the elements, the dining area is covered and includes two ceiling fans and built-in heaters.
The Tuscany Platinum Travertine Tiles define the dining area and add warmth and texture with their beiges and creams. A natural stone hardscape is beautiful to look at, and if one section happens to get damaged, it's easy to find a replacement to match your existing flooring.
#2 Pebbles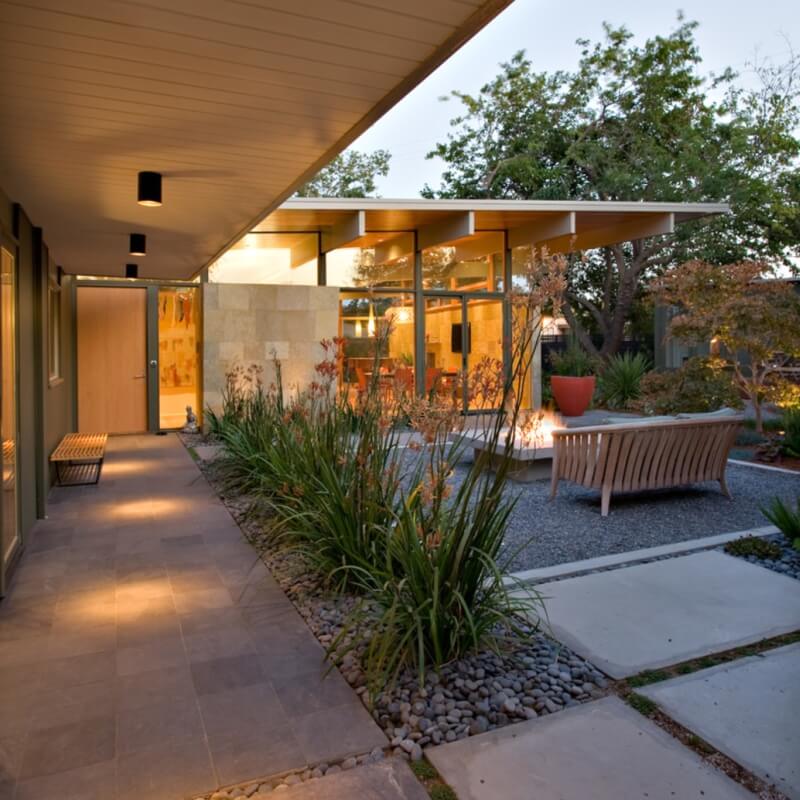 Featured: Black Polished Pebbles
Create a Zen-like vibe for your landscape with the addition of pebbles. Use them as a filler to highlight a pathway, or feature them as your main flooring of choice. This mid-century modern home uses MSI's Black Polished Pebbles for a little bit of both. The finely polished quartzite pebbles surround the fire pit, creating a focal point, complementing the greenery, and filling in some of the gaps between walkways. They come in three sizes and are an upgrade from common gray landscaping stones.
#1 Porcelain Pavers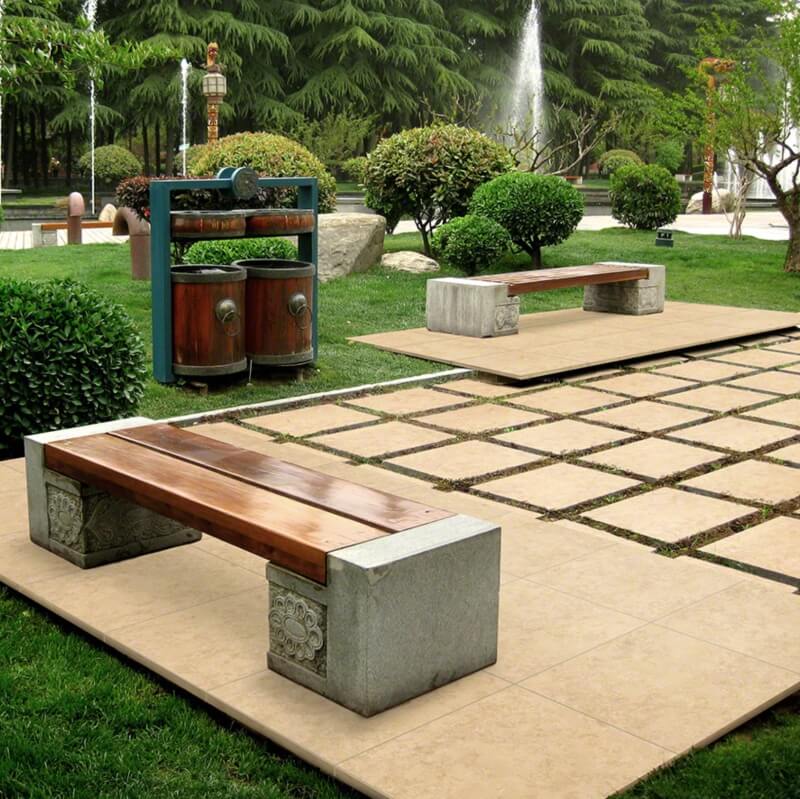 Featured: Petra Beige Porcelain Pavers
When you want the look of natural stone but are on a budget, opt for non-porous porcelain pavers. This material is a low-maintenance option that is extremely durable when used indoors or outdoors.
At this outdoor oasis, the warm beige tones of Petra Beige Porcelain Pavers pop against the lush greenery, giving the feeling of natural stone. With large-format sizes in 12x24 or the 24x24 shown, they can be installed in a variety of patterns to suit your space and your style.