5 Gorgeous Granite Countertop Kitchen Islands That Wow!
April 28, 2021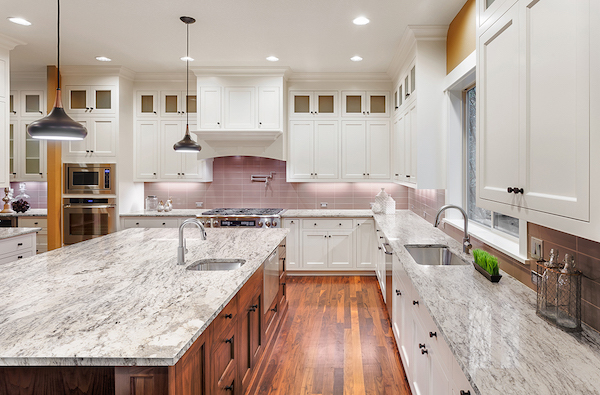 Are you overwhelmed with all the countertop materials on the market? We don't blame you — there are a lot to choose from! While there are pros and cons to them all, one of our all-time favorite options is a granite countertop. From its remarkable appearance to its durability, granite is a no-brainer for both indoor and outdoor applications.
But when you want to elevate the look and feel of your kitchen, you need to consider a granite countertop kitchen island. With the kitchen island being the focal point of the space, a luxurious countertop is an absolute must. Whether you're considering light and bright white granite or moody black granite counters, there's something to make your vision a reality.
To help make the countertop selection process a bit easier, we've put together a quick guide that explains why granite is a top choice for kitchen countertops and outlined our top five choices to create a wow-worthy space.
The Benefits of Granite Countertops
When planning a home improvement project, you've likely been comparing quartz vs. granite. To help you feel confident in your decision for granite countertops in your kitchen, we are here to elaborate on some of the benefits of granite for added peace of mind.
Durability
When selecting countertops for your kitchen, you need a durable option that can withstand everyday wear and tear. Whether your children plan to sit at the kitchen island and do their homework or you'll spend your evenings cooking dinner as a family, granite countertops will be able to withstand whatever you throw its way. Granite is an extremely hard material, making it extremely resistant to chips, stains, and scratches. Another bonus is that it is heat-resistant — which is an absolute must in a kitchen setting! While it isn't recommended that you constantly plan hot pots and pans on your countertops, you won't cause any damage or alter its appearance by doing so like it would to alternative countertop options like laminate or wood.
Bacteria-Resistant
Because you and your family are often working off of your kitchen counters, whether you're preparing dinner or they are finishing up homework, you must ensure that it is a clean and bacteria-free space. Luckily, granite's non-porous properties make it resistant to bacteria and dirt. Unlike other countertops that absorb these germs, you can rest easy knowing that a small mess can easily be clean without harming your family's health or your countertop's appearance.
Low Maintenance
As a homeowner, you already have a million tasks on your to-do list, and it probably seems like that list continues to grow every day. When you choose granite countertops for your kitchen island, you don't have to worry about scheduling regular maintenance to upkeep its luxurious appearance. By cleaning on your counters with a granite-specific cleaner and soft rag, you'll be able to easily maintain their jaw-dropping appearance.
Home Value
Whether you plan on selling your house eventually or it's your home for life, you may be pleased to find out that granite has a great return on investment. Because granite countertops are sought-after in the market, potential buyers are going to see the value in your investment and know the worth behind what they're buying — allowing you to increase the value of your home!
Create a Showstopping Kitchen Island with These 5 Granite Countertop Options
Now that you understand why selecting granite counters is a no-brainer, it's time for the fun part — narrowing down which granite slab will bring your vision to life! Here are five of our favorite granite countertop options that are perfect for kitchen islands. If you need help visualizing our recommendations in your space, use our Granite Visualizer Tool for your kitchen remodeling project.
Agatha Black Granite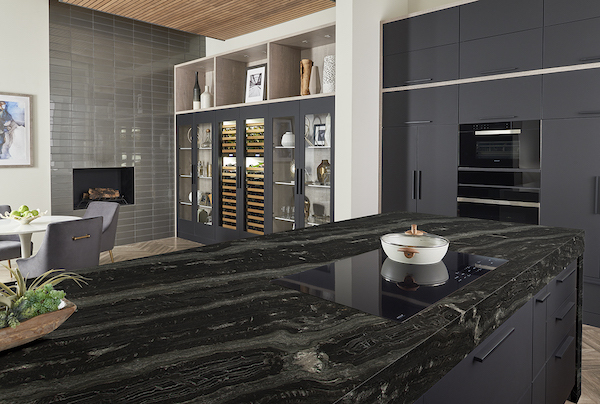 Are you planning to select one color countertop for your kitchen or are you imagining a two-toned kitchen? Whether you want a focal island or a cohesive space, Agatha Black granite is sure to set the mood! With a dark black backdrop that is highlighted beautifully with light gray and white textured veins, you'll be left speechless by this one-of-a-kind black beauty. Its boldness and dimension make it the ideal granite slab for kitchen islands because it is sure to capture anyone's attention that steps foot inside your kitchen. It can also be used as a focal point by creating a dramatic backsplash, accent wall, or floor.
Black Galaxy Granite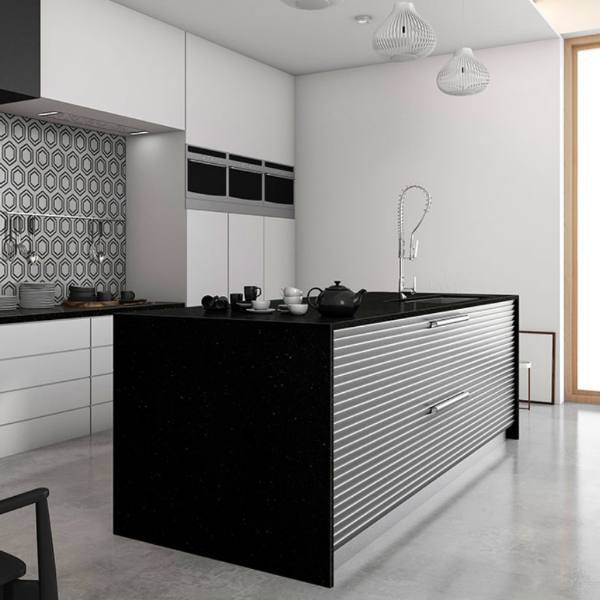 Do you ever step foot into your backyard simply to admire the night sky? With its black background with flecks of gold and white, Black Galaxy granite allows you to incorporate a piece of the night sky into your kitchen. Depending on your desired look and feel, you can install this as a granite slab or tiles — or both! Consider a two-toned kitchen with Black Galaxy granite as the kitchen island, a white granite as the complementary counters, and you can even install Black Galaxy tile as the kitchen backsplash to tie it all together!
New River White Granite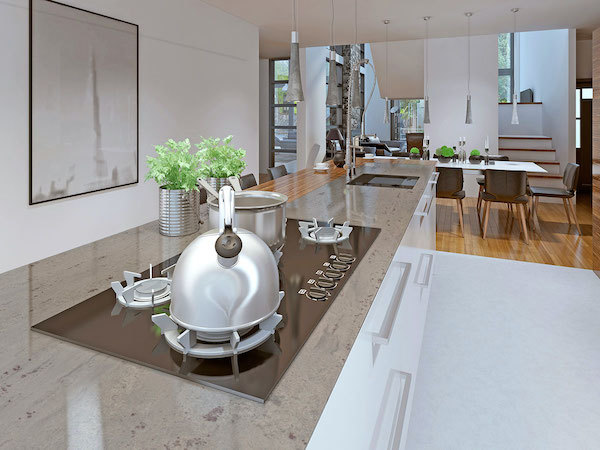 If dark and moody isn't your scene, don't fret — we have the perfect kitchen island countertop option for you! Veined with stormy silver and speckled with crimson across an alabaster base color, there's nothing quite like the appearance of New River White granite. The seamless blending of colors and swift veining draws the eye across the slab, allowing you to admire its sensational beauty. Although New River White granite is ideal for kitchen island applications, it can also be used as a backsplash or accent well to help elevate a space.
Sunset Canyon Granite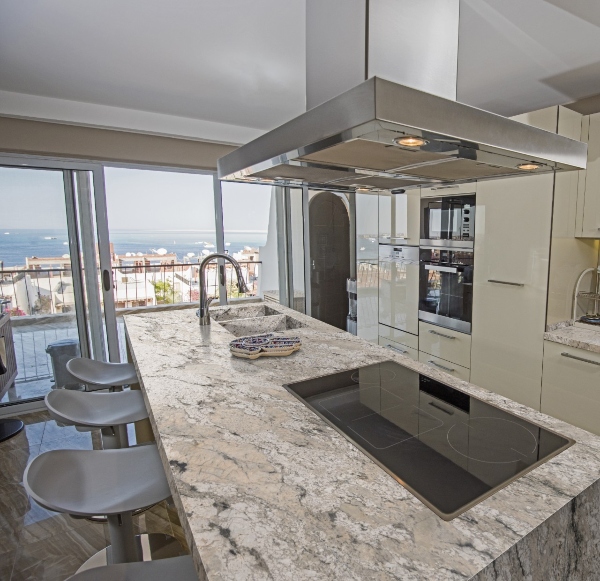 When you're looking for something neutral but with a bit more character than a classic black or white granite, consider Sunset Canyon granite countertops. Its neutral beige backdrop highlighted with sprinkles of white and taupe colorways along with small streaks of black veining makes it the perfect choice to subtly add color into a space. The eccentric, yet sophisticated veining pattern adds just the right amount of character to spice up your kitchen without overpowering other elements of the kitchen design.
Luna Pearl Granite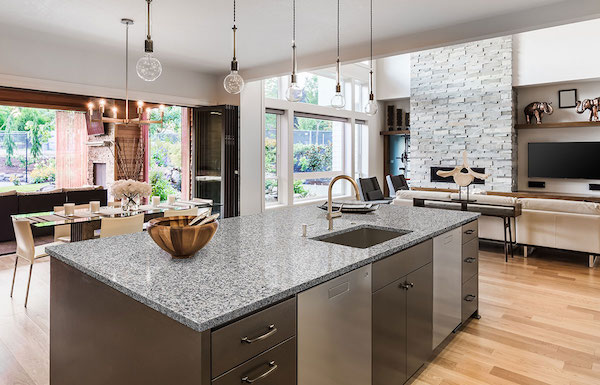 Instead of opting for an ordinary granite slab, consider a countertop option with a bit more life to it. Luna Pearl granite features a light gray backdrop accompanied by a small intricate pattern and gray and white specks. This busy pattern can bring any kitchen to life, making it a great choice for kitchen countertops, kitchen islands, backsplashes, accent walls, or outdoor applications.
Whether you're looking to create a showstopping focal point with a dramatic kitchen island countertop or you're looking for a more subtle option, MSI's selection of granite countertops offers a variety of colors and styles for you to choose from. Need help seeing how each option will look in your existing space? Try MSI's countertop visualizer to easily show you, in real-time, how granite countertops will look in your kitchen.
Read More about Granite Kitchen Countertops
Granite Waterfall Counters for a Dramatic Kitchen Centerpiece
Countertop Visualizer: Your Dream Kitchen or Bathroom in Real-Time
Maximum Return on Investment: Granite Kitchen Countertops
Golden Granite Countertops for a Warm and Glowing Kitchen
Granite Countertops: The Workhorse of the Kitchen
5 Inspirations: A Granite Countertop for Every Style
5 Black Natural Granite Countertops for an Upscale, Luxury Kitchen
Natural Granite Kitchen Countertops to Extend Up Your Backsplash
Get the Designer Kitchen You Crave With These Granite Countertops
Choosing Your Ideal Granite Countertop: Fast-Track Your Upgrade
Stop Obsessing! Here's How to Make Sure Your Counters and Cabinets Go
6 Wow(!) Kitchens featuring Granite Countertops
READ MORE ABOUT GRANITE COUNTERTOPS
5 Kitchens That Prove Granite Countertops Are Still King!
5 New Looks for Granite Countertops
5 Striking and Dramatic Granite Countertops