Everyday Porcelain Tiles That Masquerade As Marble
June 15, 2020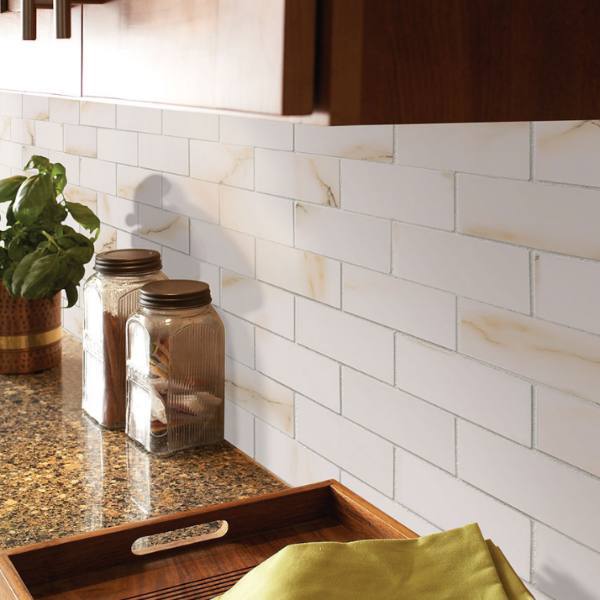 One of the most impressive qualities of porcelain tiles is its brilliant ability to mimic both the luxurious look and smooth feel of marble. Even though it's a budget-friendly option, it exudes the same high-end, sophisticated style natural stone does and can easily transform a room into something spectacular.
Porcelain tile that looks like marble is a durable, super dense product that will last long-term. Unlike porous marble that easily stains, porcelain's extremely low water absorption rate makes it an ideal selection for bathroom and kitchen renovations. In addition to being moisture resistant, the extremely strong tile is also highly resistant to frost, stains, scratches, and fading. If you're considering marble vs porcelain vs ceramic tile for your next project, then check out these five marble-look favorites!
Adella Gris Porcelain Tile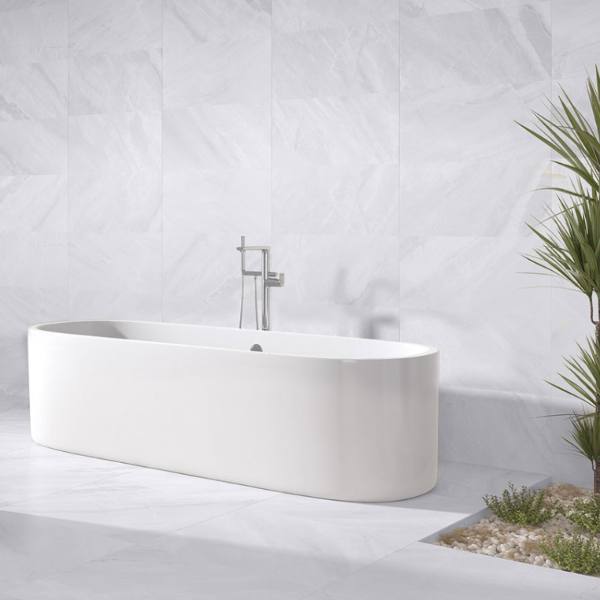 Adella Gris is a glazed porcelain tile that beautifully blends creams and grays for a classic, luxurious look similar to the high-end natural stone. This ultra-modern bathroom is anything but sterile in style thanks to the elegant marble-look tile that flows from the floors to the ceiling. It creates such a relaxing space for enjoying a long soak in the sleek, modern tub.
Statuario Porcelain Tile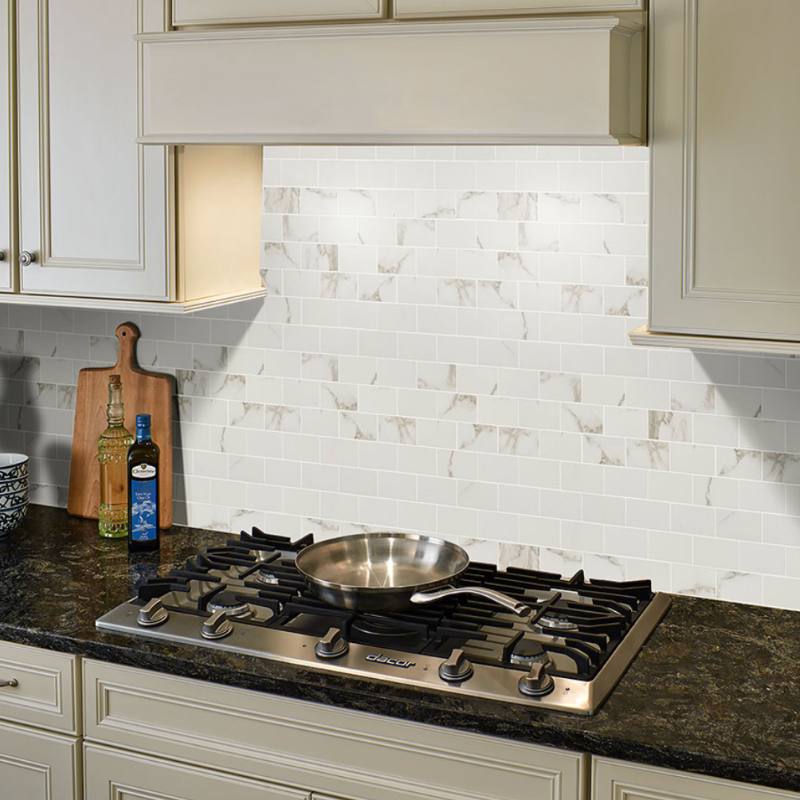 Statuario is a glazed porcelain tile that mimics marble with its soft white background and quintessential gray veins. Instead of opting for a more Tuscan style, this traditional kitchen is given a more updated feel as a result of the porcelain tile backsplash. The random gray and taupe veining creates an interesting design while still pulling from the creamy-colored cabinetry.
Aria Bianco Porcelain Tile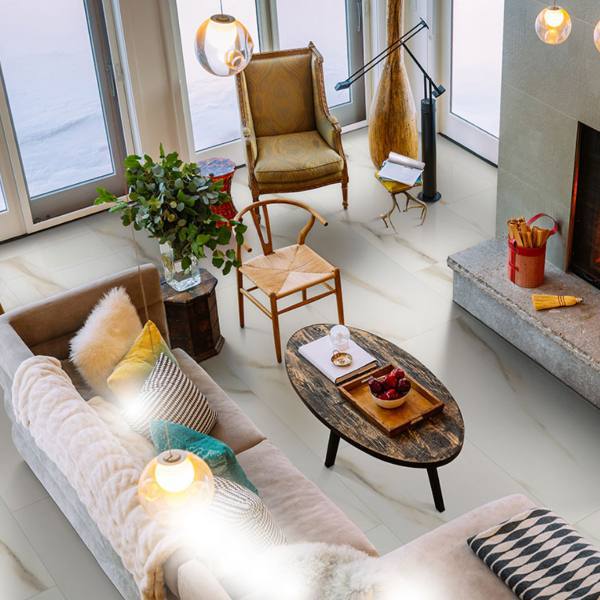 Aria Bianco is a beautiful porcelain tile with a warm white background and iconic gold veining that's often highlighted in natural marble stone. The large-format tiles come in several sizes to suite a variety of installations, such as backsplashes, floors, and shower surrounds. This eclectic living room features a mix of design aesthetics, but the stunning porcelain floors keep the entire space fresh and modern. The bold veining ties it all together beautifully with the warm wood and camel-colored accents throughout.
Adella Viso Calacatta Ceramic Tile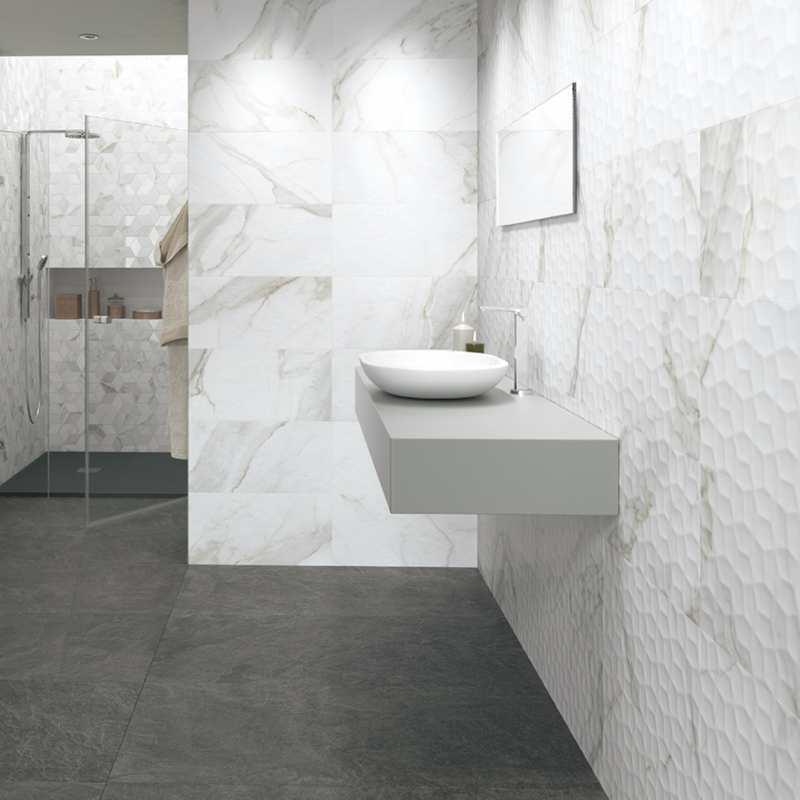 Adella Viso Calacatta is a unique, large-format ceramic tile imported from Spain with a three-dimensional texture. It features the look of Calacatta marble with its white background and recognizable gold and gray veining. This ultra-modern, minimalistic bathroom includes elegance throughout as a result of the mixed porcelain and ceramic marble looks. The texture on these beautiful tiles makes for a standout moment with a floor-to-ceiling application like this. Plus, the white marble bathroom tile looks excel at bouncing around the natural light.
Pietra Carrara Porcelain Tile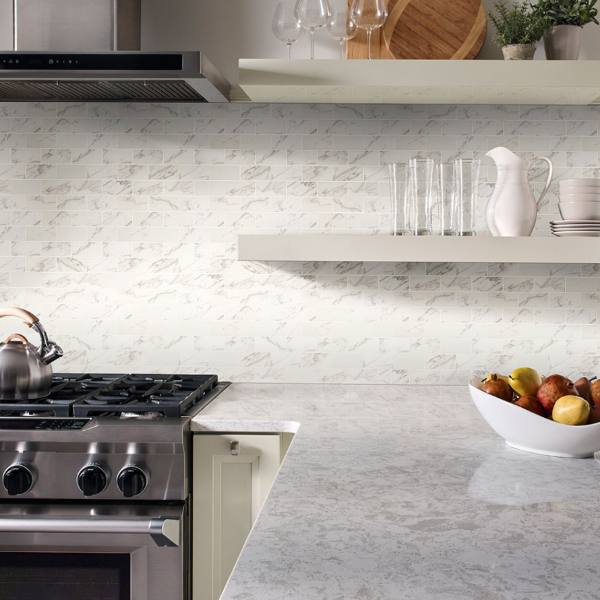 Pietra Carrara is a stunning porcelain subway tile that realistically mimics Carrara marble with its white background and gray veining. This contemporary kitchen makes the most of its stunning backsplash design. It features sleek floating shelves that highlight the marble look instead of covering it up with full cabinetry. The kitchen tile includes delicate veining that highlights the similar light gray tones displayed in both the countertop and shelving.
READ MORE ABOUT PORCELAIN TILE with NATURAL STONE LOOKS
the Look of Eramosa Stone In Porcelain Tile
Does Porcelain Tile Look Like Real Stone?
Natural Stone Vs. Porcelain Tile for Kitchen Flooring
NATURAL STONE VS. PORCELAIN TILE FOR KITCHEN FLOORING
You Won't Believe These Inkjet Porcelain Tiles Aren't Real Stone