5 New Q™ Natural Quartz Colors Featuring A Mix Of Bold And Soft Veining
December 05, 2022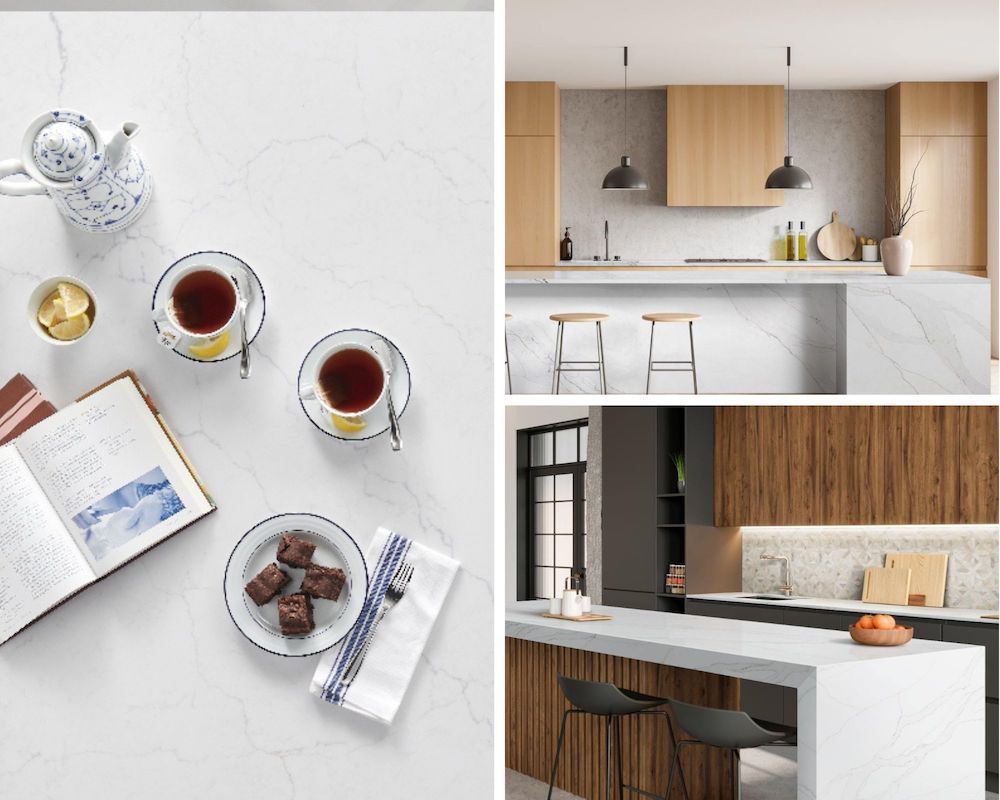 Quartz countertops are prized not only for their many practical benefits but for the astonishing range of quartz colors available to meet the aesthetic needs of any modern homeowner.
These stunning surfaces can mimic an incredible variety of natural stone options, such as marble and granite, or they may feature unique designs and colors not necessarily found in nature.
If you're interested in white quartz countertops that brighten your kitchen, you'll discover that MSI offers the brightest whites in the industry, thanks to the light-refracting LumaLuxe ultra formulation.
You can also enjoy your preferred depth and visual texture with several options for veining, ranging from soft and subtle to bold and assertive.
It's easy to see why interior designers and homeowners alike are drawn to MSI's expansive, premium quartz collections – there's something for everyone. With five new Q™ Natural Quartz colors, you're sure to find the pattern that's right for you.
Creating Natural Looks with Veining in Quartz
When choosing quartz vs. granite or marble, quartz is a major contender for several important reasons.
While nature needs hundreds of years to create blocks of marble, granite, and other types of stone, quartz is engineered from over 90% crushed rock, paired with resins for bonding, in a much more expedient process. This makes for an incredibly accessible product.
Lest you fear it won't look as good as authentic stone, you should know that a combination of innovative engineering and advanced technology goes into creating natural colors and patterns.
Automated machinery and patent-protected processes craft unique and natural-looking quartz patterns that complement modern design.
Veining can be made to resemble bold striations or soft streaks, from thick stripes to delicate lines, with translucent to opaque variations.
If you're having difficulty deciding on the perfect design to suit your home and your taste, try MSI's countertop visualizer to see what your favorite varieties look like in 3-dimensional space.
Calacatta Miraggio Duo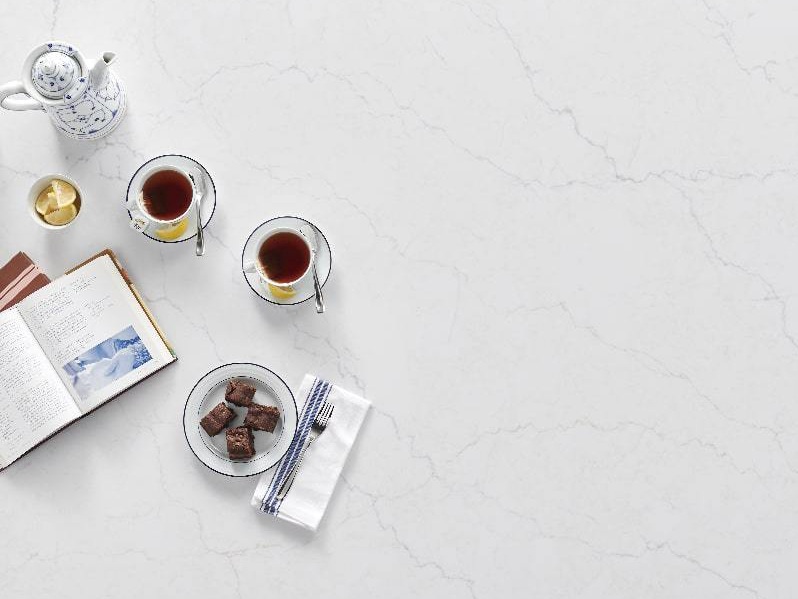 MSI offers a range of designs for homeowners interested in quartz that looks like marble. If you love the look of popular Calacatta varieties, Calacatta Miraggio Duo quartz offers a dreamy take on classic Italian marble.
The soft white background makes for a tranquil addition to kitchens and bathrooms, and this aesthetic is highlighted by whisper-thin veining in dove gray with hints of gold crisscrossing each slab. This design makes for an upscale addition to white cabinets in a tonal kitchen, creating the calming space you crave.
The addition of MSI's LumaLuxe ultra formulation delivers delightful brilliance that will elevate your home interior. In addition, this quartz is made in the U.S.A. with U.S. and imported parts.
Calacatta Abezzo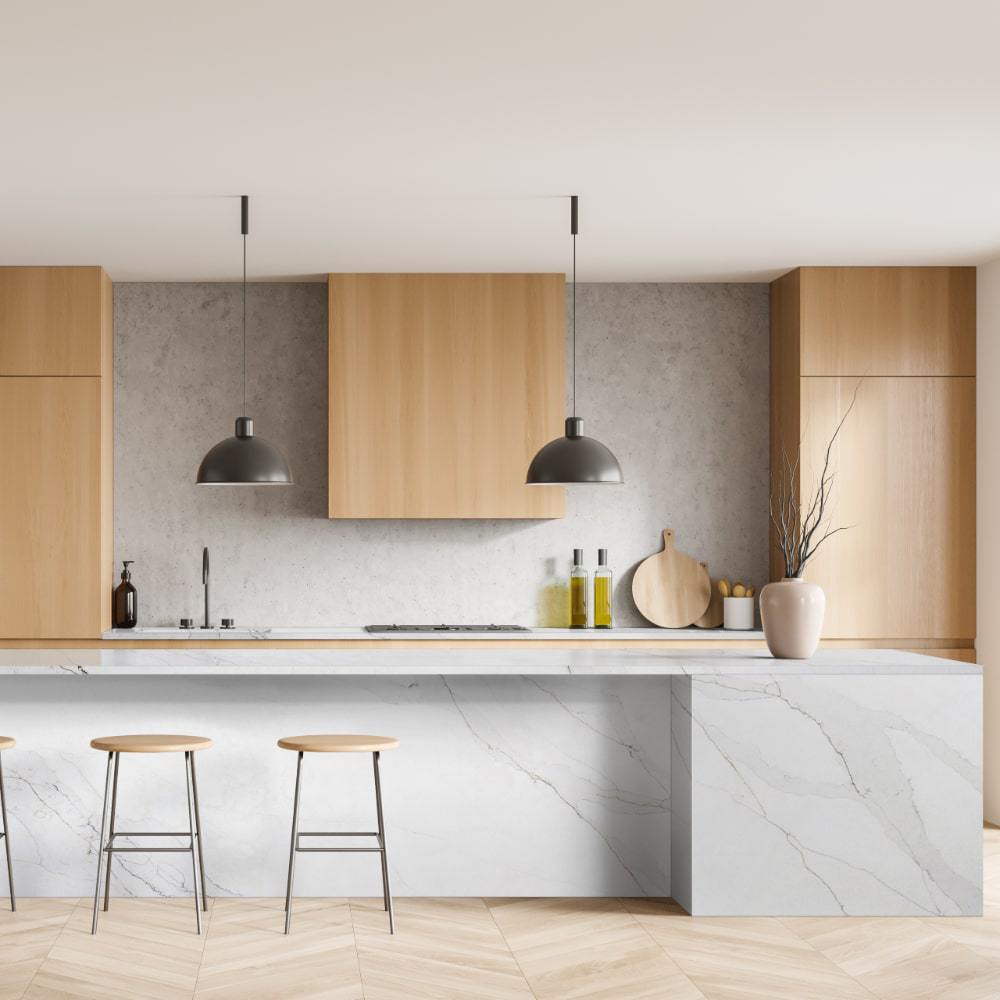 If you're looking for a statement countertop, Calacatta Abezzo quartz is a great option. This eye-catching engineered quartz features a soft white background marked by a sparse arrangement of sharp, delicate veins in earthy chocolate and charcoal tones.
These are underscored by ropy, translucent veins in pale gray, contrasting soft, light patterns, and darker, more pronounced striations.
With its bold patterning, this countertop material is the perfect choice for statement pieces like a waterfall island, book-match slabs for an expansive counter surface, or even a full-height backsplash.
Calacatta Izaro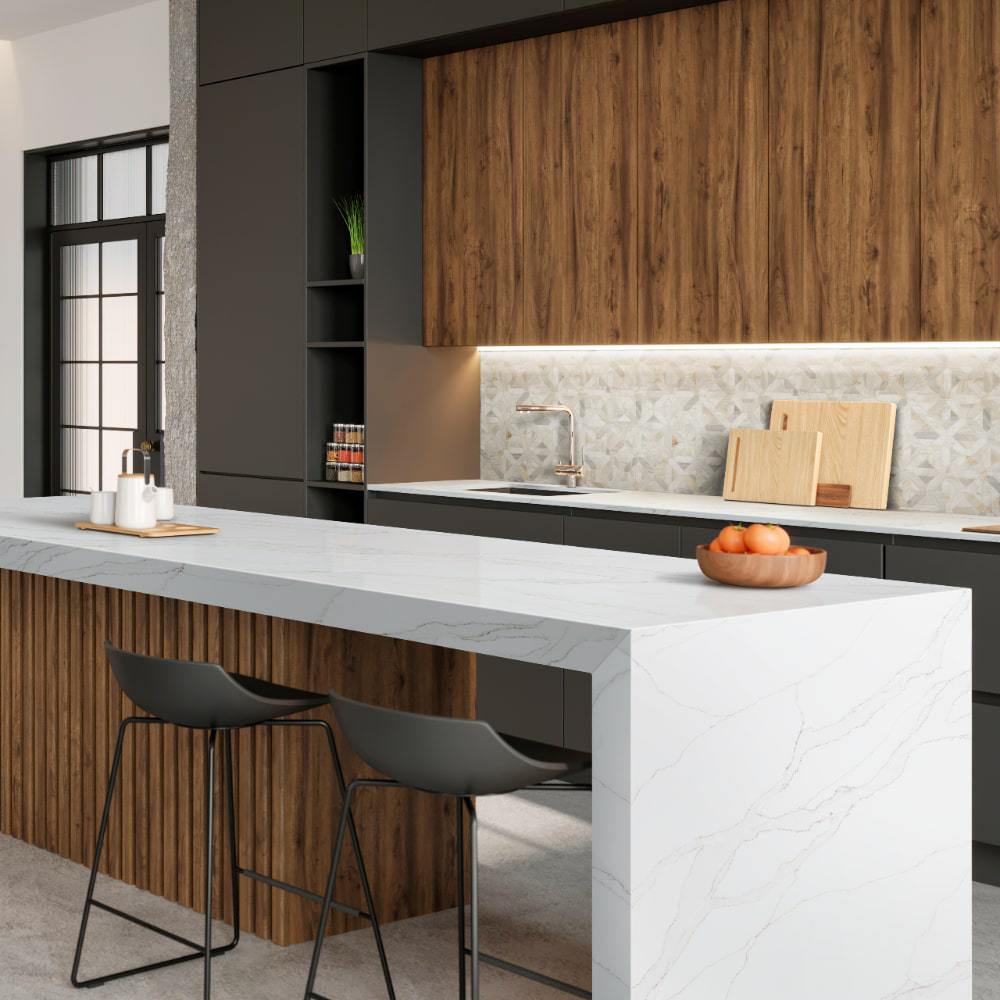 The creamy white of Calacatta Izaro quartz delivers a soft yet stunning addition to your kitchen design with thick, translucent veining twisting across the surface, bordered by thin strokes of more prominent gold and brown.
This quartz is incredibly versatile thanks to neutral hues that work with any color scheme and subtle veining that could stand out against white cabinets, tie white and gray uppers and lowers together, or even create a beautiful contrast with darker cabinets in black or rich, earthy browns.
Calacatta Goa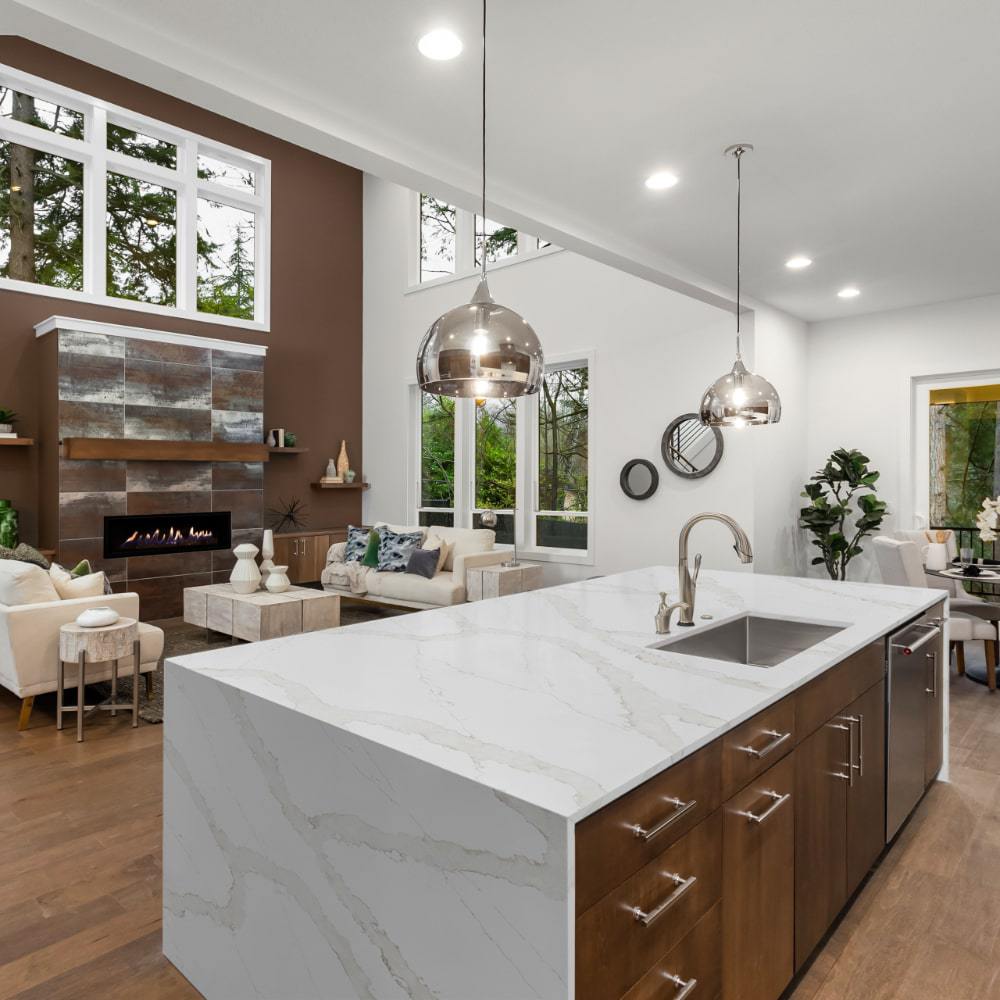 Calacatta varieties are often on the cooler end of the spectrum, but at MSI, you'll find a range of quartz colors, including warmer hues. Calacatta Goa quartz falls into this category, with a warm white background and heavy veins in russet tones.
Thick yet subtly sheer veins are delineated by darker brown boundaries, serving up breathtaking appeal with a hint of warmth, and LumaLuxe processing brings a bit of dazzle to this serene, stone-look surface.
If your kitchen remodel features a lot of natural wood, this design is the perfect way to complement prominent elements like oak, maple, or mahogany tones, while adding a pop of brightness to your space. Calacatta Goa is made in the U.S.A. with U.S. and imported parts.
Calacatta Delios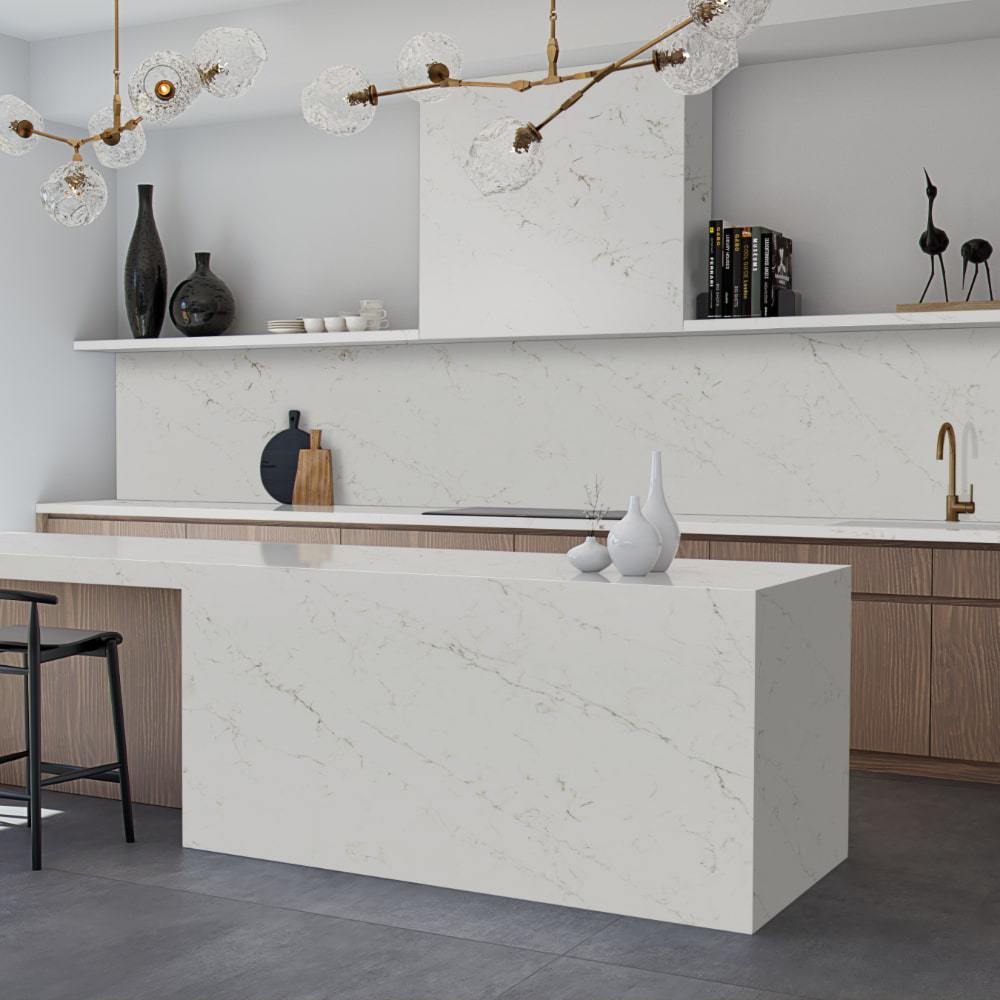 Calacatta Delios quartz features a blend of cool and warm neutrals, with a snowy, white background highlighted by wispy, fragmented veins in tones of gold and bronze. This makes it an ideal partner for wood cabinets or a kitchen or bath in white, gray, or black hues.
The cool white of this quartz looks lovely with a modern color palette, but the warm veining ties in beautifully with wood. This particular quartz is especially stunning with a light upper cabinet in pale oak or maple and lower cabinets in darker cherry, mahogany, or walnut wood.
LumaLuxe adds intensity to this bright counter surface, made in the U.S.A. with U.S. and imported parts.
Benefits of Choosing a Marble-Look Quartz
When designing a modern kitchen, you must consider both aesthetics and practical concerns.
Whether your busy lifestyle includes a household full of rambunctious kids, large gatherings, or messy cooking, quartz surfaces deliver the function you need with the look of natural stone, giving your home interior that added luxury.
With resistance to damage like staining, scratching, etching, chipping, and cracking, non-porous quartz is well suited to the demands of modern life. A polished finish completes a stone-look aesthetic that genuinely elevates the living spaces in your home.
Are you ready to choose a premium quartz countertop featuring the colors and veining patterns that will transform the look and feel of your home? MSI experts are here to help, and it's easy to contact us online via live chat or find an authorized dealer near you to visit.
Learn More About Quartz Countertops
Get Inspired With 10 Quartz Countertop Ideas
7 Kitchens With Glamorous Cabinetry & Quartz Countertop Pairings
6 Stunning New Quartz Countertop Colors To Satisfy Any Space
MSI's Top 10 Lumaluxe Quartz Countertop Colors
5 Beautiful Bathrooms With Quartz Countertops
The Do's And Don'ts Of Quartz Countertop Care
Learn More About Quartz Countertops
Quartz Countertops That Mimic Natural Stone: Granite, Limestone, And Marble Looks
Are Quartz And Quartzite The Same?
5 New Q™ Natural Quartz Colors Featuring A Mix Of Bold And Soft Veining